[ Home | Staff & Contacts | HiFi Playground | Listening tests | DIY & Tweakings | Music & Books ]
Argon Audio Alto55 mk2 - floorstanding loudspeakers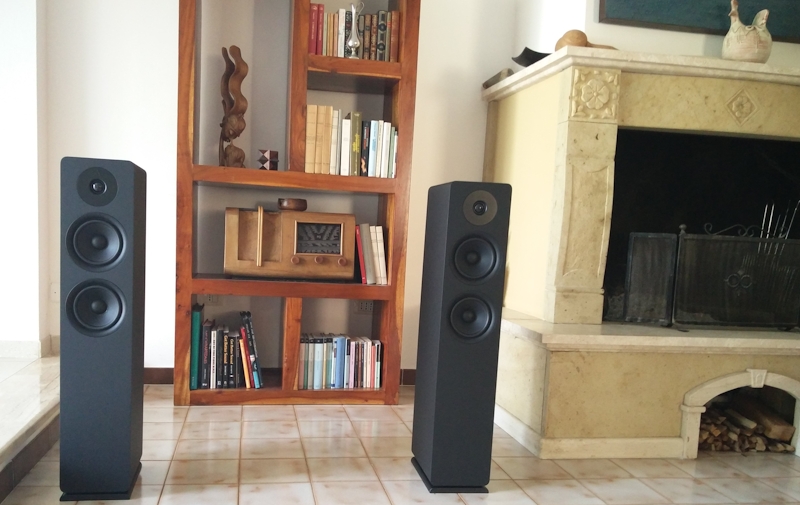 Stellar quality/price ratio!
[Italian version here]
Product: Argon Audio Alto55 mk2 - floorstanding loudspeakers
Manufacturer: Argon Audio - Denmark
Approx. price: 500/600€ pair, depending on special offers
Reviewer: Lucio Cadeddu - TNT Italy
Reviewed: November, 2022
After having recently tested quite a few bad sounding inexpensive compact loudspeakers, this time I've decided to try a pair of inexpensive floorstanders. I love compact floorstanders because they generally offer powerful and deep bass, despite having the same footprint of a compact bookshelf loudspeaker on stands. Inexpensive floorstanders might have several shortcomings, but I still consider them one of the wisest choices for a budget-oriented system.
Enter Argon Audio, a Danish firm that specializes in high quality/price ratio HiFi components, which range from active and passive loudspeakers, amplifiers, turntables and other components. Established as an independent company in 2019 (CEO: Henrik Reinholdtsen) it actually existed back in 1983, as it was born out of Danish audio connoisseurs HiFi Klubben (founder: Peter Lyngdorf), a chain of HiFi shops with more than 800 employees. Peter Lyngdorf is also the man behind DALI and Steinway Lyngdorf HiFi brands. Incidentally, the Argon Audio headquarters in Noragen coincide with the Dali ones.
Argon Audio either sell directly through their website (with an intriguing 30-days money back guarantee) or via a list of selected dealers/distributors and, of course, through the HiFi Klubben network of shops.
Their offer of loudspeakers consists of three lines of active speakers (Forte, Fenris and Tempo) and one line of passive ones, called Alto. The top of the Alto line is this 55 mk2 under test.
A closer look
The Alto 55 mk2 is an impressively well made slim (cm 87H x 26D x 17W) floorstander, equipped with two 13 cm (5,25") midwoofers, loaded by a rear firing port reflex enclosure. It is a 2 1/2-way system, with just one woofer limited to the actual bass range. A standard 1" silk dome tweeter completes the package. The crossover is quite simple and uses standard passive components (two inductor coils, two caps and two resistors). The cabinet appears to be well made, it uses thick MDF panels, with a small amount of absorbing lining. The mono-wiring binding posts are of good quality as well, and might accept spades, bare wire and bananas. The owner's manual is a single sheet of paper with just the basics of speaker positioning. The aim of such a diminutive manual is to save paper and protect the environment. Of course you can find all the info you might need on the official website. Magnetic dust covers and 4 damping feet complete the package. The Alto 55 mk2 are available in black and white finish only.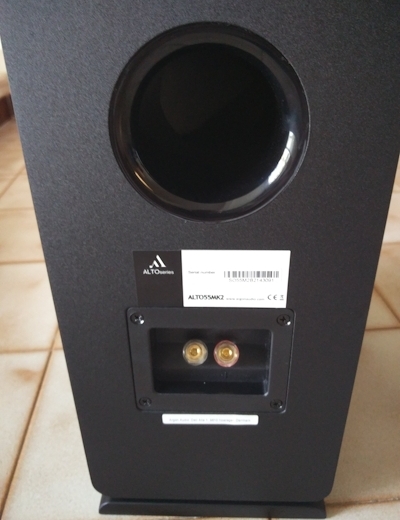 Claimed tech specs
Tweeter: 1" soft dome
Bass/midrange: 2 x 5,25"
2,5-way design
Frequency response: 35-20,000 Hz ±3dB
Impedance: 4 ohm
Sensitivity: 87 dB/w/m
Dimensions: 17 x 87 x 26 cm (WxHxD)
Weight: 12 kg each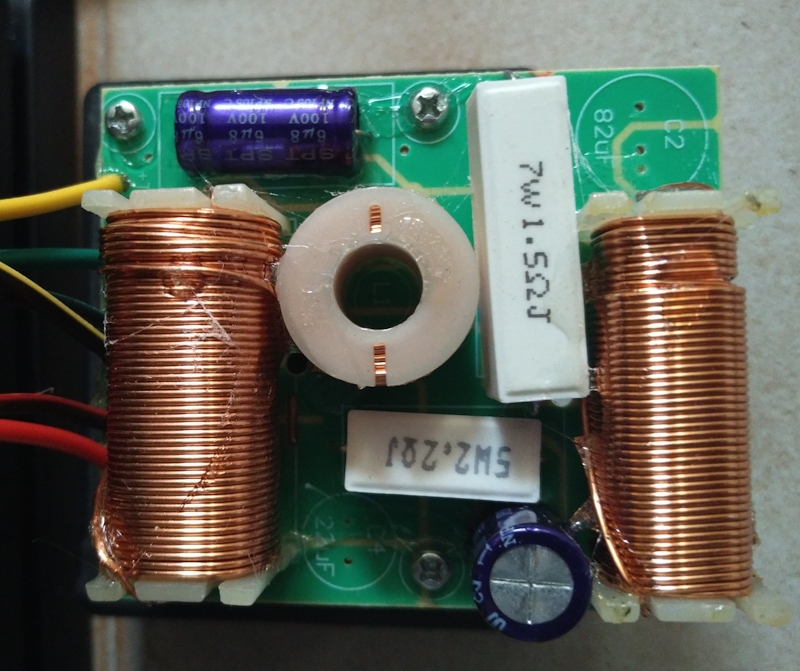 Stellar quality/price ratio!

Considering how silly and unrealistic prices of HiFi loudspeakers have become, it is certainly impressive to see such a slick and well made floorstander selling for just 500€/pair. For sure, you would never guess their price judging by the looks!
Sonically, these Alto55 mk2's are equally impressive, with a well balanced sound, an extremely powerful and deep bass range, crystal clear highs and a luminously open mid range. Their tonal balance isn't on the warm side, I'd say more neutral/open.
The bass range is claimed to reach 35 Hz at -3dB, which is a bit optimistic to my ears, but I'm highly impressed by the bass performance of these small woofers: they can manage impressively high amounts of power (I measured peaks of 105 dB at my listening seat!), while staying in control, not sounding boomy nor distorted or compressed. For sure, the bass range is the area where these loudspeakers really shine. You wouldn't believe such a convincing performance comes from a 500€ small floorstander. Pipe organ pedals, infrasonic synthetic bass from Massive Attack or Morcheeba, devastating kick drum and electric bass patterns from Rage against the Machine, you name it, these speakers seems to never lose control. Their punch can be heard with your body, besides your ears. Admittedly, I'm a bass freak, so I might be a bit biased :-)
This physically and emotionally involving performance is paired to very good dynamics, with lightning fast attacks and decays, even at very high listening levels.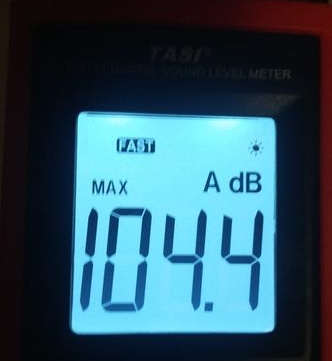 The mid range and the high range are refined and well-extended, with a good harmonic content. If you love warm and euphonic musical textures, steer away from these speakers, because they can be - within their price limits - extremely revealing. Bad recordings do not pass the test! Moreover, old recordings with a slight amount of background noise (tape hiss, for example) can sound annoying in certain set-ups. Don't get me wrong, it is not that over-bright in yer face kind of sound, but certainly it is not a forgiving one.
Male and female voices are clear and well presented, with a good presence effect, just a bit light in the lower portion of the mid range. Perhaps this is the region where midwoofer and tweeter cross each other, and there may be some kind of attenuation, that makes certain vocal timbres sound a bit artificial and thin. This is certainly a venial sin, that reminds me that I'm listening to a 500€ floorstander. Perfection, at this price tag, is too much to expect.
When compared to similar floorstanders I reviewed (the Duevel Planets and the Pylon Audio Opal 20, for example) these Alto55's are more analytical and open, and while this is a plus with good recordings, it might become a minus with bad ones. Both the Planets and the Opal 20's are much more forgiving but, then, they don't possess the sheer energy, rhythm, PRaT and control of these Argon Audio floorstanders. Life (and HiFi) is a matter of compromises, especially at this price tag.
These speakers, probably thanks to a quite non-resonant cabinet and a very good level of introspection, perform very well in terms of soundstaging, as well. The 3D virtual stage is wide, deep and extends way above the top of the cabinets. Each instrument and singer occupies a very precise place in the stage, with good focus and precise contours. Amazing performance, at this price.
Complaints & advices
Manufacturing & finish.
These speakers are extremely well made for the price, no significative complaints from this point of view. I'd suggest Argon Audio to offer other finishes, different from plain black and white.
Sound.
The bass range is powerful and extended, so you are forced to keep the speakers far from the lateral and rear walls, otherwise the bass might be excessive. If you're looking for a kind of relaxed and easy-going sound, these are not the speakers for you. Good ancillaries can make these speakers shine, poor amplifiers will be miserably exposed with all their shortcomings. 87dB/w/m and 4 ohms speakers aren't a difficult task for any decent modern amplifier, but if your listening room is large and/or you prefer high listening levels, consider an amplifier that can drive these speakers properly. Sonically, the mid-high range needs a boost in its lower portion and, perhaps, the tweeter needs to be attenuated by 1 dB or so, to make these speakers really universal.
Conclusion
I'm impressed, definitely impressed. After several bad sounding inexpensive compact loudspeakers, these Argon Audio Alto55 mk2 brought a welcomed, unexpected smile to my face. If you're after a slim floorstander that won't break the bank, and that will make you dance, headbang and smile, please take these speakers into serious consideration. For 500€ I've never heard such a performance or seen such a good level of craftsmanship. Kudos, Argon!
DISCLAIMER. TNT-Audio is a 100% independent magazine that neither accepts advertising from companies nor requires readers to register or pay for subscriptions. If you wish, you can support our independent reviews via a PayPal donation. After publication of reviews, the authors do not retain samples other than on long-term loan for further evaluation or comparison with later-received gear. Hence, all contents are written free of any "editorial" or "advertising" influence, and all reviews in this publication, positive or negative, reflect the independent opinions of their respective authors. TNT-Audio will publish all manufacturer responses, subject to the reviewer's right to reply in turn.


© Copyright 2022 Lucio Cadeddu - editor@tnt-audio.com - www.tnt-audio.com
[ Home | Staff & Contacts | HiFi Playground | Listening tests | DIY & Tweakings | Music & Books ]