[ Home | Staff & Contacts | HiFi Playground | Listening tests | DIY & Tweakings | Music & Books ]
Audio Nirvana Classic 8" - A full-range driver project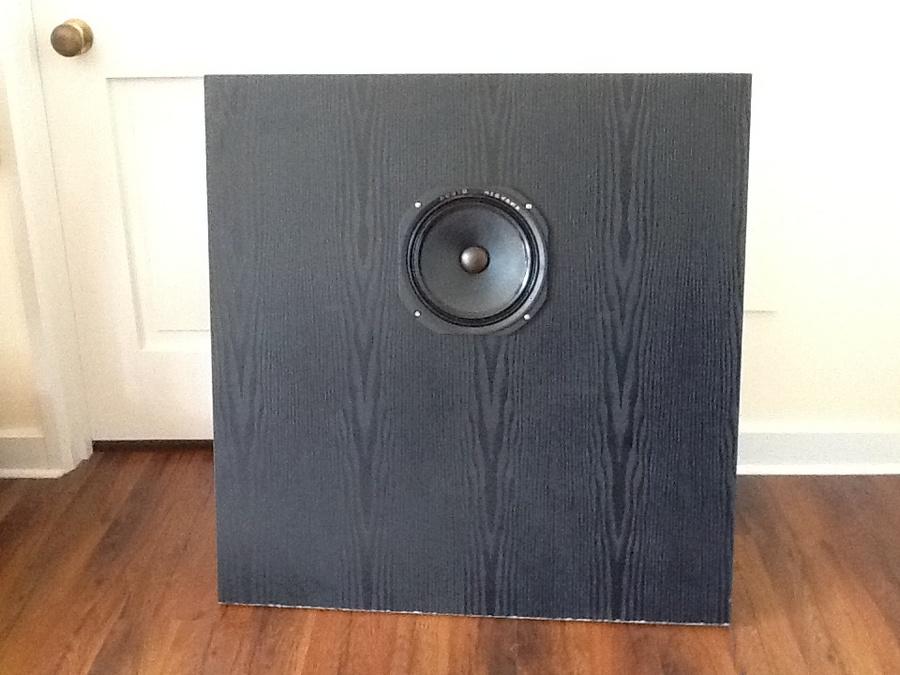 A "true" full-range driver
[Italian version here]
Product name: Audio Nirvana Classic 8"
Manufacturer: CommonSense Audio - USA
Cost: US$ 228 (per pair) - (Currency conversion)
Reviewer: Richard Varey - TNT New Zealand
Reviewed: May, 2016
Introduction
Readers of my previous articles will know that I am a convert to the wonderful world of full-range drivers and open baffles. So when an inquiry came in to the TNT-Audio panel about auditioning a new model of true full-range driver, I grabbed the opportunity with enthusiasm. David Dicks of CommonSense Audio promptly sent me a pair of his new improved drivers.
What you get
The drivers exude quality and engineering know-how. They are heavy (3.7 Kg each) with big ferrite magnets (1.4 Kg) and solid black cast aluminium frames, with neat protective covers, threaded binding posts, and no concentric wizzer cone. They look the real thing. What did I have here and what would they sound like?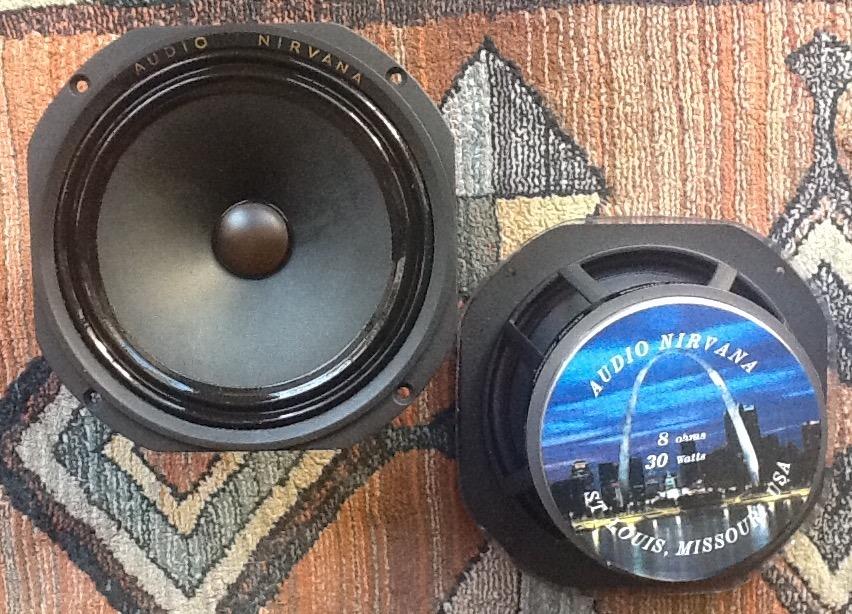 Audio Nirvana drivers (front and rear)
Probably pretty well everyone who has an active interest in DIY speaker building will know the Audio Nirvana brand and the CommonSense Audio website. Even a cursory browse through the many discussion forums reveals a plethora of comments and enquiries about the drivers and kits. I wanted to experience some of the obvious excitement about these products. I had been curious for some time. David maintains that because Audio Nirvana speakers are short-excursion full-range - there is no separate woofer, no tweeter, and no crossover - clarity, detail, accuracy, and realism are unmatched because the sound comes from a single voice coil. Thus, imaging and soundstage are superior because the sound comes from a single point in space. So what David had sent to me was a full-ranger that is quite different to a multi-driver/crossover combination or a single coil-cone configuration.
Being a simple-as-possible low-cost extraordinary sound open baffle convert, I mounted the drivers on 25 mm x 750 mm x 730 mm boards, although the designer recommends baffles 760 x 610 mm with 380 mm side wings. I went initially for a quick and dirty deployment, so 182 mm holes were cut with an adjustable circle hole cutter. It would be an interesting and simple test of what these drivers could do. A very useful feature is the supplied rigid plastic covers that protect the cones in transit and from prying fingers in use - these are of course removed when playing music!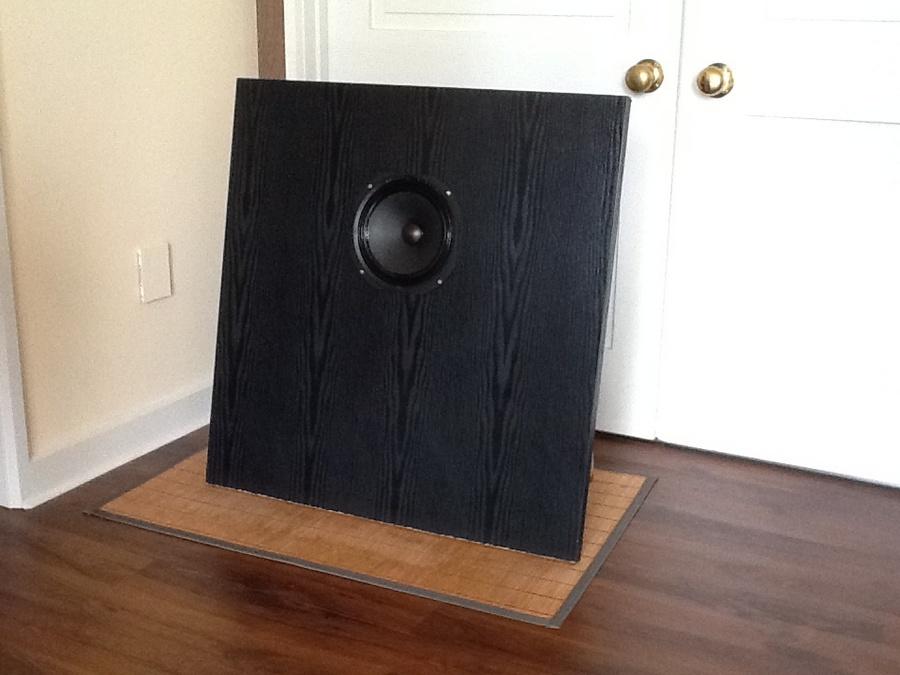 An Audio Nirvana driver mounted on baffle
How they sound
Pleasingly listenable out of the box, the drivers sounded crisp and detailed, if not unexpectedly a little tight, with an initially forward presentation. Pleasingly, they were already sounding very good with only a few hours playing. They compare very favourably with my vintage 12" Philips. Music listening is a real pleasure with these drivers. Where my vintage drivers sit back and deliver detail in a rather sedate way, the Classics have a forward presentation with solidity and punch. The sound produced is stronger, with more weight and immediacy. I played a couple of albums randomly selected. Mike Knott's Strip Cycle was delivered with punch, power, and immediacy, and the sound indicates that the speakers are transparent in not discernibly adding character. Tony Burt's The Awakening Time (a New Zealand artist) has a piece entitled Forest Angels which comprises deep distant rolling thunder, exotic bird song, and a solo Spanish guitar. Playback elicited an immediate emotional response of excitement from the depth, detail, delicacy, and realism of the sound.
The soundstage is wide and deep, and when pulled to about 1.3 m from the wall, the soundstage appears well behind the speakers. Even more appealing is that when placed in the middle of the room, the drivers disappear as a point of origin of the sound produced - I can then walk into and around the soundstage. I have never experienced this rather pleasurable effect with more popular cabinet-mounted speakers. Right now, a week later, I'm listening to Legacy: a Tribute to Fleetwood Mac's Rumours - and it sounds wonderful - sonically rich and detailed - a very engaging musicality with no sense of strain or constriction. The initial tightness has gone after only perhaps fifty hours use.
Conclusion
The construction is Altec-style, paper cones with treated accordion cloth surrounds and spiders, with a special goo applied, mounted on cast aluminium frames - they have an expected life of 50 years. This true full-range driver is a big firm step closer to how the musicians want their work to be heard, and at a surprisingly affordable price. I now need to work out how to find the time to build one of the cabinet designs for which David has so kindly provided plans. He assures me from the experience of many of his customers (whose builds can be seen on the website photo gallery), that they will sound even better. Now thatís an appealing challenge.
The Classic 8" ferrite is available from CommonSense Audio for US$ 228 per pair. CommonSense Audio are based in Chesterfield, Missouri. They are very well-known in diy speaker project circles, and are committed to making the best sound affordable.

© Copyright 2016 Richard Varey - richard@tnt-audio.com - www.tnt-audio.com
[ Home | Staff & Contacts | HiFi Playground | Listening tests | DIY & Tweakings | Music & Books ]