[ Home | Staff & Contacts | HiFi Playground | Listening tests | DIY & Tweakings | Music & Books ]
AudioEngine A2+ Speakers and Avantree Leaf USB Bluetooth Audio Transmitter
Fine Fare for the Common Man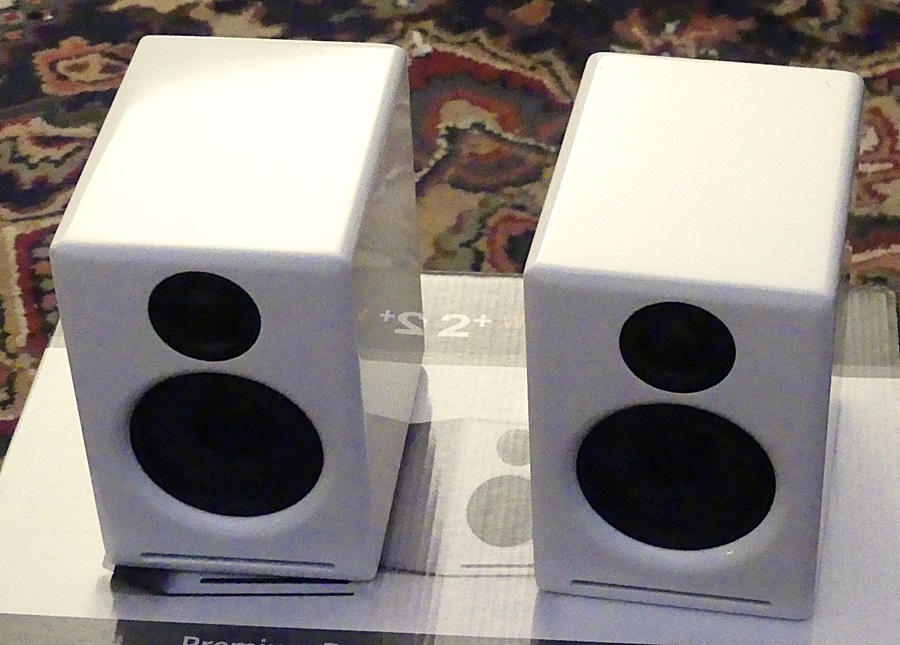 Manufacturers: AudioEngine - USA
Avantree - USA
Products: AudioEngine A2+ Bluetooth speakers
Avantree Leaf USB Audio Transmitter
Price: Lists at $249, but as of this writing on sale for $219 (A2+); $29 (Leaf) YMMV
Reviewer: David Hoehl - TNT USA
Reviewed: August, 2019
Published: September, 2019
Orientation
If you're the sort of audiophile who spends hours determining that the sonic differences between various cryogenically treated power cords "are not subtle," for whom anything associated with the word "digital" is irredeemably low-fi, this review is not for you--but then, although I'm sure the company would be happy to sell you a pair if you wished, the AudioEngine A2+ speakers aren't really meant for you, either. They don't incorporate arcane or exotic audio-mystical design elements, they don't plumb the nether regions of the audio spectrum or create soundstages wider than Cinemascope or conjure images more holographic than The Doctor in Star Trek--Voyager, they don't look like something from Mars that somehow landed in your listening room, they don't in any way involve prominently displayed vacuum tubes, and they certainly don't cost enough.
Who, then, would be their logical audience?
Let us stop for a moment, step outside the hermetically sealed world of the obsessive audio hobbyist, and have a look at The Man Who Wants To Listen To Music. (Or, to give changing linguistic norms their due, The Woman Who Wants To Listen To Music, but please bear with the Old School Linguist here.) We might meet somebody like my dad, who in the days of my childhood had a wife; two kids, one about ready to start college and one (guess who?) getting ready to start First Grade; a mortgage; a responsible but not exalted job as a civil engineer; and a desire for some good sounding music to enjoy with his family in the home. Or--getting optimistic about breaking The Tyranny of the Earbud--we might encounter a recent college grad enjoying the independence of living in his first little apartment while juggling rent, student loans, a busy social life, and a love for music on a modest starting salary. Or perhaps--with optimism eclipsing even that of Dr. Pangloss--a teen who wants to get some good sounds with the proceeds of his summer lawnmowing job. Or--well, you get the idea. We'd see real people who have real-life constraints but, without any interest in audio gear for its own sake, want something better built and sounding than the average piece of Crosley junk.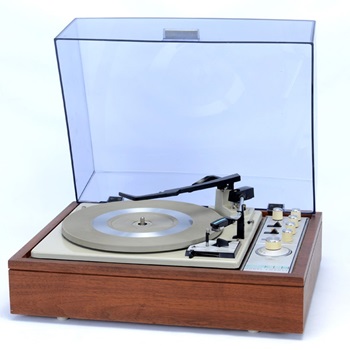 In the mid-1960s, KLH pretty much nailed the needs of that market with its easy-to-operate compact units, one of which was the music source in my childhood home. As you can see in the photo of one to the left, they were built around a decent Garrard turntable/arm combination fitted with respectable Pickering magnetic cartridge, good performers but sturdy enough to withstand the depredations of little fingers (guess whose?). Most also included a top-notch FM tuner to which some added a good AM tuner. All incorporated a modest but clean amp section, a complete complement of the basic controls, and two excellent Henry Kloss-designed bookshelf speakers, all but the portable models wrapped in attractive genuine walnut veneer. Aside from the speakers, the entire unit wasn't a lot larger than a component turntable in a generous plinth, and it was simple enough to operate that anyone in the family could set it singing. Though more "solid performer" than "high end," the combination sounded very good, and while certainly not "cheap," these self-contained units were readily within reach of a typical (mid-to-upper) middle class family's budget.
To my way of thinking, the Audioengine A2+ speaker system fills a similar niche in today's much-changed music delivery landscape. In the 1960s, when my dad bought his KLH system, LP and 45 RPM records were the predominant physical music carriers, with AM and (for the sonically discriminating) FM radio the "free," non-physical alternative. In an attractive, well-engineered, easily operated compact package, KLH offered a complete solution for each. Today, CDs are the predominant, if fading, physical music source, with various forms of downloads and streaming, free or by subscription, as the growing alternative for disembodied delivery. (I'm referring to the mainstream market here; we'll leave aside the resurgent LP record, which I think we can all agree is destined to remain a niche, if surprisingly resilient, format.) With its Bluetooth capability and built-in amplification, Audioengine's system can serve the same function for anyone who has a conventionally equipped basic desktop or laptop computer: without enduring complicated setup, its owner can easily play CDs in the computer's CD/DVD drive or stream music through the computer's WiFi connection or from hard drive for room-filling, satisfying sound.

Unpacking the A2+ Bluetooth Speakers
Audioengine treats the A2+ system to packaging worthy of much more expensive components. As illustrated in the series of photos to the right, it ships in a sturdy outer box housing a colorfully printed inner box. That in turn contains well designed plastic foam supports that protect the speakers and provide storage space for the accessories. Those include everything you might need to get the speakers up and running quickly: a run of speaker wire to connect them together (see below), a USB cable, the power cable, a patch cable for connecting an external preamp or other analogue source, and the AC power adapter. All are packed in nicely made cloth drawstring bags and tucked safely into a space molded into the upper foam protrector tray. Removing that tray in turn reveals the speakers, each shrouded in a similar cloth bag to protect the mirror-like finish. Top honors to Audioengine for its attention to detail in packaging!
Specifications
And so to the business at hand. First, a few words about the speakers' design. "You never write a few words about anything," I hear mumbled in the crowd. Glaring in that general direction, I continue: the Audioengine A2+ is an updated version of the Audioengine A2, a powered speaker system that has been around since approximately 2008. To the basic A2 package it adds Bluetooth connectivity and a built-in digital-to-analogue converter.
The A2+ package includes its own amplifier in the left speaker cabinet, whereas the right speaker is passive, meaning the user must run an audio cable between the speakers and plug the left one into an electrical outlet. According to the manufacturer's specifications, the amplifier is "dual analog class A/B monolithic" (perhaps it incorporates a miniature Stonehenge?) rated at 60 Watts AES peak power total. Mind you, as is common in today's audio world, closer inspection quickly turns into a showing of Honey, I Shrunk the Power Rating: the quoted number must be halved to get a per channel figure of 30 Watts peak, and in more demanding RMS terms it drops by another half to 15 Watts RMS per channel. The clink of eyes rolling among the "first Watt" tube amp contingent on the one hand and the "stadium output" crowd on the other is positively deafening, I know, but bear in mind, for The Man Who Wants To Listen To Music, 15 Watts, coupled with properly designed speakers, is plenty--indeed, although I can't find definitive specs, it's probably a bit more than my dad's KLH compact managed, and that kept a whole family happily in musical entertainment for at least a couple of decades.
Moving beyond power output, the amp is specified to deliver signal-to-noise ratio greater than 95dB (A-weighted) and total harmonic distortion plus noise below .05%. Crosstalk is specified as less than 50dB. Audioengine touts that its circuit boards "are all vertically mounted for maximum mechanical shock protection." In a small, minimally ventilated package of this sort, I would have expected a Class D design, but Audioengine prefers "a more traditional speaker/amplifier configuration which provides excellent quality audio and greater flexibility."
The drivers in each are small, a 2.75" aramid fiber woven glass composite woofer paired with a .75" ferrofluid-cooled silk dome tweeter incorporating a neodymium magnet. The cabinets are likewise small, 6" tall X 5" wide X 5.25" deep. They are a transmission line design with front-facing port slots and no grilles; Audioengine claims grilles at least slightly color sound and are actually more fragile than the bare drivers (or, as the company puts it, speakers without grilles are "more cat and kid friendly"). The cabinets are built of 18mm thick medium density fiberboard finished in satin black or high-gloss red or white, but at this writing Audioengine's website indicates the first two are sold out. My review pair is white. Please don't try to figure out which paint color least affects the sound quality; The Man Who Wants To Listen To Music will just scream, run away, and come to a tragic end buying one of those quaintly styled Crosleys at his local Target.
As powered speakers, the A2+ system cannot and must not be connected to the standard speaker taps of an external power amplifier. (I suppose, if you really wanted to, you could buy two sets and connect just the right, passive speakers to your receiver in the conventional fashion, but I can't imagine why you would.) The A2+ left speaker does, however, include RCA jacks for connecting to an outboard preamp should you so desire for analogue input or more physical control than the system's volume knob. It also provides for connection of a USB cable to tap into a built-in CSR 8670 D/A converter (up to 16 bits native bit depth and 48 kHz native input sample rate) and outputs to connect a subwoofer. Bluetooth connectivity is said to be by CSR8670 internal Bluetooth 5.0 audio receiver with 16 bit input bit depth supporting aptX low latency, aptX, AAC, and SBC codecs. Wireless operating range is up to 100 feet, and latency is approximately 30 milliseconds.
The speakers are shielded and hence presumably pose no issues if placed adjacent to a TV or other magnetically sensitive device. Audioengine claims overall frequency response of 65Hz to 22kHz +/- 2dB.
Assessment
The Test Problem
For some time now, I've wanted to set up a nice sounding subsidiary stereo system in our living room, which in round figures is a space measuring 16 by 17 feet (about 4.8 by 5.2 meters, for those who are adherents to metric measure). My main rig is in a separate music room, but my wife seldom wants to go in there. She keeps mumbling something incoherent about its always being a mess, about records and stray bits of audio gear and whatnot lying all over, and about too many crank phonographs; I'm not quite sure what she could be talking about, but there it is. Er. Um.
Be that as it may, I'd like to be able to share my musical discoveries with her, and that means playing them in the living room, where she likes to spend all seven minutes of her daily leisure time. The problem is that my music source would be files stored on our network attached storage drive feeding the laptop computer on my desk, which is in an alcove that serves as my office, largely concealed behind several book cases set up as a partition. (Asking that they be put there, my wife kept mumbling something incoherent about wanting to conceal the space because it's always a mess; about records, papers, stray bits of computer gear, and whatnot lying all over; and about too many crank phonographs; again, I'm not quite sure what she could have been talking about, but there it was. Um. Er.)
I do actually have a music system in the office alcove, one of those cheap little Lepai Class T amps plugged into the computer's audio jack and driving a pair of (as luck would have it!) 1960s KLH bookshelf speakers identical to the ones that came with my dad's stereo, but while that setup is worlds better than a pair of those plasticky little things sold with computers or the tinny speakers built into the laptop, it's not very satisfactory for listening in the main space. Unfortunately, the only available spot for a receiver or amp there is awkwardly distant from the computer, much too far away for a patch cable run and, frankly, awfully cramped for a full-sized set of gear. And so for the past several months I've had a pair of old DCM bookshelf speakers and an Adcom tuner-preamp/power amp combination of similar vintage sitting in a corner while I tried to puzzle out how to get it all working, much to my wife's delight. ER. UM. ER.
Enter Audioengine, with a Detour
When Audioengine offered us at TNT an opportunity to review the Bluetooth-enabled A2+ system, I quickly realized (a) it might offer a solution to my dilemma, and (b) my dilemma probably is not unique among those in real-world domestic circumstances. I dutifully contacted the company, and in short order a review pair had landed on my doorstep; as described above, each was protected in the box by well-designed packing material and a nice quality drawstring bag, and also in the box were all the cables and whatnot needed to set the speakers up and get them singing in short order, together with admirably clear instructions.
Alas, as I proceeded to install them, I immediately ran into a snag: my computer, a nearly decade-old Thinkpad laptop purchased from one of those "off business lease" reconditioners, apparently lacks Bluetooth, and without Bluetooth I wouldn't be able to connect it to the speakers. Panic quickly set in: I found myself metaphorically up the Amazon without a paddle for my canoe. What to do? What to do?
Up the Amazon.
The Amazon.
The.........Amazon.
Amazon!
OK, I'll admit, that one was pretty lame. Suffice it to say, I did go straight to Amazon and started looking for a USB Bluetooth adapter meeting two criteria: specifically optimized for audio and of a cost commensurate with the speakers' modest list price. In the end, I settled on one called the Leaf by a peripherals company called Avantree. With the miracle of Prime, it arrived--well, not quicker than you can say "Jack Robinson," but within two days, which is close enough.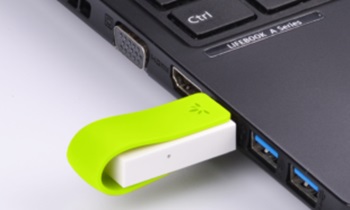 According to the listing, the Avantree Leaf, seen left in a photo from the Avantree website, incorporates low latency aptX with less than 40 ms delay; operates on Bluetooth version 4.1 with profile A2DP, HFP, HSP, and AVRCP; and comports with audio codecs aptX-LL, aptX, FastStream, and SBC. As to what all that means, I'll defer to the Old Scribe's Chorus of Plebs, Stage Left--that's all in their language, not mine! What is in my language is that it meets my requirement for a dedicated audio device and its range of up to 20 meters suffices to connect with the Audioengine speakers where I want to put them.
For those whose interest is piqued, please be aware the manufacturer specifically indicates the device "doesn't work/[is] not recommended for" the following: "cannot Bluetooth-enable TVs, wired speakers, or car stereo systems; does not work with keyboard/mouse, mobile phone, game controllers, printers, projectors, and other BLE (Bluetooth Low Energy) devices; [and] supports voice OR music single channel only for non-FastStream (FS) BT headphones [but will do better with FastStream devices like--surprise!--Avantree's own models]." Avantree further cautions that with "non aptX-Low Latency devices (e.g., Bose, Beats, Sony, Airpod headphones)" the user will experience "an audio delay of 70-200ms - not ideal for watching video movies." As opposed to audio movies? Anyhow, if any of that folderol applies to you, you have been warned.
What's important from the perspective of this review is that the Avantree Leaf works splendidly, exactly as advertised. I seldom have anything to do with Bluetooth, and to be honest I was a bit skeptical about how this thing would shake out, but I needn't have worried: it paired with the speakers with less fuss than Bluetooth devices usually seem to demand, and once connected it became just another bit of electronic legerdemain working in the background as my computer went about its appointed rounds--including piping audio to the Audioengines.
The Audition
I've lived with the speakers for about four months since they arrived, waiting to record impressions for a couple of reasons: first, with the speakers set up in our living room, finding times to listen to them at all, much less critically, without disturbing the rest of the household proved to be something of a challenge, and, second, Audioengine's user manual recommends a 40 to 50 hour break-in period, and I wanted to give the speakers some casual play before forming any opinions. I'm sure I didn't get close to the manual's recommendation, but at least I wasn't giving a critical listen straight out of the box, and even from the first my impressions were favorable.
An opportunity for a more systematic audition finally came my way a few days ago, and I was delighted to find those initial impressions largely confirmed. In general, I'd describe the speakers' sound as "involving"--if, unlike The Man Who Wants To Listen To Music, you can think of the term "PRaT" without adding "fall" to it, the A2+ easily passed the "toe tapping" test. Bass was tuneful, without that "bonky" character sometimes heard in ported designs, and it was far more solid and extended than one would expect from the size of the cabinets or the stated specifications; only in a couple of cases did I feel the need for more. From there up, the sound was nicely balanced, not too bright, not too midrangey, no obvious bumps or misplaced emphasis, and clear as the proverbial bell.
A word about power (music projection, not Watts): as noted above, my session was taking advantage of a break in the household routine when I thought I could do some systematic listening without disturbing anyone. To my surprise, when I folded up for the night, shortly after my daughter had retired, I got complaints that "those things were audible all over the house, and you need to keep it down next time." Understand, I do not crank music to rock concert levels, just at most to what the old Mercury Living Presence LP jackets characterized as "full room volume." That the A2+ speakers, with 15 watts RMS backing them, could fill an entire house with music to the point that it interfered with TV viewing in a distant room is a testiment to just how much they deliver for their cost in money and space.
With Bluetooth feed from a computer, the question arises of how to balance volume settings in software with the physical setting of the left speaker's volume knob. A bit of experimentation suggests setting software volume too high, at least with the Avantree Leaf, will introduce a certain grittiness into the resulting sound; I'm guessing the high input level overdrives either the transmitter or the A2+ Bluetooth receiver. I got best results by setting the speaker volume fairly far up and adjusting volume in software around a middle setting.
Successes and Shortfalls
I tried to sample a range of music, from old recordings to (relatively) new and, drawing on my own collection, from folk to jazz to classical solo instrumental through full orchestra with vocal and chorus. As I have done in the past, I took the opportunity to audition some unfamiliar recordings as well as a few old friends. Recognizing that The Man Who Wants To Listen To Music may not want to listen to my music and that streaming via the Internet is an ever more important aspect of modern music sourcing, I also sampled a smattering of pop numbers from YouTube. For the most part, the A2+ speakers handled what I threw at them with aplomb.
Successes: I started with Lumbye's Drommebilleder (usually known in English as "Dream Pictures") in a 1946 performance dubbed from a set of 78s. Material of this sort can sound muddy on less than well balanced speakers, but not on the A2+ set! Everything sounded natural and warm, yet clear. The speakers also did full justice to piano, both solo (Lange-Muller's En Klaveerfantasi, op. 66) and in a chamber work (Ruy Coelo's second violin sonata), in both instances sourced from losslessly compressed rips of CDs; the latter work's big sonorities came through especially well. Copland's Fanfare for the Common Man, conducted by the composer, was suitably stirring, and the tympani were rendered with appropriate impact.
Beethoven's Choral Fantasy is my favorite extended test piece, because in a single 20-minute +/- span it throws everything at the speakers but the kitchen sink: solo piano, piano with orchestra, extended passages for each of the major orchestral choirs (except percussion) standing alone, full orchestra, vocal soloists with orchestra, and chorus with orchestra. Throughout, nothing seemed to faze the Audioengines; whatever Beethoven demanded of them they delivered with ease.
Turning from classical music, I found the Audioengines to be just as much at home in other genres. The first recording I tried of a close-up vocal was the one that first awakened my weakness for hammered dulcmer, folksinger Ed Trickett's account of Henry Clay Work's 19th Century popular song "My Grandfather's Clock." Besides a crisp rendition of the hammered dulcimer, the Audioengines gave their first exhibit of what would prove a recurring strength, rendering the human voice with striking presence. They did the same with "Barrett's Privateers," sung a cappella by Stan Rogers and male ensemble, drawn from YouTube, and "Jimmy Bell" sung by Peter Lang; his solo guitar work in "Snow Toad" and "Wide Oval Ripoff" also fared well, sounding clean, natural, and vibrant, as did "Corky" drawn from an Audiophile label vinyl microgroove 78 RPM record. The low sax really had punch in that one. Concerned about the potential effects of the small speakers' natural lower bass limits (see "Shortfalls" below), I also sampled some pop numbers. Alan Walker's "Faded" showed the Audioengines can convincingly project electronica. In Deep Blue Something's "Breakfast at Tiffany's" and Ingrid Michaelson's "Girls Chase Boys" they again displayed their hallmark crisp, impactful portrayal of percussion and clarity with vocals while conveying a good sense of space. Mixes remained coherent even as solo instruments shone in appropriate spotlights, and I needn't have worried--bass lines were strong and tuneful, providing ample support.
Shortfalls: Only two recordings revealed any chinks in the A2+ armor. First was Domenico Scarlatti's harpsichord sonata in A, K. 113 (L. 345) as performed by Zuzana Ruzickova, dubbed from a '70s era Supraphon LP. Somehow the sound just never "gelled" in this one, I think because the instrument's low strings were asking the speakers to go below what they are capable of doing. I know that was the problem with Bach's Prelude and Fugue in D Major, BWV 532. The piece opens with an ascending scale on the pedals, meaning down low in the organ's range; in the A2+ Audioengine has remarkably finessed the limits of small drivers and cabinets, but beyond a certain point the laws of physics take over and cannot be repealed. From these two recordings, I'd conclude what one would expect going in: if you are addicted to really deep, powerful bass fundamentals, you need larger speakers than the Audioengine A2+.
Head to Head Faceoff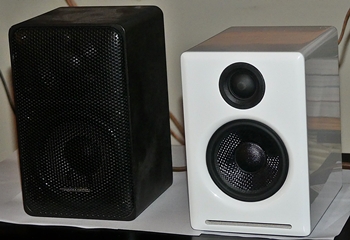 For some perspective, I decided to pit the Audioengines against a well-regarded older set of minispeakers, the Realistic Minimus-7, a model that made its commercial debut in 1978 and remained in the Radio Shack lineup for nearly three decades. Today Radio Shack gear from that era seems to have something of a following, but at the time it didn't get much respect in "serious" audio circles (although it was a not infrequent choice for The Man Who Wants To Listen To Music). Pretty much everyone agreed, however, that the Minimus-7 was a winner and quite possibly the best thing in Radio Shack's catalogue. To this day it remains a favorite among "in the know" audio enthusiasts.
How do its specifications stack up against those of the Audioengine A2+? Pretty close in size: the Audioengine speakers are about an inch shorter, half an inch wider, and an inch deeper. Both models have dome tweeters, with the Minimus-7's being around a quarter inch larger; the Minimus woofer is about 4 inches, or 1.25 inch larger than Audioengine's. Compared to Audioengine's specified response down to 65Hz +/- 2dB, Radio Shack specified 50Hz, but it didn't include a tolerance. Both specify an upper limit of 22kHz, but again Radio shack omits the tolerance. Audioengine's cabinets are MDF and incorporate a transmission line; Radio Shack's are sealed die-cast aluminum. The Minimus-7 is a passive design with claimed power-handling capacity of 40W; Audioengine's active speaker amp is 15W.
Laurels for ease of setup immediately went to Audioengine; as compared to "connect a speaker cable (supplied) from left to right, plug the left speaker into an electrical outlet, and you're done," getting the Minimus-7s up and running involved hauling those Adcom components out of their corner and a Rotel CD player from a closet, then connecting separate preamp to power amp, CD player to preamp, and speaker cables from the power amp to each speaker, at each connection taking care not to reverse polarity or channels. The associated gear for the Minimus-7s took up much more space than needed for the Audioengines, its positioning was not flexible, and as configured for the test it could play only AM broadcasts or physical CDs, not streams or downloads from the Internet or files stored on our network storage drive; playing FM radio broadcasts would have reqired attachment of a separate antenna.
For sonic comparison, I chose one of my favorite test pieces, " Tleycantimo choquiliya" by Gaspar Fernandez, included in a collection of extracts from recordings by Hesperon XXI under its founder Jordi Savall. The Minimus-7s actually did very well by it, living up to their reputation as good things in a small package. That said, the music really bloomed when switched to the Audioengine set, with noticeably more sense of space around the musicians; generally "richer" tonal quality; a little more sparkle; more "snap" to the percussion; and, notwithstanding Realistic's lower claimed frequency response, considerably stronger, lower perceived bass extension.
As a check, I ran the test again for my teenaged daughter. Her reaction was much the same as mine: the Minimus-7s sounded good, but the Audioengines sounded better. More bass, clearer sound generally. End of story.
A Summary of Pros and Cons
To sum up, here are what I see/hear as the A2+ system's strengths and weaknesses:
Pro: Clear, satisfying, engaging sound sufficient to fill a moderate room. In keeping with the system's potential as a complete solution, the package includes all the necessary accessories and cables . Bass is surprisingly strong for speakers of this size and specifications. Lovely fit and finish and attention to detail. The glossy white paint is flawless, and no poor seam joins or other physical flaws are in evidence. Simple to set up and operate. An all-in-one solution to amplification and ensonification; paired with the most basic of computers or a reasonable tablet or cell phone, the system is entirely capable of standing in for a traditional set of stereo components. Flexible inputs ensure connectivity to a wide variety of sources. As long as the bass demands remain within its compass, at home with music ranging from solo instrumental to chamber to choral and full orchestral.
Con: The placement of the volume knob on the back of the left speaker is aesthetically pleasing (it's out of sight, not spoiling the clean lines of the cabinets) but inconvenient, particularly if it is functioning alone rather than in concert with a volume control in software. The built-in amplifier is not amenable to modification or replacement; should it fail, the owner can't simply swap in another amp. Most importantly, although the Audioengines do their best to cheat, the laws of physics are still the laws of physics. Bass may be surprisingly strong, but it still does not extend down far enough to satisfy devotees of pipe organ music or heavy metal.
Open to Question: A speaker's output depends on its input, in this case the quality of the Bluetooth feed. I have not tried the speakers with a computer's built-in Bluetooth function. The Avantree Leaf is, or at least purports to be, optimized for audio; I suspect built-ins would not be. Accordingly, I can't say the extent to which switching to stock would adversely affect the results yielded by the A2+ system. I can say that the Avantree Leaf/Audioengine A2+ combination is a winner.
Conclusion
You'll note that above I referred to "room filling sound." By its appearance, the A2+ system would seem primarily suited to serving as "computer speakers," and to that end Audioengine even sells a set of little angled desktop speaker stands. I'm sure the A2+ would fill that role admirably, but such restricted duties would be a waste: I've found these little speakers, when coupled with the Avantree Leaf Bluetooth transmitter, to be much more than a mere better grade of noisemaker for the bloops and bleeps of computer games, the odd chimes and sirens that accompany operating system events, and casual background tunes for surfing the Web. Diminutive they may be, but the Audioengine A2+ speakers are outsized performers and have what it takes to be a satisfying music system for Everyman.
Classical music chosen for the evaluation
Hans Christian Lumbye: Drommebilleder. Det Kongelige Kapel, Georg Hoeberg, cond. Polyphon Z60129 (from 78 RPM, rec. 10-1946)
Peter Lange-Muller: En Klaveerfantasi, op. 66. Morten Morgensen, pianist. Kontrapunct 32228
Domenico Scarlatti: Sonata in A, K. 113 (L. 345). Zuzana Ruzickova, harpsichordist. Supraphon 1 11 2261-2 (from LP, rec. 9-1976)
Ruy Coelho: Violin Sonata no. 2 (1927). Vasco Barbosa, violinist; Grazi Barbosa, pianist. PortugalSon PS5012
Aaron Copland: Fanfare for the Common Man. London Symphony Orchestra, Aaron Copland, cond. CBS MK 42430
Ludwig van Beethoven: Choral Fantasy, op. 80. Rudolf Serkin, pianist; Morlboro Festival Orchestra and Chorus, Peter Serkin, cond. Sony SM2K 89200 (8-9-1981)
Johann Sebastian Bach: Prelude and Fugue in D, BWV 532. Michel Chapuis, organist. Auvidis Valois V 4416
Gaspar Fernandez: "Tleycantimo choquiliya." Hesperon XXI. Alia Vox 9853
Other music chosen for the evaluation
Henry Clay Work: "Grandfather's Clock." Ed Trickett, from Gently Down the Stream of Time, Folk Legacy FSI-64 (LP, 1977)
Stan Rogers: "Barrett's Privateers." Stan Rogers and male vocal ensemble; concert recording. From YouTube; record issue unknown.
Peter Lang:"Snow Toad" and "Wide Oval Ripoff." Both from The Thing at the Nursery Room Window, Takoma C-1034 (LP, 1981)
Loring Nichols and His Band: "Corky." Audiophile AP-8 (78 RPM)
Alan Walker: "Faded." From YouTube; released only online.
Deep Blue Something: "Breakfast at Tiffany's." From YouTube; record issue unknown.
Ingrid Michaelson: "Girls Chase Boys." From YouTube; record issue unknown.
Gear List
Audioengine A2+ powered speakers
Avantree Leaf USB audio Bluetooth adapter
Lenovo Thinkpad T510 laptop computer
Buffalo Linkstation LS210D network attached storage drive
MediaPlayerLite software playing music files in Monkey's Audio lossless format
Realistic Minimus-7 passive speakers
Adcom GTP-500 tuner preamplifier
Adcom GFA-535 II power amplifier
Rotel RCD965BX CD player
Generic interconnects and cables
DISCLAIMER. TNT-Audio is a 100% independent magazine that neither accepts advertising from companies nor requires readers to register or pay for subscriptions. After publication of reviews, the authors do not retain samples other than on long-term loan for further evaluation or comparison with later-received gear. Hence, all contents are written free of any "editorial" or "advertising" influence, and all reviews in this publication, positive or negative, reflect the independent opinions of their respective authors. TNT-Audio will publish all manufacturer responses, subject to the reviewer's right to reply in turn.

Copyright © 2019 David Hoehl - drh@tnt-audio.com - www.tnt-audio.com
[ Home | Staff & Contacts | HiFi Playground | Listening tests | DIY & Tweakings | Music & Books ]