[ Home | Staff & Contacts | HiFi Playground | Listening tests | DIY & Tweakings | Music & Books ]
Hart Audio Type E (active) loudspeakers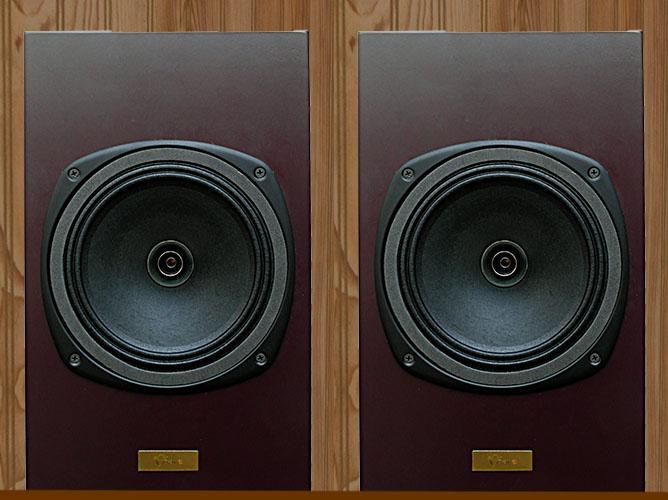 Hi-fi or AV?
[Italian version]
Product name: Hart Audio Type E loudspeakers
Manufacturer: Hart Audio - UK
Cost: 1995 UK pounds (active) - Passive version £995. (Currency conversion)
(YMMV)

Reviewer: Nick Whetstone - TNT UK
Reviewed: April, 2015
This was a bit of an odd review for me. Odd, in that I wasn't able to fully audition all the features of the product on review. I originally agreed to review the Hart Audio Type E loudspeakers not realizing that this loudspeaker is an active speaker that is part of an audio visual set-up. The speakers had already been despatched when Hart Audio contacted me to ask about setting up the speakers, only to discover that I do not have wi-fi, an essential component in the implementation of the Type Es when used with a TV. We agreed to continue with the review, as the sound quality of the speakers is what potential buyers need to know more about, while the capabilities of the speakers as part of an AV system can be read in the specifications.
The Type E is a small, sealed, stand-mount speaker with an 8 inch Tannoy dual concentric driver, and built-in class-D amplification. Bass output is claimed to be boosted by using thin front and rear panels, particularly when placed in the corners of the room. As we would expect at the price, the speakers are very well finished, the review samples coming in what I can best describe as a muted maroon colour. Hart Audio state that they can supply the Type Es in any colour. The actual size of the speakers is: Depth-20cm x Width-25cm x Height-45cm. Although they have internal amplification, ie they are active speakers, the internal amplifier can be disconnected, allowing connection to an external amplifier, thus making them passive loudspeakers, and that's how I ran them for the review. There is no analogue input to the internal amplifier.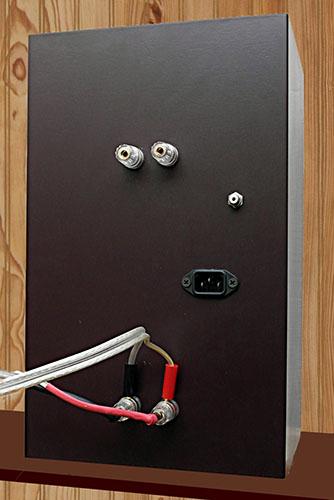 Wiring from internal amplifier disconnected.
The Type Es were placed on high stands, as close to the rear wall as the connections would allow, and about 8 centimetres from the side walls. I'm never too happy to see speakers connected to the stands via soft feet, and the Type Es have four adhesive rubber pads in each corner of the base. I found that they performed slightly better when I placed four small wood-screws under each pad such that the points made contact with the base of the cabinet, thus making a rigid connection between speaker and stand.
Auditioned in my smaller hi-fi room, the Type Es were fed from a computer source, through a hiFace DAC and various amplifiers; valve, class A-B, and class-D. They were clearly already well burned in, so I was able to get straight down to listening to them.
The Type Es image reasonably well, and the sound stage is again, reasonably well defined. While it stretches from side wall to side wall, the depth is lacking due to the speakers being situated so close to the wall behind them.
Right from the first track, I liked the Type Es. Listening to them was enjoyable for several reasons, and the first of those is probably also a failing. Although with a lot of music I didn't really lament the lack of bass, there were types of music where it was quite clearly noticeable that these are small speakers. But the plus side of that was that they sounded 'fast', rather like the famous Linn Kans. This speed made for excellent PRaT, and is certainly one main reason why the Type Es sound so enjoyable.
These speakers really excelled with vocals, the mid-range being so clear and precise. Voices had a realism, and an intimacy that made listening to artists such as Stacey Kent, Diana Krall, Leonard Cohen and Van Morrison particularly satisfying. If a singer had an accent, it was extra clear on the Type Es. The top end was no less clear and precise. Metallic sounds such as cymbals were beautifully reproduced with not a hint of 'splash'.
Due to the amazing clarity of these speakers, they portray every nuance in the music. I found myself listening to a whole album of Beethoven piano sonatas, enjoying them more that I had ever done previously.
Generally, everything that I played through the Type Es was pleasant to listen to. But when it came to rock music, large scale orchestral, or any genre that relies on big bass output, they did sound like small speakers, there was no getting away from that. Scale was missing from these types of music, and while that may the case with smaller speakers in general, it isn't with all of them. The bass that the Es do produce is fast and clear with no distortion. That's not to say that I couldn't listen to something like Dreadzone and enjoy it, but it didn't have the impact that it normally does.
The Type Es were speakers that I really loved listening to with some genres of music, and I would have loved to have given them an unreserved recommendation as hi-fi speakers. With some types of music, they were addictive to listen to (I can see why people rave about those Tannoy drivers), and I really loved listening to them. However, despite the thin panels concept, they ultimately failed to do as good a job in the lower frequencies as something like the Audiofilia AF-S2's, or the Alacrity Audio Caterthuns that I have reviewed in the past. I think that Hart Audio have perhaps come to the same conclusion as they offer matching woofers for the Type Es at a total price of 4,750 UK pounds. So, if you are shopping for speakers in that price range, the Type Es did such a good job of the medium and upper frequencies that I would strongly recommend auditioning the passive versions (at a thousand pounds cheaper) with the active woofers. If you can't go to audition them, Hart Audio offer a 'money-back if not satisfied' guarantee, allowing you to try them in your own home. With the woofers, not only would you get the bass, but the Type Es could be pulled further from the rear wall, thus improving the sound stage. I can also imagine that the Type Es, with their woofers, would make an extremely hi-end audio visual system. Their amazing clarity making them perfect for dialogue.

© Copyright 2015 Nick Whetstone - nick@tnt-audio.com - www.tnt-audio.com
[ Home | Staff & Contacts | HiFi Playground | Listening tests | DIY & Tweakings | Music & Books ]