[ Home | Staff & Contacts | HiFi Playground | Listening tests | DIY & Tweakings | Music & Books ]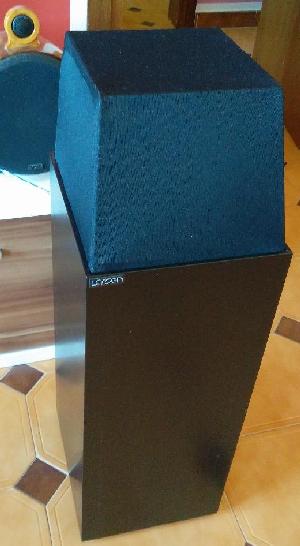 Product: Larsen 4.2 floorstanding loudspeakers
Manufacturer: Larsen HiFi - Sweden
Test sample supplied by: MondoAudio
Approx. price: 1400€/pair
Reviewer: Lucio Cadeddu - TNT Italy
Reviewed: July, 2018
Foreword
One of the most frequently asked questions I receive is related to troublesome installation of loudspeakers in a standard living room. Having to deal with different necessities, audiophiles struggle to find a reasonable location for their loudspeakers. Rear wall distance is a real pain in the neck. Wives don't like loudspeakers sitting in the usual "freestanding" position, hence moving speakers close to the rear wall seems mandatory to avoid divorce. Unfortunately, we all know that the vast majority of loudspeakers doesn't like being installed close to the rear wall.
Despite this real world trouble (for audiophiles, at least!) there are very few speakers manufacturers or designers who seem to care. Some British firm seems to be more sensible (for example Linn, Naim, Rega, see our review of the Rega RS 1) and recently even some French manufacturers have released something that might fit, for example see our review of the JM Reynaud Folia.
In the past, some loudspeaker designers have tried to deal with this problem, but not always with acceptable results. Firstly, let me remind you the designs by Sonab and Allison (thanks to Roy Allison and Peter Snell) in the Sixties and in the Seventies. Sonab speakers were designed by Stig Carlsson, a Swedish engineer who later founded his own brand Carlsson Ortho-Acoustic, (1980 - 1997, year of his death). Carlsson loudspeakers have been produced since 2006.
John Larsen, the man behind Larsen HiFi (established in 2007), worked together with Carlsson from 1981 to 1997. Hence, Larsen loudspeakers are based on Carlsson's designs and patents, though they are designed by Anders Eriksson (for the electroacoustic section) and John Larsen himself (for the cabinet design). Manufacturing of Larsen loudspeakers takes place in the small village of Skillingaryd (just 3,800 poople!) with the help of local artisans.
The Larsen catalogue offers just three floorstanding models: 4.2, 6.2 and 8 (soon to appear here on TNT-Audio), plus a center channel/surround speaker named SC. The Larsen philosophy is based on designing few models that can stay in production for many years. It is an approach that I highly appreciate: few things, done well and built to last. Their catalogue won't change (and hasn't changed) much over the years.
For all these reasons I enthusiastically welcomed Larsen Italian distributor's (MondoAudio) offer to ship me a pair of 4.2, the entry-level model in the Larsen catalogue, a small floorstanding tower priced around 1,400€/pair.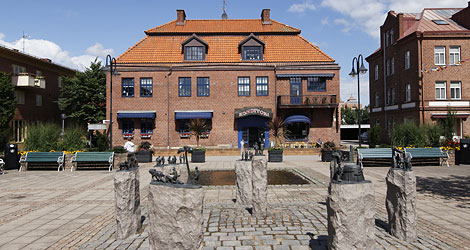 A view of Skillingaryd, Sweden
A closer look
The Larsen 4.2 is a small floorstander (73,5 x 23 x 26 cm) that relies on a bizarre two-way system loaded by an (upper) triangular bass-reflex enclosure. Woofer and tweeter appear to be installed in free air but a closer look reveals the strange system for the bass-reflex load. The monowiring binding posts are located as close as possible to the crossover and the drivers, so to shorten the signal path. The crossover makes use of plastic-film caps and glued coils to reduce vibrations. The tweeter is a Scanspeak Discovery D2606/920000 while the woofer is an 18cm Seas unit.
For these speakers careful installation is mandatory: as close to the rear wall as possible and no toe-in! Woofer and tweeter are already angled (45°) towards the listening point. In other words, the speakers are meant to sound as the designer intended only if installed this way. Any variation would be a mistake that can be highly harmful for the performance.
Different finishes are available: mahogany, maple, black or white lacquer. The dust cover is available only in black.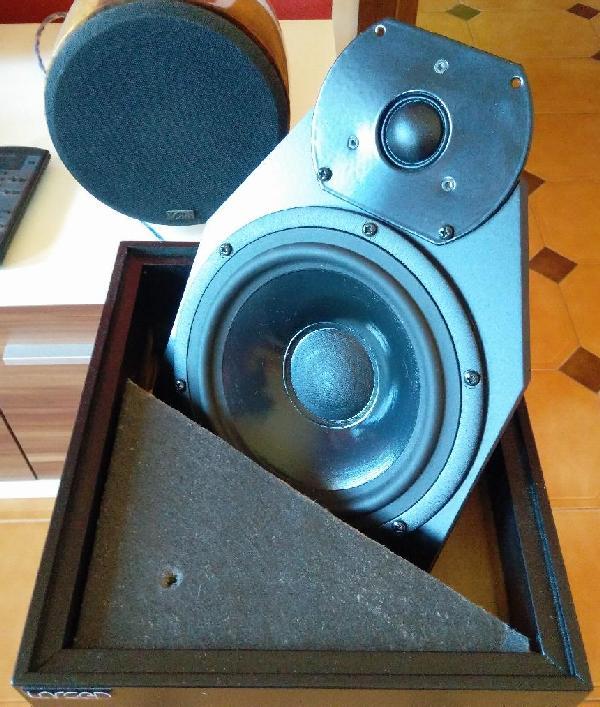 Woofer and tweeter in "free air"
Claimed tech specs
Type: 2 way, triangular bass reflex
Tweeter: Scanspeak D2606
Woofer: Seas (174 mm, 7")
Crossover frequency: 2500 Hz
Frequency response: 28 - 20.000 Hz
Sensitivity: 87 dB @ 2.83 v/1m
Power: 100 watt/channel
Nominal impedance: 8 Ohm
Size: 73,5 x 23 x 26 cm
Net weight: 11,5 kg/each
The Swedish you weren't expecting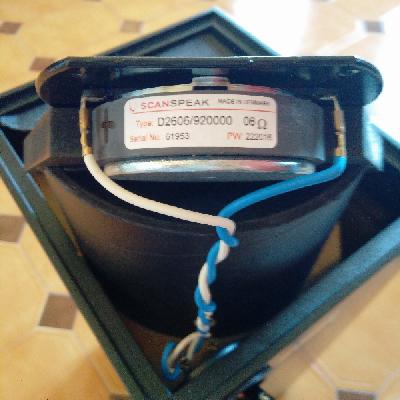 I was extremely curious to evaluate these speakers and my expectations were quite high, considering all those rave reviews and awards the flagship model 8 had received. I was hoping to find the real solution to the problem of unobtrusive speakers installation at home. Everyone would love a speaker that is reasonably small, sounds good and can be installed as close to the real wall as possible. As soon as I connected these 4.2 to my system I understood the solution was here, right in front of me!
The tonal balance, thanks to the help of the rear wall, which has been carefully taken ito account by the designer, is simply perfect: the bass range is powerful, articulated and never boomy as happens when a conventional loudspeaker sits against the rear wall. Electric bass is tight, powerful and never out of control. Deep bass is noteworthy, considering the small size of the woofer (and cabinet), but of course the first octave is a bit lightweight. Synthetic bass or organ pedals are very good and absolutely adequate to "fill" a mid-sized listening room with high quality sound. At very high listening levels and with bass-heavy tracks the 18cm/7" woofer slows down a little bit, and adds some trace of colouration to the mid and mid-bass region.
A quite unusual characteristic of this loudspeaker is that the deepest bass plays as it was reproduced by some woofer placed elsewhere in the listening room. Sometimes, on conventional speakers, you can distinctly detect the bass "thump" coming directly from the speaker. Not so with the 4.2!
The mid range is enjoyable, in particular voices are crystal-clear and free from electronic colourations. No sibilants, no harshness, no articial inflections. Even with big choirs it is easy to distinguish male and female parts, certainly the high quality of the Scanspeak tweeter plays a fundamental role here. It sounds detailed without being harsh or aggressive. The extreme 45° angle that has been used for its installation makes it play off-axis and this certainly contributes to smooth its character. The final result is a sound that I'd not call euphonic, but certainly it is not sparky. Definitely, it's highly enjoyable in the long run.
Micro & macro-dynamics
The sensitivity of this speaker is not high, at 87 dB/w/m, but this is the usual price to pay to have a good extension in the bass range. You wouldn't find this speaker to be extremely fast, either. It is not slow, but I'd better define its dynamic performance as "relaxed". This characteristic might be welcomed with certain musical genres, but is definitely "too much of a good thing" with rock. With Rage against the machine's debut album there's weight and impact and a general smoothing effect in the mid-high range. You need good amounts of power to reach high listening levels, but luckily there's a noticeable power handling capability.
The dynamic performance is very good in the bass, especially with drums and percussions, a bit relaxed in the mid-high range where sometimes a more crispy attitude would be welcomed. I've had the feeling the woofer seems more "at home" with the lower frequency range than with the upper range. The crossover cut is at 2500Hz, perhaps that's a bit too high for this woofer, who knows.
Overall, the sound is always involving, rhythmic and groovy. The fun factor is always high, even when playing very loud. No, it's not the fireworks presentation you'd get from a Klipsch loudspeaker, for example, but it is never boring and my listening sessions ended always with a big smile in my face.
3D soundstage
It is well known that any loudspeaker, when installed against the rear wall, can't image well. At least, there's a complete loss of the depth of the image. Everything becomes flat and 2-dimensional. These Larsen 4.2 play some kind of magic, instead. The image is reasonably deep and the virtual stage extends both in front of and behind the loudspeakers. The "free air" installation of the driver and their 45° toe-in certainly plays a role in counterbalancing the negative effects of the rear wall. Moreover, I think the rear wall is being exploited successfully to create a wide 3D image that, though not being of the "pin-point" kind, is still enjoyable.
Musical instruments and players possess realistic proportions and the focus on them is rather precise. A big, big surprise to me. Of course, good, traditional front-firing loudspeakers image better but these Larsen 4.2 are, in my opinion, an amazing compromise. Moreover, the virtual stage remains more or less the same even if you move from the "sweet spot", a similar effect I experienced with omnidirectional speakers like Duevel. Another plus, I'd say!
The weakest point is the height of the stage, which suffers from the low height of the speaker (just 73 cm!).
Do not even try to move the speakers far from the rear wall attempting to get a deeper soundstage! The magic trick these speakers are capable of would be definitely damaged. Not only the bass will disappear, but even the soundstage will collapse. Eveything works fine if, and only if, you follow the designer's rules!
Complaints
Manufacturing & finish.
Despite the cost of local Swedish manufacturing (not Chinese-made stuff here!) the quality/price ratio of the speaker is very good! It is a solid, no-frills, simple design that aims at function rather than form. No biwiring is allowed. This might be a problem for some people, but it's a plus to me! Another complaint might be represented by the exposed installation of the drivers. Keep the dust covers in place if you wish to avoid damages to the drivers.
Sound.
Compromises are compromises, you should learn to live with them. These are small floorstanders, you shouldn't expect wall-shaking bass, for example. Moreover, their warm and smooth character might be excessive if partnered with warm-sounding ancillaries. The virtual image, of course, is not on a par with similarly sized and priced traditional loudspeakers. Finally, heavy rock fans might find them too polite.
Some advice
Follow the designer rules accurately and you'll be home and safe. Do not try experiments, they won't work! A few centimeters of distance from the rear wall are tolerable, though. The speakers are supplied with anti-vibration feet, use them, and don't ask questions. Of course, you can experiment with different shock-absorbing/damping devices.
These speakers are an easy load for any amplifier and though sensitivity isn't very high it is easy to fill a standard room with sound even using a 25/30 watts amplifier. I'd suggest solid state amplifiers and I'd avoid warm and euphonic tube amplifiers like the plague. The result could be fascinating in the short term, but might become boring in the long run.
Conclusions
The Larsen 4.2 are speakers with few/no competitors. Made to play music for hours and hours, they satisfied both the reviewer and the music lover who live in me. They represent the perfect answer for anyone looking for no-trouble loudspeakers that can play well in a standard living room with all the compromises that might affact good sound reproduction. They seem to be designed with the standard music lover in mind, neurotic audiophiles look elsewhere.

© Copyright 2018 Lucio Cadeddu - direttore@tnt-audio.com - www.tnt-audio.com
[ Home | Staff & Contacts | HiFi Playground | Listening tests | DIY & Tweakings | Music & Books ]