[ Home | Staff & Contacts | DIY & Tweaks | Listening tests | HiFi Playground | Music & Books ]
Monsoon Audio Systems
FP-1000 Hybrid Planar Speakers
[Italian version]
Product: Monsoon Audio FPF-1000 Planar Speakers
Manufacturer: Monsoon Audio - Richmond, BC, Canada
Phone: 1-866-271-2237
Price as Reviewed: $1,199.00 USD
Reviewer: Scott Faller - TNT USA
Published: November, 2002


Monsoon
FPF-1000
Trivial Bits
A while back I was wandering through Wally World (AKA WalMart). As I stumbled into the Electronics department looking for a new DVD, a box on the Clearance shelf caught my attention. It was one of those Multi-Media computer speaker sets. Lord knows, the last thing I need is another set of speakers laying around the house but this one was different. This one was a pair of Planar Ribbons with an active subwoofer. Monsoon Audio makes them, they are the MM-700's. Knowing and loving the sound of planar's I decided that this box had to come home with me. Best part, it was under $100.
When I got home I immediately ripped into the box and got the little mini-system set up on my workstation computer. After I got done I slid a CD into the tray and pushed the Play button on the screen. Instantly, I was playing music on my computer. I'm not talking about that crappy sound that is always associated with computer sound, I'm talking real music, clear, articulate and well defined. Heck, there was almost a soundstage coming from these things.
As I looked over the packaging in amazement, I saw Monsoon's web address. Out of curiosity, I surfed on over to check out what else they made. That's what has brought me to this review. As I was on their site I noticed that they make a line of Two Channel and Home Theater speakers. Surprisingly, they aren't that expensive either.
After a few months of occasionally hitting their website and wondering what their Two Channel line sounded like, I decided to give them a buzz and see if I could get a pair for a full blown review.
Well, a week or so after making the phone call, my FedEx driver gives me a call and says he has a pair of really big boxes and wants to know if he can leave them on my doorstep. Needless to say I said yes.
When I came home I started unpacking them. I was surprised to find out how heavy they were. As you look at the base, you'll see that it is a cast piece of iron that has a gray finish. The speaker comes with two different styles of feet. One is a standard spike and the other is a rubber tipped to protect those of us who have wooden or tile floors. There are four spikes per speaker. The speaker also comes with a perforated metal grille. For all of my listening sessions, I had the grille removed.
The speaker is somewhat similar in design (looks anyway) to a standard pair of Martin Logans. They utilize a ported enclosure for the dual woofers. The enclosure is made of what appears to be two layers of ½" formed plywood. The finish on the review sample that I received is black although they do offer Walnut veneer as an option.
The speaker compliment on the upper end is an MTM arrangement. The mid's are the same Level 9 Sound Design (formerly Sonigistix ) ribbons that are used in the MM-700 and the tweeter is a Level 9 Sound Designs PTW-500. The woofers are dual 6 ½" poly, magnetically shielded drivers. The claimed frequency response is –6dB at 32 Hz to 20kHz. They also state that their sensitivity is 88dB at 4 ohms.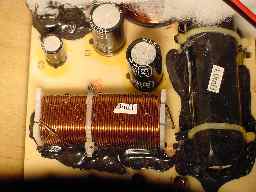 Monsoon Crossover
Being the curious person that I am, I had to take a look at the crossover. As you can see, the crossover uses standard grade aluminum di-electrics and standard air core coils as opposed to more expensive "audiophile grade" film and foil caps or coils. The speaker comes equipped to dual, gold plated, three way binding posts for bi-wiring or bi-amping.
Before I started any serious listening sessions, I installed the Monsoon FPF-1000's in my home theater rig on the front channels. I let them run in for the best part of three weeks or so before I carted them downstairs into my listening rooms.
Enough Already ...... Get On With It
As I set up the Monsoon's, I knew well the issues regarding placement of planar's since I use a pair of Carver ribbons and a good friend uses Maggie's. I chose to start with the speakers about three feet from the back wall and about four feet from the side walls. As you would expect, after I turned on the system and started playing music, I had to fiddle with the speaker placement a bit. I actually ended up with the speakers almost four feet out from the back wall with the side placement staying the same. Then I started playing with the toe in for soundstaging.
As I had the speakers facing straight forward, the soundstage was acceptable but the highs were more than a little subdued to my liking. The highs seemed even more relaxed than B&W's in my opinion. As I toed the speakers in, the highs got slightly better as one would expect but I felt that this crippled the soundstage.


Side View
One of the pieces of music that I seriously listened to was The Marian McPartland Trio, Live at Shanghai Jazz. This is an exceptional recording. Extremely detailed and natural. Marian plays a Ballwin piano. For anybody familiar with the Ballwin, when played, it has a distinctive bite in the upper registers. This recording is great as a true test for timbre and ambiance in my opinion.
As I played this recording I couldn't help but notice that the bite of the Ballwin was all but removed. To me, Marian's piano sounded more like an electronic keyboard than a Ballwin grand. This particular recording picked up the background sounds of the patrons at the venue. You can distinctly hear the servers, glasses klinking around, mumbling, and just general background noise. These sounds make for a great test of low level detail and resolution of a loudspeaker. Unfortunately, with the Monsoons, these ambient noises have been all but lost. The detail that we as audiophiles live for isn't there.
I listened to all kinds of music and with each piece that I played, I heard what I felt were speakers that didn't have much definition. When I compare the sound Monsoons to some of their direct competitors (Martin Logans and Magnepans to mention two), they didn't reveal much of the midrange and treble detail that I hear in the others. I didn't hear the breathy-ness and air around the instruments. The fine details just aren't there to my ear.
Fearing that I was hearing was a system mismatch, I switched amps, pre's, cables and interconnects several different times. I even tried bi-wiring with different combinations of wire types, including silver on the mid's and tweeters to brighten the speakers. As I played all of my typical test recordings, each time, the results ended much the same as my initial setup.
Listening to the speakers with each of the different setups, I heard what I thought was a thick lower end. To me, it was very pronounced, which would explain (in part) why I was so far away from the back and side walls in my room. This wasn't unique to the room. When I had the speakers upstairs in a much larger room being driven by my Arcam AVR-100, I experienced the same thing. With my Arcam, I was able to tame the bass somewhat by using the bass tone controls cranked backwards. In the typical audiophile system where we don't use tone controls, this isn't an option in my opinion.
As I mentioned, I tried multiple amplifiers, pre-amps and cables with the Monsoons trying to tame what I thought was a bass heavy, treble lite speaker. In the end, the only way I could get the speakers to perform up to my expectations was to use an equalizer. It happened to be a Behringer 1/3 octave, Ultra Graph Pro that I grabbed from my mini-home studio. Using the EQ allowed me to better shape the signal being delivered to the speakers. In doing this, the speakers did perform better.
So......
In the end, these speakers are probably well served to the Home Theater crowd. If you are looking for lots of bass coupled with a very polite midrange and non-fatiguing treble, these might be right up your alley. As a stand alone product for an Audiophile, I'd have to say that these probably won't fill the ticket but who knows, go give them a listen and let your ears be the ultimate judge. Your mileage may vary.



Manufacturer's Comments
Scott,
I appreciate your straightforward review of our Monsoon FPF-1000 planar hybrid speaker. As you know, we have been known for our award winning multimedia speakers and this first attempt at a home speaker was primarily focused towards the home theater market. While we were somewhat satisfied with the product, we know that it wouldn't take much more for us to make an audiophile speaker.
We should be releasing limited quantities of a "Special Edition" Monsoon FPF-1600 in January 2003 which I would like you to try out and tell me what you think. It addresses many of the concerns you had on the FPF-1000 such as dramatically improving the crossovers and adding resistors to the woofers. The performance should be improved across the entire frequency spectrum.
We have many ideas for new and improved home speaker products that our R & D team will be working on when they get a break from working on our radical new multimedia speakers.
Keep up the good work,
Troy Ruscheinski
Level 9 Sound Designs Inc / Monsoon
Sales Manager - Home Products

The Beast
Turntable – Systemdek 2x2, Rega RB 250, Expressimo Mods, Rega Super Elys
CD Player – Njoe Tjoeb 4000
Pre-Amp – Korato KVP10 with the Phono Stage, Tubed with Mullards
Tri-Amped using:
- Tweeter Amp – Spectro Acoustics 200sr, 100 wpc @ 8ohm, (heavily modded)
- Mid Range Amp – Rotel RB-981, 130 wpc @ 8ohm, (tweaked)
- Woofer Amp – Spectro Acoustics 500r, 250 wpc @ 8 ohm, (heavily modded)
Active Crossover – Audio Research EC3, Tubed and very discrete :-)
Interconnects and Cables,
- DIY, silver plated copper with teflon insulation,
© Copyright 2002 Scott Faller - https://www.tnt-audio.com
[ Home | Staff & Contacts | DIY & Tweaks | Listening tests | HiFi Playground | Music & Books ]