[ Home | Staff & Contacts | DIY & Tweaks | Listening tests | HiFi Playground | Music & Books ]
Polk Audio Model RT15i
[Italian verson]
Product: Polk Audio Model RT15i
Manufacturer: Polk Audio
5601 Metro Drive
Baltimore, Maryland
Price: $119.95 each (US)
Reviewer: Jon Sek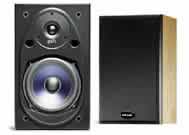 I have now lived with the Polk Audio Model RT15i now for two months. Polk Audio, has been around since 1972 and have always had a solid reputation for building reliable speakers. When I first received these relatively small boxes, I wasn't expecting much.
In my room, which measures, 18'x23'x9' (5.5mx7.0mx2.7m), I had installed a large, 3-way tower system, These weigh 55 pounds each (25kg.) and contain 100W powered subwoofers.
The RT15i measure just 11 1/8"H x 6 5/8" W x 8 ½"D (283mmH x 168.3mmW x 216mmD) and weigh 9.5 pounds each (4.3kg). The cabinet houses a 3/4" (19mm) dome tweeter and a 5 1/4" (133mm) Dynamic Balance woofer. The available finishes include black oak, cherry, maple wood veneer or white.
Claimed -3dB limits are 50Hz-20kHz. Efficiency is 89dB (1 meter, 1 watt) with 8 ohm nominal impedance. Recommended amplification is 20-100 watts/channel.
I set the speakers on MDF stands that are 25 inches high (63.5cm), placed along the 19" wall, and 1 meter (measured from the front panel) out from the wall. The speakers were placed symmetrically so that they are 6 feet (1.8m) apart and 6 feet (1.8m) from each sidewall.
I toed them inward ten degrees toward the listening chair and tilted them back roughly 5 degrees. The listening position was 9 feet (2.7m), measured a distance perpendicular to the center point between the speakers and their front cabinet face.
At first listening, I was impressed with the perceived heft at the bottom. Given their size, I wasn't expecting much below 80 hertz. With the set-up described, I measured -6.5dB at 63 hertz using a Radio Shack Sound Level Meter and Stereophile Test CD.
The perceived bottom end heft is aided by port tuning that boosted response at 80 hertz. At 100 hertz, response measured -7.5dB from the response measured at 1KHz. Bottom end response is very problematic in most rooms and, granted, these speakers are designed for rooms whose total volume is less than half mine. With placement closer to corners, I would predict meeting the 50Hz minus 3dB point.
The speaker's mid-range was very smooth and vocals were reproduced naturally, with no male chestiness observed. The highs sounded somewhat excessive in my room, which is very lively, on some CD source material. I have found excessive high-end energy on other CD's, so I can't blame it all on the speakers. The highs sounded much smoother and more natural with my analog gear.
When pushed to their limit, the tweeter sounded strident and harsh, so again, my recommendation would be to use them in smaller rooms. I'm using a 100-watt power amp to drive these speakers, so it was easy to reach the tweeters limits. Even so, the sound pressure levels generated were impressive, proving that this is a speaker that can handle a lot of abuse.
One of the speaker's best features is that they image beautifully. Acting as relative point sources, I was able to obtain very natural instrument sizes with good orchestral depth, height, and width.
I have to attribute some of this excellence to what Polk Audio calls their anti-diffraction bezel and grille system.
This arrangement is said to minimize grille-edge reflections for more open, spacious, lifelike imaging. I think most listeners will be impressed with their imaging, given the relative cost.
They will also be well served in a home theater arrangement, as the speaker's back face, upon which the included rubber feet can be mounted to, contain integral wall mount brackets.
I can envision five or six of these speakers mounted around the room, along with a dedicated center channel and one or two subwoofers.
If you're in the market for a small bookshelf speaker, give these a listen.
Auxiliary equipment:
Michael Yee Audio PA-2 power amp, LA-1 line level pre-amp, and pfe-1 phone pre-amp.
Rega Planar 3 turntable
Sumiko Blue Point Special cartridge
Magnepan Unitrac 1 tonearm
Panasonic DVD-A320, used as CD player
Various Audioquest and Kimber Kable interconnects and cables

© Copyright 2000 Jon Sek - https://www.tnt-audio.com
HTML: David Lundin
[ Home | Staff & Contacts | DIY & Tweaks | Listening tests | HiFi Playground | Music & Books ]