[ Home | Staff & Contacts | DIY & Tweaks | Listening tests | HiFi Playground | Music & Books ]
Quad 11L and 12L Loudspeakers
Duo Quad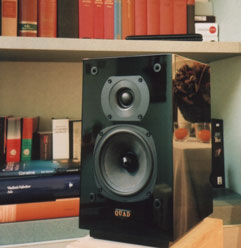 Product: Quad 11L and 12L bookshelf/stand loudspeakers
Manufacturer: Quad - UK
Approx. price: 500 Euro (11L), 700 Euro (12L)
Availability: Current
Reviewer: Werner Ogiers - TNT BE
Reviewed: July, 2003
You may remember my review of the Spendor-made Quad 10L loudspeaker of a couple of years ago. How I came from indignation - the heresy of a non-ESL Quad! - to sheer love for that performing tiny tot.
Alas, the pleasure our acquaintance was short, as Quad went through troubled times and somewhere along the lines the 10L speaker was discontinued. But you know the story, in came the Chinese IAG holding and Stan Curtis to save Quad from the clutches of the Verity group. Out came the new electrostatics, the 99 series, and even new tube amps. And a rumour that the 10L would be revived, but 'significantly cheaper'.
It was a long wait, but almost two years ago I finally met Quad's newling, dubbed 11L, at a dealer's. It was a short meeting: the speakers being offloaded from the distributor's van directly went into the dealer's car for immediate delivery. Demand far outstripped supply, there was a waiting list. In fact Quad offered me a pair for free if I agreed on writing a truly bad review of them.
Which I didn't.
So my refusing giving them a bad rap and so getting the heat off Quad's Chinese manufacturing plant of course didn't anything for me getting access to a review pair at all.
But being of the patient sort I persevered, and early this year I got the 11Ls home. That you read my report only now here at TNT is due to my writing for Dutch magazine http://www.hifi.nl/ first, thus embargoing the English versions for TNT for a couple of weeks after initial publication. But anyway, we had the 11L, and more, we had its slightly larger brother, the 12L, too!
Both the 11L and 12L are small reflex-loaded two-way speakers. They share the same silk dome tweeter, but the 11L has a 12 cm Kevlar® woofer, while the 12Ls betters this with a 17 cm model. Build quality and overall fit and finish are exemplary right down to the small tag with the serial number at the back.
Even the packing oozes sheer luxury: the speakers sitting in those textile protective bags that you normally find wrapped around a $2000 Delvaux. The reason: these Quads come in a shiny lacquer - black, birch, or rosewood - that would not be out of its place on a Bosendorfer.
Neat.
If you like your things shiny. Which I don't. I think the L-series colouring/painting scheme a bit over the top, bordering at kitsch. So please Quad, or please IAG, or please whomever-I-have-to-address, bring us a non-lacquered version too!
Measured ... sort of
I just had my Behringer UltraCurve 8024 digital equalizer in (for an excellent review of it please go and have a look at our competition), and I quickly abused it for rough measurements on Quad's new speakers, on-axis, at 1 meter distance, in a rather well-damped environment.
First the tiny 11L. Below 200Hz output drops as a whole by some 3dB, and rolls off sharply below 80Hz. This relative lack of bass luckily is compensated with a slow treble droop between 1 and 6kHz, the highs going mute eventually above 12kHz. Sounds dramatic, but yet, the whole 200Hz-20kHz range still is within the usual +/-3dB band. The 80-200Hz depression indicates a preference for close-to-the-wall positioning for this loudspeaker. I did this for a next measurement, now with sinewave excitation, and 50Hz was reproduced well, while 30Hz was inaudible. (Note that "close to" does not mean "against", as the 11L's rear-firing bass port still needs some room to breathe. But 20 cm or so will do well.)
The larger 12L is a different kettle of fish. Its output is nicely flat between 70Hz and 2kHz, very slowly rolling off above and below. Free standing output at 50Hz is still -7dB. This speaker should be used in the free field, or at the very least not close against a wall or in a corner!
This difference in tuning is interesting and possibly indicates why Quad came to releasing two almost-identical speakers of roughly the same size.
Listening: wall-mounted
Our main living room is tailored to dipole speakers and makes it cumbersome to listen to small loudspeakers positioned close to any wall. Therefore I started trials in the hobbyroom/office (24 square meters). Both Quad models were on suitable stands, about 10 cm in front of a bookshelf (20 cm for the 12L), spaced 180 cm and listened-to from 2 meters distance. The electronics were my old heavily modified Marantz CD-52SEx and also-modded Cyrus One 25W integrated.
First the 11L then. Up against the wall this speaker sounds quite balanced, as expected. Electric basses have character and 'roll' out of the enclosures, a standing bass in a classical orchestra can just be heard. Piano sounds pearly, and voices are rendered without undue harshness when the going gets tough. On the other hand, cellos lack some warmth, and overall the sound is not quite natural, but rather 'busy' and somewhat artificial.
Width is fine, depth is, understandably so, limited. The latter is compensated somewhat by the speaker projecting sounds forward, making voices more lively but without going over the top with it.
Midrange and treble quality and detail are fine indeed: Quad did a very nice job there blending that small Kevlar® cone over into the tweeter, a probably rather cheap tweeter at that! The highest octaves are reined in somewhat to keep extended-time or short-range listening unfatigueing. The mids connect seamlessly to the treble, with as sole remark perhaps a slight graininess. The lower part of the midrange is not quite up to this high standard, lacking somewhat in detail. Nevertheless it appeared that the 11L is well capable of distinguishing between good and bad recordings, and between different styles in recordings such as tube versus transistor microphones.
Moving over to the Quad 12L in the same position makes the sound quieter, easier. Cellos now sound natural, and the bass is more massive. Treble is louder and more extended, leading to a preference for larger listening distances than the 2 meters observed here. Massed passages in classical music keep their composure while conveying a sense of real power - the 11L could not quite manage this. Add in to this a very wide and stable soundscape as well as an tonal balance that is more even than the slightly mid-emphasised 11L.
Listening: free-standing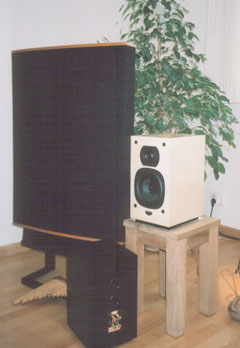 Over to the wide-open spaces of our lounge. 2.5 meters between the speakers, 1 meter distance to each wall, and listening from 4 meters or so. The amplifier driving the Quad 11Ls now was the 50W LFD PA0: without doubt a more incisive tool than Cyrus the Olde. On 'Introducing Ruben Gonzalez' the instruments struck me as quite alright, even when voices were somewhat thin sounding. Likewise, Loreena McKennitt's "The Visit" avoided hardness and harshness, but left a certain "pointiness" and lightness. (As happens with many speakers, by the way).
Simple and quiet music goes well, with some warmth and a nicely sweet midrange and treble. The lower reaches, as pointed out above, remained somewhat opaque. Playing jazz reveals the 11L's penchant for reproducing rhythms, even though the impact of a bassdrum is clearly diluted. Complex music that thrives on massive waves of bass is not the 11L's cup of tea: predictably most of the bass fundament is cut out from under the music, and if the recording isn't up to it, some midrange hardness can raise its head.
The slight grain I encountered with the Cyrus as amp disappeared with the LFD. It is a sweet and smooth speaker, though when listened to off-axis it indeed sounds a bit more aggressive.
Still ... If you got the feeling that I did not like the 11L then you're wrong. Despite above minor problems this is a speaker that is fundamentally musical. It just is a little bit critical in placement, and may not like all the music that you feed it. But when things go well, then can go very well indeed.
Sometimes the 11L even betters the 12L.
But that's on a very rare occasion, because given free reins the 12L behaves a lot more like a wideband speaker in this position. I encountered it just once, with Saint Germain's jazzyist stuff: the 11L more agile in the rhythm department, the 12L compared to it ever so slightly clumsy, yet definitely more detailed in the mid and upper regions.
With all other music the 12L was the winner of the two, with some distance: much massier, deeper, warmer, rounder, imaging more stable than the 11L. More tolerant of nervous source material: Loreena now velvety sweet, and a messy recording like 10000 Maniacs' Unplugged much better controlled.
Comparison with the ESL-63 is interesting. The tonality of both loudspeakers is similar up to the upper midrange, above which the cone-and-dome Quad sounds a tad brighter. The latter induced by a relative treble lift, no doubt, but perhaps also by the distortion of that dome tweeter that is bound to exceed the electrostatic panel's: this is normal, as compared to the ESLs almost every affordable conventional speaker sounds somewhat distorted.
Make no mistake: the ESL-63 is a more refined design than the 12L. But it is very striking here that the little Quads, the 12L more so than the 11L, have the same style of sonic consistency that make the electrostatics so special: Quad's boxed always offer the sound of a loudspeaker, as opposed to the sound of a tweeter and the sound of a woofer trying to play the same music. I think that's quite remarkable in this price bracket.
So long
The Quad 11L is a charming little speaker. Not perfect indeed, but quite musical when used close to a wall, and given an amplifier of sufficiently high quality. Perhaps not the ideal speaker for your average audiophile type, no, but then rather the perfect speaker for the audiophile type's neighbour who wants a decent music reproduction on a budget.
The Brit-Fi Press unanimously waxed lyrical over the 11L. And yet, to me the real star of the show is the 12L. This truly is a loudspeaker that needs no apologies. It sounds much more complete than the 11L and never puts a foot wrong: definitely a more mature music maker, with perfect finish and craftmanship, easy to use, and a wonderfully-natural sound.
At 1000 euro per pair the 12L would be brilliant. It costs 700 euro/pair ...
© Copyright 2003 Werner Ogiers - www.tnt-audio.com
DuPont™ and KEVLAR® are registered trademarks or trademarks of DuPont or its affiliates.
[ Home | Staff & Contacts | DIY & Tweaks | Listening tests | HiFi Playground | Music & Books ]