[ Home | Staff & Contacts | DIY & Tweaks | Listening tests | HiFi Playground | Music & Books ]
Soliloquy 6.2 Loudspeaker
[Italian version]
Product: Soliloquy 6.2 Loudspeaker
Manufacturer: Soliloquy High Fidelity Loudspeaker Company - USA
Address: 2613 Discovery Drive, Bldg. A, Raleigh, NC USA 27616
E-mail: SolSpeak
Tel. & fax: 919-876-2554 - 919-876-2590
Approx. price: 2500 $/Euro (pair)
Reviewer: Nels Ferré
Reviewed: February 2001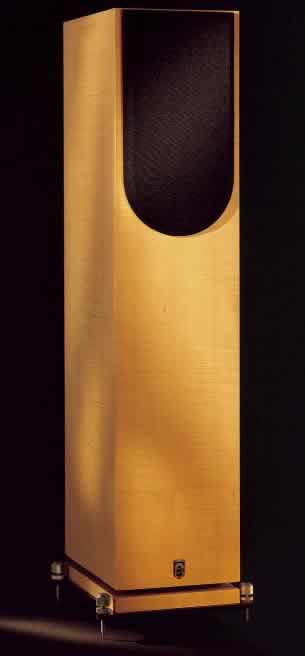 Background
When I joined TNT-Audio a little over a year ago, I gave a lot of thought to what type of equipment that I wanted to review. I felt, and still feel, that there is much too much press given to "dream components", those that most audiophiles like myself will never be able to afford.
After much consideration, I decided to limit my reviews to single components (or speaker pairs) priced at $2000 or less. While the Soliloquy 6.2 Loudspeakers are priced at $2500, I still feel them to be within range. As a consumer, if I were in the market for an item (any item) at the $2000 price range, I would not hesitate to spend an extra $500 for an item which I felt offered an advantage in either performance or quality of manufacture. Therefore, I agreed to write a review on the Soliloquy 6.2.
Soliloquy High Fidelity Loudspeaker Company, under the direction of President Bernie Byers, and his son, Vice President Brock Byers, has managed to accomplish something not usually done in the "budget" high-end loudspeaker market. Usually, manufacturers source certain (or all) parts that make up a loudspeaker and combine all of these parts to make a "new" speaker system. Think about it for a moment.
There are countless speakers on the market that utilize "off the shelf" Vifa or Focal drivers. The "manufacturer" then puts the company logo on the front of the cabinet (which may have come from yet another source), and voila! A "new" loudspeaker is born.
Soliloquy chose to do things differently. In fact, all of their speakers are truly theirs: the only components in Soliloquy speakers that they do not manufacture themselves are the drivers, which are designed in house, and manufactured overseas to their specification.
There are other things that differentiate Soliloquy from their competition. First, all of the items in the line place an extremely benign load to the amplifier, and most of the line will operate with very little amplifier power, allowing the use of flea powered triodes.
These same loudspeakers also boast high power handling capability to allow use of the largest solid state amps. All of the cabinets are constructed of massive one-inch sheets of MDF, and internally braced with the same. Crossovers are built by hand and all internal wiring is from Straight Wire.
All finishes (4 are available) are real wood veneers, at no additional cost. Additionally, all floor-standing models use a special metal base, to which adjustable spikes are mounted. The wood veneered cabinets are very classy looking, with the review pair finished in Curly Maple.
The 6.2
The Soliloquy 6.2 is a beautifully built speaker. It stands 42 inches high, 9 inches wide, and 13 inches deep. Each speaker uses one 6.5 inch woofer, cradled in magnesium baskets, and 1 1.125 inch silk dome tweeter.
The tweeter also sports a proprietary coating, presumably to smooth the response of the tweeter. Each 6.2 cabinet weighs in at a "gut busting" 90 pounds.
Soliloquy states other specifications as follows:
Frequency Response: 35 Hz - 20 kHz (no tolerance stated)
Impedance: 12 Ohms nominal, 9 Ohms minimum
Sensitivity: 89db/1watt/1 meter

I am having difficulty finding words to describe how well built these speakers are. The 1-inch MDF panels and the weight of the cabinets should give an indication of the sturdiness of these cabinets, but sturdy is not nearly a strong enough word. Massive, maybe even "stone like" is more accurate.
I am actually shocked that I was able to unpack these babies by myself. (I weigh all of 150 lbs.) I would recommend to anyone to have a friend help with unpacking and set up chores. In any event, the construction quality of these speakers doesn't indicate a $2500 pair of speakers, but more like $4000.
Around back of the cabinet is a rear firing port, and dual 24-karat gold plated 5 way binding posts, joined together with 24-karat gold plates.
The woofer and tweeter reside in the top third of the front baffle, positioned very close together, to create a "point source" type array, which benefits imaging.
The Listening Room
Because this is my first speaker review for TNT-Audio, I feel a description of the listening room is in order. The room measures 20 feet long and is 14 feet wide. The room has a cathedral ceiling. (The peak is estimated at 20 feet; I'm afraid of heights :).) Floors throughout the room are ceramic tile, with a small throw rug at the far left side of the room, which I feel is inconsequential as far as acoustics. Furniture is minimal: a leather sofa and 2 leather rocker/ recliners, and a square teak coffee table (in front of the system rack) complete the look. My system is placed on one of the long walls, firing across the width of the room. The speakers flanked my equipment rack. They were placed 6 feet apart, with the front baffle 2 feet from the rear walls. After a bit of experimenting, I decided forego any toe-in.
The 6.2 Sound
Soliloquy advises a break in period of 48 hours before any serious listening, and advises that break in will continue in small increments all the way to the 500 hour mark. They were kind enough to break in the speakers for me at the factory, so I can't tell you what changes occur during the initial break in period. I can tell you that during the two months I had them in my system, the sound quality didn't change much if at all.
After placing the 6.2's in their final position (actually the same place as my trusty old Infinity Kappa 6.1's), the first thing I noticed about these speakers are that they are soundstaging and imaging champs. The sound stage is big and deep, and it is extremely easy to place the musicians within that soundstage.
This was a sore spot with my system. It sounds great, and has improved greatly with the addition of my Van Alstine preamp, better cables, and an upgrade to a Rega turntable, but nowhere near the improvement realized with the substitution of the Soliloquys. These speakers brought the system to a whole new level.
I ran the system with both solid state and tubed electronics. Handling the amplification duties on the solid state side were a Harman/Kardon Citation 22 Power Amp (200 WPC) paired with a Van Alstine Super PAS 4iSL Hybrid Preamp. A Jolida JD-502B Integrated Amp powered the speakers for tubed listening. Curiously, I really didn't hear much of a difference at all between the two (vastly different) setups. I had expected a much warmer, lush sound with the Jolida, as is my experience with the Infinitys.
The only difference was a slight "edge" in the upper treble with the solid state setup; I used the Jolida for the vast majority of my listening. The only explanation that has been offered is that these amps, quite possibly, may sound very similar when playing into a very easy to drive, non-reactive load like the Soliloquy's. Keep in mind their 12 Ohm nominal impedance, with a 9 Ohm minimum. Damn near no load at all. In contrast, the Infinity's nominal impedance is only 4 ohms, dipping to 2 Ohms in the treble. A much more demanding load, and when listening to a system, you are actually hearing not only the speakers, but also how the amp interacts with them.
The Soliloquy's also proved their high-end mettle by how clean they sounded. It was amazing how much music the Infinitys obscured, especially in the mid bass region. The bass is deep and detailed, which really proved beneficial on well-recorded CDs, like Mark Knopfler's new release "Sailing to Philadelphia". Even though the 6.2 has "only" a 6.5 inch woofer, I was stunned at the bass response.
The bass abilities of the Soliloquys never ceased to amaze and delight me. In comparison, the Infinity's bass is rather "wooly", which I had never realized before. (They were a HUGE improvement over the Altec Lansing models that I had previously owned.)
The midrange was almost "planar like" in sound quality. Vocals and instruments were extremely lifelike. Classical music especially benefited here. I try to attend the local symphony here at least annually, and I've never heard violins sound so natural on any system I've ever owned. (Although I've never owned speakers as nice as these, either.) The upper end was also very smooth and extended.
Dislikes
These speakers do not seem to impart any quality of their own. This saw cuts both ways: great recordings sound truly fantastic, but all of the flaws of lesser recordings come through. Most of the time, this wasn't bothersome, but occasionally, I found myself changing the music midway through because the sound became harsh. Thinking back though, it was mostly early CDs that could have really used re-mastering. (And some actually were.)
Additionally, the instructions advised that two people should unpack and setup the 6.2's. Unfortunately, one must unpack the speakers to get to the instructions. The warning should really be on the outer boxes. (The 6.2's are double boxed for shipment.)
Recommendations
If you find yourself in the market for a new pair of high quality, high-end speakers, and the Soliloquy 6.2's are within your budget, I would recommend that you seek out your nearest dealer. If you are planning on spending more than the 6.2's price of admission, listen to them anyway, you may find yourself actually saving some money.
A few days ago, I shipped the review pair to our friends at Enjoy the Music for their upcoming review. I know they will have a great time with them. There's only one problem: I miss 'em!
&copy Copyright 2001 Nels Ferré - https://www.tnt-audio.com
HTML Editing by Scott Faller
[ Home | Staff & Contacts | DIY & Tweaks | Listening tests | HiFi Playground | Music & Books ]