[ Home | Staff & Contacts | HiFi Playground | Listening tests | DIY & Tweakings | Music & Books ]
Tekton Design ENZO XL loudspeakers and CINEMA subwoofer
Full range sound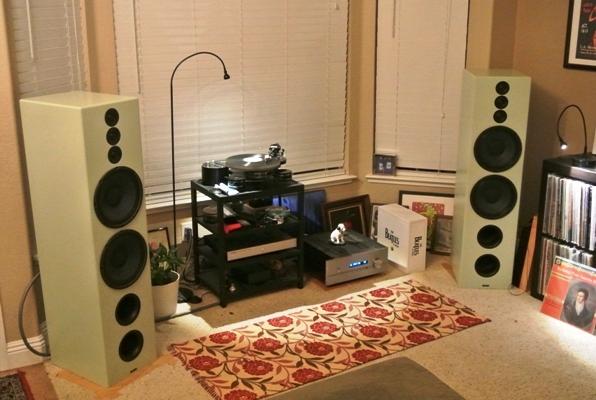 [Italian version here]
Product name: Tekton Design ENZO XL Loudspeakers and CINEMA SUBWOOFER
Manufacturer: TEKTONDESIGN
Cost: $1,900.00 and $1,000.00 respectively (USD) (Currency conversion)
(YMMV)

Reviewer: Todd Bromgard - TNT USA
Reviewed: May, 2017
Introduction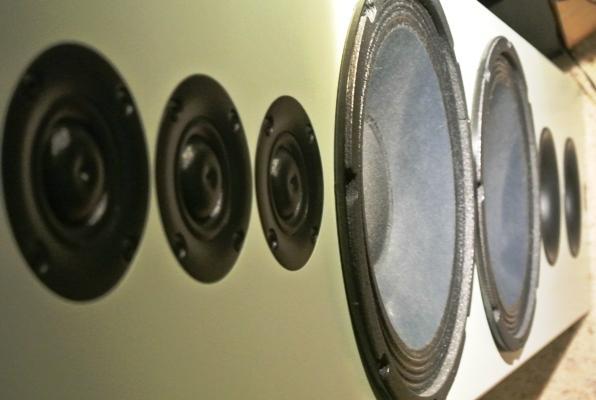 I reviewed the ENZO loudspeaker from Tekton Design two years ago for TNT-Audio.com, and was favorably impressed. Eric Alexander is the force behind Tekton Design, and when I read he developed the ENZO XL loudspeaker, I requested a review sample. The affable and ever patient Alexander obliged, and also sent Tekton Design's CINEMA SUBWOOFER along just for kicks.
Description
The Enzo XL loudspeaker is a large 2 ½ way floor stander. Each cabinet contains two 10 inch woofers and three tweeters in a vertical array. All drivers fire forward along with two large ports. In back are high quality speaker connectors. The speakers are tall and measure approximately 48 x 12 x 15 inches. Frequency response is stated to be 30 Hz to 30 KHz and efficiency is high at 96.5 dB. The ENZO XL can be finished in a wide variety of colors or wood finishes.
The CINEMA SUBWOOFER utilizes a giant 18 inch driver powered by a 300 WRMS BASH amplifier housed in a cabinet which measures 33 x 20 x 26 inches. It is super efficient at 99 dB, and frequency response is said to be 19 Hz to 200 Hz. Variable adjustments for frequency cut-off and volume control allow for easy integration with main speakers. Like the ENZO XL, the CINEMA SUBWOOFER can be factory painted to your specifications.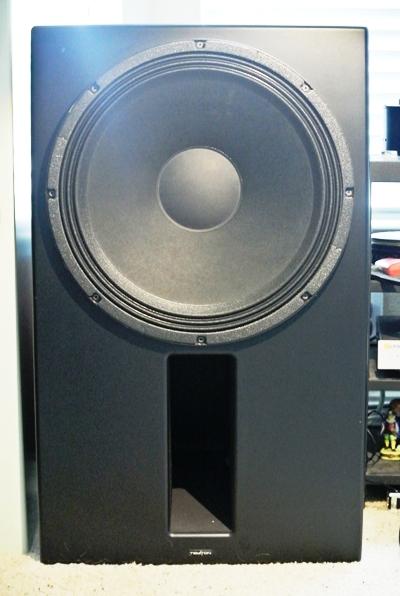 The ENZO XL and CINEMA SUBWOOFER together make a true full range system for a little over $3000 delivered to your home direct from the factory.
Associated gear
I used a Pass Labs INT 150 integrated amplifier to drive the ENZO XL loudspeakers. Playback source was an Origin Live Resolution deck with the Illustrious tonearm tipped with a Soundsmith MIMIC Star cartridge. My phonostage is a heavily modified Jolida JD9.
Set up
The ENZO XL loudspeakers look nearly identical to the ENZO loudspeakers, with the exception of larger drivers and a larger cabinet, hence the XL designation. If there are other differences, they are internal. The cabinets were beautifully finished in sage green, a color I selected to help the larger speakers blend with my room décor. It is nice to be able to select colors other than basic black, and I think this will appeal to a lot of folks.
My listening room is relatively small at 12 x 15, and opens to the rest of the house, which poses some tough challenges. The speakers which typically occupy my room are Usher 718 Monitors. I love the seductive midrange and transparent top end of the 718 monitors. But they are a small two-way with a single 6.5 inch bass driver, which has trouble creating sufficient low end response in my listening room.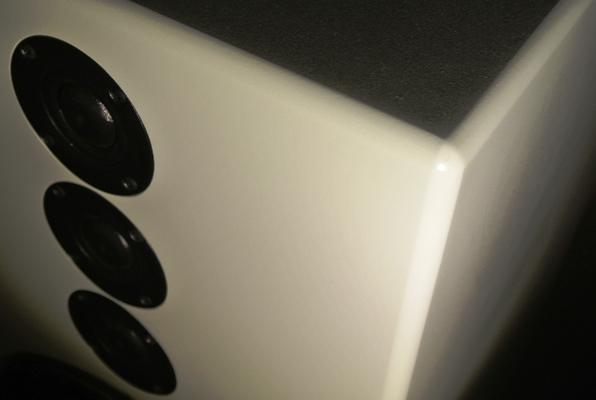 I have experimented with large multi-driver speakers capable of creating sufficient low end response, but have found placing large speakers in a small room a challenge because speakers with multiple drivers simply do not have sufficient time to integrate into a cohesive sound wave. But the ENZO XL has a wide dispersion pattern, and worked great in my room from about 8 feet away. Also, the front firing ports mean the speakers can be placed closer to rear walls, a benefit when floor space is at a premium.
One more point about set-up. The ENZO XL loudspeakers are highly efficient, and they can handle high power. You can drive them with low powered tubes or high powered solid state, the choice is yours. My Pass Labs INT 150 proved to be a great match.
Listening
Classic Records' reissue of Witches Brew is an audio tour de force, and the ENZO XL handled every note without stain. Music never sounded compressed, and I could easily distinguish between instruments, even during crescendos and loud passages. Triangles rang clear and crisp but never sounded bright or beaming. Music sounds balanced and the tweeters and bass drivers seem well integrated. Even sitting close, I could not detect the crossover from the tweeters to the bass drivers.
The ENZO XL loudspeakers do not produce a preponderance of bass, like those cars you can hear from 3 blocks away. It is judicial in its use and creates low frequencies only when called upon to do so. For example Tony Joe White's deep baritone voice on "Homemade Ice Cream" never sounded muddy or larger than life, and I did not detect any obvious low frequency bumps or emphasis.
However, when the source material called for deep bass, the ENXO XL was ready to deliver. I played Stadium Arcadium, and I am convinced I have never heard Red Hot Chili Peppers sound as good. Flea's bass was deep and tuneful. I could hear individual notes and could easily follow along with the bass line. Some speakers only hint at bass, but the ENZO XL reproduced it with distinction.
Tonal accuracy is one of the ENZO XL loudspeaker's strengths. Deviations in pitch or tonal accuracy become apparent when listening to well recorded piano. I played Beethoven Piano Concerto No. 1 by Glenn Gould, but detected no such deviations. In general I would say the ENZO XL loudspeakers produce a rich tone with a density and fullness to the midrange that highlights music. Another example came when listening to Steely Dan's "I'm a Fool to Do Your Dirty Work." It contains a saxophone which plays loudly in center stage near the end of the song. Listening through the ENZO XL, the tone of the sax sounded just like it should.
I admit it. I am a sucker for a speaker that casts a three dimensional holographic soundstage with pinpoint precision. I love it when a speaker can disappear as the source of sound, and music seems to come from someplace other than the pair of speakers sitting in the room. In my experience small speakers are the best at accomplishing this feat. Large box speakers tend to focus other things, like those discussed above: frequency extension, tone, and dynamics. But, the ENZO XL surprised me and disappeared more than I would have thought possible for such a large speaker.
The wide soundstage is wide, extending from the edges of the speaker cabinets. Center images were extremely stable and hung between the speakers, as if coming from a hidden center speaker. Depth was recreated particularly well. Lisa Hannigan's At Swim album contains the song "Anahorish," which she sings a copula, along with back-up singers. All voices appear to come from the center between the two ENZO XL speakers, but Hannigan's voice is forward and the back-up singers sound like they are ten feet or more behind the speakers.
Enter the Cinema subwoofer
I used the CINEMA SUBWOOFER in my listening room with the ENZO XL as part of an extreme full range 2-channel analog system. It didn't take long to integrate the CINEMA SUBWOOFER with ENZO XL loudspeakers, and once the frequency and volume levels were appropriately matched the ENZO XL/CINEMA SUBWOOFER system produced the most involving sound I have ever heard in my home. I have used subwoofers before, but never one so big and powerful. I mean an 18 inch driver, 99 dB efficient and driven by a 300 WRMS BASH amp! This thing moves serious air! I was awestruck at how much more information was lurking in the lower range of the frequency spectrum which went undetected, until the CINEMA SUBWOOFER was plugged in.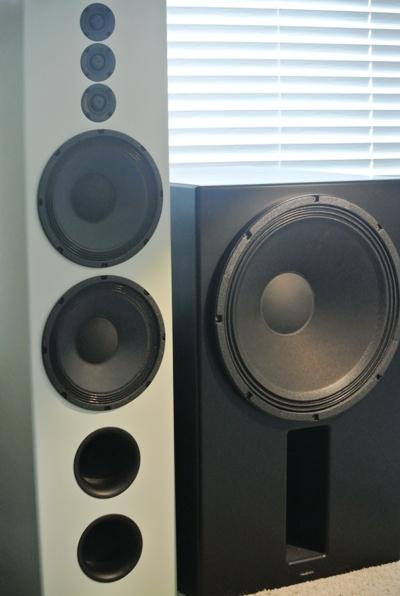 My listening sessions began with several soundtracks. The first up was the 1989 movie Glory starring Matthew Broderick. The soundtrack contains the sublime music score by James Horner featuring the Harlem Boys Choir, along with plethora of cannon blasts, musket shots and marching soldiers. All of it is recorded with startling realism. The ENZO XL/CINEMA SUBWOOFER had me pinned to my listening chair like that old ad for Maxell tape that asks, "Is it real or is it Maxwell."
I enjoyed what I heard so I pulled another war themed soundtrack off the shelf, Stanley Kubrick's Full Metal Jacket. The sound of marching marines and pounding drums was spectacular. I can only image what a 5.1 home theater set-up would sound like made-up of ENZO XL loudspeakers and a CINEMA SUBWOOFER. But, the aural thrills produced by the ENZO XL/CINEMA SUBWOOFER combo only start with movie soundtracks and special effects. Music played through the combo was equally involving, particularly with rock oriented material.
Who's Next by The Who is the ultimate classic rock album. I have a first pressing on the Decca label, mastered by Doug Sax, and the sound quality to be very good, particularly for a rock record. When I listened to it through the ENZO XL/CINEMA SUBWOOFER system gave me a new appreciation for the music. The drumming of Keith Moon sounded wild and visceral, and John Entwistle's rapid fire bass lines never sounded so thunderous. I turned the volume up and listened to The Who play without any detectable distortion. Sometimes there is no substitute for large pumping woofers.
Revelator by The Tedeschi Trucks Band is another good sounding rock record. It features guitar virtuoso Derek Trucks and the angelic voice of Susan Tedeschi. The entire band consists of thirteen members, and when they all play at once the ENZO XL/CINEMA SUBWOOFER combo pressurized my room like I've only experienced at live events. Mini monitors simply cannot compete.
But, what if you are not into special effects and don't play your music particularly loud? Well, I found music was always more engaging with the CINEMA SUBWOOFER plugged in, even when there source material lacked deep bass. I think this is due to the ability of the CINEMA SUBWOOFER to pressurize my room. The Cowboy Junkies' Trinity Sessions was recorded in The Church of the Holy Trinity in Toronto, Canada. The record begins with a few seconds of silence as the band stands quietly before starting to play their instruments. The silence seems to echo off the walls of the church and begins to define the boundaries of the interior space. Then the band begins to play and the recording venue is brought into sharp relief. The effect was pronounced with the CINEMA SUBWOOFER plugged-in, but nearly missed without it.
Conclusion
In sum, I found the ENZO XL to sound balanced and neutral, without obvious colorations. They are easy to place and cast a credible soundstage with good width and excellent depth. Moreover, they are efficient and capable of handling high power. The CINEMA SUBWOOFER is a reference quality powered subwoofer capable of true sub-20 Hz performance, and added to the enjoyment of everything I played. I don't know of any full range sound system for $3,000 capable of the performance achieved by the ENZO XL/CINEMA SUBWOOFER combo. They are wonderful products that I recommend without caveat.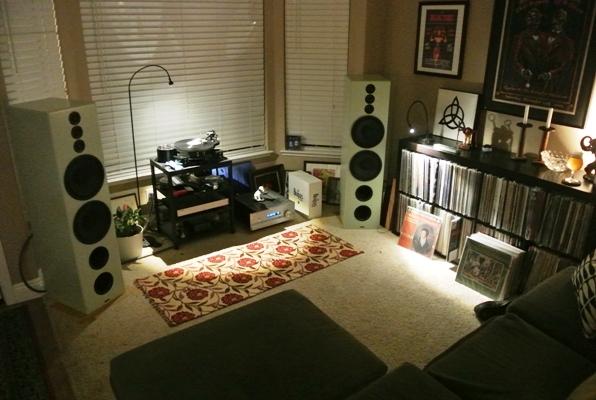 © Copyright 2017 Todd Bromgard - todd@tnt-audio.com - www.tnt-audio.com
[ Home | Staff & Contacts | HiFi Playground | Listening tests | DIY & Tweakings | Music & Books ]