[ Home | Staff & Contacts | HiFi Playground | Listening tests | DIY & Tweakings | Music & Books ]
Unity Audio Whitewater V2 Monitor Speaker Review
Maple Music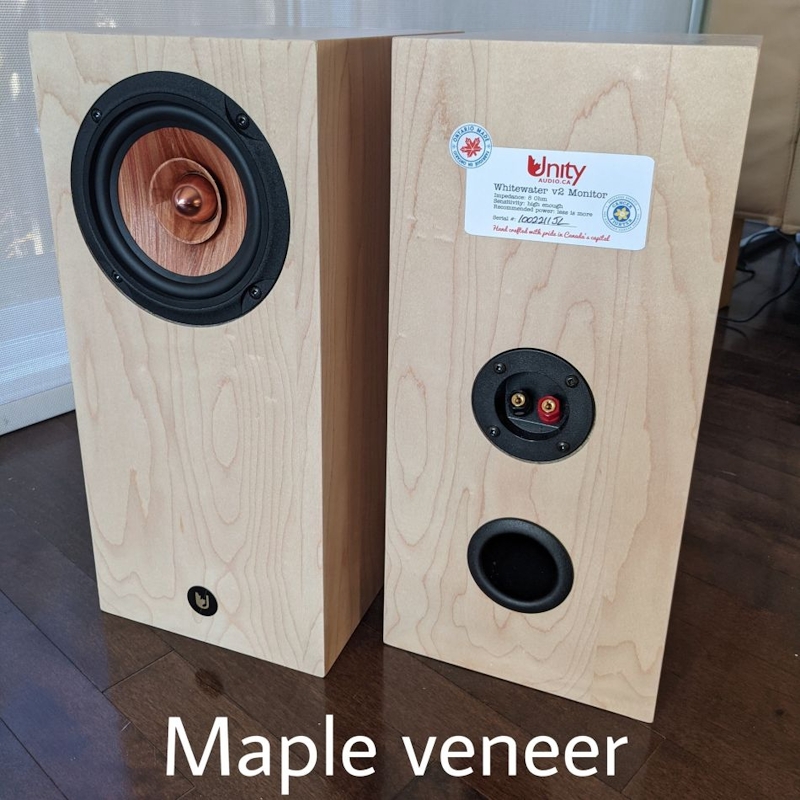 [Italian version here]
Product name: Unity Audio Whitewater V2 Monitor Speaker
Manufacturer: Unity Audio - Canada
Cost: $1400. each, Can. (Currency conversion)
(YMMV)
Reviewer: Roger McCuaig - TNT Canada
Reviewed: February, 2021
Introduction
Unity Audio was founded by Omer Humayun in 2005. Back in those days he had a business called Oz Enterprises and I remember visiting his house to pick up something and being shown his newly created interconnect cables. Now, about 15 years later, we both have a lot more grey hair, and Unity Audio has evolved into a much larger enterprise that retails many audio products including the Unity Audio line of cables and speakers. This review will examine the Unity Audio Whitewater V2 speaker which is a recent addition to the U-A product line.
The Basics
The Whitewater V2 measures 7.5W x 10.5D x 16.5H inches and weighs in at 30 pounds per pair. The ported cabinets, which are described as "Canadian MDF construction", are very stiff and solid. A knuckle wrap on the box produces a dull thud. The same test on my similar sized Bowers and Wilkins bookshelf speakers makes the B&W seem light by comparison. I emailed Omer asking what was so special about Canadian MDF however no response to this question was provided in time for publishing. My review sample was finished in maple veneer of very nice quality. The review sample clearly had been passed around to a lot of people and the cabinets were a bit banged up. Omer assured me that each pair is made to order and arrives to the customer in perfect condition. The full-range coaxial driver used is manufactured by Airborne which appears to be a Chinese company. I say "appears" because the only information that I was able to find on this company came from an audio forum. Airborne drivers are offered in Canada by Solen, which certainly gives this brand some validity. In the never-ending pursuit of a balance between cone stiffness, mass and cost, Airborne has opted for wood speaker cones, an interesting and aesthetically pleasing choice. The 5-inch driver used by Unity is a variation on the Airborne FR151 model, of course, the details on what modifications were made to the standard design will remain Unity Audio's secret.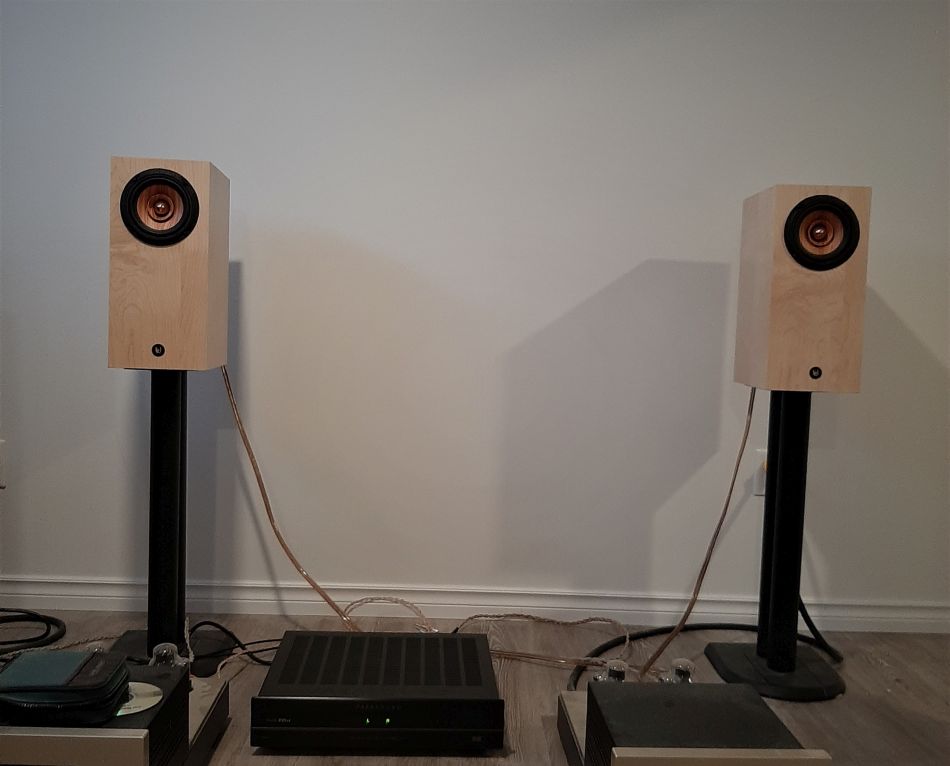 Listening Time
With a sensitivity rating in the low 90s (a specific number is not provided) the Whitewater V2 is tube amp friendly and I had absolutely no problem driving them to high volume with my 26 Watt amps. That being said, I decided that the first few days of critical listening with these speakers would be done connected to my newly acquired Parasound Model 2125 v.2 amplifier. The reasoning behind this setup decision was that running a $1400. speaker on a $1300. amplifier was a more typical, real-life situation than connecting these speakers to my Canary 300B monoblocks which, these days, are selling for over $12000. US. At 150 Watts, the Parasound is way more powerful than what is required for this speaker but the Whitewater V2 performed quite fine in this configuration.

It is worth noting that as speaker separation was increased, the soundstage remained clear and detailed, thus, more spacing produced a more interesting sound. I settled upon a spacing of 8 feet apart with the speakers about 2 feet from the front wall. (There is nothing wrong with your eyes - the speakers are not eight feet apart in the photo above.) Sitting on my 25 inch tall sand-filled stands, the Whitewater had no trouble at all in my fairly large listening room and I didn't get the impression that the speaker was too small for the room. Again, applying a certain vagueness to the specifications, Unity Audio declares the frequency response to be "within the range of human hearing, down to the low 40s". Well, for a bookshelf style speaker in this price range, I can't really find much fault in stating the frequency response this way. Anyone who expects get frequency response specs below 40 Hz out of a speaker cabinet this size is asking too much anyway! By comparison, my B&W bookshelf speakers only get down to 52 Hz. The bass response for my specific setup was quite impressive. The Whitewater produces a crisp, tight, detailed bass that never felt weak or insufficient in the fairly large room and delivered a pretty even bass output through the frequency range. In fact, most of the time I was pleasantly surprised by the amount of bass. Of course a single 5-inch driver in a small box doesn't move a lot of air volume so your brain has to fill in the blanks a bit. You will not here the bottom notes of the Saint-Saens Organ Symphony with these speakers but nor will your hear them from anything else this size!

I sat in my listening chair reading a book for hours while playing jazz recordings from the 50s and 60s, totally happy. There is a smoothness and focus through the heart of the frequency spectrum that is no doubt at least partly a consequence of using a coaxial driver. The Whitewater does get into trouble a bit on the high frequencies where it can't quite hold on to that mid-range smoothness. It has more trouble with complex sounds such as saxaphone, choirs, cymbals and less difficulty with instruments like acoustic guitars or trumpets. With Bob Marley's Legend album still fresh in my mind from my previous review, I gave that a play. The punch and the dynamics were very good, Marley's was voice a bit edgy at times. At some point, I put on John Martyn Sapphire. This vinyl record from 1984 has a definite New-Wave rhythm and instrumentation. Ghostly vocals in the background, lots of electronic keyboards and a digitally created soundscape. It induced me to try some more music of this era, HD streaming some Depeche Mode, Soft Cell, Talk Talk and Spandau Ballet. These early New-Wave recordings used a lot of digital instrumentation travelling all over the soundstage. This type of music seemed tailor-made for the Whitewater speakers, showcasing their ability to create lots of detail and to precisely place everything spread out in space. Now for all those readers who are preparing to send me a message explaining what is New Wave and what isn't, keep in mind that in the early '80s there weren't the 130 categories of New Wave music of today, there was just one.

Switching over to the Canary 300B monoblocks resulted in a noticeable change in the overall sound. Slightly less dynamic and punchy but smoother. The tube amps were able to smooth out some of the high frequency issues found with the solid state amp. This was a more pleasing listening experience for me who tends to prefer a more gentle, less technical, sound however it is certainly improbable that people will adopt such an unbalanced speaker/amp setup. Thankfully there are much less expensive amplifier options available to obtain this sound for those, like me, who prefer that style.
Conclusions
The old saying "you get what you pay for" seems to be quite applicable when it comes to bookshelf speakers. The Whitewater V2 sounds significantly better than my $500 B&W bookshelf speakers but not as good as the high-end bookshelf speaker I have heard. It doesn't have the purity in the high frequencies that one can obtain from the best (read "most expensive") bookshelf speakers, but that level of performance comes with about triple the price tag of the Whitewater. It does have surprisingly rich, tight bass and a mid-range that is both fluid and detailed. The punch and dynamics are also noteworthy, as is the ability to cope with my fairly large listening room. Together with one of the many new low priced all-in-one streamer/amp products hitting the market these days, a great little system could be had for a very affordable price tag. Unity Audio also makes a floorstanding version of the same speaker with a frequency response listed to the "low 30s".
Music List
Here is a partial list of music played for this review.
Windam Hill Record Sampler #84. vinyl.
Dick Dale; Tribal Thunder. Red Book flac.
Donald Byrd; Free Form
Ahmad Jamal; Saturday Morning. 24bit/88kHz flac.
Dr. Lonnie Smith and Iggy Pop; Move Your Hand. 24bit/88kHz flac.
Dead Can Dance; Spiritchaser. Red Book flac.
John Martyn; Sapphire. vinyl.
Depeche Mode - Soft Cell - Talk Talk - Level 42 - Spandau Ballet; Tidal Music - CD quality.
DISCLAIMER. TNT-Audio is a 100% independent magazine that neither accepts advertising from companies nor requires readers to register or pay for subscriptions. After publication of reviews, the authors do not retain samples other than on long-term loan for further evaluation or comparison with later-received gear. Hence, all contents are written free of any "editorial" or "advertising" influence, and all reviews in this publication, positive or negative, reflect the independent opinions of their respective authors. TNT-Audio will publish all manufacturer responses, subject to the reviewer's right to reply in turn.

Copyright © 2022 Roger McCuaig - roger@tnt-audio.com - www.tnt-audio.com
[ Home | Staff & Contacts | HiFi Playground | Listening tests | DIY & Tweakings | Music & Books ]