[ Home | Staff & Contacts | HiFi Playground | Listening tests | DIY & Tweakings | Music & Books ]
Vanatoo Transparent OneEncore
Wireless Active Speakers
That is a lot of system for the money
[Italian version here]
Product name: Vanatoo Transparent OneEncore - Wireless Active Speakers
Manufacturer: Vanatoo - USA
Price (approx.): $ 599 ($ 529 B-Stock) - (Currency conversion)
Reviewer: Bevan Court - TNT USA
Reviewed: May, 2019
Introduction
I have to admit, I had heard reviews of the predecessors of this little speaker, the Transparent Zero, and had high hopes; however, I hadn't quite realized how small they were until I pulled them out of the box. Comparing them to my already apartment friendly Dynaudio Excite 14's, they seem positively tiny measuring in at only 10" H x 6 ½" W x 7 ½" D. My scepticism of how they would perform grew. Unlike the Zero, which angle the driver as sitting on a desk, with a stand to align them for other duties, they are a more regular shape, indicating that these can pull duty as main speakers as well as desk based setups. However, first impressions of fit and finish were very good, solidly made with 18 mm thick wood (up from 9 mm for the Zero) and a nice black satin finish. One thing to note, that satin finish is a fingerprint magnet, so be prepared to touch them as little as you can! Like the famous Model T Ford, they can be had in any colour you like as long as it black, no exotic finishes are available at the time of writing, though I have seen photos with a dark brown finish that appears to be nice. I would say that it is a lot better finish than a lot of the black ash vinyl wraps that I have seen on even expensive speakers, so they still retain a premium feel for the price point. The remote control is a simple plastic affair, but is made from a really nice soft, tactile plastic, that makes you want to hold it. I have seen a lot worse on equipment many times the price, I am pleased Vanatoo refused to go down the route of using a clone of an Apple or Fire remote. A final touch, magnetic grilles, are nice to find on a budget speaker.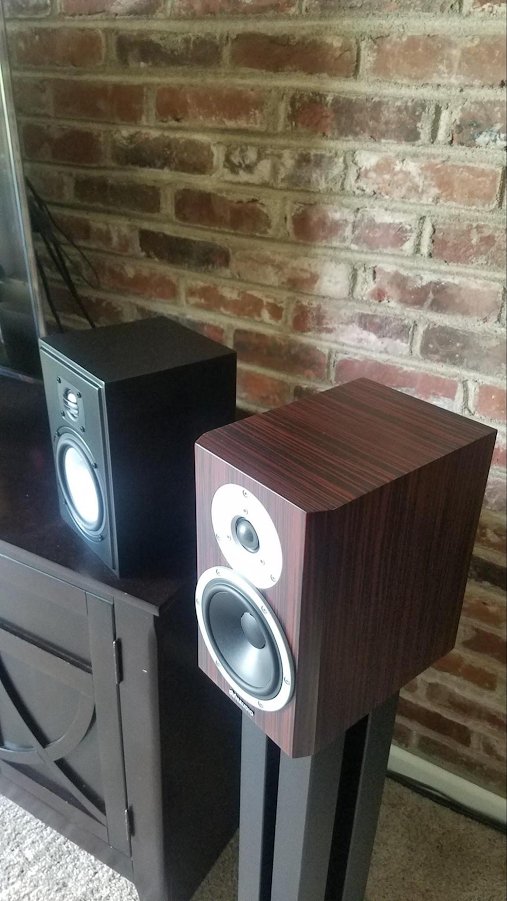 The Product
So, these are an active speaker. The only true active system that I have heard up to this point is the KEF LS50W, that sells for nearly 4 times the price, so I could not realistically expect them to compare could I? They would, however, have to compare against my Dynaudio Excite 14 powered by my PS Audio Sprout 100, both of which retail for more than the diminutive speakers. Let's see how they fare. Now, I will preface this by saying that while I live in a condominium, I am fortunate that my immediate neighbor works unconventional hours, so I can push the volume a little in the evening, but I am not cranking my music to ear splitting levels, nor making the windows vibrate with the bass. Everything in moderation. Out of the box, the sound was a little closed in on Rag'n'Bone Man's BBC Live version of Skin, with the soundstage being a little narrower than I was used to. Deciding that perhaps they needed time to settle in, I played some background music and decided to put off my critical listening until later. This afforded me some time to go through the specifications. Like many wireless speakers, these utilize class D amplification, both for size and the fact that its efficiency does not generate too much heat. These are configured with 100 W for the 5.25 aluminum cone bass/mid driver and 20 W for the 1.0" aluminum dome tweeters. Interestingly, Vanatoo, have added a 5.25" long throw passive radiator on the back of this unported speaker. I had to do a bit of online reading to get a feel for the benefits for this, but the aim is to produce a much better bass response from a small cabinet. The passive radiator moves as the pressure in the enclosure changes with the movement of the other driver, dampening the drive unit and helping to prevent it from over excursion. This can then be tuned to give a flat response, smoothing out the sound and gaining control of the bass. Vanatoo combine this with DSP to avoid a "mid bass hump", giving an integrated system to provide a claimed in-room frequency response from 48 Hz to 20 KHz ±3dB (f3 point) or 40 Hz to 20 KHz ±3dB (f10 point). Certainly a different approach than other active speakers that I have seen. Connections are the expected digital (USB, Toslink and Coax are all 24 bit at 96 kHz) and one digitized analog input. This gets resampled to 24 bit at 48 kHz. The crossover is handled via DSP at a resolution of 24 bits at 48 kHz.
It was about this time that I realized something was wrong. The music was only coming from one speaker! A hurried email to Vanatoo and it appears that the supplied connecting cable had some early supplier issues with shorting and a protection mode had cut in to prevent damage. Gary Gesellchen at Vanatoo, was very apologetic, and got me a new tested cable out to me within a couple of days. Impressive as they were at the AXPONA show in Chicago at the time. I can only credit their customer service on this and he has assured me that the fault has been remedied on all new units. So, a few days later, I got connected with the new cable and both speakers were working.
Listening
Pleased that I hadn't broken them, I settled in for some critical listening. Again, I realized that the sound was still a little closed in. I remembered that this uses DSP and looked up the manual. And there it was, there are two modes, one called flat, this is for use on speaker stands, and another called shelf, is for when the speaker is on a shelf on piece of furniture. Out of the box, it defaults to shelf as Vanatoo still expect a lot of these to be used on a desk. Having gone through the setup using knobs and switches in various positions to reconfigure this to flat and everything came to life. I won't give a description of that process, it is in the manual and a little complicated, though achievable if you read the instructions. At this price point, an app is a little much to ask. Not using an app does future proof this against apps becoming outdated or being no longer supported on new devices. So, finally, I was able to spin some music, using Roon through my Allo USBridge endpoint, connected by USB. Out of the gate, Led Zeppelin's Whole Lotta Love rocked. The panned effects that Jimmy Page used here were well presented, with a good 3D projection of all the instruments. The rhythm and timing are spot on, but it lacked the final resolution on Plant's vocals and the kick from Bonham's drums that I get from my Dynaudios. More rock followed, ZZ Top had me tapping my foot with La Grange (as it should) through the MQA release on Tidal.
A change of direction had Massive Attack's Mezzanine growling and punching through the opening track, the soundstage being noticeably wider and higher than when in shelf mode. Pavarotti's Nessun Dorma is my favorite piece of opera, the Vanatoo speakers handled it very well, without quite making the spine tingle at the crescendo that I get with my system. The DSP does allow some tone control, without loss of resolution as it is all handled in the digital domain. I actually preferred them set in the middle, though Gary at Vanatoo confessed to me that he likes them in flat mode and the bass reduced by 2. The beauty of this is that it can tailored to suit user preferences, room dynamics and music. I then switched to Bluetooth and got a shock. As did my neighbours. Each input has its own volume level and the USB seemed to be somewhat quieter than the Bluetooth. I quickly dialed it back and waited for the knock on the door, which thankfully didn't come. With a Bluetooth source it is simple to connect, sounds nice, without quite hitting the level of a USB connection into the DAC. With some more modern pop music like Shawn Mendes and Lana Del Rey, this wasn't such an issue, but I definitely prefered Coltrane's Both Directions using the wired digital source.
Conclusion
I had some ups and downs on this review, as did my neighbours, but at the end, I have to say that I am very impressed with them. My wife summed it up very well when she commented that they sounded really nice, just not quite as nice as my regular speakers. I found it hard to disagree. When you consider that these are $ 599, come with amplifiers and DAC and an analog line in, with DSP and a remote control, that is a lot of system for the money. I see these doing great as a first audiophile system, a replacement for a soundbar next to a TV or a second system for the office or bedroom. It's versatile enough and sounds good enough that it will not let you down in any situation. And all this for the price for a stereo pair of Apple Home Pod speakers. I know which I would choose. Just connect up to a Chromecast Audio or Raspberry Pi for a cost effective streaming setup. I did some minor listening to these on a desk, once more set to shelf mode, and they did a really nice job in near field listening. So good, that if I am honest, the time to ship them back is coming a little too soon and I am sitting here wondering if my wife would notice the office suddenly having some diminutive little black boxes that sounded fantastic.
DISCLAIMER. TNT-Audio is a 100% independent magazine that neither accepts advertising from companies nor requires readers to register or pay for subscriptions. After publication of reviews, the authors do not retain samples other than on long-term loan for further evaluation or comparison with later-received gear. Hence, all contents are written free of any "editorial" or "advertising" influence, and all reviews in this publication, positive or negative, reflect the independent opinions of their respective authors. TNT-Audio will publish all manufacturer responses, subject to the reviewer's right to reply in turn.

© Copyright 2019 Bevan Court - bevan@tnt-audio.com - www.tnt-audio.com
[ Home | Staff & Contacts | HiFi Playground | Listening tests | DIY & Tweakings | Music & Books ]