[ Home | Staff & Contacts | HiFi Playground | Listening tests | DIY & Tweakings | Music & Books ]
Xavian Perla Esclusiva - loudspeakers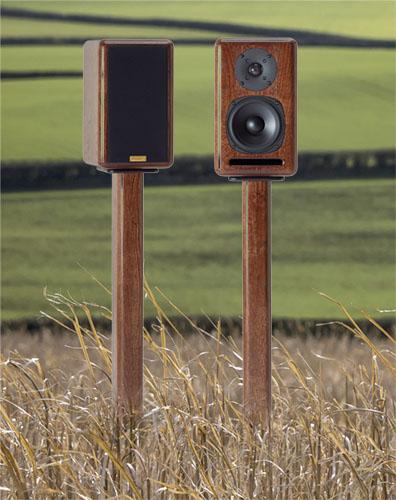 Small size - big sound
[Italian version here]
Product name: Xavian Esclusiva loudspeakers
Manufacturer: Xavian - Czech Republic
Cost: 1990 euros as reviewed (up to 2450 euros for the 'Marina' finish)(Currency conversion)

Reviewer: Nick Whetstone - TNT UK
Reviewed: December, 2018
Perhaps I should begin this review by stating that I am not a fan of smaller loudspeakers. I have always found it easier to get the sound that I like from larger drivers, with the speakers in my main system using 12 and 15 inch drivers. But we can't always choose what we get to review, and as nobody else took up the offer to review the Xavian Perla Esclusivas, I did.
On receiving the Perlas, or Perla Esclusivas to give them their full title, I carried them upstairs to my auditioning room. The box was deceptively heavy for such small speakers, and on removing them, I was again surprised at how heavy each little speaker was. The Perlas' cabinets are built from solid hardwood, and exude quality in fit and finish. The review pair did not come with the matching stands, but I have some tall stands that my own speakers usually sit on, and they proved a great match with the Perlas. The review samples were obviously brand new, and Xavian recommended that I use them for around 50 hours before assessing them.
Of course, I couldn't resist trying the Perlas out straight away, and was immediately impressed by the weight of sound, and large sound stage coming from such diminutive speakers. But the vocals in particular were somewhat recessed, and so I left the system for nearly a week to burn in. Each morning I would listen briefly, and could clearly hear the vocals becoming less recessed. I would estimate that by around 30 hours of playing time, the Perlas sounded how they should, but I gave them another 20 hours to make sure.
The Perlas are truly beautiful items, with their radiused edges, and beautiful real-wood cabinets. The port, unusually shaped as a slot instead of a round aperture compliments the clean and well designed look of the front panel (the drivers are perfectly recessed), and I could see no reason to want to use the supplied grilles. With their matching stands, the Perlas look so good that they won't look out of place in any living room. The review samples were finished in Dark Oak, although there are another four options.
The original Perlas were launched in 2015 and have sold well. The Esclusiva model features an upgraded crossover using Mundorf capacitors, better binding posts, and better quality timber (Italian Oak) for the cabinet. Xavian have the drivers custom made to their own specification. There are five finishes available to suit almost every taste, and the natural timber finishes look (and feel) beautiful.
Here are the specifications:
Mid Bass Frequency Unit - 150 mm AudioBarletta – special polypropylene membrane – soft dome – die-cast chassis
High Frequency Unit - AudioBarletta – 26 mm voice coil, soft dome, short-circuit copper rings
System - two-way damped bass reflex, front firing slot bass reflex
Cabinet - massive "mosaic" Italian oak, no use of MDF or DTD, rests for 3 weeks before use
Frequency Response - ( -3dB on reference axis): 53 – 20000 Hz
Connection - 1 pair of single mounted massive Xavian terminals
Impedance - 8 ohm
Crossover Frequency - 3000 Hz
Sensitivity ( 2,83V / 1m ) - 88 dB
Recommended Amplification - 30 – 120 W
Dimensions (HxWxD) - 315 x 190 x 236 mm
Weight (1 Piece) - 7,7 kg
The Perlas are really responsive to the system that they are used in, and I noted clear differences according to what equipment I used them with. In particular they sound different with different amplifiers. While they did work with a small Class-T amplifier, the sound stage collapsed, and they didn't sound anywhere as good as with a more powerful amplifier like the Clef Soloist 50 that I used for this review.
I must admit that even before I reached the 50 hours mark, I was starting to enjoy the Perlas immensely. The quoted low frequency response of 53 Hz is quite misleading, and the Perlas sound as though they are going much deeper. I never really felt the need for more, or deeper, bass during my whole auditioning process. Even the Talvin Singh album, 'Back to Mine' couldn't phase the Perlas, that just sat rock steady on the stands, and delivered what ever was put into them without complaint. The bass was clear, tuneful, and very impressive coming from such a small speaker.

Once burned in, the recessed vocals had gone completely, with voices emerging from the rest of the sound stage very clearly, and with notable naturalness. Familiar artists sounded 'more like themselves', resulting in more intimacy. On some recordings, it was more like the singer was 'in the room'. 'Naturalness' is an adjective that well describes the Perlas' sound quality.

The Perlas were acoustically transparent in my room (most speakers will be unless they have very poorly designed cabinets or are not placed optimally within the listening room). Tall stands are paramount for small speakers. The sound was clear, and even tiny details were clearly audible.

Timing was superb, and I found my foot tapping with appropriate music like that on the Paul Simon album, 'Gracelands'. The Q-Sounds on the Roger Waters album, 'Amused to Death' were all where I would expect them to be with a good system (and also indicated that there were no phase issues).

There was no harshness, in fact nothing unpleasant about the Perlas' presentation at all, and I found myself wanting to listen to them more and more. They didn't excel with any one type of music, and did an excellent job whether playing Rock, Jazz, Classical or Folk. I was again surprised by these small speakers in how well they played full scale classical pieces, with commendable scale. But if the performance was a solo piano, that sounded 'right' too. The sound stage with the Perlas, and the Clef Soloist 50 amplifier was large, with the sound both deep and wide. I found that the Perlas worked best about 30 cm from the rear wall, providing a good combination of depth of sound stage, and bass.

It was difficult to find any negatives with the Perlas. When I took them out of the system at the end of auditioning them, I did note that there was slightly more 'air' when I put my own speakers back in. But to be honest, I hadn't noticed the lack of 'air' with the Perlas while I was listening to them. My own speakers have thousands of hours behind them, and it may well be that the Perlas gain more 'air' the more that they are used, and their driver suspensions loosen up.

In conclusion, the Perla Esclusivas really won me over. Given that I started with a slight prejudice against small speakers, they had me 'on-side' almost from the first moments of hearing them. I loved their build quality, looks, and sound, and given the price of 1990 euros, would have no hesitation in recommending them. If you have a smaller listening room, and need a musical speaker that won't cause any visual offense, the Esclusivas should be carefully considered. Just make sure that you have moderately high powered amplification, a decent source, and you should be more than satisfied with these pretty little speakers.
DISCLAIMER. TNT-Audio is a 100% independent magazine that neither accepts advertising from companies nor requires readers to register or pay for subscriptions. After publication of reviews, the authors do not retain samples other than on long-term loan for further evaluation or comparison with later-received gear. Hence, all contents are written free of any "editorial" or "advertising" influence, and all reviews in this publication, positive or negative, reflect the independent opinions of their respective authors. TNT-Audio will publish all manufacturer responses, subject to the reviewer's right to reply in turn.

© Copyright 2018 Nick Whetstone - nick@tnt-audio.com - www.tnt-audio.com
[ Home | Staff & Contacts | HiFi Playground | Listening tests | DIY & Tweakings | Music & Books ]