[ Home TNT-Audio | Staff & Contacts | HiFi Playground | Listening tests | DIY & Tweakings | Music & Books ]
The Vanguard speaker from XSA Labs
Can a $1000 BBC LS3/5a variant challenge a high end icon?
Product name: XSA Labs Vanguard
Manufacturer: XSA Labs - USA
Price: $995 / Pair USD in Bamboo
Reviewer: M.L. Gneier - TNT USA
Reviewed: June, 2023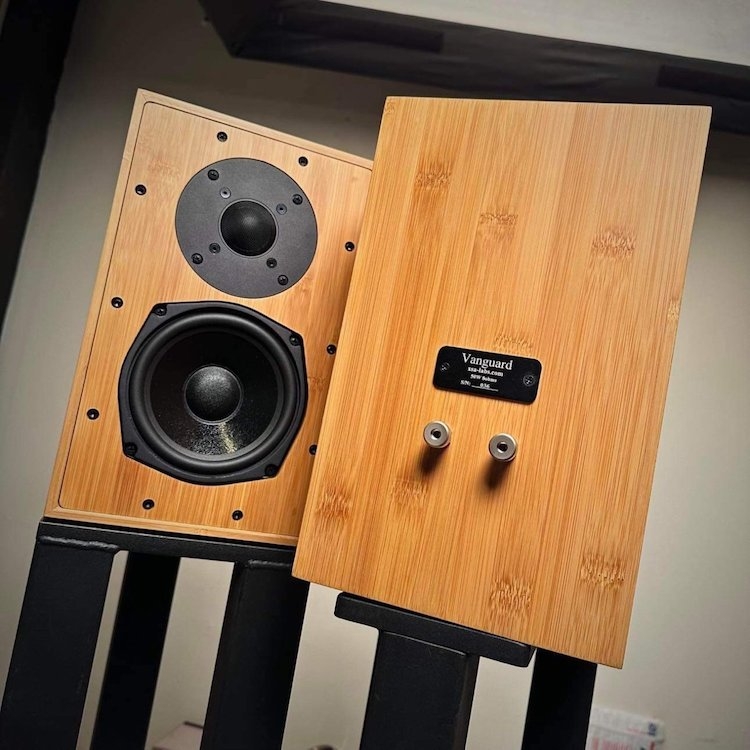 After I agreed to review the Vanguard speakers I wondered to myself: exactly how many BBC LS3/5a and variants had I owned or reviewed over the last three decades? That question engaged my mind for a few moments before I thought of another far more interesting question. Today, in 2023, is the design (as still licensed by the BBC) still relevant either as a mobile, near-field monitor (its original purpose) let alone as a high end listening transducer? While you consider that question I'll answer it, with some of my typical equivocations.
It is possible but perhaps not likely.
That said, I'm all in for gear that people just flat like (or, possibly, can convince themselves they should like). This is also a conclusion that frees me up considerably. If the Vanguard comfortably competes with the BBC speaker, fine and dandy. On the other hand, let's say the Vanguard actually improves on the BBC design and while doing so minimizes some of its stubborn faults. We would, I think it's clear, be talking about an exceptionally fine speaker, especially given its low cost.
Back, briefly, to the number of LS3/5a variants I've heard at length. I believe the number is five. Looking back on old notes I found a early 90s pairs of Rogers to be the most musical of the licensed version and the minuscule Role Audio Kayak to be the best of the variants. The current BBC version offered by Falcon starts at $2200 USD, exactly the current price of the Role Audio Kayak. Obviously, the Vanguard is a variant like the Kayak. Thank goodness for this. Virtually every change Vanguard has made has made their speaker better looking, more amplifier-friendly and far better looking. I had the chance to have two different finishes in hand, the Bamboo and the Antique Brown. The brown looked more interesting than I thought it would and I can imagine it finding a happy home in furnishings heavy on, say, vintage cherry. But, I have none of those dark hues, favoring as I do far lighter woods...like Bamboo.
I was stunned to see these speakers when I first pulled them out of their boxes. The precision of the joinery at the corners and front and rear baffles was superb for any price point and just plain nuts for a speaker at this low price. Vanguard tells me that the internal construction is reminiscent of an LS3/5A which uses thinner 9mm wall panels for the sides and a thicker 18mm thick baffle. Small details like a radiused rear edge on the woofer cutout for smoother airlflow and the fact that baffle is easily removable via 10 Torx screws speak to the great care of this design. A removeable baffle makes for easy servicing and gives added visual detail. The construction is similar to the LS3/5A in that there are internal battens to stiffen the cabinet without making the walls too thick. This maximizes the internal volume for the acoustic suspension of the sealed bass alignment. The internal walls are treated with mass-loaded butyl rubber sound damping sheets and covered with acoustic eggcrate foam. The drivers, obviously not made by KEF, appear to be very high quality and and are precisely rebated into the baffle, as with the BBC speaker. I resisted, as I always do unless explicitly requested by the manufacturer or distributor, my temptation to remove the baffle and have a quick look at the interior. With an exterior that looks like it does I cannot imagine Vanguard would skimp on the internals.
One of the vexing qualities of the BBC speaker was and is the shallowness of the cabinet. I can already imagine some engineer from the BBC (wearing horn-rimmed glasses and a white lab coat) sending me a telegraph (or possibly smoke signals) and raving on about cabinet volumes or some such silliness. The volume of the BBC speaker was a necessity of the KEF B110 driver not something cast in stone. Vanguard has obviously designed a new LF driver that's more able to compress the air inside of a larger enclosure volume to a greater effect. The LS3/5a's B110 LF driver cone was made from Bextrine, far from my favorite material when it comes to mid-woofers. The Vanguard LF driver is a treated paper cone model with a butyl rubber surround (which will not rot with age like a foam surround). Also, Vanguard contends that paper has a smooth organic sound with well controlled breakup modes. The tweeter is a high performance ferrofluid-cooled 28mm silk dome with very low distortion and an integrated mesh grill.
The rear of the cabinet is again adorned in the lovely Bamboo and a nameplate attesting to the origin of the components and assembly. To be clear, the Vangaurds are assembled in the US from materials and components made in China. I always breathe a sigh of relief when I see good quality binding posts of nearly any design that allows for the easy use of the spades and bananas. Vanguard's posts feel exceptionally solid. The internal-diameter of the bananas are perfect. I've seen some recent posts that regard the actual spec for the banana as a mild suggestion rather than a necessity. Vanguard's ID is perfectly dimensioned, which any reviewer, especially one like me who has adopted the banana as his new connector of preference, will appreciate.
I heard the Vanguards from atop my trusty Sound Anchors 24 inch three-post stands. They're great stands but my sense is that the Vanguards would sound even better with something between 25 and 27 inches. Of course, it all goes back to the height of the listener's ears while seated. Even though I'm a relentless sloucher 24 inches just wasn't quite high enough. Perhaps the folks at Vanguard would like to comment on their sense of the speaker's sweet spot when it comes to their vertical dispersion. No matter, I found the best balance was achieved when I could not quite see the top of the speakers when I was in my listening chair. But, again, I had to slouch a little to make that happen.
But, it was worth it. The speakers have a fundamental rightness of sound that is exceptionally hard to describe but is readily heard from the outset. At first, The Vanguards just made me relax and settle myself into the music. Later, when I began to think about what I was hearing I noted the following. First, from a tonal standpoint the Vanguards simply refuse to call attention to how they do what they do. There's never a sense of what the tweeter's doing or what the woofer's up to. Instead, there's a strong impression of integration. Second, the top end while nicely extended was very smooth. Would I describe the top end as a polite? Maybe, but it's a very musical and involving kind of politeness. Third, I make no excuses for the my appreciation for small sealed-box speakers. There's something about the gradual rolloff of a non-ported achieves. It's not a question of more bass but the reality of better bass. That said, the lower mids and upper bass of the Vanguards are really very good. Best of all, the speakers never sound ruffled at any reasonable listening levels. The Vanguards are exceptionally suave and well-worked out designs.
The Vanguards were especially enjoyable on acoustic music, which is great since I listen to a lot of that kind of material. I also found the speakers to be convincing with both female and male voice and I'm not just talking about typical audiophile stuff. As things get louder the Vanguards show a lot more guts and drive than you might expect to hear from such a small speaker. But, go beyond that point you're clearly heading for the end of the pool where the Vanguards are a little less comfy.
The Vanguards are fantastic speakers. As a sort of LS3/5a variant they are superb and I would be more than happy to compare them to any of the current licensed versions, especially the Falcon, which I have not heard to date. But, I would ask that you forget about the LS3/5a all together for a moment. Forget about the inevitable compromises that come from any design that's nearly fifty years old. Instead, think of what might be accomplished with a new look at an old way of doing things. Then, think about bringing the best elements of the past to the present and then adding all of the advantages of everything that's possible today that simply was impossible back in the 1970s. If you did, you might just end up listening to the Vanguards and you'd be enjoying them. I'd like to congratulate the folks folks at XSA Labs, makers of the Vanguard, for taking the chance to improve on such a classic design. I'm sure it wasn't an easy decision to run the risk of being seen to trifle with a genuine high end icon. The Vanguard speaker is a testament not only the good taste of the design team but also the experience and judgment it took to execute their design goals so admirably. Highly recommended.
Listen well, but listen happy, my friends!
DISCLAIMER. TNT-Audio is a 100% independent magazine that neither accepts advertising from companies nor requires readers to register or pay for subscriptions. If you wish, you can support our independent reviews via a PayPal donation. After publication of reviews, the authors do not retain samples other than on long-term loan for further evaluation or comparison with later-received gear. Hence, all contents are written free of any "editorial" or "advertising" influence, and all reviews in this publication, positive or negative, reflect the independent opinions of their respective authors. TNT-Audio will publish all manufacturer responses, subject to the reviewer's right to reply in turn.


Copyright © 2023 M.L. Gneier - mlg@tnt-audio.com - www.tnt-audio.com
[ Home TNT-Audio | Staff & Contacts | HiFi Playground | Listening tests | DIY & Tweakings | Music & Books ]