[ Home | Staff & Contacts | HiFi Playground | Listening tests | DIY & Tweakings | Music & Books ]
Loudspeakers in Lockdown
Part 2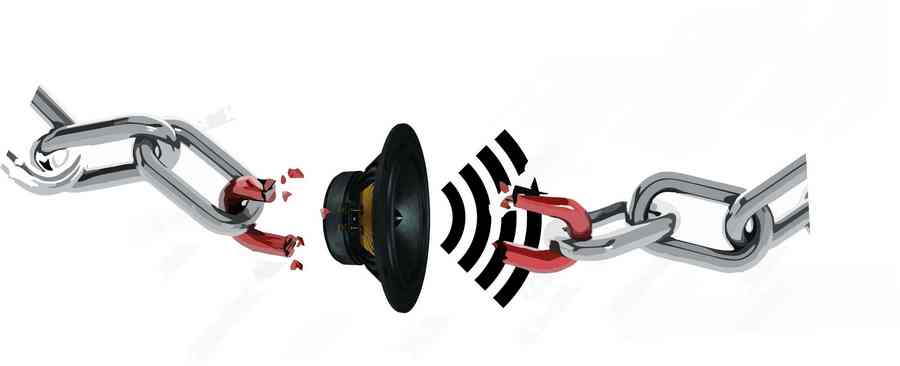 [Italian version here]
Product: DIY Loudspeakers in Lockdown
Reviewer: Chris Templer - TNT South Africa
Reviewed: June, 2021
Now and again something good comes into your life............ Or What's a Man Going To Do?
Every now and then a Perfect Storm arises. Just when you need the diversion. Enter two pairs of mint Goodmans Axiom 201 speakers, albeit slightly different vintage, and then a pair of JBL 2404 H tweeters mounted on rather horrible "Bum Cheek" horns and they just had to have something special made up to hold them.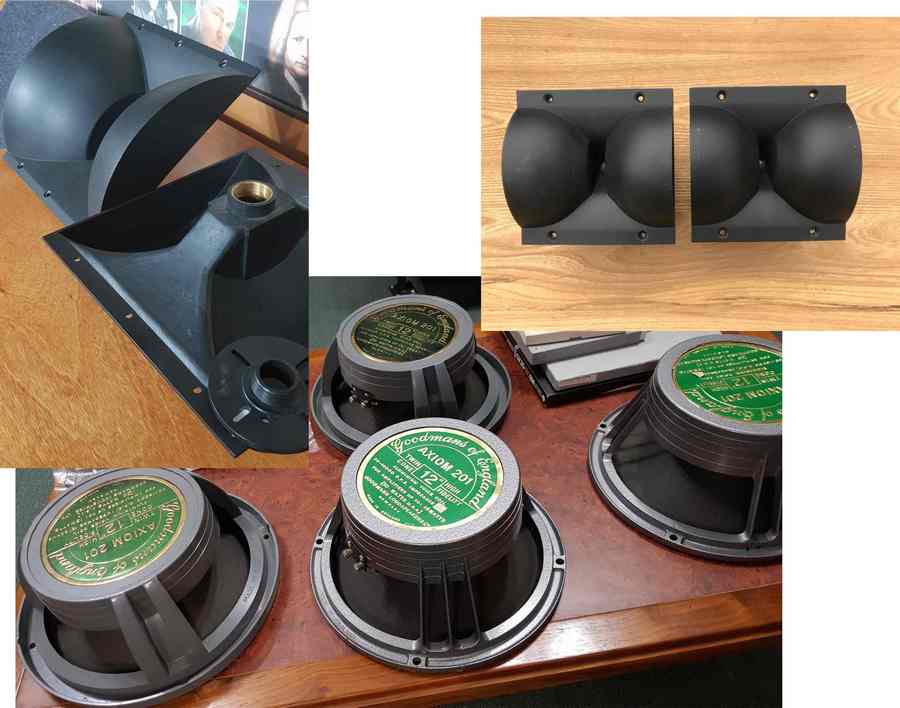 The answer came in an Altec design.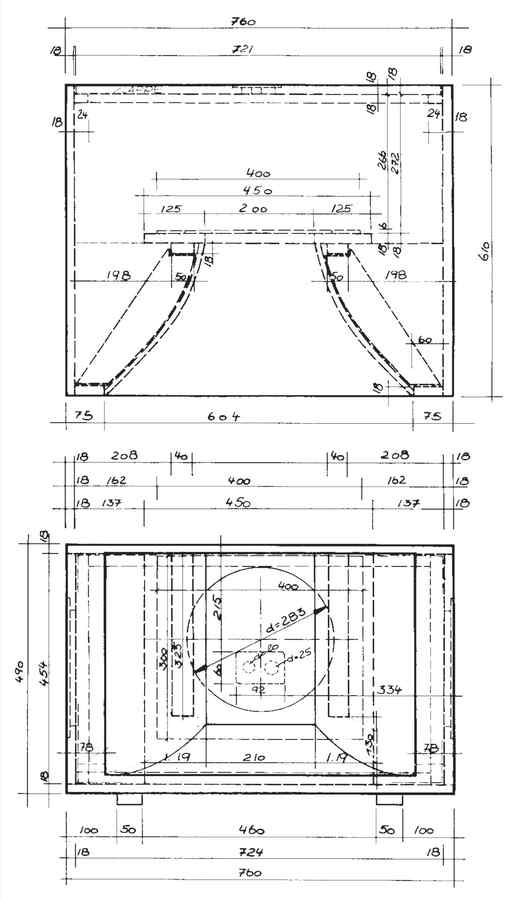 I started off with the drawing and rearranged the ports from two on the sides to one at the bottom (or top) and stacked them.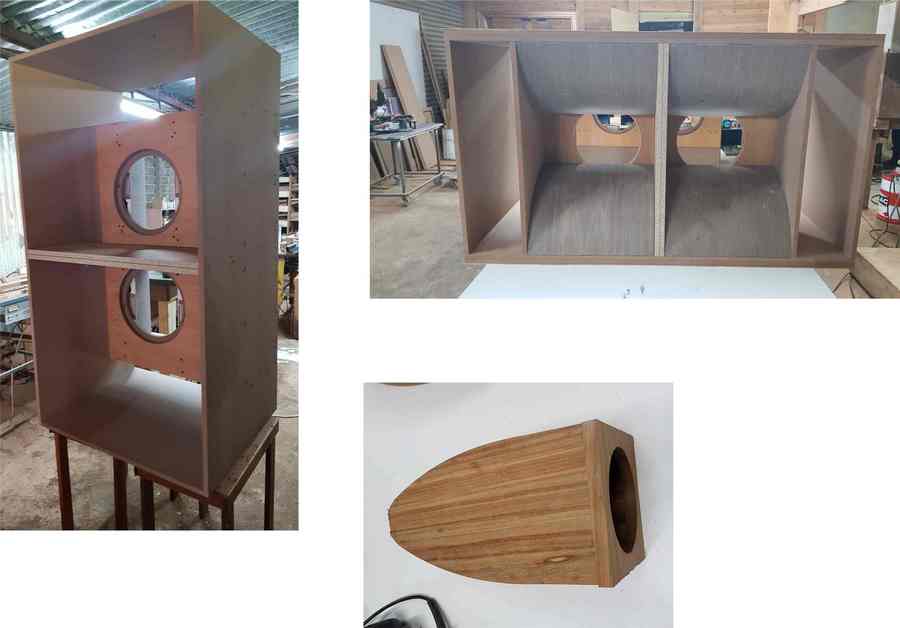 The idea at this point was to "sink" the tweeter housing into the woodwork on the center section, hence the slope on two sides of the housing. Just before the cut was made I was donated a pair of bigger Bum Cheek (correct name Bi-Radial Horns) suitable for a proper HF driver. As no JBL drivers were obtainable cheaply I settled on new Celestion CDX 1-1446 units, my criteria here was a non metallic diaphragm. So another matching but bigger set of housings were required. I am of the school that bigger is better in speakers and the cabinet can't be thick enough, so as usual I went a bit overboard. All speaker panels are 32 mm thick. 16 mm supawood (MDF) laminated together with veneered chipboard makes for a very non resonant "clunk" when you tap it with your knuckles. The wooden horn flares were another overboard moment...... In the picture below there is a photo of the horn formers/supports. The holes were filled in from behind with Plaster of Paris and they are totally non resonant. One item I was not happy about was that the Bi-Radial horns are ugly things with a black finish and built out of plastic. Rob solved that by painting a finish onto them - they are still ugly but less obtrusive now.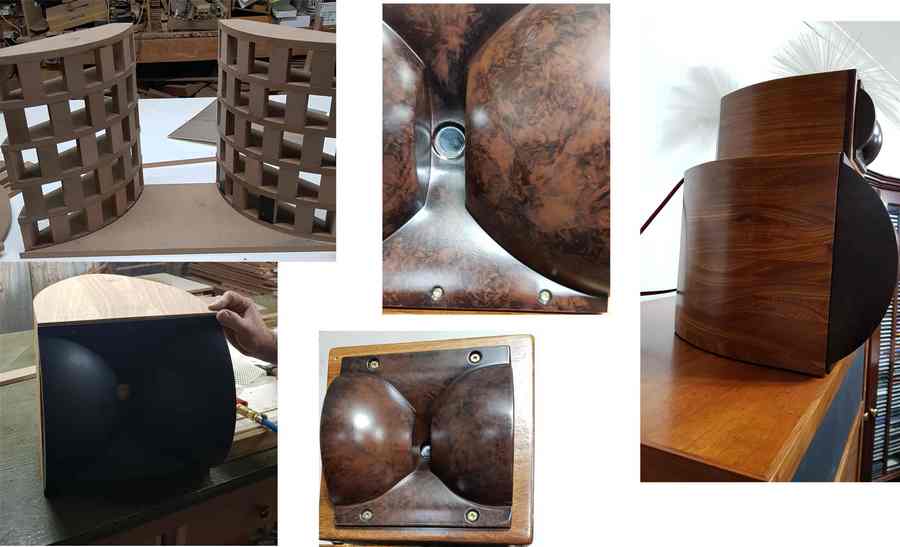 As can be seen the HF and Tweeter units stand on top of the cabinet. The housings are from solid wood. Crossovers as such: Axioms run in parallel, full range Celestion HF - 4.7 μF cap in series, JBL Tweeter - 1 μF cap in series. No balancing of gain was required and they sounded so good I was pressured by another audiophile friend to sell them to him. One of the enticements was some more speaker drivers which I have subsequently built into altered Onken type cabinets and short of my A7 stacked clones, my best build ever.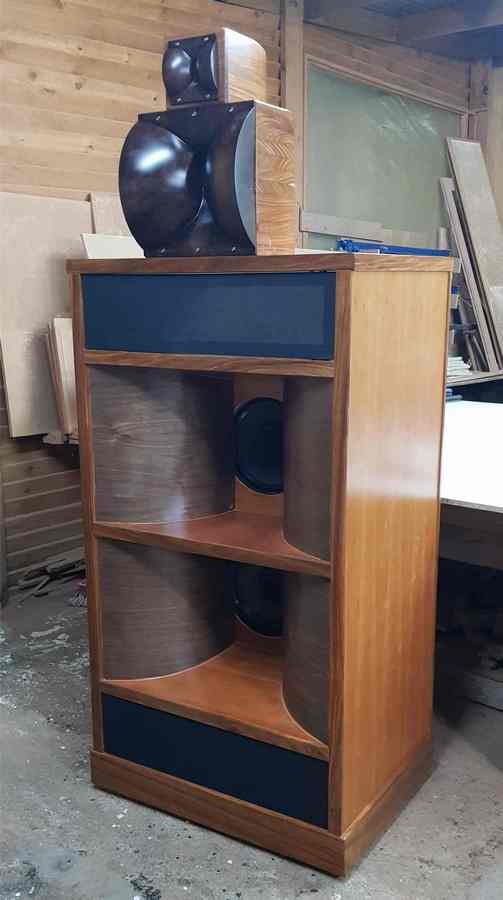 The point of these last two articles is to encourage DIY speaker builds. Extremely good results can be had which can far out perform fancy bought loudspeakers costing far more. The audiophile who was so impressed with and bought these, has a range of speakers including Tannoy Canterbury's, Sonus Faber, ProAc and more and claims these will stay with him.
DISCLAIMER. TNT-Audio is a 100% independent magazine that neither accepts advertising from companies nor requires readers to register or pay for subscriptions. After publication of reviews, the authors do not retain samples other than on long-term loan for further evaluation or comparison with later-received gear. Hence, all contents are written free of any "editorial" or "advertising" influence, and all reviews in this publication, positive or negative, reflect the independent opinions of their respective authors. TNT-Audio will publish all manufacturer responses, subject to the reviewer's right to reply in turn.

Copyright © 2021 Chris Templer - chris@tnt-audio.com - www.tnt-audio.com
[ Home | Staff & Contacts | HiFi Playground | Listening tests | DIY & Tweakings | Music & Books ]