[ TNT | Who we are | HiFi Shows | Factory tours | Listening tests | HiFi topics | Tweakings | Inter.Views ]
April 2001 Editorial
A tribute to Giuseppe Sinopoli
Author: Lucio Cadeddu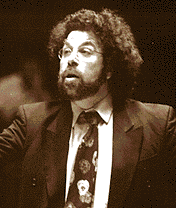 One of the greatest contemporary conductors has left us. While conducting Verdi's Aida in Berlin Giuseppe Sinopoli passed away at the age of 55.
Born in Venice in 1946, Giuseppe Sinopoli was perhaps one of the greatest orchestra conductors Italy gave to the world of Classical Music. He passed away doing what he liked most, conducting Verdi and offering us another piece of his immense talent.
Giuseppe Sinopoli started to study Music when he was 12, in Venice (Italy). He attended the Conservatorio in his home town and then graduated at the University with a degree in Medicine. Yes, he was not only a talented musician and conductor but also a Doctor and an expert archaeologist.
In other words he was one of those men whose Culture wasn't limited to one specific field only. He was also a talented composer, fascinated by electronic Music which he teached at the Conservatorio in Venice. Before, he attended classes of electronic Music held by the great Karlheinz Stockhausen in Darmstadt.
Sinopoli's masterpiece, Lou Salomé, was performed in Munich back in 1981. Two years later he was the principal conductor of the Accademia di Santa Cecilia orchestra in Rome and the year after he conducted the Orchestra Filarmonica of Rome.
From '84 till '87 he was the principal conductor of the Philharmonia Orchestra in London.
Though his talent was vast enough to let him conduct all the most important orchestras in the World and almost any Classical Author, he had 3 favourite ones: Wagner, Puccini and...Verdi. He conducted his first "Aida" back in 1976 (when he was 30) in Venice and his last one yesterday, in Berlin.

Giuseppe Sinopoli, passed away when his talent could have given us many other unforgettable live performances and recordings, can still live among us. All we have to do is play his records, tell our children about him and try to learn something from his intense life.
Among several sites that contain infos on Sinopoli's work, let me suggest two URLs from which one can start to browse the web:
© Copyright 2001 Lucio Cadeddu - https://www.tnt-audio.com
How to print this article
[ TNT | Who we are | HiFi Shows | Factory tours | Listening tests | HiFi topics | Tweakings | Inter.Views ]