[ Home | Staff & Contacts | HiFi Playground | Listening tests | DIY & Tweakings | Music & Books ]
April 2015 editorial
(The) Prince is dead, long live (the) Prince!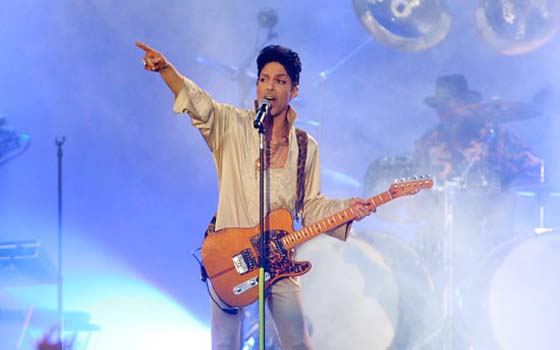 Author: Lucio Cadeddu
Published: April, 2015
It is nearly impossible to convey in words the sadness that pervades me today. Prince, one of my favourite artists, has just passed away, at 57. I've been a fan of Prince's music since his early days and I own many of his albums, both on vinyl and on CD.
Prince Rogers Nelson (June 7, 1958 – April 21, 2016), known as Prince and subsequently as just a symbol (the love symbol, as "the artist formerly known as Prince") was a truly eclectic artist: songwriter, singer, multi-instrumentist, record producer and actor. Given this multifaceted personality it is hard to classify his music or, more generally, his art: each album was different from the others, and this attitude made him more a researcher, than a simple popstar.
It is useless to list how many records he sold, how many prizes and awards he won or how many hits he composed for other artists. He was just unique so that Rolling Stone (the magazine) placed him 27th among the best 100 artists of all time. What an achievement, huh?
Unfortunately, too many people know him just for some if his more popular hits (Purple rain, Kiss, Raspberry Beret etc.) but his albums are so much more than a mere collection of pop hits. Each one is a masterpiece, with a strong idea and musical concept behind them. I dare to say each one was a unique and individual concept album, a well-established tradition that was very popular among pop-rock groups during the Sixties and the Seventies.
As an example, take one of my favourites: the triple (!!!) CD Emancipation, the first triple full-length original R&B studio album ever released. It contains 12 songs with exactly 60 minutes per disc, for a total of 36 songs. Prince claimed that the number of songs, discs and length of the album had a something to do with the Egyptian pyramids. Among these songs there's one I've always been in love with (and often used as test track for my listening tests, as well). It's "The Holy River", which you'll find in a MTV-cut shortened version right below (the original song is much longer, almost 7 minutes, and features an incredibly searing guitar solo).
If you really wish to discover Prince's musical universe, avoid the hits and try listening to one of these concept albums, then you'll understand. For me, and for all those who know and love his music, there are no more words to add. We'd better just shut up and listen, as an artist like him appears just once in many decades. Dress in purple.

"The Holy River"

Let's go down 2 the holy river
If we drown then we'll be delivered
U can still see the picture upon the wall
One eye staring at nothing at all
The other one trying 2 focus through all your tears
U can try and try but there's nothin' 2 hide
U can't run from yourself and what's inside
U got 2 find the answers 2 the questions that U most fear

So over and over U ask your soul
Why'd U come down 2 a world so cold?
And the voice inside says 2night the truth will be told

U surrounded yourself with all the wrong faces
Spending your time in all the wrong places
Puttin' your faith in things that only make U cry
People say they love U when they wanna help
But how can they when U can't help yourself?
The more they say they love U, the more U just wanna die
So here we go again, the self analysis
Have another glass of Port and uh.. forget this
The band's playin' at the club 2night and they're bound 2 groove

There U are, U think U're high
U can't ask yourself cuz U'd only lie
If U had a dollar 4 every time U tried

U can't call nobody cuz they'll tell U straight up
Come and make love when U really hate 'em
Relationships based on the physical are over and done
They're over and done (They're over and done)
U'd rather have fun
With only one, with only one
Only one... one (one)

And then it hit 'cha like a fist on a wall
Who gave U life when there was none at all?
Who gave the sun permission 2 rise up everyday? (Ooh, oh yes)
Let me tell it (Go'n)
If U ask God 2 love U longer
Every breath U take will make U stronger
Keepin' U happy (happy) and proud 2 call His name (Go'n and say it)
Jesus (Jesus)

And over and over U ask your soul
Why'd U come down 2 a world so cold?
And the voice inside said 2night the truth will be told
And this time I was listening, hear me

Let's go down 2 the holy river
If we drown then we'll be delivered (Yes we will)
If we don't then we'll never see the light (No)
If U die before U try
U'll have 2 come back and face the light (Oh yes)
When U believe it, U got a good reason 2 cry (Oh my, my)

So I went on down 2 the holy river
I called my girl and told her I had something 2 give her
I asked her 2 marry me and she said yes, I cried
Oh, that night I drowned in her tears and mine
And.. and instead of a glass of sorrow and wine
Looking back y'all, I don't miss nothing except the time
And when I see that picture upon the wall
The one eye staring at nothing at all
My eyes trying 2 focus but these are much different tears
Oh, yes they are
Let's go down 2 the holy river [x3]


© Copyright 2015 Lucio Cadeddu - www.tnt-audio.com
[ Home | Staff & Contacts | HiFi Playground | Listening tests | DIY & Tweakings | Music & Books ]