[ Home | Staff & Contacts | HiFi Playground | Listening tests | DIY & Tweakings | Music & Books ]
April 2022 Editorial
CD sales on the rise, for the first time in 17 years...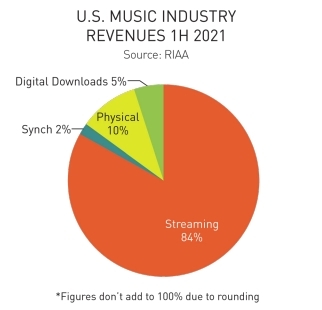 Author: Lucio Cadeddu - TNT Italy
Published: March, 2022
The usual RIAA mid-year report represents the state of the art when it comes to analysing the US music market and its trends. While we wait for the 2021 full year report, the mid-year report tells us something quite interesting and surprising.
First of all, recorded music revenues grew by a massive +27% in the first half of 2021 versus the prior year, from $5.6 to $7.1 billion at retail value. Of the total revenue, 66% is due to music "subscriptions", that is paid subscription services, ad-supported services, digital and customized radio, and licenses for music on Facebook and digital fitness apps. Of course, a direct comparison with the previous year is heavily affected by the effects of Covid-19 pandemic situation, with customers' uncertainty and physical stores closures playing a significant role.
Streaming alone accounted for 84% of total revenues for the period, more or less the same performance of the previous year. This is not surprising at all. The real surprise comes from the physical media market! Indeed, vinyl records continued to rise, so much that revenues from vinyl albums grew 94% to $467 million. And, hear hear!, revenues from CDs increased by 44% to $205 million as well (still lower than in 2019, though). Most interestingly, 16.1 million CDs were sold in 2021, versus 10.7 million in 2020. Yes, physical stores stayed closed for the largest part of 2020, but how many customers buy CDs at physical stores, actually? Online stores rule!
Despite this increase, LPs still performed better than CDs, with 17 million units sold (and $467.4 million of total revenue, versus $205 million for CDs). Yes, of course, LPs cost at least twice, that's the reason why total revenues figures are so different.

Hence, why are CD sales on the rise? It's hard to tell. Perhaps it's because they're the least expensive physical media today. Or people are nostalgically dreaming of old digital media. Consider that, for many young customers, CDs are definitely a thing of the past, like shellacs and 78rpm albums are for us, seasoned music lovers. There could be a bizarre coolness factor pushing CD sales up the hill. Or we are flogging a dead horse? We'll see!
Generally, this 2021 RIAA report seems to indicate a general, positive trend: music sales are growing, despite (or thanks to?) all the difficulties people have been facing during these last two years.
N.B. Images have been taken from the RIAA website.

Copyright © 2022 Lucio Cadeddu - editor@tnt-audio.com - www.tnt-audio.com
[ Home | Staff & Contacts | HiFi Playground | Listening tests | DIY & Tweakings | Music & Books ]