[ Home | Staff & Contacts | HiFi Playground | Listening tests | DIY & Tweakings | Music & Books ]
April 2022 Editorial
Vacuum tube shortage?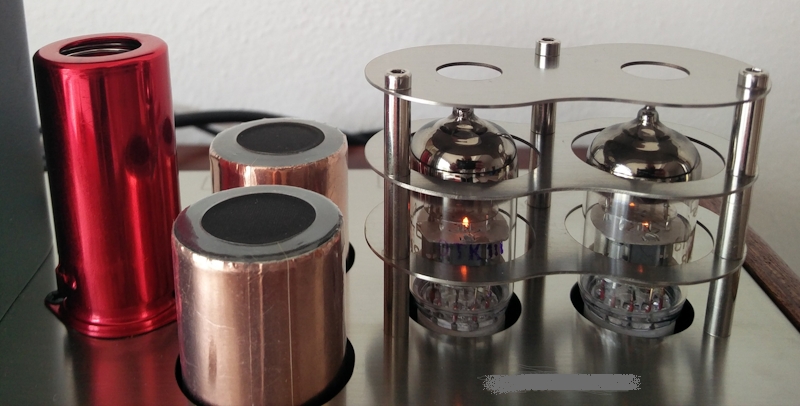 A small tube preamplifier currently under review here at TNT-Audio
Author: Lucio Cadeddu - TNT Italy
Published: March, 2022
One year ago I wrote an article about the so-called Chipaggedon, the digital chips shortage, due to increased demand and side-effects of the pandemic. The recent war in Ukraine and the export sanctions applied to Russian products are going to create similar problems: price increase and reduced availability of vacuum tubes. While tubes might be vital for just a minority of audiophiles, certainly they are of paramount importance for millions of guitarists who rely on tube amps for their instruments!
Vacuum tubes are mainly produced in China, Russia, Slovakia and Czech Republic. A couple of years ago a big Shuguang factory in China, that produced 40% of all vacuum tubes on the market, was forced to move due to a fire, while the Jamona (JJ Electronic) factory in Slovakia that used to have lead times of one month, now has lead times of six months. Indeed, their website publishes the following customers' alert:
Due to the situation in the world, we are unable to process your orders immediately, as you were used to. Orders will be processed continuously as soon as the goods are in stock.
Electro-Harmonix, a well-know US company (which makes tube amps, guitar pedals etc.) owns and operates a factory in Russia which manufactures tube brands, for example Tung-Sol, Genalex Gold Lion, Mullard, Svetlana and Sovtek. Their president, Mike Matthews, declared:
Yesterday, Russia imposed a ban on the export of some 200 goods in response to the sanctions imposed on it over the current conflict in Ukraine. We have confirmed that the ban applies to our seven brands of Russian tubes. Currently, the ban is set to remain in effect until the end of the calendar year.
Given this export ban, we will not be receiving any further tube inventory for these brands. A myriad of pressure - including continued strains on the supply chain, escalating internal expenses, mounting inflation, and an ever-evolving legal landscape (particularly in light of the Ukraine conflict) - have created a very fluid and ambiguous environment.
Until we can properly assess the impact of these factors, we will not honor any new orders or ship any more Russian tubes on back order.
And later he added:
For all non-US customers facing such heightened tariffs and with combined Russian tube orders of $3K or more: consider having our Russian warehouse directly ship such combined orders to the nearest international airport in your country. That will avoid our having to pass along the cost of the heightened US import tariff. Otherwise, you will, in effect, incur a double tariff on shipments imported first to NYC and then to a country with heightened tariffs. You can cancel any backorder, but we do not recommend this; there is a tremendous shortage of tubes.
Suddenly, the US brand Western Electric has released an optimistic campaign that reads as follows:
Western Electric is assessing plans to expand tube operations. Our latest factory is equipped to handle production of multiple tube types and, in light of recent worldwide events, we believe our capacity to do so may become vital to the industry.
While we continue to meet steady demand for the type 300B triode, we want to hear from you regarding other popular tube types. Click below. Fill the form. After you share your thoughts, be sure to share this page with others.
Summarizing, it is hard to understand what is real and what is commercial hype, created to justify higher prices. For sure vacuum tubes availability is starting to suffer from export sanctions, and prices are increasing. On the other hand, it should be taken into account that while last January 33 rubles were sufficient to purchase 1$, now you need 70 rubles! This MUST have a severe impact on prices of Russian goods abroad. Predicting what will happen is hazardous, but we hope the situation normalizes as quickly as possible. Let's keep fingers crossed.

Copyright © 2022 Lucio Cadeddu - editor@tnt-audio.com - www.tnt-audio.com
[ Home | Staff & Contacts | HiFi Playground | Listening tests | DIY & Tweakings | Music & Books ]