[ Home | Staff & Contacts | DIY & Tweaks | Listening tests | HiFi Playground | Music & Books ]
February 2009 editorial
Pleasurize Music! (bring dynamics back! - Part II)
Writer: Lucio Cadeddu - TNT Italy


Pleasurize Music!!!
Last month we discussed several aspects concerning the infamous "loudness war" by bringing to your attention a website/organization (Turn me up!) which tries to establish a kind of "certification" for recordings which preserve natural Music dynamic range.
This time we wish to introduce you a foundation/non-profit organization, Pleasurize Music, which seems extremely serious in bringing back dynamics into modern recordings. To use their own words:
Our aim is to improve the sound quality of music in its various recorded formats – including data compression methods such as MP3 – as well as music destined for radio broadcast.
Only music that provides a positive musical listening experience has real market value. The Foundation's aim is to increase the value of music within the creative production process for the entire music industry.
In order to do so, they have realeased a quite useful plug-in and a free software, respectively called TT Dynamic range meter and TT DR Offline meter that, to use their own words...
...is a free and open source VST plug-in (AU and RTAS versions will be available as soon as possible thanks to SPL and Brainworx) which is perfectly suited for many applications used in modern music production. Additionally we supply the free TT DR Offline Meter Software which will be used for the fast and convenient offline calculation of the official DR value of releases. In this way, anyone involved in music production has a free tool for creating more dynamics in their productions.
The DYNAMIC RANGE METER displays the inner dynamics of a recording in whole numbers or, in other words, the inner grade of compression. More precisely, this is the average cumulative difference between peak and loudness (RMS) over a specific period of time (e.g. duration of a song or album) and is a whole number value given in decibels (dB).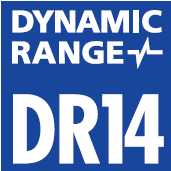 The software takes into consideration just the top 20% of the loudness so that songs with long intros and an over compressed refrain don't appear with a too high - and hence potentially misleading - DR value. The DR value represents the grade of compression of released music in a whole number system.
The record Companies that will agree to use this standard will label their recordings with the DR logo followed by an integer number. For example DR14 records will have an effective dynamic range of 14 dB and hence will sound effortlessy, less "shouty" and, in a word, much more natural. Visit the Dynamic Range DOWNLOAD section for downloading both the DR software and the plugin.
What's next and what can you do?
If you are asking what could you do to "support" the cause here's how: first of all you can "sign up" at the DynamicRange website so to add your name to the list of people who feel the need to bring dynamics back into records. You can sign up as "Music listener" or as a member of the industry (musician, sound engineer, consumer electronic industry etc.). It is a free and very simple online procedure that takes less than 1 minute.
Secondly, you can download their free DR Software and start measuring the dynamic range of your records (the good, the bad and the ugly!). As a registered member you can add you own releases and the official DR values of pre DR releases. For example, it doesn't come as a surprise to us, true Real Stereo hifi-addicts, that Donald Fagen's "The Nightfly", one of audiophiles' evergreen favourite recording, has a DR16 dynamic range! For other examples or to add your own please visit: DR releases.
Thirdly, you can even make a donation (via Paypal, for example) to support website and software development, research (e.g. in cooperation with Anglia Ruskin University in Cambridge, UK). If you own a website, displaying one of the DR banners would help, as well.
Finally, if you are somehow involved in music production or if you manage a record label, possibly an audiophile-oriented one, contact the foundation and try supporting its activities. The establishment of a DR standard will only be possible through hand-in-hand teamwork and cooperation between the recording industry and the Pleasurize Music Foundation.
Who's who
The PleasurizeMusic Foundation activities are overseen by an international Board of Directors (see list) headed by Mr. Friedemann Tischmeyer, author of Audio Mastering and Internal Mixing book and DVD series.
Then there's Ronald Prent of World renowned Galaxy Studios, sound engineer and producer of many famous artists (e.g. David Bowie, Elton John, Faith No More, Pointer Sisters, Robert Palmer, Sade, The Police etc.). The Board of Directors also includes Prof. Karlheinz Brandenburg, director of the Fraunhofer-Institut for Digital Mediatechnologie (IDMT, where MP3 was born) and Oliver Masciarotte of Seneschal.
Recently, yours truly has been added to the Board of Directors. I think it is important that someone from the audiophile community plays a role in supporting the activities of the Foundation. TNT-Audio will help the Pleasurize Music Foundation to spread the word within the audiophile community. Think about it for a second: without decently recorded software, be it music files, CDs, SACDs or vinyls, the scope of our addiction will become more and more a nonsense, since we can't reduce ourselves to play only pre-loudness war discs!!! Right?
Are you hoping to get more pleasure from your HiFi system? Then visit Pleasurize Music now!
We strongly encourage you to learn more about dynamic compression by watching and listening to this video:
Do not miss Part III of this series of articles devoted to the infamous loudness war.
© Copyright 2009 Lucio Cadeddu - www.tnt-audio.com
[ Home | Staff & Contacts | DIY & Tweaks | Listening tests | HiFi Playground | Music & Books ]