[ Home | Staff & Contacts | HiFi Playground | Listening tests | DIY & Tweakings | Music & Books ]
January 2013 Editorial
In Memoriam: James Bongiorno

James Bongiorno, a true HiFi legend, passes away at 70
This is not the happiest way to re-open the magazine after our usual holidays break but I simply can't avoid this. A week ago a true legend of the HiFi arena, James Bongiorno, passed away. It is a sad loss indeed. We TNT-Audio had the honor and the pleasure to interview him exactly ten years ago (how time flies!) when he was recovering from liver disease and starting new projects and designs (Ampzilla 2000 etc.). He told us about his early days as HiFi designer, and how he came to design so many innovative HiFi components. Personally, I find the contents of that interview extremely insightful and still astonishingly up-to-date, especially when he talks about the HiFi market, its gurus and their false promises. In case you missed that ten years ago, I'd suggest to read it thoroughly!
After a long fight against liver problems he had seemed in good health again, but evidently not everything was OK. It's a sad loss because his contributions to high quality audio were original and enlightening, we will certainly miss his unconventional approach to HiFi.
Our younger readers may not know who James Bongiorno was or how his work, beginning in the seventies, was seminal to the current state of the art. So here's a brief compendium of what he did, from his early designs to his latest achievements:
Hadley Laboratories 622C Power Amplifier, contributing engineer
Marantz Model 15 Power Amplifier, contributing engineer
Dynaco Stereo 400 Power Amplifier, Designer
Dynaco AF-6 AM/FM Tuner, contributing engineer

SAE (Scientific Audio Engineering)

XXXIB Power Amplifier, Designer
IIIC/CM Power Amplifier, Designer
IVD/DM Power Amplfier, Designer
VIB Stereo Tuner, contributing engineer
IC Stereo Preamplifier, contributing engineer
GAS (The Great American Sound Co.) Chief Designer

Ampzilla Power Amplifier
Ampzilla II (World's first servo-controlled power amplifier)
Thaedra Preamplifier (World's first (and only) servo controlled preamp)
Thoebe Preamplifier
Son of Ampzilla Power Amplifier
Thalia Preamplifier
Grandson Power Amplfier
Sleeping Beauty Moving Coil Cartrdges
Sumo Electric Co. Ltd. Chief Designer

The Power, World's first 450 watt/channel fully balanced Bridge Power Amp
The Gold, World's first patented solid state Class A Power Amplifier
The Nine, World's first low cost solid state class A power amplifier
The Nine+, Ruggedized version
Electra Preamplifier
Charlie the Tuner, world's first premium low cost stereo tuner (The humor in the name is that US TV advertisements of the 80's had a cartoon tunafish named Charlie selling cans of his relatives . . . and the tuner had quite mixed reviews.)
The Half-power, stereo power amplifier
Andromeda, world's first low cost solid state class AB Balanced Power Amp
The Sumo I, Magnetic Phono Cartridge
The Sumo II, Moving coil Phono Cartridge
Harman-Kardon, Consultant, completely redesigned the Citation 23 Tuner
Crown Radio, Japan, 4 power amps, 2 preamps, a fully equalized (phase & amplitude) 3-way electronic crossover.
Spread Spectrum Technologies Inc.. Chief Designer
Ampzilla 2000, fully balanced monoblock power amplifier
Trinaural Processor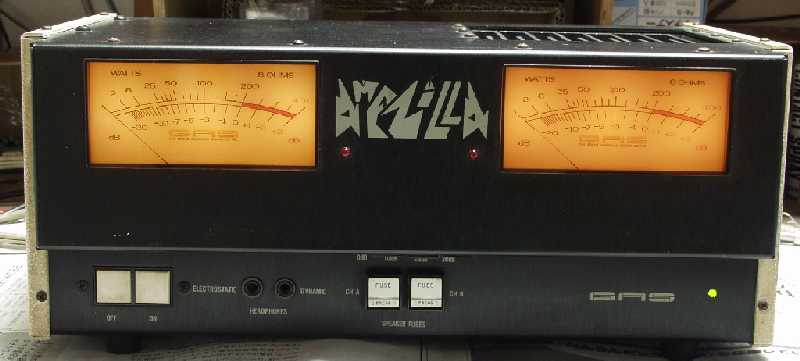 If I were forced to cite one single project that can describe James Bongiorno's genius I'd choose the GAS Ampzilla power amplifier because, at that time, this represented a refreshing departure from the usual HiFi cliché's...this power amplifier was every audiophile's dream!
More generally, his amplifiers and preamplifiers for SAE, GAS and Sumo were components that marked an era, for the originality of their design, circuit layout and price/quality ratio. He was such an eclectic designer and man, his clothes proved this beyond any reasonable doubt! Just make a search on Google Images with keyword "James Bongiorno" and enjoy his colourful approach to attire :-)

Our small world of audio enthusiasts has lost another piece of its history and I have to admit that it is hard, nowadays, to find such leading personalities among new gurus and designers. We will miss you, Mr. Bongiorno!
© Copyright 2013 Lucio Cadeddu - direttore@tnt-audio.com - www.tnt-audio.com
[ Home | Staff & Contacts | HiFi Playground | Listening tests | DIY & Tweakings | Music & Books ]