[ Home | Staff & Contacts | HiFi Playground | Listening tests | DIY & Tweakings | Music & Books ]
January 2022 editorial
Is Pope Francis a vinylphile?
Author: Lucio Cadeddu - TNT Italy
Published: February, 2022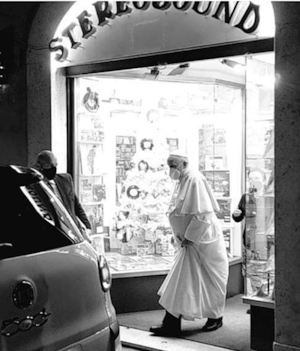 Rome, January 12, 2022.
Pope Francis, surprising everyone, paid a quite unusual visit to Stereosound, also known as La Discoteca al Pantheon, a music store in Rome, established in 1971. The store, which also sells small musical instruments, is located near the Pantheon, very close to the Holy See (here the Stereosound Instagram page). The reason for this unconventional visit was to bless the recently renovated store he used to visit long before being elected Pope.
In an interview, the owners of Stereosound declared Pope Francis, years ago, regularly stopped by to purchase classical music records. Being born in Argentina, Pope Bergoglio is also fond of Argentine tango music, such as Astor Piazzolla and Orquesta Juan D'Arienzo (El Rey Del Compas).
Francis left the store with a gift box from the owner's daughter, Tiziana Esposito, a box containing a classical music LP. This means he owns - or has access to - a turntable. Now, since that day there's a question that keeps spinning round in my head: which kind of turntable (or stereo system) does Pope Bergoglio owns??? Now, that would be quite a scoop!

Copyright © 2022 Lucio Cadeddu - editor@tnt-audio.com - www.tnt-audio.com
[ Home | Staff & Contacts | HiFi Playground | Listening tests | DIY & Tweakings | Music & Books ]