[ Home | Staff & Contacts | HiFi Playground | Listening tests | DIY & Tweakings | Music & Books ]
July 2015 editorial: HiFi for beginners OR
How to explain your obsession to your friends and get them to buy some kit...
Author: Graeme Budd - TNT France
Published: September, 2015

I don't know if any of you have noticed but the world of hi-fi is a fairly restricted and above all male dominated hobby. Now whilst some of you (those that make home brew and probably have very large train sets) may think this is a good thing and that the uninitiated and (above all) female members of the public should be kept out at all costs this surely is not going to be good for our hobby, our enjoyment and the health of the associated industry in the long run.

So why is it that so few people get the hifi bug? It certainly isn't down to a non-love of music as the quantity of Ipods and oversize Beats Audio headphones that can be seen up and down the streets of any significant town would indicate that a lot of people like music, and are willing to spend at least some money on equipment.

I'm inclined to think that as proper hifi systems are only sold in fairly restricted distribution networks some of which (the shops) can be a tad intimidating people tend not to take the step to see what can be acheived for even a modest outlay - they don't know what hey are missing and as the old adage goes ignorance is bliss.

So how do we solve the problem? Is it solvable? I think that in any case those of us who have caught the hifi bug can have a positive effect of those uninitiated souls that surround us and help them get what it is that drives us and what we get out of this crazy hobby. This is probably going to require a bit of adaptation from each of you but bear with me - this is for the good of the world.

So here is my multi step plan to converting those who take an interest (very long drum roll....).

Firstly a bit of background before I let you loose with step 1. You are probably familiar with the following type of situation – someone is round your house (maybe to taste your home brew) and expresses a passing interest in your system. A-ha you think – time to blow their socks off with a demo. And why not? So you reach for your favourite recording - the one that has the amazing bass, super wide staging, a singer that could be sitting in front of you etc etc (need I go on?). Except you've already made a fatal mistake which brings us to step 1 in the plan:

1) Play them something they know already and that they like and that will make them smile (if they are with their other half make sure you also play something he or she likes as well – if this is the same disc then all the better!)

I know this may go against your nature but it works! I remember an occasion where we had some friends round and one of the female members of the group was having an issue understanding what this large noisy pile of equipment was about and why her husband thought it was so great (admittedly someone had just stuck the Black Eyed Peas in the CD player so this was sort of understandable as reactions go). I asked her whether there was anything in our CD collection she would like to hear – a quick rummage later a disc she knew appeared and into the player it went. It took about half a song before she smiled and uttered the words "now I understand". I'm not saying they went out and bought a system straight away (that would have been asking a bit much) but at least part of the mystery was a mystery no more.

So... hopefully as you've now played something they know and like and hopefully they liked what they've heard we now have step 2

2) Don't tell them the price of your system when they ask!

This is not (really) lying. What needs to happen is that before they keel over never to recover at the idea of spending multiple month's salary on a "stereo" and before their better half intervenes, you tell them that a CD system can start at 1000€ or less with something that can be driven from their smartphone or laptop costing even less.

Why should you do this? Well as a demonstration of the risks in truth telling this is a phenomenon that also occurs in other hobbies (we are not unique!) and that I see regularly in RC Car racing (another thing I spend far too much cash on). A kid and his dad come to a race and the kid really likes the idea and the dad sees how this could be a great father/son or daughter thing. The dad goes up to a driver and asks a few questions followed by the inevitable "how much?".
Now whilst a top spec race car can be over 1000€ it is perfectly possible to race and go 99% as fast with a car that costs €350. But of course the driver is proud of his investment and says "over 1000€" at which point the dad is obliged to tell the son/daughter "we'll see" which as anyone over the age of 10 know is the parent's universal get out of jail free card and 99.9999% (add as many nines as cable manufactures do to describe their copper purity) of the time means "no".

So if you've given the 1000€ info you've avoided the get out of jail free card and may just have helped someone down the road to some serious musical enlightenment. If you said the system they just listened to cost 5k€ you've lost them and they are condemned to soundbars, MP3 and MegaBass buttons for the rest of their life.

So, assuming you gave the right answer in step 2 you've now got your mate and his/her partner interested and they are thinking of buying a system. As you're a nice chap/chapess you offer to take them to a HiFi show so they can hear a few brands and decide what they like the look and sound of.
This would appear to be a good idea but more traps are lurking just round the corner (or in our case behind some hotel room doors).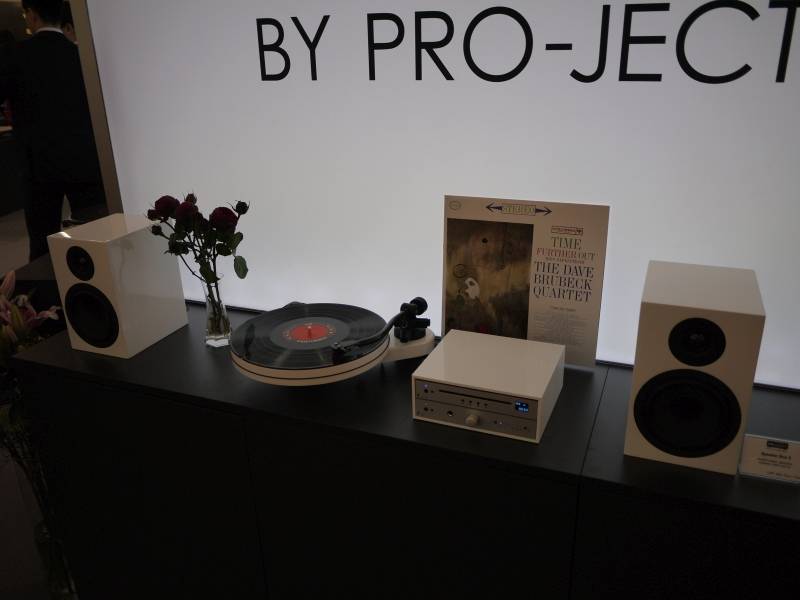 A HiFi Show, yesterday
Now some of you may just have woken up as I've mentioned dodgy goings on in hotel rooms but we're not going further down that road. What I am talking about is the ability of a hifi show and its exhibitors to put people off by:

a) Playing the music we spoke about earlier in point 1 and

b) Not letting attendees play their own music.

This is something that has me baffled, especially point b). If manufacturers produce good systems and are proud of their abilities what are they scared of? I appreciate that hotel bedrooms are not the ideal environment to show hifi systems but it's the same for everyone and some manufacturers make the effort to make (really) good sounds.

It's now time for Step 3 which is just as good for you as it is for the people you're taking to the show.

3) It's time to enforce some enjoyable and dare I say it popular music into HiFi show demonstrations.


By this I mean stuff that you're actually going to listen to at home and enjoy. The following are only my suggestions but I'm going to be taking some of them to the next show or demo I'm going to. Your list will no doubt be different (I'd love to see them so email me them if you want) but I think that we, the consumers, need to be deciding what we want to hear at shows we've paid to visit.

Manufacturers – I'm not having a go at you (well maybe just a tiny bit). Play stuff that people actually like and they'll flood into your rooms with a big grin on their face and you'll be on their shortlist and they'll be visiting your dealers. After all a quick blast of Enter Sandman is going to attract a lot more people than the Kodo drummers or the dreaded Jazz at the Pawnshop...

Without further ado here's my list (which I've limited to 15 songs but I've got plenty of others)


Enter Sandman – Metallica
Inbetween days – The Cure
New Sensation – INXS
So you wanna be a rock n' roll star – The Byrds
Don't do me like that – Tom Petty and the Heartbreakers
Dancing in the Dark – Bruce Springsteen
Bossa Nova USA– Dave Brubeck Quartet
Love Profusion (Ralphi Rosario House Vocal Extended) – Madonna
Acrid Avid Jam Shred – The Aphex Twin
Mud on the Tires – Brad Paisley
Cream - Prince
The man with the Red Face (Jan Driver Mix) - Laurent Garnier
Midnight in a perfect world – DJ Shadow
Spanish key – Miles Davis
Y Ahora Tu – Up Bustle and Out

As a brief postscript also asked some of the ladies that have the misfortune to know me for a list so here are some of their suggestions with my heartfelt thanks - I couldn't include them all but male readers take note - eccessive widdling and irrelevant bass noodling will not be tolerated!

Skydive - Chuckie ft.Maiday
Ghost (initpatch remix) - Ella Henderson
Changing - sigma ft.Paloma faith
Hold my hand - Jess Glyne
Hallelujah - Jeff Buckley
Bohemian rhapsody - Queen
Mr Slater's Parrot - Bonzo Dog Dooh Dah band
Stars- Simply Red
Ave Maria - Schubert.
Deeper – Grouch
Oka - Okalove
I was here - Beyonce
Ghost - Skip the Use
Start it Up - The Rolling Stones
Respect – Arethra Franklin


Anyway I hope the above gives you food for thought next time you're organising a bash round your place or you see your niece or nephew imitating Naymar Jr or Serena Williams with a large set of cans on their head. There is hope - it just needs a little bit of time and effort on our parts.

Happy Listening!


© Copyright 2015 Graeme Budd - graeme@tnt-audio.com - www.tnt-audio.com
[ Home | Staff & Contacts | HiFi Playground | Listening tests | DIY & Tweakings | Music & Books ]