[ Home | Staff & Contacts | HiFi Playground | Listening tests | DIY & Tweakings | Music & Books ]
July 2021 editorial
Mixxtape: compact cassette and high resolution digital audio player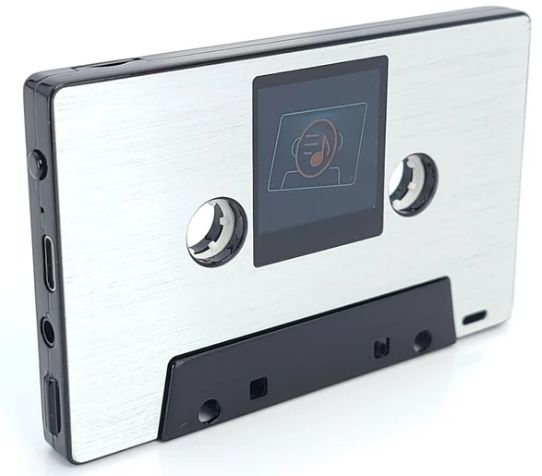 Author: Lucio Cadeddu - TNT Italy
Published: July, 2021
Articles on the compact cassette comeback have been published here on TNT-Audio several times (Part I and Part II here) and we have also devoted an article to the weird comeback of the old Stereo8 tape cassette as well. Now, what's next? What about a compact cassette that doubles as a digital audio player?
Mixxtape, now at its 4th gen release, was a Kickstarter project launched by Paul Burns in 2013, and updated three times already with new features every time. Its creator's motto is "nostalgia meets modern tech". In 2013 Mixxtape earned its way to the top 10 finalists at the CES Last Gadget Standing competition.
What is Mixxtape? It is a tape-less compact cassette that contains a digital audio audio player. Or it is a digital audio player housed inside an old compact cassette casing, if you prefer. But there's more to it. Actually, the weird thing is that it can play the music it contains right on a standard boombox or basic tape player as well. Yes, it has no tape, but it contains a sort of tape head that, interfaced with the tape head of your old player, transmits music, exactly like a tape does. The only problem is that it won't play on tape decks that have a tape movement sensor (most of them, actually). A basic boombox will work, though.
Mixxtape has been around for a while, but the reason why I am featuring it here on TNT-Audio is because Mixxtape GEN4 has some nice new "audiophile" features:
24-bit/192kHz high-resolution audio
Supported formats include: FLAC, MP3, M4A, WMA, OGG, APE, WAV, AAC-LC, ACELP, and more (works with Apple iTunes)
Bluetooth 4 compatible (to be paired with external Bluetooth speakers, for example)
8GB internal memory
Up to 512GB external memory support (microSD card slot)
Stereo 3.5mm HiFi audio jack for speakers or headphones
USB connection to transfer files from a PC or Mac
Moreover, it has an internal rechargeable battery, it can play for 5 hours before recharging, it has a multi-language option and a full-color touch display. Another cool feature of the Gen 4 is that it comes with an engravable metal casing, so you'll be able to personalize it, as for a gift, an anniversary or so.

If you love high resolution audio and Bluetooth connection but you appreciate the idea of playing your audio files even on an old cassette deck, then this new generation of Mixxtape is the right gadget for you. We will try to ask for a test sample, just to evaluate how it performs as a real high resolution digital player. For more info visit the official website.

Copyright © 2021 Lucio Cadeddu - editor@tnt-audio.com - www.tnt-audio.com
[ Home | Staff & Contacts | HiFi Playground | Listening tests | DIY & Tweakings | Music & Books ]