[ Home TNT-Audio | Staff & Contacts | HiFi Playground | Listening tests | DIY & Tweakings | Music & Books ]
July 2023 editorial
Dirac Audio Technology now available on smartphones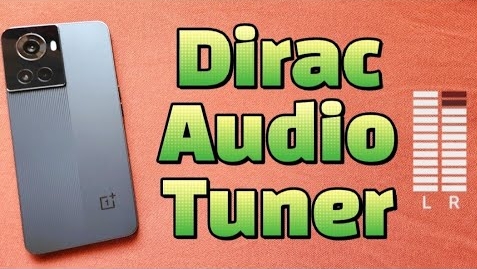 Author: Lucio Cadeddu - TNT Italy
Published: July, 2023

More and more people use smartphones as the primary source for listening to their music, especially when the HiFi system is nowhere near. The quality of the audio coming from these devices is subject to many technical and physical limitations, but a little help can come from digital technology.

Dirac is now a leading brand in the digital processing of audio signals, both in terms of room correction with Dirac Live, now implemented on many HiFi products from audiophile brands, and in other suites aimed at the pro, automotive and mobile markets.

My smartphone, a OnePlus model, offers the Dirac Audio Tuner suite as standard. In practice, two Dirac suites are implemented by default, namely the Dirac Opteo™ and the Dirac Virtuo™. Dirac claims the idea is to achieve better sound quality for any audio content, whether on speakers or headphones, regardless of the type of audio being used, thanks to the fact that Dirac technology is not tied to any format specific encoding or decoding.

Specifically, Dirac Opteo™ optimizes single speaker systems by addressing the hardware limitations inherent in small devices. It promises:
A wider and more accurate soundstage
More detailed sound
Deeper, more controlled bass
Better speech intelligibility
This technology is also used in the automotive market, for example on Rolls Royce, BMW, Bentley, Volvo, Nio, Byd, Genesis and Polestar cars. The Dirac Virtuo™, on the other hand, deals with the spatialization of sounds, both for smartphones, tablets and multi-speaker PC solutions, offering more immersive audio, as they say today.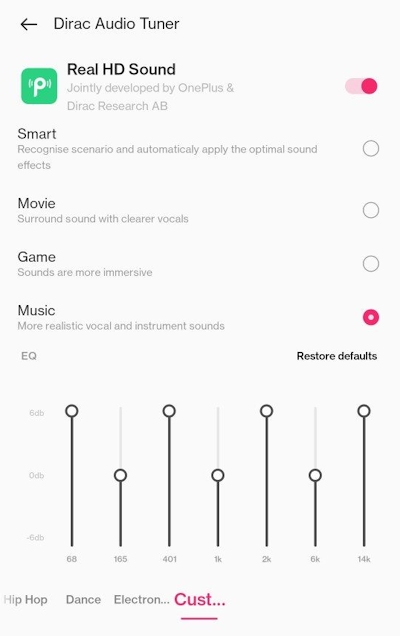 On my phone (see screenshot above) the Dirac suite can be declined in three different modes: movies, games and music, and there is also an "intelligent" mode that self-adapts to the audio program being played. There is also an equalizer (with six bands, from 68 Hz to 14 kHz), both customizable and equipped with presets for different musical genres: Pop, Rock, Country, Jazz, Classical, Metal, Blues, Hip Hop, Dance, Electronic. The suite gets activated when you connect your device to headphones or to an external Bluetooth amplifier/speaker. It can, of course, be turned off by unchecking the Real HD Sound option. Needless to say, the phone sounds pretty well with the Music option selected and the EQ off.
The Dirac Audio Tuner is made available by OnePlus as a separate download for Android phones, for example on this page you can find the necessary APK files, although strangely the link seems to refer to Dolby Atmos, the other competing suite found on other devices, even from OnePlus. In any case, other smartphones also use the Dirac suite instead of the Dolby Atmos one, for example Asus, Alcatel, Huawei, Infinix, Motorola and Tecno. You may have it on your phone and you haven't ever noticed it. To find out, just open the audio settings and scroll down to the bottom of the menu.
Summarizing, mobile devices, from ugly ducklings, are slowly evolving into devices that are increasingly attentive to audio quality. Good news, I'd say.
DISCLAIMER. TNT-Audio is a 100% independent magazine that neither accepts advertising from companies nor requires readers to register or pay for subscriptions. If you wish, you can support our independent reviews via a PayPal donation. After publication of reviews, the authors do not retain samples other than on long-term loan for further evaluation or comparison with later-received gear. Hence, all contents are written free of any "editorial" or "advertising" influence, and all reviews in this publication, positive or negative, reflect the independent opinions of their respective authors. TNT-Audio will publish all manufacturer responses, subject to the reviewer's right to reply in turn.


Copyright © 2023 Lucio Cadeddu - editor@tnt-audio.com - www.tnt-audio.com
[ Home TNT-Audio | Staff & Contacts | HiFi Playground | Listening tests | DIY & Tweakings | Music & Books ]