[ Home | Staff & Contacts | HiFi Playground | Listening tests | DIY & Tweakings | Music & Books ]
June 2022 Editorial
Onkyo files for bankruptcy after 76 years of business
Author: Lucio Cadeddu - TNT Italy
Published: May, 2022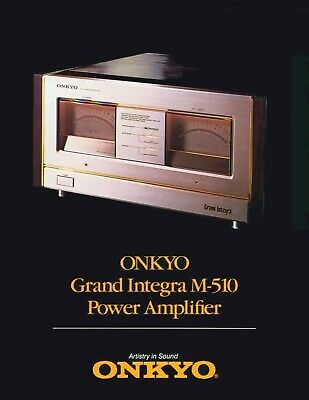 On May 13, sad news hit the audio market: the 76-year-old Japanese hi-fi brand Onkyo filed for bankruptcy with the Osaka District Court. The news appeared on the Nikkei website. When asked, the company told Nikkei it "tried to maintain business on a smaller scale, but could not stop cash-flow problems from worsening."
Hence, after 76 years, the Osaka-based company dies. Apparently, they haven't been able to keep up with the new market trends. They also tried to add new components to their catalogue, such as earphones and headphones, but it was late in the day. It is true that the market was requiring more mobile devices, but other brands were already leading the pack, while the Onkyo name was not widely recognized as others who tried to jump on the mobile bandwagon.
On the other hand, audiophiles - who once loved their high-end products like the Integra series - were disappointed by the flood of inexpensive run of the mill home theater receivers Onkyo was releasing. The decline was unavoidable.
Now, while Onkyo Japan is closing down, the home entertainment AV solutions division might live on. It has been jointly owned by the American Premium Audio Company (PAC) and Japanese Sharp since September 2021, thus becoming part of the same family as Klipsch, Jamo, Mirage, Teac and Pioneer. This division will not be affected by the bankruptcy. It seems PAC and Sharp have also acquired all intellectual property rights and the rights to product development, sales, distribution and marketing. The joint venture also assumed all manufacturing of these products, which includes a variety of A/V and stereo receivers, amplifiers and hi-fi components under both the Onkyo and Integra brands. What does this mean? Well, it is highly possible that Onkyo and Integra products will survive, in one form or another. Will we be able to tell the difference between Onkyo and Teac or Pioneer products? Hard to say, since all these brands now belong to the very same owner.
Paul Jacobs, President and CEO of Premium Audio Company stated, "Demand for Onkyo and Integra products has been very high and we expect this to intensify in the coming years. We have been working very closely with Sharp to ramp up production and have grown our business significantly since the acquisition was completed. We have big plans for Onkyo and the other brands sold through 11TC and as we build production and expand distribution, believe sales will more than double in the near-term."
This is certainly not the first time we have seen this happen: many glorious HiFi brands of the past have been acquired by fund managers and other companies. The real problem is: will the Onkyo/Integra heritage survive? Will we be able to see another legendary power amplifier like this Grand Integra M510 power amplifier? Or will they become just "brands", grey shadows of the past that will never come back? We'll see.
The truth is that the HiFi market is a niche, with way too many companies and brands. There's literally no place for everyone, especially the big companies will struggle to stay alive in this scenario.

Copyright © 2022 Lucio Cadeddu - editor@tnt-audio.com - www.tnt-audio.com
[ Home | Staff & Contacts | HiFi Playground | Listening tests | DIY & Tweakings | Music & Books ]