[ Home | Staff & Contacts | DIY & Tweaks | Listening tests | HiFi Playground | Music & Books ]
March 2008 editorial
Even Ferrari uses a Class D engine?
Writer: Lucio Cadeddu - TNT Italy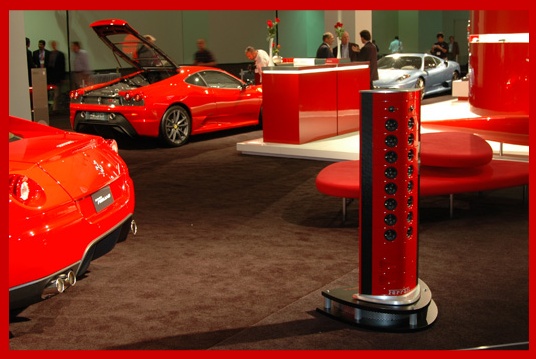 Two months ago, on the January editorial, I wrote about famous HiFi manufacturers who decided to jump onto the Class D bandwagon. More precisely, Mark Levinson will be using Class D amplification for their new top of the line monoblocks. Hence, it seems Class D is all the rage nowadays. Nonetheless I was quite shocked to discover that the first time of Ferrari (the Italian sports car manufacturer) in the HiFi market has something to do with Class D. If you're not aware, you can now buy a Ferrari-branded active loudspeaker powered with Class D modules! More precisely it is a quite revolutionary concept, a fully active single loudspeaker that should create stereo sound. It is called Art.Engine (website: www.dwvartengine.com), designed and manufactured by David Wienier Ventures (DWV for short), and features the speaker itself, four 200 watt digital amps, a DSP, a wireless receiver and other electronic controls built into the single speakers tower. You just need a power cord since the primary signal input is the wireless streaming of music files or radio via iTunes running on any computer (PC or Mac) with wireless functionality. In addition, any standard CD player, iPod, or other input source may be connected to Art.Engine's external RCA jacks with the included audio cables.
Each Art.Engine is hand-made to order and only 1000 pieces will be manufactured. The Art.Engine is available in four different Ferrari colours. It is painted with actual Ferrari paint and clear coat. The colours are:
Rosso Corsa Red
Argento Nurburgring
Silver
Grigio Silverstone Grey
Metallic Nero Black
Custom colours may be ordered for an extra charge, but they may only be Ferrari colours. Art.Engine is priced in the U.K. at £12,999 including VAT. A demo is available at www.thepleasurehome.com.
Eight custom DWV 75mm (3") carbon fiber high-performance mid/woofers and one ScanSpeak custom 28mm (1.1") soft dome tweeter are used in each of the two channels. At 120 cm (47") tall and 41 cm (16") wide, the Art.Engine is a floor standing audio system designed to be placed against the wall (a revenge for Flat Earth audiophiles? :-)). Its frequency response is 40Hz-20 kHz ± 3 dB while max pressure level is claimed to be 110 dB @ 1 meter. The whole speaker cabinet is a mix of carbon fiber and aluminium.

Ferrari's brand development director, G.Zambeletti, commented:
Any high end product licensed by Ferrari must have an uncompromising approach to quality, breakthrough technology, and ultimate performance. The Art.Engine encompasses them all."
Perhaps this is not a product intended to satisfy the needs of the high-end audiophile crowd, perhaps it is mainly aimed at "lifestyle"-kind customers but, in some sense, it represents another "sign of the times". Neglected by audiophiles for a long time, used in cheap pro systems and considered "not HiFi" by many, Class D amplification is quickly becoming popular and respected, in the sense that even high-end manufacturers are taking it into serious account for getting high performances.
It might be useful to remember everything started with a small, dangerously inexpensive and damn good sounding amplifier called T-Amp, more than 3 years ago. Many audiophiles laughed at us at that time. Many of them have stopped laughing and started to consider Class D gear more seriously now. In the meanwhile, the new 12 watts, sub-200$ integrated amp from NuForce has reached the doors of the palatial TNT-Audio headquarters. Stay tuned...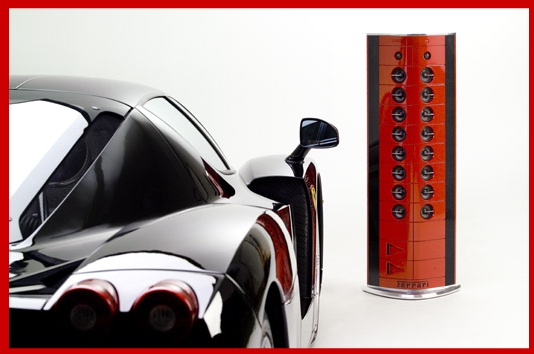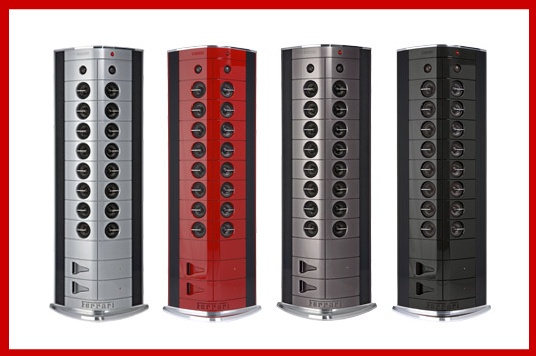 © Copyright 2008 Lucio Cadeddu - www.tnt-audio.com
[ Home | Staff & Contacts | DIY & Tweaks | Listening tests | HiFi Playground | Music & Books ]