[ Home | Staff & Contacts | DIY & Tweaks | Listening tests | HiFi Playground | Music & Books ]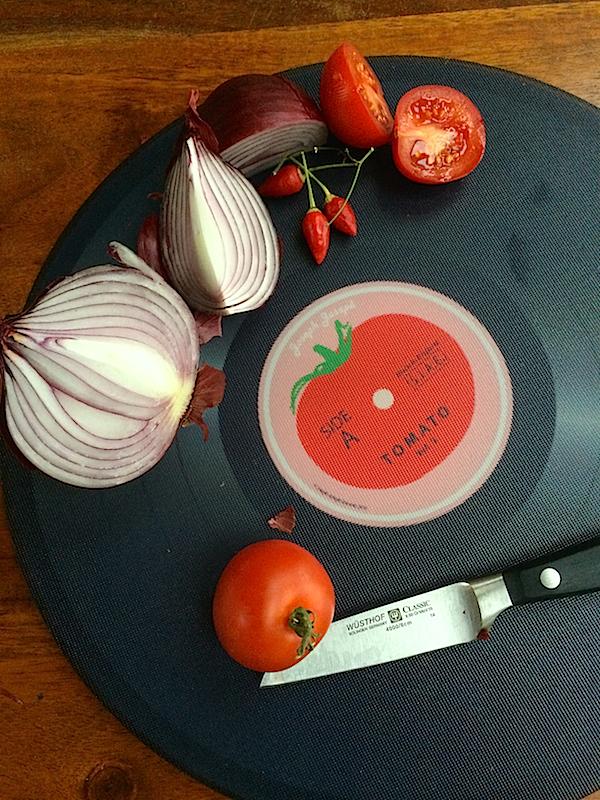 Vinyl LP Chopping Board
Does the food sound any better?
Does the food taste any better?
Manufacturer:Joseph Joseph
Product: Tomato LP chopping board/worktop saver
Reviewer: Gordon Blue - TNT UK
Reviewed: 1st April 2016,
Product description
Britain has traditionally been less associated with haute cuisine than their European neighbours in France and Italy. Britain has, however, in recent decades, garnered more Michelin stars than other nations, rapidly catching up on the global foodie stage. There has been an explosion of TV cookery programmes, and celebrity chefs in Britain now enjoy rock'n'roll star status. The world of business is always well equipped to capitalise on trends, and British high street stores are now filled with high quality cooking utensils, aids and gadgets.
Audiophiles are Sybarites at heart and gourmanderie is the foundation of the sybaritic lifestyle. Good taste begins in the mouth and eating is our first pleasure. As Freud so correctly identified, the oral phase of human development precededes the anal phase, as it does with every item of food, so correctly ordered by Marylin Manson. The acquisition of a set of top quality chef's knives tends to be the first rite of passage of those seeking to raise their cooking game, but few people consider the board on which to use them. End-grain butcher's blocks have their devotees, colour coded self-healing plastic have their place in commercial kitchens and toughenned glass worktop savers can be used individually or in combination with chopping mats. It is one of these that we review here.
Playing music while preparing food is an essential ingredient and there is no reason not to be reminded of our favourite analogue source while chopping our onions finely. Joseph Joseph now offer a chopping board in the shape of a vinyl LP, appearing on the Tomato label, a neat homage to Apple Corps. The worktop saver is familiarly sized for vinyl LP lovers, at 30cm (12 inches) diameter, available here. Tests were conducted for TNT-audio.com using my own set of Gustav Emil Ern blades, now 20 years old, one Wüstof (I prefer their 9cm blade's balance) and some Sabatiers belonging to another chef. I also tried the usual colour coded plastic handled knives found in every kitchen.
Listening to high quality audio is like fine dining. It is a personal experience, intimate and profoundly moving at best, disappointing and unsatisfaying at worst. Our TNT-audio.com colleagues Fletcher Munsen and Raif Pollo have pushed the audio boundaries in the past, and connecting the experiences of the sense of hearing with those of taste and smell can only push sensory experinces further.
Sound Quality
Without a chopping mat on top, the bare textured surface of the toughened glass generates a clattery sound quality with all brands of knives and softer food products. The pitch is slightly lower with the heavy German knives and higher and quieter with the others. The difference in sound is rather like the difference between alnico speaker magnets (Gustav Emil Erm blades). neodynium magnets (Sabatier blades) and ceramic magnets (bulk bought pro kitchen colour coded plastic handled knives). This has no bearing on the eating quality but affects the pleasure or preparation.
Conclusion
There is also a banana version of the LP worktop saver, presumably for fans of the Velvet Underground and a rectangular turntable version. For non-audiophile music lovers there are cassette and boom box versions too.
Ideal for the audiophile gourmand, the Joseph Joseph LP chopping board reminds them of their unique hierarchy of needs.
Music enjoyed while writing this review
Fats Waller: Shortening Bread, not a traditional plantation song, but a poem written by James Whitcomb Riley in 1900
Tom Glazer: On Top of Spaghetti, a chef's knife for the onions & garlic in the sauce
The Beatles; Strawberry Fields Forever, a small paring knife or fruit knife for removing the leaves
Booker T & the MG's: Green Onions, a chef's knife longer than 20cm
John Hughes & William Williams: Bread of Heaven, unofficial Welsh National Anthem Cwm Rhonnda needing a serrated bread knife
D. C. Smith: Little Green Apples, corer & peeling knife
Harry Chapin: 30,000 Pounds of Bananas, fruit knife and sharpener and team of sous chefs
Marylin Manson: Cake & Sodomy, cake knife
Don Maclean: American Pie, see apples
Nirvana: Big Cheese, any knife bigger than the cheese
Little Feat: Dizie Chicken, boning knife
Chef: Chocolate Salty Balls, less said the better
Flying Burrito Brothers: The Gilded Palace of Sin,
Jonathon Richman & The Modern Lovers: Ice Cream Man,
The Stranglers: Peaches, fruit knife again
Squeeze: Pulling Mussels from the Shell, small paring knife
Neil Young: T Bone, cleaver
Led Zeppelin: The Lemon Song, squeezed down Robert's leg of lamb
The Beach Boy's: Vegetables, presumably to accompany fish

© Copyright 2016 Gordon Blue - www.tnt-audio.com
As well as being an internationally acclaimed chef, Gordon Blue is a dedicated music lover and audiophile. Gordon had considered a career as a guitarist and harmonica player, playing Delta & Chicago tunes with his parents, or R&B with his siblings, Elwood and Jake. However, Gordon eventually stepped beyond the cordon into the kitchen to delight our tastebuds with classic dishes such as Timbales, Ox-Minuet, Tournedos Rossini and finishing with a Pêche Melba
Gordon nearly ended the career of the Smashing Pumkins by offering guitarist James Iha 25cm blade, causing him to leave the band for 16 years, to form "Diced Pumpkins" as a tidier, tastier alternative.
[ Home | Staff & Contacts | DIY & Tweaks | Listening tests | HiFi Playground | Music & Books ]