[ Home | Staff & Contacts | HiFi Playground | Listening tests | DIY & Tweakings | Music & Books ]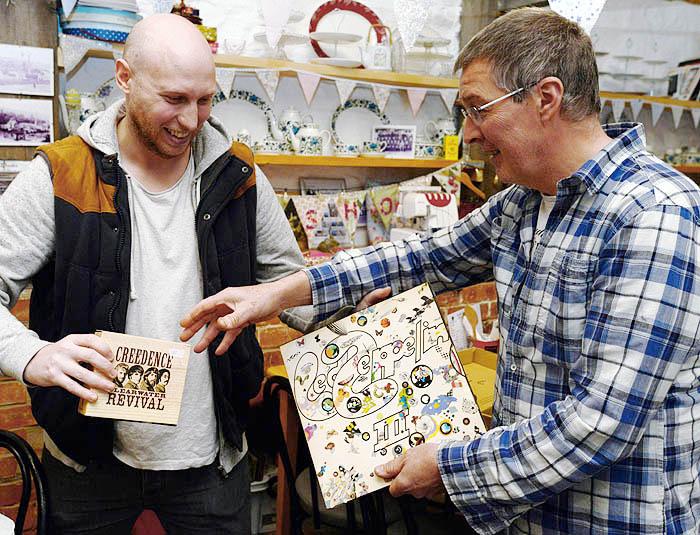 Vinyl Frontiers:
Rural Record Fair Holmsford Cafe 2017
Author: Mark Wheeler - TNT UK
Even more money on vinyl spent by TNT-audio in 2017
Fine food, excellent coffee and boxes and boxes of collectible vinyl in the Derbyshire countryside
For many years British motorcyclists have considered the A6, one of Britain's primary, radially numbered 'trunk roads' as a great biking road, leading to the inland resort of Matlock Bath. Many of these intrepid road warriors have stopped for a cuppa at the Holmsford Cottage Inn. Just a few years ago it closed down and was rescued by Steve and Rebecca who have reopened the Holmsford Cottage Tearoom. They also act as a marketplace for local crafts, especially textiles, a local centre of knowledge and purveyors of splendid cake. More balanced diets are catered for in a range of hot foods for cold bikers and cold foods for hot Summer days.
"What is The Old Scribe rambling on about now?" demand Plebs' Chorus, stage left, "We don't need a history of motorcyclists' haunts of Derbyshire; this is an audio magazine"
Proprietor Steve is a vinyl casualty, Linn owner and the type of man who gets things done. Upset that the iconic cafe near his house was no longer open, he and Rebecca re-opened it. Feeling in need of local record fairs to exchange vinyl and CD treasures, they decided to host them twice a year. Rebecca's catering skills and Steve's enthusiasm just needed to be joined by a few locals whose fingers are familiar with flipping through music racks, for the events to be a success. This one was a success.
Attended by a mixture of vinyl junkies and traders from a radius that included Nottingham, Matlock, Wirkswirth and Derby money and CD's and vinyl changed hands at a rapid pace.
Conclusion
It is well worth attending local record fairs like this one at the Holmsford Cottage Tearoom. Sign up to their facebook page to be alerted to the next one and look around for similar events local to you. This grass-roots activity is what the hobby of music is all about. Your Old Scribe met, for the first time, a fellow resident of his own village, whose roof-space above his garage needed the floor strengthening to cope with the weight of the vinyl collection. An online shop that states, people who bought that also bought this will not enable these social encounters with fellow enthusiasts.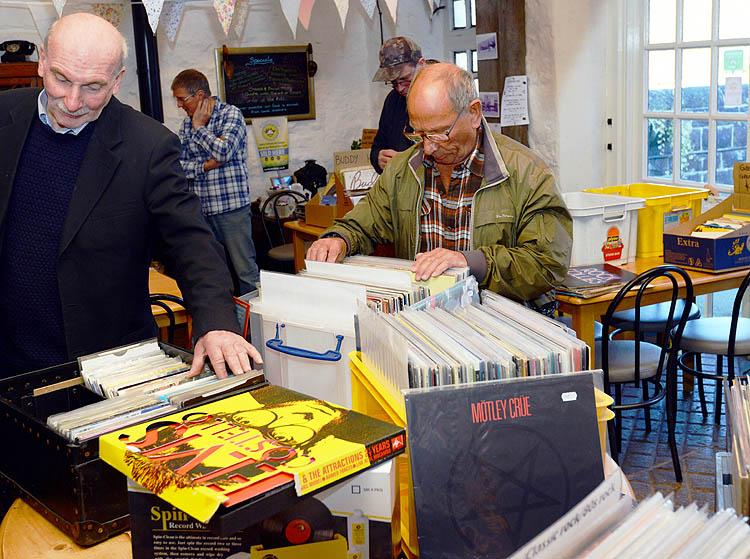 Music purchased at the record fair and enjoyed while writing this editorial
Shawn Benson: Natural Things/Phat as Phuck, Record fair white label purchase
Billy Cobham: Total Eclipse, Record fair purchase
Groovy Onion: Memphis Funk, Record fair white label purchase
Dave Kane: Clarkness, Record fair white label purchase
McCoy: Fight: PG Tips Brittle Dub, Record fair purchase
Lee Morrison: marked 'Title exist', Record fair white label purchase
Devon Russell: Sings Roots Classics, Record fair purchase
Sound Foundation (avec Linda Wright): Family of Joy, Record fair white label purchase
Sweet Factory: daybreak/can't stop, Record fair purchase
Unmarked white label: something or other, Record fair purchase
Frank Zappa: Thing Fish, Record fair 3LP box set purchase
Go out of your house/apartment/tent and buy more records NOW!
If you are confined to your house, factory or office, go online to independent records shops and labels and buy vinyl and hi-res downloads; Don't waste my time, or yours, thinking about it. Just buy more stuff to play on your hifi!!!
Take something previously unheard to your record shop counter and listen to it.

Copyright © 2017 Mark Wheeler - www.tnt-audio.com
[ Home | Staff &Contacts | DIY & Tweaks | Listening tests | HiFi Playground | Music & Books ]