[ Home | Staff & Contacts | DIY & Tweaks | Listening tests | HiFi Playground | Music & Books ]
May 2012 editorial
Will direct sales replace traditional HiFi stores?
Writer: Lucio Cadeddu - TNT Italy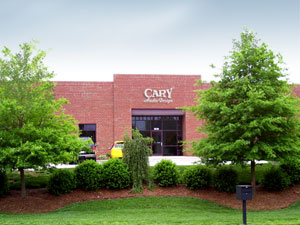 Cary Audio headquarters
The Times They Are a-Changin', right? On April 26, Cary Audio, a renowned US HiFi Company (see our factory tour), announced their new Direct Sales Program. This won't replace their current official dealers network, but it aims to offer audiophiles a chance to purchase their products factory direct if there are no Cary Audio dealers available near them. More precisely, this is what their press release says:
"We receive calls nearly every day from potential customers who want to know where they can audition and purchase Cary Audio products after finding no local dealers listed on our website. While we continue to support our independent authorized dealers, we realize that there needs to be a way for consumers in all parts of the US and Canada to enjoy our equipment. We have decided to implement a remote customer sales initiative to apply to those consumers who are at least 100 miles (160 kilometers) from the nearest authorized Cary Audio dealer.
Products purchased will be shipped directly from Cary Audio to the consumer, and will carry our regular limited warranty and a 30-day satisfaction guarantee."
At the moment Cary Audio direct sales program doesn't apply to customers outside the US and Canada but certainly this is a sign of the times.
This means, in other words, that finding traditional HiFi stores is becoming more and more difficult. You might have already noticed that! For HiFi Companies, this means it is harder and harder to reach potential customers! The problem is that HiFi gear needs to be demonstrated, auditioned, possibly minimizing all the variables involved in the process (room, ancillary components etc.). A test before you buy would be another fairly good option: you receive a component, test it for, say, 15 days, in your HiFi chain and then decide what to do (keep it or ship it back to the manufacturer).
Traditional HiFi stores are becoming rarer and rarer because HiFi is no longer a mass phenomenon as it was in the Seventies. Furthermore, online stores have profoundly modified the way potential customers approach to their next HiFi purchase: search for the lowest price and that's all. Auditioning before purchase seems less and less interesting these days. Customers rely on word of mouth by fellow enthusiasts or magazines/forums reviews.
Is this an ideal situation? Certainly not, but that's the way the HiFi market is evolving and there's not much we can do to make things better.
Certainly HiFi Companies can no longer afford to send thousands of components to hundreds of international distributors/resellers worldwide. This means huge investments and a well organized structure and management many small HiFi Companies simply can't afford.
Actually, nowadays many sales directly follow the order: in other words, if you wish a certain product, that might be not available at the local store or even at the national distributor. All these middlemen have to do is ask the HiFi Company to ship the unit you desire. What's the point in having two middlemen - distributor and dealer - then? To multiply final price by a 2X factor? Go factory direct and you'll save (time and money)! Dealer should offer a service, something which online dealers can't guarantee: auditioning, system installation, tips and advices for a correct listening experience etc. How many dealers _really_ do that?
The bottom line is that I suspect many other HiFi Companies will behave the same way Cary Audio did. If you can't find a local dealer, just purchase directly from the Company. Hopefully, factory-direct prices and dealer-prices should be the same, otherwise dealers are - sadly - doomed to end.
[Read about a similar sales program released by PS Audio]
Joy Division "A means to an end" Live, 1980
© Copyright 2012 Lucio Cadeddu - editor@tnt-audio.com - www.tnt-audio.com
[ Home | Staff & Contacts | DIY & Tweaks | Listening tests | HiFi Playground | Music & Books ]