[ Home | Staff & Contacts | HiFi Playground | Listening tests | DIY & Tweakings | Music & Books ]
November 2022 Editorial
The new Audio-Technica Sound Burger: who needs a portable turntable?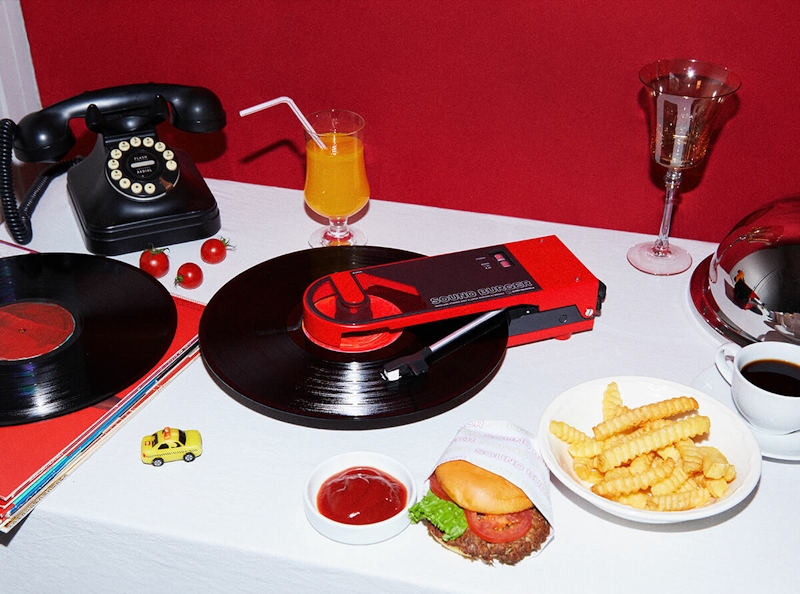 Author: Lucio Cadeddu - TNT Italy
Published: November, 2022
When you start thinking you've already seen everything, a HiFi company releases a product that puzzles you. Almost 40 years ago, 1983 to be more precise, Audio-Technica - trying to exploit the portable audio trend created by the Sony Walkman - released a portable turntable, the Sound Burger, or "Mister Disc" as it was known in the USA. Oh yes, portable players had been around for decades, but those were able to play 7" 33 or 45 rpm discs, not LPs. Generally, they sounded horrible. The Sound Burger didn't sound all that bad, plus it allowed you to play full length 33 rpm albums. Over the years, it has slowly earned a collectible status, and it is not uncommon to find it on Ebay auctions for 500€ or so.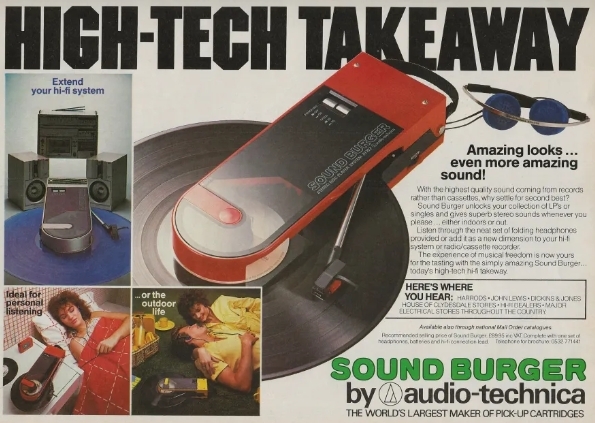 The original Sound Burger ad (pic courtesy by Stereo2go)
Audio-Technica, to celebrate their 60 years in the business, has decided to release a new, updated, limited edition version of that Sound Burger, the AT-SB2022. Only 7,000 units will be made, and it will be sold for 229€. On the official Audio-Technica website it already appears as not available, either all the 7,000 units have been sold or pre-ordered. This wouldn't sound bizarre to me, considering the rising interest in vinyl and pseudo-vintage stuff.
The product has been updated and now features a good AT3600 pick-up, from Audio-Technica, lithium-ion batteries that last for 12 hours of playback, it offers Bluetooth connectivity, it is belt-driven via a DC motor and the tonearm uses a kind of dynamic spring-activated system to keep the pick-up in the right position even if you use the turntable in different situations/locations. It also has a built-in phono preamp and a headphones output. The look is similar to the original turntable, red color included. The name "Sound Burger" has remained the same, meaning that the LP is like an hamburger between two slices of bread.
Now, let me put this straight: the original idea of the Sound Burger wasn't irresistible at the time, and for two main reasons: you can make a small, lightweight turntable, but those LPs aren't small nor lightweight, hence playing vinyl around is certainly not practical. Secondly, a spinning vinyl attracts dust and dirt. Moreover, it is highly exposed - unprotected! - and hence prone to break. So, who really needs a portable turntable nowadays, when you can store your high definition uncompressed music on a portable player that certainly sounds better? Nobody, of course.
You might think it is useful to evaluate second-hand LPs "on the fly". Oh well, firstly, in order to be sure that a LP isn't damaged somewhere, you need to play it entirely, certainly not the best thing to do when you're in a shop trying to evaluate dozens of S/H discs. Secondly, there are far better alternatives, many portable turntables come with a vintage-style suitcase and an easy-to-carry handle. Thirdly, many portable turntables can even play 78 rpm discs, a feature which can be a useful plus for the old records collector. Brands like Lenco, ION, Numark, Victrola and many others offer far better options than this new Sound Burger.
In other words, and in my humble opinion, the Sound Burger is a completely useless device! It is just another marketing attempt to exploit the main two trends in recent audio: vinyl and vintage. Frankly, it is sad that even companies like Audio-Technica decide to celebrate an important anniversary, like this of 60 years from their foundation, releasing useless components and not, like they should, a limited-edition or an improved version of some of their flagship products (hint: a new cartridge, maybe?). They decided for these Emperor's new clothes, and that's a shame.
DISCLAIMER. TNT-Audio is a 100% independent magazine that neither accepts advertising from companies nor requires readers to register or pay for subscriptions. If you wish, you can support our independent reviews via a PayPal donation. After publication of reviews, the authors do not retain samples other than on long-term loan for further evaluation or comparison with later-received gear. Hence, all contents are written free of any "editorial" or "advertising" influence, and all reviews in this publication, positive or negative, reflect the independent opinions of their respective authors. TNT-Audio will publish all manufacturer responses, subject to the reviewer's right to reply in turn.


Copyright © 2022 Lucio Cadeddu - editor@tnt-audio.com - www.tnt-audio.com
[ Home | Staff & Contacts | HiFi Playground | Listening tests | DIY & Tweakings | Music & Books ]