[ Home | Staff & Contacts | DIY & Tweaks | Listening tests | HiFi Playground | Music & Books ]
Happy birthday Compact Disc (Oct. 1, 1982 - Oct. 1, 2012)
30 years of imperfect sound forever!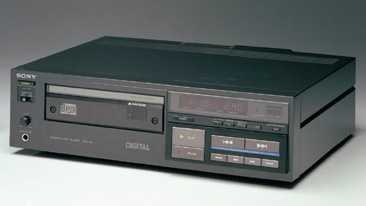 Sony CDP-101 - first CD player ever!
I know, it seems incredible but, yes, 30 years have already passed since the first commercially available CD and CD player hit the market. More precisely, Billy Joel's 52nd Street and Sony's CDP-101 player were introduced in Japan on 1 October 1982 (different historical sources report this happened one month later, on 1 Nov. 1982). The compact disc was released by Sony's recorded music subsidiary, CBS.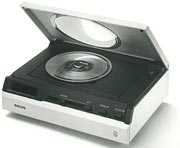 Sony and Philips had already announced the launch of the new audio format in August, though the first digital records date back to 1977 when Sony showed a 30 cm disc with a playing time of 150 minutes (!!!). A few years later Philips demonstrated the 11.5 cm prototype of the Compact Disc (and CD player, see pic at the left) to the international audio press. Initially it could store just 60 minutes of music but then, since Beethoven's 9th symphony was 74 minutes long, it was decided to enlarge the new medium storage space (increasing its diameter up to 12 cm). It seems Beethoven's 9th symphony was chosen as a template because it was Akio Morita's (Sony co-founder) favourite classical work.
Even the so-called CD jewel case has a quite interesting story: after many, many trials and errors the material and the layout had been chosen. It was a sturdy, reliable 100 grams transparent box. CD jewels cases manufacturers, in order to keep production costs as low as possible, reduced the weight of the case to a mere 60 grams. As you know, this choice was unfortunate, since the CD jewel boxes are now extremely weak and prone to failure.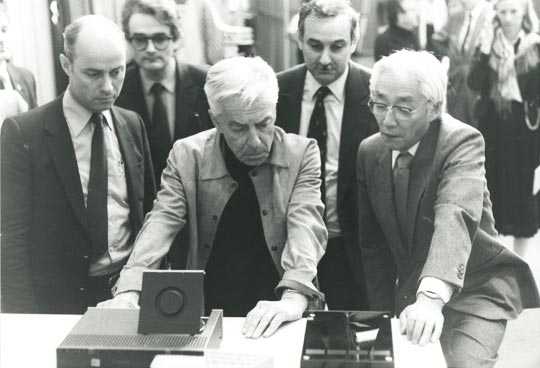 Joop Sinjou (Philips), Herbert Von Karajan and Akio Morita (Sony)
Conductor Herbert von Karajan was a big advocate of the new digital medium. Indeed, the first test CD was pressed in Langenhagen (near Hannover, Germany) by the Polydor Pressing Operations plant and produced by DG. It contained a recording of Richard Strauss's Eine Alpensinfonie played by the Berlin Philharmonic and conducted by...Herbert von Karajan himself!
Not surprisingly, the first record label to convert its production entirely to CDs (stopping LP production!) was Deutsche Grammophone.
Initially, big record companies reacted slowly and coldly to this digital revolution. CBS introduced the CX (Compatible eXpansion) system to enhance the sound of the existing LPs and to reduce surface noise. According to them the CD couldn't replace the LP! At most, it could replace the Compact Cassette. As you know, the CX system was a complete commercial failure while the CD replaced the LP in few years. This was/still is a standard reaction to revolutions...record companies are reacting the same way to liquid music revolution. They will never learn, for this reason I'm pretty sure they are doomed to extinction, like dinosaurs.
Well, 30 years have already passed and the CD is still here, though sales are going down quickly, being replaced by digital downloads (and, for a small portion, by vinyl resurgence). Market experts, considering the sales decrease at a rate that's 5% faster year after year, claim the CD will definitely disappear in 2022. Wow, 40 years in the market ...that's such a long time for a digital medium! In the meanwhile CD prices are decreasing rapidly as well. I paid an average of nearly 5€ per CD last month, including even some recently released albums (Coldplay etc.). Not bad, after all, considering how expensive CDs were when first launched.
PHILIPS CD commercial featuring Alan Parsons and Eric Woolfson in the studio
© Copyright 2012 Lucio Cadeddu - editor@tnt-audio.com - www.tnt-audio.com
[ Home | Staff & Contacts | DIY & Tweaks | Listening tests | HiFi Playground | Music & Books ]