[ Home | Staff & Contacts | HiFi Playground | Listening tests | DIY & Tweakings | Music & Books ]
[In memoriam] Harry Pearson (1937-2014)
A legend passes away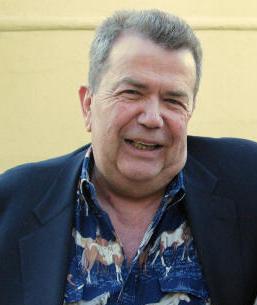 Author: Lucio Cadeddu
Written: November, 2014
Harry Pearson, a legend among audiophiles and HiFi reviewers, died November 4th, 2014 at his home in Sea Cliff, NY, at the age of 77.
He was The Absolute Sound's founder and the originator of the magic words high end audio.
More than 40 years ago, when mainstream HiFi magazines relied on technical measurements only, to decide whether a HiFi component was good or not (and they were all equally good, since measures were similar!) Harry Pearson created, with TAS, a new way to judge HiFi equipment, an idea based mainly on listening, not measuring. In 1973, this was a Copernican revolution! Moreover, the magazine didn't accept ads from the industry. He was certainly a revolutionary and controversial pioneer in this field.
I had both the pleasure and the honour to interview him twice here on TNT-Audio, the first time in 1997 (see interview) and after more than ten years, in 2008 (see interview).
Here's an excerpt from the most recent one, where he explains his unbiased opinion about the state of the art of modern HiFi magazines:
The fact that the high end world, as well, is awash in new components is in actuality a good thing, since it shows an unusual burst of creativity, even confidence during these troublesome economic times. The question of how much is real and how much is hype according to the Gospel spread by today's remaining "hi-fi" magazines is one that troubles me.

I think that, in general, most of today's publications have lost their way, and thus their authority thanks to their publisher/owner's pursuit of the advertising dollar. Most of the extant reviewers now at work in the fields of high fidelity are writing ad copy, not critical assessments that compare componentry to a known reference, such as an absolute sound (to wit, real music occurring in a real space). To use such a standard would require the thinking reviewer to make distinctions among equipment, in effect grading them on how well they translate the reality of music. Without using a standard of this sort, then everything can be good because there is no touchstone. The situation is now the worst it has been since I felt impelled to start a magazine three decades ago. [HP]
Today, The Absolute Sound isn't the same creature he founded in 1973, many things have changed and the industry itself is very different from what it was back then, but we, audiophiles and reviewers, owe so much to this man: our HiFi jargon, our way to judge HiFi components and our approach to reproduced music at home. He will certainly be missed. Rest in peace, Harry.
Please enjoy this keynote by HP at the Rocky Mountain AudioFest in 2009...

© Copyright 2014 Lucio Cadeddu - editor@tnt-audio.com - www.tnt-audio.com
[ Home | Staff & Contacts | HiFi Playground | Listening tests | DIY & Tweakings | Music & Books ]