[ Home | Staff & Contacts | HiFi Playground | Listening tests | DIY & Tweakings | Music & Books ]
September 2022 Editorial
A high-end "analogue" wristwatch with VU meters, here's the Reservoir Sonomaster!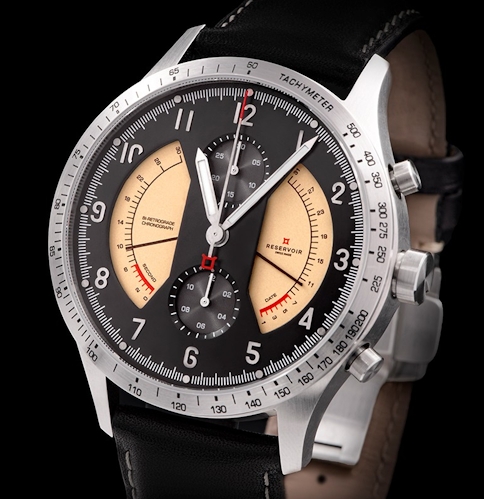 Author: Lucio Cadeddu - TNT Italy
Published: September, 2022
It is quite common to find audiophiles who are also very fond of watches. Somehow, mechanical watches and HiFi components are very similar: both share the same quest for precision, high end craftsmanship, and exclusivity. The French watch firm Reservoir, maker of some very fine and expensive mechanical wristwatches, has just released the Sonomaster (sounds familiar, uh?), a watch inspired by vintage HiFi components, featuring two attractive VU meters. To use their own words: "Reservoir applies the measuring of sound to the measuring of time!"
The Sonomaster is a bi-retrograde chronograph, available in different versions (modern and vintage), color and straps. The two retrograde hands of this fascinating watch faithfully reproduce the hands of power measurements, say, VU meters from stereo amplifiers and decks. Moreover, the crown is inspired by amplifier control switches, and push buttons by bass and treble knobs. Loudness is lacking, though.
This 43mm bi-retrograde (with date and seconds at 120°) watch is the first chronograph model from the French firm. It is purely analogue and mechanical, since it is powered by the new watchmaking caliber RSV-Bi120, with automatic mechanical winding, and column wheel (base LJP-L1C0).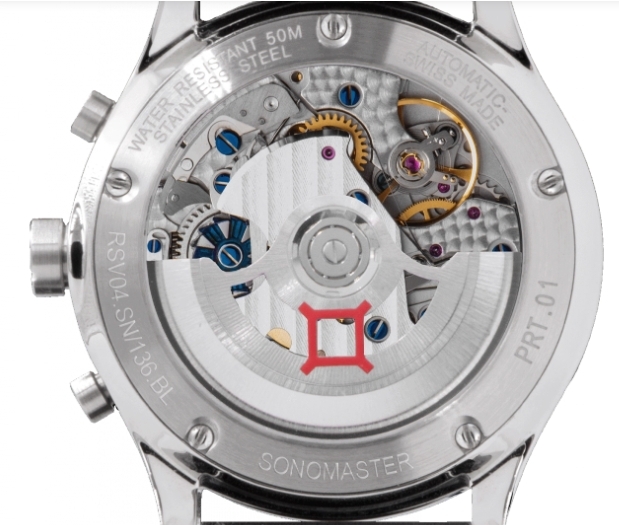 As expensive HiFi components, the Sonomaster doesn't come cheap, at 6,000€/$ more or less. Undoubtedly, the name has also been inspired by the iconic 42mm Omega SpeedMaster (the MoonWatch!) which also costs more or less the same. Too expensive? Well, mechanical watches are a work of fine craftsmanship and ARE expensive, exactly like our beloved HiFi components. Are they more accurate than a good quartz watch? Nope! And the same can be said for many expensive HiFi components, that don't necessarily sound better than lower priced units. Nevertheless, we love them mainly because their form follows their function...and this inspires us. Nobody can resist the hypnotic dance of two backlighted VU meters!
DISCLAIMER. TNT-Audio is a 100% independent magazine that neither accepts advertising from companies nor requires readers to register or pay for subscriptions. If you wish, you can support our independent reviews via a PayPal donation. After publication of reviews, the authors do not retain samples other than on long-term loan for further evaluation or comparison with later-received gear. Hence, all contents are written free of any "editorial" or "advertising" influence, and all reviews in this publication, positive or negative, reflect the independent opinions of their respective authors. TNT-Audio will publish all manufacturer responses, subject to the reviewer's right to reply in turn.


Copyright © 2022 Lucio Cadeddu - editor@tnt-audio.com - www.tnt-audio.com
[ Home | Staff & Contacts | HiFi Playground | Listening tests | DIY & Tweakings | Music & Books ]