[ Home | Staff & Contacts | DIY & Tweaks | Listening tests | HiFi Playground | Music & Books ]
David Holgate
TNT-Audio UK
[Italian version]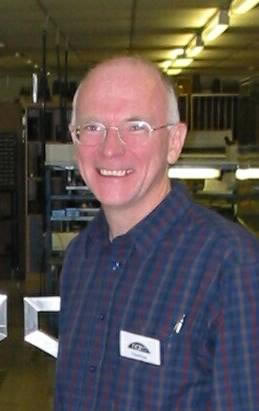 David touring the Naim factory in 2003
I was born in South Africa in 1954, but now live in the UK. While I was lucky enough to spend my teenage years within a bike ride of a sub-tropical beach beside the warm Indian Ocean, even then I was hooked on music. In the late 60s, I read Melody Maker from cover to cover and dreamt of what it would be like to get to the gigs advertised near the back. Meanwhile I listened to all the vinyl I could buy, beg or borrow on my parents' mono, valve-amplified Grundig.
Thirty years later, I still think that vinyl and valves sound great. Digital music is fine for convenience, cars or computers, but it doesn't involve me when I'm relaxing, or listening carefully. That may change someday, but it hasn't yet.
I'm pleased to be part of TNT-audio, because I share their view that hi-fi is a hobby which should be enjoyed by the many, not just the rich. Ever since I got a NAD 3020 on the strength of Lucio's TNT review, I have learned that there is some great classic gear out there that people with families and regular incomes can afford. And that's the stuff that really interests me.
My main system is constantly changing, as I mix and match components. Currently, I am getting most enjoyment out of a Garrard 401, with a Helius tonearm and an Audio Technica 110E cartridge. Yes, the AT is dirt cheap, but it works brilliantly in that system. Amplification is provided by a GramAmp2 and a lightly-tweaked NAD 3120. My speakers are KEF104s, with new aB crossovers. So, where are the valves? They're coming. I'll write about it elsewhere. At the moment my spare cash is going on getting my Garrard 401 and a Garrard 301 repaired and serviced! For casual CD listening, I currently use a couple of old Rotels, an RCD 865 and RCD 965BX. Again, the older 865 sounds better to me. I know that they are not at all state of the art, but they are mere babies compared with the rest of my gear--apart from the GramAmp.
So, I listen mainly to vinyl, and I work hard at keeping my collection down to under 2,000 albums. It's just as well that the shop just round the corner from where I work has moved away. What do I listen to? Everything with rhythm, from the start of the 20th century onwards. I love all acoustic music, especially roots and jazz, but I also like finding new favourites, and finding ways of getting more out of my listening. TNT-audio has helped me to do this, and I'm glad to be able to pass on a little help to others.
What do I do when I'm not listening to music or working out how to hear more music better? As the vice principal of a theological training course, I am part of a team of adult educators who train people for ministry in the church. It is a privilege to work with motivated students and gifted colleagues who make such professional training a voyage of discovery for us all. See www.stets.ac.uk for more information.
A couple of nights a week I go dancing. My wife got me jiving a few years ago, and now I go to salsa classes too. I'm not much of a musician (just a little guitar over the years) so it's been good to find that dancing is another way to respond to music and keep fit. I just wish that most dance clubs had better sound systems!
© Copyright 2004 David Holgate - www.tnt-audio.com
[ Home | Staff & Contacts | DIY & Tweaks | Listening tests | HiFi Playground | Music & Books ]