[ Home TNT-Audio | Staff & Contacts | HiFi Playground | Listening tests | DIY & Tweakings | Music & Books ]
Henry Venema
TNT-Audio Canada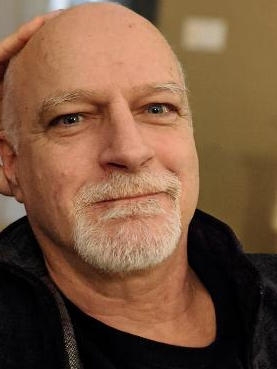 I learned to love music from my father who was a semi audiophile. He had a huge classical record collection along with a couple dozen Dixieland jazz LPs. He had a giant Akai receiver and a Toshiba turntable, and with my Radio Shack headphones I spent thousands of hours listening to my ever-expanding record collection. Then off to college, summer jobs, and hoping my degree in Philosophy would be able to make me a living.
While in Grad school I received some unexpected income that allowed me to purchase an entry level Counterpoint preamp and amp, Duntech monitor loudspeakers, and a Denon CD player. This is where my audiophile hobby/disease started. How I got from there to my current system seems like a kind of madness, a pursuit of beauty and a resonance with my soul.
Music is always on in my house. While writing my PhD dissertation I was lucky enough to make connections with local audio distributors who lent me all kinds of gear to play with and develop my audio tastes. Over time I became a total tube guy: tubes in my DAC, tube preamp, and amps.
My musical taste is all over the place, but jazz, and classic progressive rock are my primary loves. 40 years later I have developed my love for high end audio and carefully put my audio system together.
My analogue system
Maplenoll Athena Mark II turntable, with Benz Micro Glider MC low output. Isolated by a Hard Maple slab 2.5 inches thick, and four Isoacoustics antivibration pods.
S.A.Lab Step Up Transformer, and S.A.Lab Thunderbird phono preamp. I acquired these Russian products from a 6Moon give away, I just had to pay for shipping.
My digital system
All music is digitally stored on a Window computer system with a Lynx AES16 sound card. I use JRivers for storage and playback.
S-Line Magnetic 502 CA DAC. Modified with Sparko discreet op amps and power regulators, NewClassD Neutron Star 3 clock with separate power supply, Duelund silver by-pass caps, Telefunken 12AU7/ECC82 output tubes.
Space-Tech-Lab -STR-104-Mk2 Super Rectifier replaces the 6X4 rectifier tube in the LM DAC.
Amplification
Arte Forma Audio, Thalia preamp, with Sylvania 6SN7 silver top tall boys. Modified with Jupiter output caps with Duelund silver by-pass caps, and a TDK 41 step P65 volume control.
Pass Labs Analogue Active Crossover
Below 340Hz: Audiomat Duo power amp. 40 Watts, KT88 tubes
Above 340Hz: Serious Stereo 2A3 mono blocks. Sophia Electric 300B 2.5V tubes
Speakers, cables and power condtitioner
DIY loudspeakers with AER BD3 and StudioBass drivers cross-overed at 340Hz. Bass cabinet weighs 260 lbs, constructed of Baltic birch, 6-inch constrained layered front baffle with Mahogany and Figured Maple 3/4 inch exterior layer, internal matrix type structure, Kimber Kable internal wiring, WBT binding posts.
My cables are a mixture of DIY pure silver RCA interconnects, Purist Audio Design, Verastarr, mil-spec silver over copper 12- and 14-gauge speaker wire, Kemp power cords and Kemp Power Source Line Conditioner, and some DIY silver over copper power cords.
DISCLAIMER. TNT-Audio is a 100% independent magazine that neither accepts advertising from companies nor requires readers to register or pay for subscriptions. If you wish, you can support our independent reviews via a PayPal donation. After publication of reviews, the authors do not retain samples other than on long-term loan for further evaluation or comparison with later-received gear. Hence, all contents are written free of any "editorial" or "advertising" influence, and all reviews in this publication, positive or negative, reflect the independent opinions of their respective authors. TNT-Audio will publish all manufacturer responses, subject to the reviewer's right to reply in turn.


© Copyright 2023 Henry Venema - henry@tnt-audio.com - www.tnt-audio.com
[ Home TNT-Audio | Staff & Contacts | HiFi Playground | Listening tests | DIY & Tweakings | Music & Books ]