[ Home | Staff & Contacts | HiFi Playground | Listening tests | DIY & Tweakings | Music & Books ]
Author: Pierre Lurné - TNT France
Published: April, 2020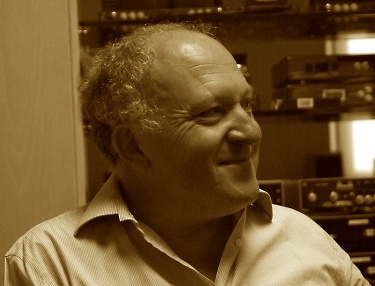 I made my first pickup arm and turntable in 1968. My name is Pierre Lurné and you can easily work out I am now getting on a little, an old man.
My interest in vinyl and turntables gave me the opportunity to open the Audiomeca company in 1979 and for 32 years I designed, produced and sold several models of arms and turntables. From 1993 we had to start a second production line for CD players and D/A convertors. Frankly it was a question of do it or die at that time, but even when CD was very popular we never stopped producing our phono products. The last two items we made, the Belladonna turntable and the Septum arm were designed in 2007, a few years before we retired. Along the way many Audiomeca/Pierre Lurné products have been reviewed in the specialized press including TNT-Audio. If you fancy, you can find here an interview TNT-Audio published several years ago.
Audiomeca has always been a little company with a maximum staff of 6 persons. Our catalogue was clearly intended for sale to knowledgeable audiophile persons. Distribution was into around 25 different countries during our most productive times. We always made arms and turntables in limited numbers and we also made OEM products for such companies such as Goldmund, Audioanalyse, Vecteur etc.
Where did this long story start? When I was a student I saved every spare bit of cash to buy records. It was the vinyl era of course. Alas ! My cheap and cheerful 'all in one suitcase' pickup system ruined my beloved records each and every time I had a listening session. It was obvious that the awful plastic arm and the associated cheap cartridge were to blame for the damage. Both of them adding to the problems of physical contact, friction, speed and wear. Consequently I decided to build my own arm and to buy a quality cartridge as building the latter at home is not easy.
From that day it became totally clear that, firstly, the arm and cartridge act as the SOURCE of the whole reproduction system. If the music in the grooves is badly read it will be lost forever. Electronics and speakers cannot recover any lost music. All that is lost at the SOURCE is lost forever.
Secondly, every part of the HiFi system has its own part to play in recreating the music, but only the arm and cartridge combo is involved in GOOD RECORD PRESERVATION. With these two roles it is definitely not sensible to save money from the SOURCE. Please, always keep this in mind and, look after your records!
Today I am still involved in Hifi in different ways. Correspondence, articles and I even make new products for my own use and pleasure, away from any commercial pressure. At the present time (Spring 2020) I am working on a totally new kind of tangential arm (or straight line arm if you prefer). This kind of arm has a big advantage over the pivoting design and this is not at all, despite the usual belief, thanks to the absence of tracking angle errors. This is simply due to a perfect distribution of all the mechanical forces, the cartridge being perfectly aligned along the main arm axis.
Unfortunately this benefit is partly lost by the mechanical complexity of this arm. It would be marvellous if we could enjoy the excellent tracking of the tangential arm and the simplicity of the pivoting arm, but this is not possible. My new arm has two totally new features, which have never been used before. I am confident the results will be good, but for the present time it is not yet ready. Maybe I'll explain things in a future article for TNT?
Apart from my HiFi activities, as a solitary hermit, I live in the quiet of the countryside with my family. My neighbours are cows and I am busy tending a large garden full of fairly rare plants including many Old Roses.
I wish you all the best from the French Alps!
DISCLAIMER. TNT-Audio is a 100% independent magazine that neither accepts advertising from companies nor requires readers to register or pay for subscriptions. After publication of reviews, the authors do not retain samples other than on long-term loan for further evaluation or comparison with later-received gear. Hence, all contents are written free of any "editorial" or "advertising" influence, and all reviews in this publication, positive or negative, reflect the independent opinions of their respective authors. TNT-Audio will publish all manufacturer responses, subject to the reviewer's right to reply in turn.

© 2020 Pierre Lurné - pierre.lurne@tnt-audio.com - www.tnt-audio.com
[ Home | Staff & Contacts | HiFi Playground | Listening tests | DIY & Tweakings | Music & Books ]