[ TNT | Who we are | HiFi Shows | Listening tests | Diffusori | Sorgenti | Tweakings | Inter.Views
Thorsten Loesch
[Italian version]
I was born a long time ago (okay not that long ago) in a country far, far away (all the way behind the BIG WALL).
In daily life I assume the disguise of a mild-mannered Accountant working for the National Health Service here in England.
But on weekends and after dark I change. You've got to know, I am an addict. An Analogue Addict. If you are interested, read the whole sad story.
I buy records. I even listen to records.
Plenty of old Jazz, Blues, 70's and 80's Rock, Soul, Funk, Rap. New Romantic. Classic from Bach to Holst over Haendel to Wagner. I'm lost in Music.
I admit to owning a CD-Player and a few CD's but most of my listening is analogue.
The system I listen to has to have a few basic qualities. Due to my involvement in pro-audio and recording a while back, I cannot accept compromised dynamic range or transparency. In addition, the sound-staging capabilities of my current system are very good, but that is the icing on the cake.
Well, shown below is a quick "snapshot" of the system in it's current (temporary) home. You see the left Speaker and the Rack.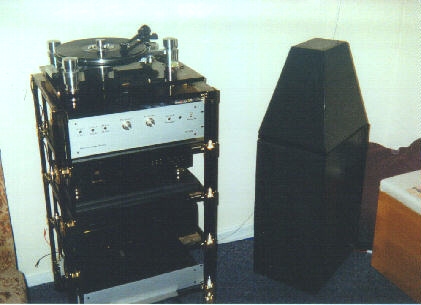 This week (Yup, it sometimes changes that often :-0) my system is made up from:
An Oracle Delphi MK III Turntable with a Sumiko Arm, a DIY Arm-cable and a Reson Reca MM Cartridge.
The Thunderstone Audio "Toccata" All-Valve Preamplifier. This unit uses three ECC88 per Channel and has a Phono-stage that can be used with 0.3mV Output Moving Coil Cartridges. Overall Phono-Gain is switchable to 56db, 64db and 72db and there are Input-loading Jack's allowing all possible options for a Cartridge to be tried without having to open the Preamp. Perfect for Analogue Replay.
The PSU for the Preamp is seen at the bottom of the Rack. The Energy storage (Capacitors) is over 380 Joules, much more than most Poweramps.
Oh yes, modesty obliges me to say that I have actually designed this Preamp (a construction article will appear eventually in these Pages). I also must say that I think the Toccata is a fine preamp.
A Marantz CD-67 Thunderstone Signature CD-Player (a CD 67 SE slightly modified for better sound).
A Marantz PM-66 based Amplifier. This one had extensive mod's applied and is usually used with an external Battery-Supply. It's still a cheap Amp, but it works very well for me. The whole preamp Section is bypassed, so it works purely as Poweramp.
Something a bit more extreme (and with more Valves - this Amp has none) is in the works.... Once finished and performing well that will be the "Fuge" Poweramplifier to harmonise with the Preamp....
My Speakers are 100% DIY and a "piece de resistance" at that. The design is essentially a fairly faithful copy of Wilson Audio's WATT/Puppy Series 3. They sound better than the WITT, though they are no match for the full blown System V.I driven by a Ongaku....
Cables are all made by yours truly and I mean MADE. I'm not just buying some wire and put plugs on it, I use various "raw" cables and other materials to construct quite exotic design, Don Quixottesque enough for even the most jaded Audiophile....
The Interconnects are now all X-1.5 Interconnect and the Speakercable is Version of the UBYTE Speaker-Cable, innovativly called UBYTE-2.
Have a look at the back of the System to see some of the Cables or have a read in Topics and Tweakings to see how I made them.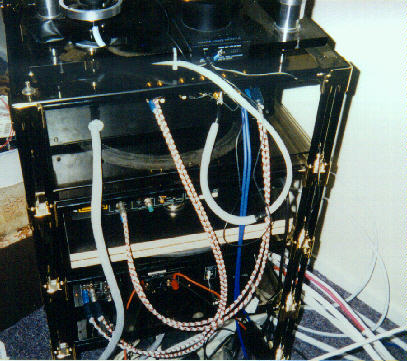 Various "tweaks" include the use of Bicycle inner Tubes (14" for Childrens Bicycles seem to work best) under Glass-plates to make "Seismic Sink" type Supports (there is one below the Preamp and one below the CD-Player) and Anti-RFI Ferrite Sleves (from Radishack/Tandy - 5 UK Pound the Pair) on all Mains-Cables and Interconnects.
What did you say? I had it bad? Betcha!
© Copyright 1998 Thorsten Loesch
[ TNT | Who we are | HiFi Shows | Listening tests | Diffusori | Sorgenti | Tweakings | Inter.Views ]