TNT-Audio Readers' Corner
Monthly section devoted to your letters, positive and negative feedback about everything related to Audio and HiFi.
You are here > Home > Staff & Contacts > Letters of the month
February 2006
Please take a moment to review the How to use the Readers' Corner manual
T-Amp mods
Ciao Lucio,
here are my T-Amp modifications.
Metal cabinet: front and back silver-metallic, rest is a kind of "hammered" look
12V / 3A power supply pack with toroidal transformer
gold plated female cinch connectors
gold plated speaker terminals
cable connection incl. on/off switch
high quality Alps potentiometer (from the blue series, RK27112)
LED on front fascia
Normally a non-tweaked T-Amp has a weakness in the bass range below 100Hz. This T-Amp is modified for this and has an absolutly straight frequency response from 16 Hz - 26 KHz within ± 0,5 dB.
Total cost for materials: approx. 150 Euro (toroidal transformer, cabinet, connectors and binding posts, ALPS volume Pot, capacitors).
Walter - E-mail: bwlmoritz (at) gmx.de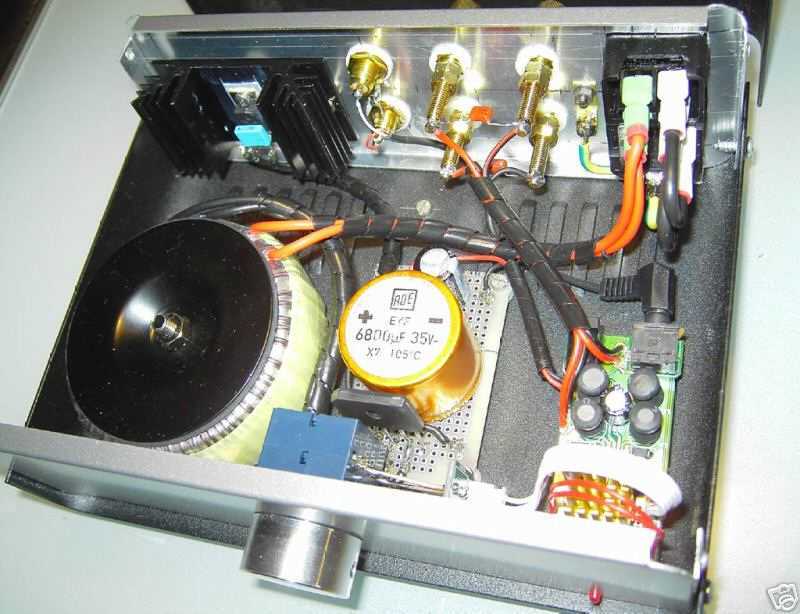 LC
Dear Walter,
congrats on the very nice tweaking session! I'm glad you're enjoying your T-Amp so much.
Cheers!
Lucio Cadeddu
Good preamps
Hi Lucio, like many others I have been looking for something to use as a preamp with the T-amp. I know you have reviewed the T-Preamp but I would prefer something with better build quality that I can use headphones with. There seem to be plenty of headphone amps with through outputs but only one that I can find that has multiple inputs, the Pro-ject Head Box. Do you know of anything else that would be suitable?
Thanks.
Paul - E-mail: rossman1 (at) ntlworld.com
LC
Dear Paul,
I don't know the ProJect Head Box but I assume it is good enough for your needs, considering the general quality of the ProJect gear. As an alternative I'd look for a second-hand preamp from NAD, Rotel etc. These can be found for dimes on E-bay and certainly can be satisfactorily used with headphones and the T-Amp.
Hope this helped somehow,
Lucio Cadeddu
Cheap systems
Hi,
I just wanted to say two things, briefly:
Thanks so much for your coverage of the T-Amp. It really has revitalized my enjoyment of two channel sound, and a big part of the fun is seeing how much sound I can get for less than $500. Turns out, quite a lot!
For T-Speakers, I would ask that you consider the Axiom M3Tis ($300 pr). They really are terrific speakers for the money, and very easy to buy at that (http://www.axiomaudio.com). I pair mine with a Dayton 10" subwoofer (<$100, http://www.partsexpress.com). For $400 the combination can't be beat!
Another use of the T-Amp you may have overlooked is as a portable amp for streaming music systems. A friend has paired his T-Amp with an Apple Airport Express and Mission M30is (which he bought off Amazon for less than $50, I think) for a high quality second system that is virtually invisible (the Express and T amp are small enough to hide behind some books, and the Missions are tiny).
Well, three things, really!
Thanks again, TNT Audio!
Roger - E-mail: rareynolds (at) earthlink.net

LC
Dear Roger,
thanks for the useful suggestions! We'll consider Axioms as soon as possible. The real problem is finding low-budget speakers with high sensitivity (say, above 93 dB/w/m). One can find some entry-level model from Klipsch but the tonal balance isn't everyone's regular cup of tea, I'm afraid. The same holds true for fullrange designs, as well.
We'll keep searching so...stay tuned!
Lucio Cadeddu

TNT Star DIY cable
I am interested in making some of these cables but a couple of the spec's I find are a little confusing to me. When it says the cross section needs to be 1.5mm2 does that equate to roughly each core needing to be 1.2mm diam?
I am trying to find suitable cable on maplin but am unsure what cables would be suffice.
Abraham - E-mail: abe (at) thedesignfly.co.uk

LC
Dear Abraham,
1.5 mm2 means 1.5 mm2, it is as simple as that. Cross-section of EACH of the 4 cores shouldn't be less than that. As suggested to someone else (see below) if you have hard time finding a 4x1.5 shielded cable, try with CAT5 designs instead (TNT FFRC, Triple T etc.).
Hope this helped somehow,
Lucio Cadeddu

TNT BFB
Dear Lucio,
Thank you an your co-writers and –editors for TNT-Audio. It's like a silent and reliable haven in a commercial turmoil of HIFI-magz. Did several DIY-tweaks. I'm proud owner of several T-Amps, even combining one with Rogers LS3/5a (11Ohm) and, although soundpressure isn't mindblowing (for which I have, in fact, seldom the possibility in our household, with 3 small kids, nagging wife and one big combined kitchen/living room/ dinerroom), I forget about analytics like "soundstage", "dynamics" etc and instead just enjoy the real music.
Big compliment that you discovered it. I'm planning an active 2-way DIY-loudspeaker system, with, of course, more T-Amps. In respect to all the request for matching loudspeaker-system for the T-amp: isn't the TNT Big Fun Box just waiting to be matched with T-amp, a sort of combination made in heaven?
Regards and good luck,
Jean - E-mail: jean.coumans (at) nehemkmc.nl

LC
Dear Jean,
thanks for your kind words! Yes, the TNT BFB is a nice solution, high sensitivity & low cost. The problem is that many readers ask for "commercial" loudspeakers - something "ready" you can buy anywhere - and the BFB, though easy to build, isn't exactly for everyone. Anyway, an Italian Company - now listed on our Real Stereo list and called T-HiFi (guess why) has designed and started selling traditional loudspeakers having exactly the T-Amp in mind: high sensitivity, down-to-Earth price. Unfortunately, since the speakers are entirely hand-built in Italy, prices can't be nowhere near the T-Amp league.
Stay tuned!
Lucio Cadeddu

TNT Star DIY cable
Just wondering where you bought the wire for the TNT Star speaker cable. I have no idea where I can find it! Any suggestions would be a huge help.
Thanks,
Dave - E-mail: habsrock93 (at) shaw.ca

LC
Dear Dave,
since this seems a frequently asked question here is some hint. First of all, ANY good electric parts store should have a shielded 4 x 1.5 mains cable (or control cable, as they call it) in stock. Try searching for big stores devoted to industrial applications.
Otherwise, try Googling and browsing the RS or Maplin catalogues on the Internet. When all else fails, try contacting our discussion forum, I'm pretty sure you'll find Canadians who can give you the right addresses.
Finally, if it seems to become a "mission impossible", buy some CAT5 network cable (...easier to find) and build a better performing TNT FFRC or a TNT Triple T.
Hope this helped somehow,
Lucio Cadeddu

NAD C350 review
Well done, Julian Ashbourn!!
Ever a NAD fan, you have said far more eloquently than I could what has been in my heart for years.
Thank you. You made my day :-)
Regards,
David - E-mail: radiospu (at) indigo.ie

LC
Dear David, though Julian is no longer part of our team, I'm sure he'll appreciate your positive feedback on his review of the NAD C350 integrated amplifier.
Cheers,
Lucio Cadeddu

T-Amp matching
I expect to receive the unit of Sonic Impact Super T-Amp early next month. Inasmuch as I am no audiophile, I would like to seek your advice on the following:
Assuming my budget for a pair of speakers is the same as the price of that amplifier, which speakers would you recommend and what are the specifications?
I already have an Altec Lansing sub-woofer Model System 3. Would it be advisable to use it with the said amplifier?
Lastly, would it be possible/advisable to use the said sub-woofer with the said amplifier? After reading the various reviews, I am so excited to start using that forthcoming amplifier.
I would appreciate very much your advise on those items above.
P.S.: There is an old Carver C-4000 Pre-amplifier that is available to me. Would it possible/advisable for me to use it with the Super T-Amp?
Vic - E-mail: kawika18b (at) yahoo.com

LC
Dear Vic,
as far as I know there doesn't exist a pair of loudspeakers that costs like the T-Amp. Or, rather, I've seen some but sensitivity isn't high enough for the task. I do not know the Altec system you have but I think you can try anyway. Don't forget the T-Amp has only 6 watts per channel!
Your best bet is the second-hand market or Ebay, where you can find some cheap Klipsch speakers that would be a good partner for the amp. As for the Carver preamp, if you need more inputs, you can use it with the T-Amp. Adjust the volume via the preamp and set the T-Amp pot to its max.
Hope this helped somehow,
Lucio Cadeddu

Cheap speakers
Lucio,
This is Andrew writing from New York City. I just read you (and everyone else's reviews) on the Sonic Impact T-Amp. Had to give it a try - I just ordered one! My question is this, I'd like your recommendation for an equally good, low priced pair of speakers to use with the T-Amp. Have you reviewed anything that would compliment this amp well?
I'm basically looking for the same qualities in as T-Amp (revolutionary sound for low low price) in a loudspeaker, but don't know where to start. I'm assuming I need a sensitive speaker, in order to allow higher volumes -- nothing ear splitting, but I'd like a little headroom.
Thanks,
Andrew - E-mail: andrew (at) andrewsouthern.com

LC
Dear Andrew,
unfortunately we haven't come across such a "comparable" loudspeaker. We've found quite a few very good loudspeakers that we believe to be real bargains ("a la T-Amp") but unfortunately these are NOT sensitive enough. Your best bet is to browse the second-hand market: speakers like Klipsch and Triangle, for example, can be easily found at relatively low prices. These would be good partners (given their highish sensitivity) for the T-Amp.
Consider a pair of second-hand Triangle Titus, for example, or of Klipsch RF-something or RB-something. The higher the sensitivity, the better.
Hope this helped somehow,
Lucio Cadeddu

Monica 2
Dear Sir,
I've read your review for Monica2 DAC... I just wanted to know your remarks regarding the same... Whether it will suit my taste & needs or not.
I was never satisfied with my Marantz as its sound is bold with lots of digital nasties as well as it is flat & one dimensional with no soundstage depth & width.. So I was looking for a cheap alternative viz. a DAC..... ... but unfortunately didn't hear any DAC whatsoever in my life as in India there are very few audiophiles exists.. that too in my metro--Kolkata. Anyway whatever I came to know about DAC is through reading.... I am stating below my listening taste & my existing system.... I need your advice accordingly. MY EXISTING SYSTEM:
Marantz CD 67SE CD player
Audio Analogue -Puccini Remote amp
Rogers LS 55 speakers
JPS LAB Ultraconductor interconnect & speaker cable
Garrad401 with SME3009 improved arm
MY LISTENING TASTE: first of all I like laid back, relaxed Tubish sound with absolutely no listening faigue. Mid should not be "in your face" type, instead it will be laid back as if coming from a distance. There will be great soundstage width, depth & height. There should be palpable feelings of 3D acoustics space with almost holographic imaging. There will be air & space around the instruments. Overall sound should be grainless & analogue like, but details & sparkle should be there, nothing drawing unnecessary attention towards itself... Speaker should disappear leaving me in 3D space. I listen to Jazz, classic rock & pop numbers, country, classical & fusion.
Depending on my listening taste kindly suggest me accordingly.
Waiting for your valuable reply at the earliest.
Regards,
San - by e-mail

LC
Dear San,
the Monica 2 would be a giant leap forward over your Marantz CD67. Be sure to use a good digital (coaxial) cable between the two components, for example the Supra Trico which should be easy to find almost anywhere in the World (eventually it can be ordered online).
Just one warning: as it happens with other non-OS DACs the sound is quite different than we are used to. This means you should take at least a couple of weeks to familiarize with it.
Hope this helped somehow,
Lucio Cadeddu

AR-2ax Speakers
Lucio,
Don't know if you've time to answer - looks as though you keep a busy schedule.
I've bought myself a T-Amp and am using it with my 1975 Vintage Acoustic Research AR-2ax speakers. I've blown the tweeters in these a few times previously through too much volume through an old Rotel RX-802 Receiver which had a tendency to clip when cranked up.
I've got a 13.8V 1.8Amp power supply for the T-Amp and am just a bit concerned about popping the tweeters again - they've getting harder to find and new are AU$400.00!
Any advice? There's plenty of info on classicspeakerpages about fusing them which is my next step. I'm finding the max volume I need from the T-Amp is with it at about 2 o'clock. Do I still run the risk of popping the tweeters with this T-Amp?
Concerned,
Darryl - E-mail: miriharr (at) tm.net.my

LC
Dear Darryl,
busy schedule? Well, quite so! I'm actually moving (new house) and trying to build a new listening room!!! I still have 30+ boxes of HiFi components packed and stacked one above the other. A real nightmare :-|
Back to your question. Tweeters blow up because of excessive heat build-up inside the voice-coil. This can be caused either by excessive power or by severe amp's clipping. Any amplifier "clips" when used over its physical limits. Low powered amps (like the T-Amp) clip earlier, of course. Considering your speakers have a very low sensitivity they are NOT good partners for any low-powered amplifier. In order to save the tweeters from blow-up you can add a fuse or turn the volume down as soon as you hear distortion :-)
Perhaps it is safer and wiser to use a more powerful amplifier "within" its limits than a small amp always running at full steam.
Hope this helped,
Lucio Cadeddu

[ 01/2000 | 02/2000 | 03/2000 | 04/2000 | 05/2000 | 06/2000 | 08/2000 | 09/2000 | 10/2000 | 11/2000 | 12/2000 | 01/2001 | 02/2001 | 03/2001 | 04/2001 | 05/2001 | 06/2001 | 07/2001 | 08/2001 | 09/2001 | 10/2001 | 11/2001 | 12/2001 | 01/2002 | 02/2002 | 03/2002 | 04/2002 | 05/2002 | 06/2002 | 07/2002 | 09/2002 | 10/2002 | 11/2002 | 12/2002 | 01/2003 | 02/2003 | 03/2003 | 04/2003 | 05/2003 | 06/2003 | 07/2003 | 09/2003 | 10/2003 | 11/2003 | 12/2003 | 1/2004 | 2/2004 | 3/2004 | 4/2004 | 5/2004 | 6/2004 | 7/2004 | 9/2004 | 10/2004 | 11/2004 | 12/2004 | 1/2005 | 2/2005 | 3/2005 | 4/2005 | 5/2005 | 6/2005 | 7/2005 | 9/2005 | 10/2005 | 11/2005 | 12/2005 | 1/2006 ]

[ Home | Staff & Contacts | DIY & Tweaks | Listening tests | HiFi Playground | Music & Books ]