[ Home | Staff & Contacts | HiFi Playground | Listening tests | DIY & Tweakings | Music & Books ]
Dodocool DA108 earphones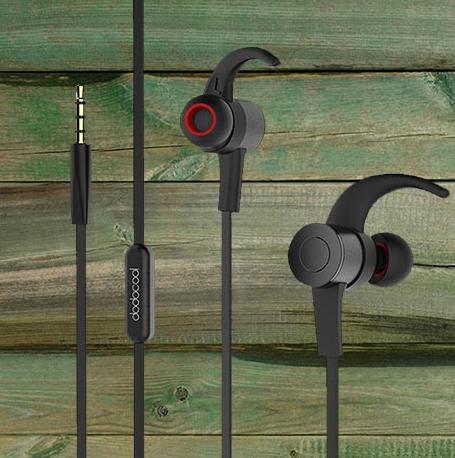 Hooked on listening?
[Italian version here]
Product name: Dodocool DA108 earphones
Manufacturer: Dodocool
Cost: 21.99 UK pounds (Currency conversion)


Reviewer: Nick Whetstone - TNT UK
Reviewed: February, 2018
At the end of last year, I reviewed the Dodocool DA106 portable audio player, and was very impressed, more so given its price. Apparently, I wasn't the only one, and it quickly sold out. At the time of writing, Dodocool are working to bring in new stock, and in the meantime they have sent me some earphones and a portable speaker to review, both of which can be used with the DA106. I will start with the DA108 earphones.
The DA108 earphones cost approximately the maximum of what I personally would consider paying for this type of item. In my review of the DA106, I explained why. There is not too much to say about them, as I am sure that everybody knows what these in-ear earphones consist of. The DA108s do have a couple of features worth mentioning though. They come in a nice plastic case with a sort of faux leather finish. Inside is an elasticated pocket to hold the different sized adapters for the part that goes in the ears. The phones themselves look fairly standard apart from small adjustable rubber hooks that I think (after using these 'phones) do help to keep them in the ear.
The review samples were black in colour. A little way down the wire to the left side 'phone is a button. The button works in conjunction with a mobile phone to switch between listening to music, and answering a call. There is also an HD microphone to allow you to make calls when connected to a phone. When used with the DA106 (not Bluetooth enabled), the button had no effect. Like all similar items, the wires are petite, and seemingly fragile. That is not a criticism as nobody wants heavy cables pulling earphones out of their ears all the time, but it is a reminder to take as much care as possible if you want these items to last.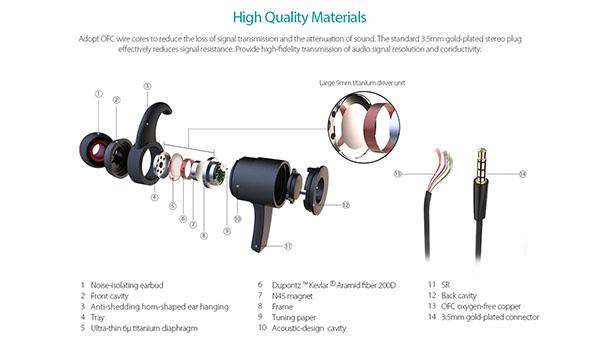 In use, the DA108s were comfortable for me to use, and stayed in place. Of course, we all have differently shaped ears, and comfort level will differ between users. The length of lead was fine for me to be able to walk while wearing the 'phones, with the player in my coat pocket, and without any tugging. On their web site Dodocool show somebody jogging while wearing the DA108s but I am afraid that my knees no longer allow me to confirm that these 'phones are suitable for such exertion.

And so to the crucial part of the review - how do they sound? These comments refer to using the DA108s with the DA106 player, but should also apply to using them with almost any similar portable device. I was prepared to give these a few hours of use before forming an opinion of them, but right from the start, I was able to say categorically that they were clearly better than what I have used previously, They should be as they cost a little bit more than I normally pay*, but the difference was large enough to say that the DA108s were a class above what I have been used to. The clarity was improved, and the bass was plenty, without being bloated or intrusive. It was also tuneful. Probably the characteristic that I most noticed was how 'crisp' the sound was. Notes stopped and started much faster than I have been used to with this type of listening. This was most noticeable with drum hits, but it also enhanced other details in the music. I found myself listening to much more classical music through the DA108s, as I could more easily detect all the nuances. In short, listening through the DA108s was a much more pleasant, and engaging experience. If I need new 'phones in the future, I will happily pay the extra to have the sort of performance that the DA108s give me*.

* When I wrote that comment, it was based on me seeing the DA108's on Amazon UK for a price of 35.99 UK pounds. I have now been told that the price is 21.99 UK pounds. At that price they really are a 'must-buy' item, and further increase my regard for these earphones.
---
Dodocool DA150 wireless portable speaker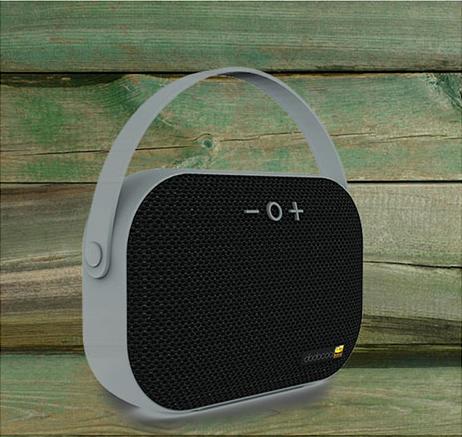 More than just a speaker!
Product name: Dodocool DA150 Wireless portable speaker.
Manufacturer: Dodocool
Cost: 24.99 UK pounds (Currency conversion)


Reviewer: Nick Whetstone - TNT UK
Reviewed: February, 2018
I have from time to time, while using a portable player, wished that I could have a speaker instead of earphones. These days, there is a plethora of such devices, and the Dodocool DA150 is one such example.
Size is perhaps all the more important with a portable device, and the DA150 is 19 cm long, 12 cm high, and 5.5 cm thick. It weights just 630 grams (without the strap) which is about the same as one and a half cans of Coke. It won't of course fit in a pocket, but could be carried in a handbag or easily in a small back-pack. It comes with a silicon rubber handle that can be fitted if required, allowing the DA150 to be comfortably carried in the hand.
I found the appearance of the DA150 to be like that of the DA106 portable player in that they both look classy rather than flashy. The understated colours of the DA150, the case is grey, and the front and back of the unit are black cloth, help give that impression of a quality item. The front of the unit sports a (discrete) Dodocool badge, and three control buttons. On the rear are inputs for a USB connection, a standard 3.5 mm jack plug, a micro USB connection, and a socket for a micro-flash card that allows you to play music straight from the card. Yes, that is right, the DA150 is also an audio player, although it is limited to playing MP3 files! Also on the rear is the on/off switch.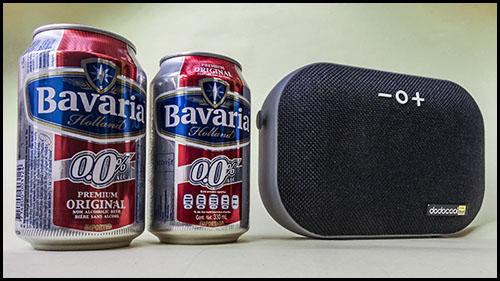 As you may have guessed from the range of inputs, the DA150 is a versatile device that will operate with a wide range of equipment. I used the DA150 predominately with the DA106 portable audio player. As the DA106 is not capable of Bluetooth connection, I used a standard lead with a 3.5 mm jack plug at either end. As I don't own a Bluetooth device, I took the DA150 to a friend's house, where I was able to ascertain that it does indeed work using the Bluetooth connection. We were able to use the DA150 anywhere in a largish room without loosing the signal. Claimed Bluetooth so used the DA150 by taking the micro SD card from the DA106, and placing it in the DA150.
Specifications
Brand: dodocool
Model: DA150
Color: Grey
Material: Aluminum Alloy + PC
Wireless version: Wireless V4.1
Support wireless profile: HFP, HSP, A2DP, AVRCP
Wireless working frequency: 2.402GHz - 2.480GHz
TYP: -80dBm
Wireless range: Up to 10m
TBR: <30cm
Max power: 3W*2
Frequency response: 20Hz - 45kHz
Speaker type: 2 full-range speakers
Microphone: -40 dB±3dB
Battery: Built-in 3.7V/1200mAh lithium battery
Playtime: Up to 6 hours

Talk time: Up to 6 hours
Charging voltage: DC 5V
Charging current: 450mA ± 50mA
Charging port: Micro-USB port
Charging time: Approx. 4 hours
TF card support: Up to 32GB
USB disk support: Up to 32GB
Item size: Approx. 7.09 * 4.72 * 1.97 in / 180 * 120 * 50 mm
Item weight: Approx. 21.87oz / 620g
Package size: Approx. 8.86 * 5.31 * 2.76 in / 225 * 135 * 70 mm ( L * W * H )
Package weight: Approx. 26.10oz / 740g

So how does the DA150 sound? Most of my auditioning was done using the DA106 portable audio player connected via the standard 3.5 mm jack lead. Well it made me ask myself the question: "What is hi-fi?". The diminutive DA150 speakers cannot of course hope to compete with the 12 and 15 inch drivers in my home hi-fi speakers, not to mention the mains powered amplification, and obviously the sound quality of the two is a world apart. But after careful listening to the DA150, I have to say that as far as mini/micro speakers go, it does a more than commendable job of playing music well enough that I actually enjoyed extended listening sessions with it. Not once did I say to myself "enough for now".

It's simply a law of physics that we are not going to get enormous amounts of bass from tiny drive units, and if you take this into consideration,you won't be disappointed with the bass output of the DA150. It is quite interesting to hold the DA150 while it is playing some bass, and feel just how much energy that it is putting out. The top end is well balanced with the bottom end, and there is plenty of detail in the midrange and top end. I have to admit to being pleasantly surprised by the DA150. It is a capable player of music, rather than just a smallish item that is totally compromised by its size. I got a surprise when I checked the specifications, to see that the output is rated at only 3 watts*2. It sounds considerately more powerful than that to my ears. To sum up, if I wanted music from a speaker, somewhere that I didn't have access to mains power, I would be very happy to have the DA150 with me. Make no mistake it is very musical, and I would feel harsh if I said that, in its own class, it is not hi-fi. It impressed my friend (a musician) enough to make her want to buy one.

As I said, I had some extended auditions with the DA150. Typically I would start it playing music and then start to do something else, like writing this review. Two or three hours would pass by, and the music kept playing. I never ran the battery right down, and I understand that a full charge should last nearly six hours, plenty for most listening scenarios that I can imagine using this type of device for. It does appear to take quite a while to recharge though (four hours for a full charge), something to keep in mind if you plan on using it on a regular basis. Of course a larger battery could have been fitted, but that in turn would have increased weight, and cost, and I feel that Dodocool have got the balance just right in the DA150. If you need longer playing times, you could connect it to a battery bank. A lead is provided with the DA150 to recharge the internal lithium battery from any 5v USB outlet.

As with the DA106 portable audio player, I was quite surprised to see the low price of the DA150. You get a lot of quality packed into a small item for a very reasonable price. It certainly 'feels' more expensive.

So to sum up. The DA150 is a very capable, and versatile, portable speaker system, with the added bonus that it can play music straight from a micro SD card (albeit with limited controls, and no display). It looks good, and perhaps that is more important with a product that you carry around with you. And it does sound, well I was going to say acceptable, but it is much better than that. I am beginning to see a pattern from the three Dodocool products that I have now auditioned. They appear to be a class above what I would normally expect for the price, in terms of build quality, perceived value, and performance.

The only issue appears to be availability, no doubt because many others have also discovered what a bargain they are. And on that point, may I make a polite request here? if you can't find a Dodocool product, please contact Dodocool and ask them how you may obtain one in your country. We at TNT-Audio are simply reviewers for an independent organisation that reviews hi-fi, and are not responsible for the supply of the products that we review. It does appear that with this type of item, the market changes rapidly in terms of supply, specifications, and even price.

Dodocool have once again provided generous discount codes for TNT-Audio readers (these links are valid for an unspecified period):

Amazon - Italy

DA108: LINK 12 Euro OFF code: 9OIJCRDL
DA150: LINK 12 Euro OFF code:8HEGSGGP

Amazon - UK:

DA108: LINK 8GBP off code: VJEU3S7O
DA150: LINK 9 GBP off code: 6PFA6OQJ

Amazon - US:

DA150:LINK 4.95 USD OFF CODE:KQS7L3YQ
DA108:LINK 16.97 USD OFF CODE : GSTZE6TO


© Copyright 2018 Nick Whetstone - nick@tnt-audio.com - www.tnt-audio.com
[ Home | Staff & Contacts | HiFi Playground | Listening tests | DIY & Tweakings | Music & Books ]