[ Home | Staff & Contacts | HiFi Playground | Listening tests | DIY & Tweakings | Music & Books ]
Sony WH-1000X M3
Music and Work together at their best?
Product: wireless multifunction headphones
Manufacturer: Sony Corporation - Japan
Recommended Retail Price: 380€
Reviewer: Piero Canova - TNT Italy
Reviewed: February, 2021
Foreword
It is almost a year now from the beginning of this very complicated health situation and we have been forced to learn how to manage our lives differently; we have changed many things every day and several things that were normal and spontaneous have become impossible or only feasible in predetermined times and unusual ways.
Obviously, in this mess, our working activities couldn't remain unchanged. We don't visit our customers, suppliers or colleagues anymore, to the deep regret of my rental car supplier who had become used to seeing me every two years when I had used up my mileage allowance. We have no more meetings with people physically attending but rather where everyone is sitting in his/her office even if the offices are just a few meters apart. Now, it is far from me to criticize this behavior; thanks to these strict rules, for good or bad we have had just a few cases in our headquarters, and if the world is changing I must adapt to use the best technologies to cope with these new demands.
Our company has provided for video calls a set of "on-ear" headphones with the microphone in a small plastic arc almost in front of your mouth They put some pressure on the outer part of your ears with the result of some bad headaches at the end of a day of meetings. A smart audiophile will start thinking: "Well, soon it will be Christmas and I can ask my family, instead of the usual useless gifts, to give me a nice pair of wireless headphones which I can use it both for listening to music and for working activities". So, I passed the idea to my daughter who passed it to my wife who gave the task to my son. He is considered the "digital" member of the family. After some searching on the internet he bought them and finally I had under the Christmas tree some Sony WH-1000X M3 headphones. I was curious to understand why they had chosen that specific brand and model and the reply was "among wireless headphones with active noise canceling and built-in microphone these are among the best ones, in very high demand, and with very positive reviews". So, like all good boys, I waited until the morning of the 25th to open the gift and finally, I was able to see what was inside.
A closer look
Sony WH-1000X M3 are a set of "over-ear" wireless headphones (they do completely cover your ears resting on your head) with a built in microphone and active noise cancelling. Two finishes are available: white or black. They decided to buy me the black ones since they know that, when I am at work, I tend to nibble at food and the white ones would have remained white for only a short time. The materials are good: there is a lot of plastic but it is of excellent quality and the assembly is very good. In the box there is a cable for recharging them (USB to mini USB-C) of the sumptuous length of 10cm, a mini-jack cable to connect them by wire and an adapter to connect the headphones to the double jack socket of airplane seats. The good news is that the same cable used to charge my Android phone works perfectly also for the headphones. Instructions are as usual now reduced to the minimum extent: two large map style sheets that show visually how to turn them on, off, the Bluetooth connection and the main controls.
The first thing is to charge them. Close to the USB-C socket, there is a red LED that when on indicates the charging is progressing. After three hours approximately, when the charge is complete, it turns off. Sony declares up to 30 hours of operation and I found this to be close to reality. Under the left speaker are the switches for on/off and to set the amount of noise cancellation. When turning on a blue LED and a female voice tells you the headphones are on. More interesting is the right speaker which, on the surface, has a kind of touchpad allowing to increase or decrease volume, to start, stop and to go to the previous or next song. You can stop playback or answer an incoming call with two fast taps on the surface and restart listening or finish the call with another two fast taps. The best among all these functions is the possibility to stop what you are listening to and the active noise cancelling by laying your hand flat on the surface of the right speaker. In this way you can talk with people or listen to what is happening around you without removing the headphones. There is an app available that allows further customizations of the performance of the headphones. Some functions are to me of limited interest or performance but they are nice to waste some hours measuring your ears or listening to 360° files and alike.
What can we do with them?
I must apologize to the Sony marketing department for simplifying things but, coming to the essence of these earphones, the important features are:
they are comfortable and reasonably light. You can do a 3 hours meeting without any annoyance
they are wireless so you can move freely within reach of a Bluetooth connection. This connection is stable and reliable
they connects easily and very quickly to any Bluetooth device. Just be sure before a call that they are connected to the right device
the active noise cancelling system "Digital NC" works very well. You have just a very slight hiss in the background and like magic, a noisy office or your family disappear and you can concentrate on your job
the battery is enough for two days so, if you have forgotten to charge them the previous day, the meetings of the next day are safe. Not those of the third day of course
the built-in microphone filters out room noises well so, unless somebody begins to shout right next to you, other attendants of the meeting won't notice who is in the room with you
built-in controls are easy to operate, intuitive and useful.
I can then confirm that they are an excellent product for professional purposes and, if you have to stay connected for long hours, they will help you in better managing your work. Anyway, this is a website dedicated to high-end music reproduction and we haven't so far touched on this aspect.
How do they sound?
The main reason for using these headphones is to be wireless through a Bluetooth connection so the test has been made using only this mode. As sources, I have used two phones (Huawei P20 Pro and Apple iPhone XR) and my laptop (Dell Latitude 730 with Core I7). The files I have used for testing are both from the internet (mainly Youtube videos) or Flac Lossless trying to compare them with the same song played in my system.
The first song I tried to listen to without any adjustment in the app was simply terrifying. After ten minutes of listening, I switched everything off saying to myself this was the worst quality I had heard in many years. Imagine you had switched on the old Loudness button; now, multiply this effect by four and you have a rough idea of what I was listening to. Bass was fat, excessive, undistinguished, and out of control. During this lockdown period I have watched much more TV than usual and, in the series "Queen Gambit", in the sixth episode, they use a marvelous song I had forgotten: "Classical Gas" by Mason Williams. On the internet, there are two wonderful videos of this song: one performed by Tommy Emanuel that shows a simply unbelievable level of mastering classic guitar, and the second with Mason Williams playing classic guitar with Deborah Henson-Conant playing hip harp. In my main system Mason Williams' guitar sounds like a guitar and the size of of the soundbox is correct. With Sony headphones, the soundbox had grown to the size of a double bass. Of course, I didn't give up and I started to search the internet to see if other users had a similar experience. I began also to tinker with the app.
The screens we are interested in are under "Sound" in the main menu and look like this: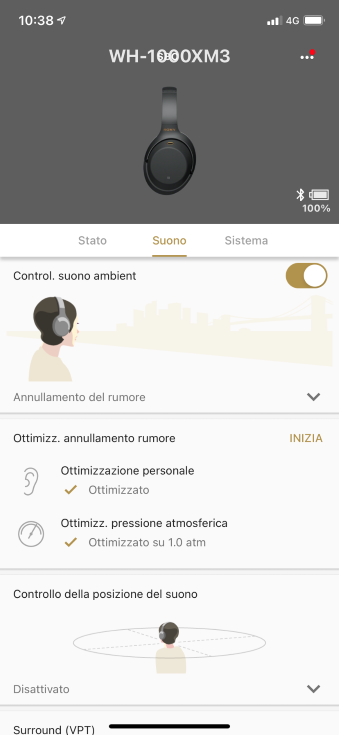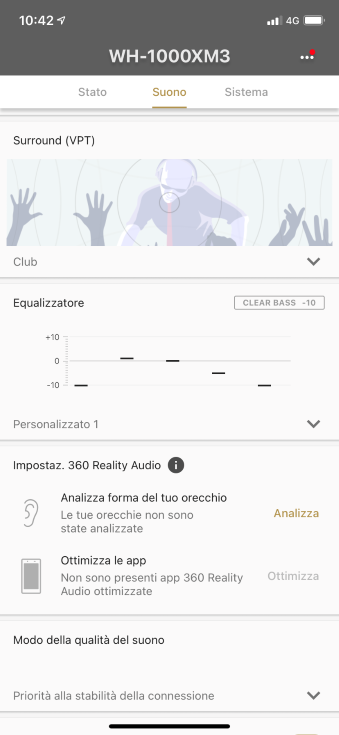 The problem of fat and excessive bass frequencies has been mentioned by other users; a first solution is to deactivate the "Clear Bass" function by putting the cursor at -10 level. This is already a sizeable improvement but we can also work on the graphic equalizer. It has just 5 frequencies but that's what we have. As you see in the screenshots I have reduced both highs and lows to the minimum (another -10) and I have also reduced the mid-highs since they were a bit harsh. This way the general balance is acceptable even if bass tends from time to time to be a bit excessive.
The second defect is the center of the stage that positions itself unnaturally, right above my head as if the players were on the ceiling. I did try to use the menu for positioning the sound at 360° but this works only with audio files with this function built-in. Platforms like Tidal offer these files but if you have just a normal file and you position the sound in front of you, you lose the equalization set and you have a sound that comes from your forehead but mono, It's better to play with the surround settings and chose "Club" or "Arena" that have some reverberation lowering and widening the stage.
With all the above settings sound is well balanced and natural as far as a digital file allows. Of course the headphones are very fast and dynamic; I don't know the kind of amplifier they have built-in but it seems to me well designed and of good quality. They have a wonderful PRAT and with the right music they can be very involving: be careful if using them in your office because it is tough to pretend you are in a conference while you clap your hands and shake your head. Double check you have connected the right device since they handle only one connection at a time and if you have them connected with your phone and you start a call on your computer the comments like "we can't hear you" and the time it takes to switch connection can be embarrassing. The last comment is about the "Ears Analysis" function. The app will demand you take pictures of your ears to adapt the reproduction to the shape of your auricles. Either my ears are very standard or the enhancements are very subtle since I didn't notice a lot of difference but it is quite funny to do it.
Conclusions
The price demanded makes them the cheapest component in my system; for their price you can't buy a medium quality cable but here there is plenty of high-level engineering. For professional usage, they are a blessing since they improve the quality and ergonomics of your connections. You can answer calls, and have rain in the background that they say relaxes, and improves productivity. Writing this article I have listened to some tropical rain, three live songs of The Allman Brothers, "Dear Mr Fantasy" performed by Crossby Stills & Nash, been twice to the refrigerator and answered my daughter who was asking me what I wanted to cook for dinner. All without removing them from my head.
For music listening, they aren't perfect. With proper tuning, they perform well but not at the level of a medium/high system. But, if you see them not as the headphones for your main system but a tool to have good music almost everywhere then you have an excellent reason for buying them. They will be perfect on a train or a plane offering you a trip with plenty of good music without the nuisance of neighboring people, ringtones, engines noise and the like.
I really hope we will be able to start traveling again soon; I have been forced to postpone a couple of intercontinental trips and these headphones will be excellent traveling companions. In the meanwhile, I am very happy not to hear almost any noise at home when I am working and to have in the office from time to time a nice half an hour of true silence.
DISCLAIMER. TNT-Audio is a 100% independent magazine that neither accepts advertising from companies nor requires readers to register or pay for subscriptions. After publication of reviews, the authors do not retain samples other than on long-term loan for further evaluation or comparison with later-received gear. Hence, all contents are written free of any "editorial" or "advertising" influence, and all reviews in this publication, positive or negative, reflect the independent opinions of their respective authors. TNT-Audio will publish all manufacturer responses, subject to the reviewer's right to reply in turn.

© Copyright 2021 Piero Canova - piero@tnt-audio.com - www.tnt-audio.com
[ Home | Staff & Contacts | HiFi Playground | Listening tests | DIY & Tweakings | Music & Books ]