[ Home | Staff & Contacts | HiFi Playground | Listening tests | DIY & Tweakings | Music & Books ]
Venture Electronics Monk Plus Earbuds
A Venture into Unfamiliar Territory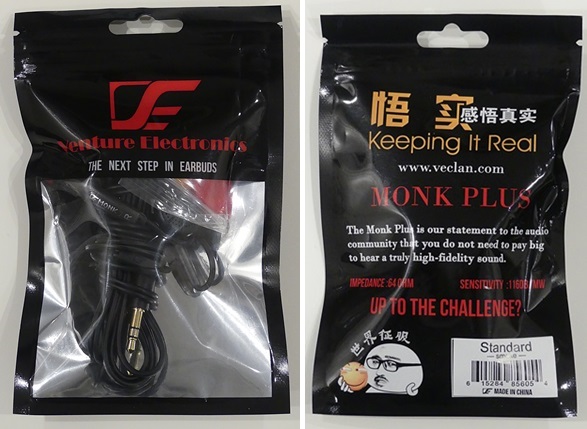 [Italian version here]
Manufacturer: Venture Electronics - China
Product: Monk Plus earbuds

Price: $5.00 YMMV
Reviewer: David Hoehl - TNT USA and Lucio Cadeddu - TNT Italy
Reviewed: July, 2020
What if you could buy a pair of earbuds capable of embarrassing a respectable set of conventional headphones? And what's more, what if the earbuds cost only five dollars, a good bit less than a tenth the cost of the headphones? Too good to be true? Not so. A small Chinese company called Venture Electronics is offering just such a set of earbuds at just that price, although shipping charges at about twice the cost of the earbuds themselves buy you delivery via a slow boat from--er, you get the idea. Still pretty amazing, but read on for more detailed reactions.
I'm ordinarily not much of a headphone listener, and I haven't listened to earbuds since a few unsatisfying experiences back in the days of the Walkman. At home, my system includes an old set of low-end Stax electrets; otherwise, I hew to Grados, specifically SR60e on the road, mostly to edit audio files on my laptop, and SR80i for background music at work. I've always believed the Grados to sound good enough for my purposes at a modest price and, most importantly, to be comfortable for extended wear, as, up to a point, I consider comfort more important than absolute sound quality.
Therefore, when our fearless leader Lucio sent out a call to try these little $5 specials, my immediate thought was "I don't do those awful, tinny little earbud things." But then, thought I, well, $5 is dirt cheap even for earbuds, and if they're as much as tolerable I can always give them to my daughter, who like most teens listens to nothing but little earbud things. And so, on February 4, I placed an order for one pair of Monks Plus earbuds. I immediately liked the company for its irreverent, straightforward, and charmingly personal ordering instructions, in essence saying that standard shipping rates will get the things to the buyer, but not quickly: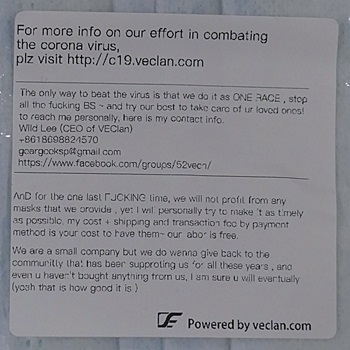 How many days are u going to wait?

here is a couple of steps

1st if u r paying with a credit with Paypal or Aliexpress, there is a period to clear ur payment, normally around 48hours, so we don't ship right after u pay, we will have to wait till the payment is cleared , pretty standard practice really.

2nd we will have to prepare ur package, which can only happen when miss peach is at work.

3rd we will have to get them to our shipping agent, locally or far far far away in Shenzhen. (my city is Shenyang, and Shenzhen might look similar to u, but it is a 4-5 days trip for ur package to be in Shenzhen before they can process it )

4th the shipping agent in the case of airmails will have to get them to the forwarding post office in HK or Singapore

5th only after ur package is process by the forwarding post office, that ur package is live for tracking.

[etc.]
They were right! The Monks didn't arrive until April 19, by which point I'd actually forgotten about them. When I opened the box, much to my surprise, amusement, and delight, I found not only the earbuds, neatly packaged in a little sealed plastic bag, but also two free face masks labeled with the text that you can see to the right. Again irreverent, again rather charming in a brash sort of way. And spot on, too, but that's a matter for a different article or editorial. As an aside, the company states it is now shipping at least a mask or two with each order and making masks available in larger lots for order directly, all at cost. Quite the lovely and timely gesture.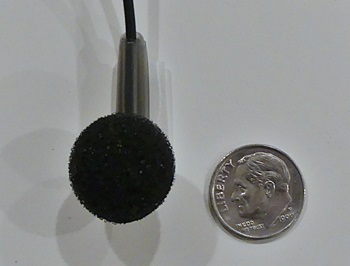 Also included were four pairs of foam covers in different colors. They're on the thin, flimsy side and not easy to mount--I tore one trying to seat it--but once in place they do the job. The Monks, shaped like squat mushrooms with a handle at the base, are about as big around as a US dime. They strike me as large, and when I consulted my daughter, the earbud expert, she agreed. Their size and shape is a problem: I never did get the Monks to seat securely in my ears. If I sat still, I could with some persistence, coax them into staying in place, but I can't imagine trying to keep them in while exercising or otherwise moving about. On the other hand, my daughter found that she could plant them securely, if not conventionally.
Unfortunately, to sound their considerable best the Monks really do need to be firmly seated in the ear canal. If they are loose, their sound becomes very much the kind of tinny, thin gruel that always springs to my mind when I hear the word "earbuds." Properly seated, however, they easily live up to the company's stated goal of proving "you do not need to pay big to hear a truly high fidelity sound." Directly to the point, at every turn, when properly seated, they bested my trusty Grado SR60e conventional headphones.
For testing, all my listening was via the headphone output socket of my Lenovo X220 laptop running Windows 7 and WinAmp audio software. For the most part, I drew, via WiFi, on files stored in a network attached server, losslessly compressed in Monkey's Audio .ape format. I began my listening tests with one of my standard choices: "Tleyeantimo" by Gaspar Fernandez in a vividly recorded performance by Jordi Savall's Hesperon XXI (AliaVox AV 9853). At first I thought the Grados had more body than the Monks, but I came to realize the Monks simply were clearer and better balanced. Voices nearly lost in the mix over the Grados came through distinctly on the Monks, both in vocal ensemble passages and when voices joined instruments, so much so that, if I spoke Spanish, I would have been able to make out all the words. In purely instrumental passages, strummed strings stood out relative to percussion and winds, whereas over the Grados inflated bass tended to swallow them, to obscure voices, and to round off transients relative to the Monks.
Next I turned to track 4 from the CD Diminuito, two works by 16th century composers performed by Rolf Lislevand and a mixed vocal/instrumental ensemble (ECM 2088): "Petit Jacquet" by Giovanni Antonio Terzi and "Quinta pars" by Diego Ortiz. Once again, the Monks offered cleaner bass, yielding textual clarity, whereas the Grados' voluminous bass drowned voices.
Rimsky-Korsakoff's Russian Easter Festival Overture, by contrast to these small ensemble early music selections, is a showpiece for large Romantic orchestra. In Leopold Stokowski's February 1968 recording with the Chicago Symphony Orchestra (RCA Victor 09026-68335-2), I felt the Monks gave the winds a little more character than did the Grados and otherwise continued to yield cleaner and tighter bass and clearer overall presentation.
I sampled a few non-classical tracks as well. First, from YouTube, was Katie Herzig, "Best Day of Your Life." Right off the bat, the Monks revealed detail better than the Grados: the synthesizer notes at the outset of this track turn out to have something of the same character as those in the old synthesizer ditty "Popcorn." The Grados' heavy bass obscures that character. Voices, too, are clearer and more articulate over the Monks, especially toward the end as the accompaniment becomes more dense.
Turning to Doc Watson and the Nitty Gritty Dirt Band, in "Tennessee Stud" (from Will the Circle Be Unbroken, United Artists UAS 9801), Watson's all-important guitar is better defined over the Monks, rather vague over the Grados.
Stan Rogers, in "Barrett's Privateers," offers the combination of male soloist and ensemble a cappella (concert recording from YouTube). At first I thought the Grados rendered the voices more naturally and that the Monks were thin, trebly, and a bit harsh. I discovered that the Monks had slipped out of position; reseating them firmly in the ear canal immensely improved their sound, decisively demonstrating the importance of a good fit in getting the best from them.
A Teen's Ear View
In the interests of getting a perspective from a habitual earbud user, I asked my teenaged daughter to try the Monks and give me her assessment. She tells me that her listening regime included various tracks by girl in red, Panic! At The Disco, and Alan Walker, among others, all streamed via Spotify. Her immediate reaction when first hearing the Monks was, "These are good!" After playing them for a while, she opined that the sound quality is very good for earbuds, with much better bass in particular than that of her Airpod knock-offs (at about double the Monks' cost), comparable to the Dodocool set I gave her a couple of years back that eventually went the way of all earbuds. She thinks, however, that the Harman Kardon traditional headphones I gave her for Christmas a couple of years ago do sound better. Like me, she found the Monks' clarity to be one of their cardinal virtues. Not a virtue, however, is the way the Monks fit. She described the fit as "weird" and reported that the Monks start to hurt after a while.
Further testing (by Lucio Cadeddu)
It took almost two months more than David to get my pair of Monk Plus earbuds...don't know why, but you should be prepared for a long wait. I've tested them against every other earbud I had at home, from Philips to AKG, Dodocool, then Apple AirPods and several others. My tests were developed both using my OnePlus smartphone headphone output and my reference HiFi system, where I used three different headphone amplifiers: the new NuPrime Alita (review due soon), the AudioGD R2R 11 and the ProJect Headbox Digital S2. The reference headphones were Grado SR80's.
These babies rock! They simply put any other earbud I have into shame, effortlessly: the bass range is in a completely different league, and so are dynamics and clarity. The bass is strong, deep and even controlled, provided the earbuds sit properly inside your ears. When compared to the Grado SR80, the Monk Plus sound is clearly more distorted and confused in the mid/high range, but the bass performance is on a par, if not even slightly better in terms of depth and punch. Unbelievable, I'd say.
My daughter, who swears by her Apple AirPods, and who trashed and blamed every other headphone I gave her, admitted the Monk Plus sound better on her iPhone. Needless to say, the price difference between the Airpods and the Monk Plus's is ridiculously high.
Conclusion
The Venture Electronics Monk Plus earbuds are a tremendous bargain if you can get them to stay firmly seated in your ears. They offer clean, clear sound with nice balance and notably good, clean bass. They particularly shine in music performed by small ensembles and in delineating voices. If you can be a little patient with the shipping time and are willing to gamble $15 (price plus shipping) on whether they will fit your ears correctly, I have nothing but good things to say about them. Note, however, that the fit is crucial. They simply will not reveal the excellent sound, of which they are capable, unless properly seated in your ear canals, which may or may not be possible given their physical shape.
Aside from the excellence of its product, Venture Electronics is to be commended for its public spirit and for its avoidance of mealy-mouthed platitudes. I like this company. I like its fresh approach, its refusal to varnish the truth, its irreverent voice, and its willingness to step up and contribute to solving the current crisis instead of merely urging the rest of us to act. I wish more public entities were as forthright.
DISCLAIMER. TNT-Audio is a 100% independent magazine that neither accepts advertising from companies nor requires readers to register or pay for subscriptions. After publication of reviews, the authors do not retain samples other than on long-term loan for further evaluation or comparison with later-received gear. Hence, all contents are written free of any "editorial" or "advertising" influence, and all reviews in this publication, positive or negative, reflect the independent opinions of their respective authors. TNT-Audio will publish all manufacturer responses, subject to the reviewer's right to reply in turn.

Copyright © 2020 David Hoehl- drh@tnt-audio.com and Lucio Cadeddu - direttore@tnt-audio.com - www.tnt-audio.com
[ Home | Staff & Contacts | HiFi Playground | Listening tests | DIY & Tweakings | Music & Books ]