[ Home | Staff & Contacts | HiFi Playground | Listening tests | DIY & Tweakings | Music & Books ]
Etalon Acoustics:
Ethernet noise filter, music streamers/servers, MM phono stage and digital streamer/DAC/preamp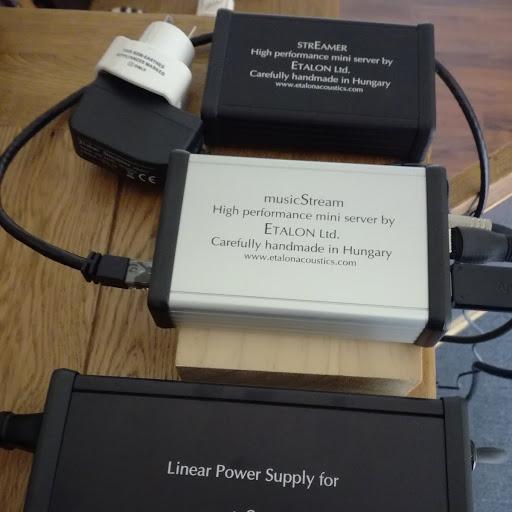 Music incarnate, from recorded performance to playback
Products: Ethernet noise filter, music streamers/servers, MM phono stage and digital streamer/DAC/preamp
Manufacturer: Etalon Acoustics, Budapest (Hungary)
Prices: included below - Currency conversion
Reviewer: Richard Varey - TNT New Zealand
Reviewed: December, 2018
Introduction
As a scientifically-trained long-time music and hi-fi enthusiast, I like to investigate interesting value propositions. When I find an audiophile product ethos that I really like, I want to know the story that lies behind the product(s), and to hear it in my listening space. How about decades of music recording, original design flair, and a performance/price point that could deliver outstanding sound quality very, and surprisingly, affordably? And who can resist a philosophical underpinning for equipment design?
A name new to me until I sought an Ethernet filter during a previous review project, Etalon Acoustics have a long and illustrious history in music recording and reproduction. They offer two lines of products - those new additions I've been enjoying using, and some very elegant amplifiers, loudspeakers, and sources. There are no regulation 17" black or silver enclosures. To the sophisticated elegance of their range of audiophile components, which have the visual feel of fine musical instruments, Etalon Acoustics have applied their ethos, experience and expertise to add a range of products that have tiny footprints, modest prices, and enormous sound quality and musicality.
Since my adventure with Raspberry Pi single board computers and open source software, I've done a lot of listening to digital files with the two streamers from Etalon Acoustics. These came through for audition in the latter stages of that previous project, and the ease of use and sound quality has drawn me back to streaming big time, although I play LPs and CDs regularly too.
What's immediately appealing to me about the Etalon Acoustics Isolator, strEamer and musicStreamer, and supraFono is that they are simple plug-n-play devices designed and hand-built for sound quality by musicophiles, and very keenly priced. I've had such a good listening experience with these new products that I have enthusiastically delved into the backstory to explore the company's profile so as to understand where these products have come from.
My former professional career as a marketing educator and scholar provides me with a recipe for a viable hi-fi product: take a package (design, materials, components) with a generous helping of performance (sound quality, reliability, functions, ease of use), add a standout value proposition and price, and blend in some professionalism (service) and a proven provider (company brand, reputation). In this case, the Etalon Acoustics offer is musicality at surprisingly low price. There's no $ 20 avocado on toast here! In the Etalon range, they do not equate price with sound quality, so there is no compromised 'entry level' and a 'high-end' super-performer teasing towards expensive upgrade. What they do offer is a number of different solutions to the challenge of creating a "mirror image of living music".
Prior to my research on high-performance low-cost Ethernet audio options, I hadn't been aware of the Etalon Acoustics brand and product range. Since then, I've been doing my homework to find out more. For some months I've had their network clarifier in the Ethernet line from my PC, and either the strEamer or musicStreamer feeding my Styleaudio Carat Peridot DAC or my Black Ice Audio DSD DAC. I also tried out the supraFono on my record collection. I'll say more about these no-fuss high-performance products after taking a bit of a diversion for an overview of the Etalon Acoustics origins and design ethos.
The company is run by Etalon's Founder/Owner/Engineer, László Sallay. More than 50 years ago, László started to bring together his passion for classical music and his passion for electronics. I asked him some questions about the long history of the Etalon Acoustics brand.
Interview with László Sallay
RV: «What is the background to your long-time career in audio design?»
LS: «At that time in Hungary, it was easy to hear greatest artists from the "comrade" countries for free or very inexpensively. Thus, after building my first radio, my first radio tower (which might have been prohibited in communist Hungary!), I began building amplifiers and speakers, and I found my goal for life: to enable those unforgettable performances to be taken home, so that it could be possible for someone who missed the live concert to enjoy the whole great experience. I worked on the total chain from recording to reproduction, finding that it was not only a matter of sound wave frequencies or frequency responses. All the tiniest nuances must be reborn again during the reproduction. The sound, the silence, the silence in sounds, the sound in silence, and in the air. I discovered that while engineers have uncovered everything for a strong grounding in science, it's the music, the performance, and the whole experience that matter, and this is not simply about achieving the best equipment performance specifications. I am continuing to work hard to get closer and closer to the real.»
RV: «I understand that you've worked with some notable companies.»
LS: «After my university studies, I worked with Danish companies as an advisor and representative in Hungary, including Ortofon for 12 years and Brüel & Kjaer for 16 years. A couple of German and Danish colleagues were audiophiles. Listening to my amplifiers and speakers, they encouraged me to make a business because products sounding like those have a good chance in the hi-fi world, they assured me. B&K also asked me to participate in the development of microphones. With this encouragement, it all finally became a company, and we started to develop commercial products.»
RV: «There's quite a pedigree behind the Etalon Acoustics brand.»
LS: «During more than 50 years of research and development, Etalon Acoustics has created high quality recording equipment and hi-fi systems of outstanding excellence. Indeed, the name Etalon is French for "gold standard". In old Greek it means "reference". The quality of our many music recordings under the name Sonophil has been praised by CBS, Harmonia Mundi, Hungaroton, and Naxos, as well as the artists we have worked with, including Claudio Abbado, John Cage, Peter Eotvos, Ivan Fischer, Kobayashi Ken Ichiro, Zoltan Kocsis, Gyorgy Kurtag, Gyorgy Ligeti, Zoltan Racz, Dezso Ranki, Bela Szakcsi Lakatos, Sandor Szokolay, Gyorgy Vukan, the Zagreb Soloists, Peter Soave, and Aldo Pagani, the publisher of Astor Piazzola.»
RV: «I believe your products have some impressive users. Etalon's approach, to get music incarnate at home, is manifestly appreciated by musicians.»
LS: «Leonard Bernstein recommended us to the directors of Deutsche Grammophon. Master Sergiu Celibidache and the Munchen Philharmonics recommended us to Philips Classics. The Master was so impressed with the quality of Etalon/Sonophil recordings that he decided not to record with anyone else, as he had doubts about the quality of others' methods. The directors of Denon have also praised our work. Among many musicians who use Etalon Acoustics equipment at home was the world-famous jazz-pianist Michel Petrucciani.»
RV: «Your brand is well-known in Europe, and has been acknowledged with some impressive awards, I understand.»
LS: «Yes, our products have been reviewed, tested, and compared to the best products of the leading brands by the international hi-fi press (including Home Studio in Holland; Revue de Son, Haute Fidelite and Diapason in France; Stereo, High Fidelity, Hor Erlebnis Forum and Hi Fi Vision in Germany; Alta Fidelidad in Spain; Hi-Fi World in the United Kingdom; Fedeltà del Suono, Stereo, Suono and Audio Review in Italy; Ihos and AV Extreme in Greece; WAM in Croatia, and Audio-Video in Brazil). In these tests, Etalon Acoustics equipment was rated very high and has often been favoured over the competition by reviewers. We have won the Diapason D'Or prize in Paris sixteen times since 1992. For this prize, the judges consider all available products from manufacturers worldwide. We've also won the Italian Oscar prize in 1998, and the Hungarian Design Award in 2007.»
RV: «Please, tell us about your design ethos and what drives your product line.»
LS: «Our design aim is to make equipment that is able to reproduce both the special radiance of an outstanding artistic live production, and the delicate musical character nuances audible even between music instruments of the same kind. We believe that all hi-fi equipment should be able to reproduce the sound of the music being played without adding its own sound to the recording.»
RV: «How difficult is it to accomplish that aim?»
LS: «We recognise that it is a huge challenge to record a great performance, and then later make listeners' ears and whole psyche believe they were present in the concert hall. For the audio engineer, it is a complex, exciting puzzle of sound, acoustics, and human hearing, to get a sound that is close to real. The more real, the greater the listening experience becomes.»
RV: «Your approach is a bit different to the mainstream 'big brands', I think.»
LS: «When Etalon Acoustics amplifiers first appeared in the Western European market in the 1980s, they made quite a stir with their simple and clean internal and external appearance and structure. The 'star' products from the USA and Japan were heavily over-engineered, featuring several displays, switches and knobs. On the contrary, we showed up with products with only input selection and volume control. Sound quality is not to be compromised with unnecessary controls.
Many companies offer some system components only, whereas Etalon was, and may still be, the only company that has a complete line of equipment from the recording microphone to the speakers at home, and all the electronics in-between. They've never made mechanical systems, neither turntable, nor CD-mechanism. I also developed a unique idea of a turntable, although it was never realised commercially. When we offered a CD-player, OEM models from Philips were used. A review in France a few years ago (in Audiophile) introducing our then new media-preamp Solo, compared a studio master tape recording and the DSD copy. They reported that the digital playback with the Solo sounded even "more analogue" than the analogue studio master.»
RV: «I find the written company philosophy statement very interesting, so please can you summarise it for us?»
LS: «It's important always to remember that "in the beginning was the music..." and the goal is putting the reproduction in the place of the performer. One should be able to sit down and enjoy the (re)production with the same experience as those who had the opportunity to be present at the live performance. When listening to reproduced music, it's a natural desire that it should not be obvious that one is not listening to a live production.
At a live concert or when listening to reproduced music, it can be observed that many music lovers, when listening very intently to the music, close their eyes... anybody can experience that they can hear certain minute details better if their eyes are closed. At those times, one's entire attention is focussed on only one sense, and it is also well known that music is not created in one's ears. This is why it can be argued that, despite all contrary arguments in the 'home entertainment' market, simultaneous visual stimuli instead of reinforcing actually weakens the depth of musical experience, due to the division of one's attention. Home theatre is simply a quality compromise.
In our age, many people are exposed to constant stress, having to continually produce top performance. This can only be maintained by continuous regeneration, the most effective means of which is active listening to music. If one is fully committed to life-like reproduction of the original sound then the regenerating effect of musical experience is greatly enhanced. There is stark contrast between current market processes constantly promoting new technologies for big profits, and the requirement to satisfy real human needs. The Etalon company does not participate in this kind of business, instead retaining their objective of offering equipment that, through the most life-like presentation of artistic beauty possible, serves the mental and spiritual regeneration of their owners through the inner experience that is music.»
The products
To extend their capability to accomplish this rather grand purpose, in the past couple of years, the established and quite novel range of fine audio components has been joined by a rather different and growing range of sophisticated yet unfussy products. As always, satisfying musicality is the basis for investment in these products instead of flashy appearance. There's not a lot more to say about these products, since the Etalon team have ensured that, primarily, musicality is delivered in use. They don't rely on extensive technical specifications to sell these units. The music credentials, track record, and audiophile design ethos together, for me, were massive assurance that these products were worthy of a serious listen.
The value-for-money is in the utility of these new units. They have invested in sound quality/musicality performance and production quality, without padding the price with additional cosmetic appeal. It's an Etalon Acoustics business strategy point, to offer products which are able to outperform competitor models at 10-times (or even much higher!) price level. For example, László told me that at the Axpona Show in Chicago, one of the press people asked for the price of the system they were demonstrating (the Solo digital-media preamp, ClassA power amp, and Soprano + Alto speakers). When told it was US$ 25,000 in total, he commented that «on the second floor there is a system priced over US$ 700,000 - this one is better...».
The combination of vivid musicality, easy plug-n-play, and those credible prices - well, that's an immediately impressive value proposition. Now that I've used them in my own system for some considerable time, with great pleasure, my comments are a brief summary of my experience.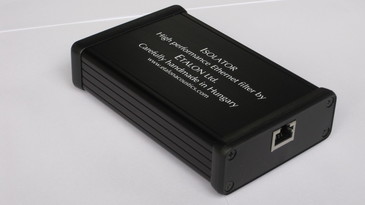 Etalon Acoustics Isolator
The first one I added to my system is their hand-made high-performance in-line Ethernet passive filter, the Isolator (€ 390). I'd read various forum comments describing better definition and more impact in music with the Isolator inserted, so I wanted to hear for myself. The Isolator is connected at the end of the cable nearest the media player/streamer that is to be protected from spurious noise and interference using the very short cable provided. It acts as a sound quality clarifier. From an Ethernet input, it filters noise before the output, eliminating electromagnetic interference between in-house networks and devices connected to the output of the filter. There is benefit to timbre and image, making the digital signal sound more analogue and more relaxed.
Even these black boxes that are now part of the family of "carefully handmade in Hungary" offerings are far from standard format. The common size of all of these components is 127 x 32 x 81 mm (W x H x D) in a very rigid aluminum case. And yes, they are black boxes!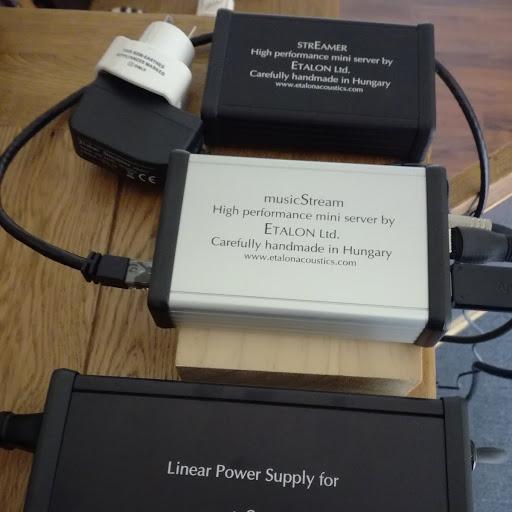 Etalon Acoustics strEamer and musicStream
The simple Etalon strEamer (€ 559) is a media player and media server. I connected my USB-DAC to the strEamer to easily play my music via Ethernet cable from hard drives connected to my PC. Alternatively, you can plug a USB stick or hard drive direct to the strEamer. There are two media servers running on the strEamer, which ensure the sharing of media files on the network. The media files can easily be accessed on a smart television, USB-DAC, or any other DLNA or Logitech Media Player connected to the strEamer. It is easiest and most convenient to operate the Etalon strEamer using a smartphone or tablet with a DLNA or LMS interface app, or an online web browser interface of the LMS can be used. Playable file formats are DSD64/128/254 and PCM 16-32 bit 44.1 kHz-384 kHz.
The musicStream (€ 1,549) is a more advanced unit. It has an external analogue power-supply unit, and can play all usual formats in PCM and DSD, with usual players such as DLNA, Logitech, Airplay, Roon 1.2 etc. This unit is very musical and has become my go-to player. The Isolator can/should be used with strEamer, but is not necessary for the musicStream, as this function is incorporated in this model. László has compared the musicStream to several others costing over € 7,000 and tells me theirs was far better in musicality.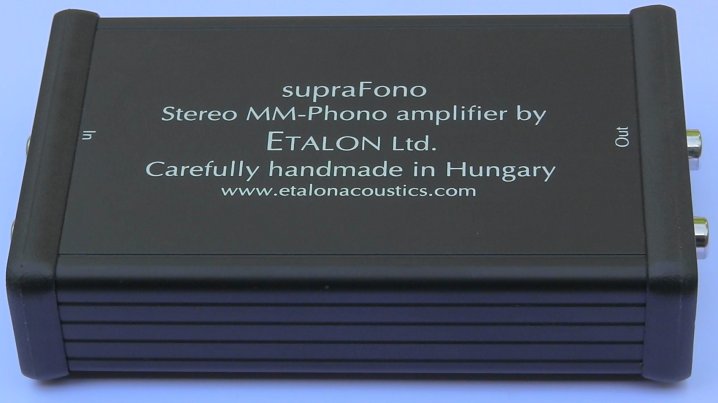 Etalon Acoustics supraFono
Based on it's big brother - a previous separate phono stage - the supraFono stereo phono pre-amplifier (€ 799, and € 869 for the premium version) is designed for use with typical MM pick-ups with 47 kΩ input following the corresponding standards within 0.2 dB accuracy. The output can be loaded by any impedance including zero (although this doesn't make a lot of sense for listening...!), so even headphones can be connected, if the volume doesn't need to be controlled. The gain is 40 dB/1 kHz, so in practice you can use this unit with MM or high-output MC cartridges.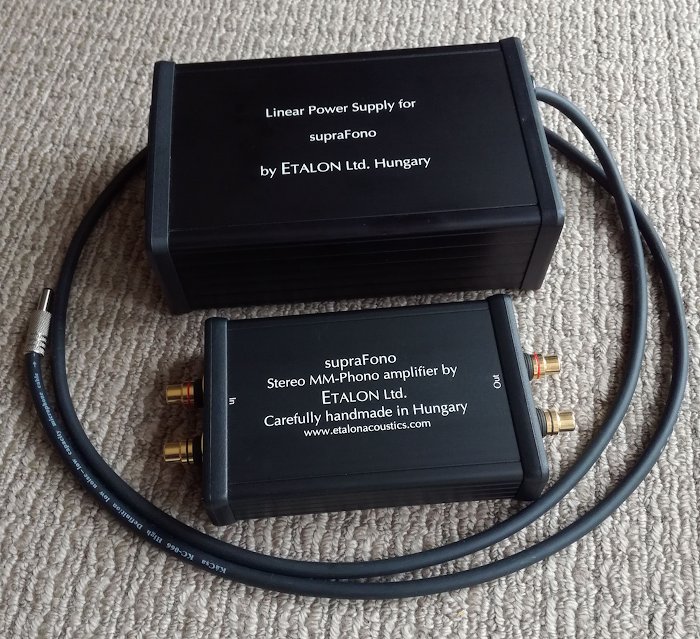 Etalon Acoustics supraFono and its PSU
I've enjoyed realistic tone, with detailed, dynamic, open, smooth soundstage presentation with precise instrument placement. It's a real surprise that a component of this diminutive size can make my records sound so good. It's case volume (including its external power adaptor unit) is just 1/7th of that of the Black Ice Audio tube phono stage I also use! Although, then again, the Etalon Acoustics ethos ensures it's outstanding musicality.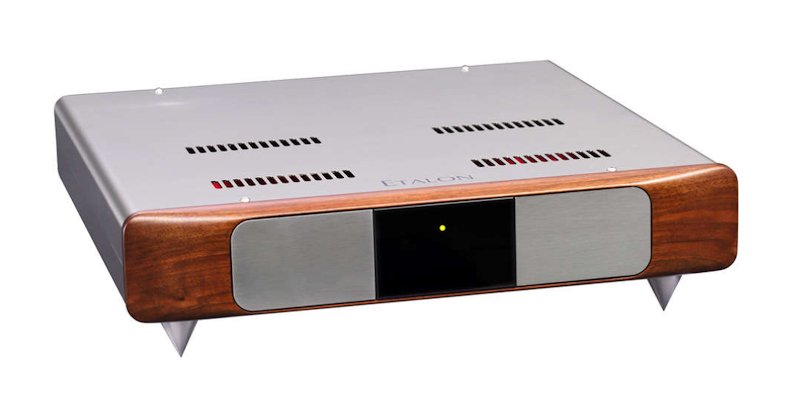 Etalon Acoustics suprAdac
There's also a new addition to the original range of sources, amplifiers, and speakers. In response to contemporary music listening trends, the SuprAdac (€ 3,320), a USB/SPDIF optical input digital preamplifier with analogue output, targeting highest sound quality at lowest possible price, has just become available as I write. This completes the digital chain. It will play DSD64/128 and PCM up to 32/384. Stylistically, it pairs with the SuprA (€ 2,059) remote-controlled, class-AB push-pull dual-mono, integrated voltage output amplifier. It's a simpler version of the Solo (forthcoming) which has balanced outputs.
Conclusion
These components have a common design concept: outstanding sound quality, no set-up routine or complex and fussy controls - they plug in and work - no frills, very affordable, and seriously enjoyable sound quality, fine-tuned for euphoric musicality. On first sight, they might seem out of place among the beauty of the other Etalon components, yet they share the same audiophile ethos.
The company motto is "incarnated music". The love of fine music and decades of audio engineering experience are brought together to create different routes to the same destination: the inner experience of music. This is the very antithesis of Hobson's choice. Music lovers can choose the fine instrument range, or these no-frills components, or partner them easily. Either way, the listening experience promises to be outstanding, and maybe one day I'll get to try one of the big boys.
I very much appreciate the continued friendly and enthused co-operation of László Sallay, Managing Director, in making this article possible. My insight into the art of a distant land is enriching my appreciation of hi-fi music listening possibilities.
DISCLAIMER. TNT-Audio is a 100% independent magazine that neither accepts advertising from companies nor requires readers to register or pay for subscriptions. After publication of reviews, the authors do not retain samples other than on long-term loan for further evaluation or comparison with later-received gear. Hence, all contents are written free of any "editorial" or "advertising" influence, and all reviews in this publication, positive or negative, reflect the independent opinions of their respective authors. TNT-Audio will publish all manufacturer responses, subject to the reviewer's right to reply in turn.

© Copyright 2018 Richard Varey - richard@tnt-audio.com - www.tnt-audio.com
[ Home | Staff & Contacts | HiFi Playground | Listening tests | DIY & Tweakings | Music & Books ]