[ Home | Staff & Contacts | HiFi Playground | Listening tests | DIY & Tweakings | Music & Books ]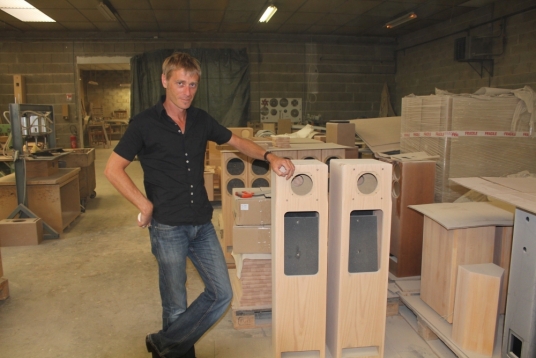 LC >
1) Mr. Reynaud, could you please briefly tell our readers something about your experience as CEO at JMR? How did you start to get involved in your father's company?
JCR >
I've been fascinated by music since I was a kid, even if the music was nearly a humdrum routine in my home. As soon as I got my first hi-fi system - I was 10 or 11 - I immediately decided to become an electroacoustic engineer, just like my Dad. But as I had been assiduously playing music since I was a teen, I decided to work in the music world first, thereby avoiding too soon and too easily following the same path as him. So I found a job as a sound mixer and studio producer. My first real job was as a production runner for recording companies in Bordeaux – vinyl was the standard at this time... - and then I moved up through the lower ranks to sound engineer, producer and art director. 20 years during which I've "been there done that" in the world of music, while at the same time keeping a very strong and close link with my father and his work.
Over the course of time I ended up taking part to some of his achievements. I started working full-time at the company in 2005, finally, coming back from a long stay in the USA. Until his death, in 2011, we worked as a team, thinking, creating and re-creating each model of the range. For some speakers I was desiring harder (more analytical) sound while in some cases he was desiring more atmosphere. For example, I suggested he might wish to further investigate the idea of flat loudspeakers, such as the EMP (Enceinte murale plate). In fact, the EMP 2 and EMP Nano are the last models we worked on together.
LC >
2) Could you tell us something more about JMR? How many employees do you have, how many speakers/year do you manufacture?
JCR >
JMR was launched in 1967. It's a modest sized company with 8 employees that produce 800 to 1000 units per year. Today, the whole facility is 2000 square meters in capacity. We design and develop our models internally, with a carpentry shop, a painting room, a cabling and wiring unit for the electronic components of the crossovers as well as a bench for assembly. We also have an anechoic chamber and a research laboratory... All this equipment allows us to develop our products from the beginning to the end. On the second floor of the building is a wide listening room. This room is acoustically neutral, but not specially treated – I mean it's only as correct as a simple room in a typical house might be - so we can validate our products in an average residential setting.
Nearly every operation in the making of our loudspeakers is by hand. And we try to manage as much of what goes into our speakers on the spot.. We even do final tunings and adjustments of speaker cones as well as adjust tweeter domes to our specific requirements. Silver shielded capacitors for our crossovers are made to our particular specifications by a French maker.
Of course we have to use subcontractors – as we want the best for our speakers, making some components by ourselves would just be a nonsense – and these subcontractors work on our specifications. And except one, they are all French or European.
LC >
3) JMR designs are known for their unconventional technical solutions, and a kind of "alternative approach" to loudspeaker design. Do you think is there still room for making things "different"?
JCR >
  I hope so!!
Todays production makes everything uniform, standardized so each product looks like every other one. So it's important for a little company like JMR to stand out. Our designs and our principles of loudspeaker design have been developed through years of preparation. They are not popping out of a school book ! I'm more than attached to these differences that makes what JMR loudspeakers has now been for almost 50 years.
LC >
4) French loudspeakers are, quite often referred to having several common features, so much that it is easy to talk of a "French" kind of sound: mid-high sensitivity, open and lively high range etc. Do you think there are cultural reasons for this?
JCR >
Maybe the French culture of "bon goût" has something to do with it ! French people like aesthetics, (good) wine, (good) cooking... we have a long affinity to arts and mainly with the art of living ! I do not mean to say French speakers are better than others, indeed. But I think most of the time their voicing is better balanced, "straight" but lively, with fair and rich tunes. I would say more richly embodied. We appreciate a realistic sound, not necessarily a spectacular or effusive one, but one able to reproduce a sort of homothety of reality without bringing artificial colors into the palette of the source.
French composers at the beginning of the last century greatly appreciated playing with sound colors combined with variations and shades of instrumental timbers and textures. In addition, in a broader sense, the French tradition of "chanson" and texts, requires that our loudspeakers must express as accurately as possible the human voice tone and diction... all these little demands have their parts in this particular French approach or sense of sound.
LC >
5) Many loudspeakers manufacturers no longer use the anechoic chamber for their designs, though it seems it is widely used at JMR. Could you explain its advantages?  
JCR >
We use the anechoic room at the very beginning of a product's design in order to obtain the most neutral parameters for each of our components, away from ambient acoustic influences.
Our initial measurements are made in this manner. But once we have done this, we place our speakers in real conditions and make additional measurements in more natural acoustic settings. The last adjustments and tunings are made in normal home-like conditions and not in a "mute" space. An anechoic room is a tool for only for the start of the process.
We just can't rely on such results alone, knowing that our loudspeakers will absolutely never be listened by their owners in such an ideal place for sound, but rather in a space made for living… with the best sound possible. It's very different. A loudspeaker must be integrated as easily as possible. If it's development and optimization have been done in the right way, the loudspeaker can be placed in nearly all sorts of acoustic conditions at home.  
LC >
6) In order to cut down production costs, many European loudspeakers are actually crafted in the Far East. I guess it is hard to face such a tough competition. What are your thoughts on this subject?
JCR >
Our first wish is to work with European companies. But sometimes we can not find European sources for the component or the quality we want. Certain rare earth elements such as the neodymium – used for magnets – are available only from Asia. To remain competitive, we have to buy it there: we have no other alternative. Another example is our double ribbon tweeter which is made in Taïwan.
We have been seeking in vain for the same quality from a European source for a long time. And saving money is not the reason for this choice: these tweeters are entirely hand-assembled and very expensive ! Staying competitive requires us to be smart and sometimes to be flexible as well. Our cabinets do not have the ultimate design "à la mode" (for this reason they will never show their age) but we prefer to concentrate our skills, know-how and resources on critical parts such as the woofers, the internal wiring or the electronic components of our crossovers.
Folia, our entry level model, is the embodiment of this philosophy in detail: a simple cabinet, with a single layer finish, using a paper cone in place of carbon, an ABS bowl instead of Zamac combined with high quality components. It's medium-bass woofer is directly inherited from the Abscisse and Cantabile, with the same coil on Kapton stand, the same ventilated speeder, coupled with the same silk cone tweeter as the Cantabile Suprême uses... In short, the best is hidden, but you can hear it very well !
LC >
7) We believe the weakest link in any HiFi system is the loudspeaker (and its interactions with the listening room) while many audiophiles focus their attention on less relevant components such as amplifiers or cables (!!!). What do you think of the modern DSP approach to cure room acoustic problems and speaker non-linearities?
JCR >
Adjusting amplitude/frequency can't solve all the acoustic problems in a listening room. Even if measurement techniques and digital processes have made significant progress, realities and physical laws are inescapable. The reberb time of a room just can't be shortened by a digital correction.. Here is the main pitfall for coupling a loudspeaker and a room. The problem will be more easily overcome by a well-designed loudspeaker with a rapid impulse response and an optimal damping than by using a maximum correction of the room with a bad speaker... An inferior or a bad loudspeaker will never sound better whatever the correction is ! Maybe you will obtain better curves and numbers, and a better linearity but the impulse response will be worse. There is no big mystery: good cooking is made with good ingredients only...
LC >
8) Which are, according to you, the areas where we should expect improvements due to technology? Modern loudspeakers employ, more or less, the same technologies of, say, 50 years ago. For example, do you think that active, DSP-controlled loudspeakers could represent a step forward?
JCR >
Of course ! I'm convinced this is the future. More and more active systems with DSP support will appear in the coming years. I have been involved in this technology for a long time and for the last four years I've been working on a digital system project. The recent progress and development, and the computational performance combined with the digital sampling of high frequencies allow impressive results, while respecting musicality without flattening down the message.
The passive crossover of a traditional speaker is still the weak point. Because their variable characteristics, which, depend on the frequencies as well as the insertion losses they incur, present real problems for amplifiers that have to deal with a charge that slides from resistive to capacitive... Briefly, this requires more current and more dynamic range together with an increasing risk of data loss that affects the musical message.
A speaker filtered before the amplification is unrecognisable compared to it's own passive version... More dynamic, more detailed, with a superior mechanical resistance, a better damping, a more controlled phase. Theorically, everything is better. But it doesn't mean that any speaker will fit any box and will give good sounding results.
Once more, critical listening is essential. While measurements quickly demonstrate satisfying results, carrying out the realisation is still extremely difficult. Emotion and timbers are fragile, and have to be reproduced with delicacy and respect. This requires long hours refining and improving all parameters... as thoroughly as with a a traditional passive speaker. (Especially for amplifiers, the quality of all components, wiring and mechanical processing is extremely important and determines the ability to respect the harmonic gradation of timbers...).
But however spectacular the results obtained may appear to be, we still have to wait until we can release the final and ultimate system... Musicality and emotion are essential to me, not the decibels...
LC >
9) One of the main challenges of the HiFi world is to involve the young generations in high quality listening. Keeping prices low and things simple is a good place to start but perhaps the HiFi industry should try to design new, user-friendly components for teenagers. What are your thoughts on this issue?  
JCR >
It's true enough, but as as paradoxical as it might seem, I believe the opposite... The effect of having a huge digital library at their disposal will shape new generations' taste and appetite for music. In my opinion, this has to be placed in perspective with what happened previously : when a teen, I had almost a hundred LPs and hundreds of tapes. This was not the case for my friends and I felt as very privileged. Today, music – generally speaking – has no tangible limits and can be practically listened by anyone, at any time, anywhere.
Do not put words in my mouth but I would suggest even MP3 is of higher quality than the average audiocassettes we had back then, don't you agree? I have the feeling that there is an old mania in hi-fi world: that everyone seems to be convinced that everything was better before... I prefer to say that hi-fi  is going hand in hand with tomorrow. Because the way music is consumed today things will never go backwards...
LC >
10) Tell us something about your future plans at JMR...
JCR >
A brand like JMR has its future in the idea that beautiful sound and beautiful music have to be shared with the widest public possible. Young or old, audiophile or not. I do not want JMR to become bigger, I only desire to be able to produce loudspeakers that go with people's taste for music, bringing them real emotion, as long as possible. As Debussy said: " Music does not conveys emotion, music is emotion". Working as I do for people's enjoyment is something amazing and I'm delighted to be able to make my living from my passion. I hope I'll be able to go as far as possible in this way, the same way my father who started 50 years ago; and thereby touch the dream of the "beautiful sound" we have been sharing together.
Courtesy Jean Claude Reynaud for TNT-Audio.
Copyright © 2014 Lucio Cadeddu - direttore@tnt-audio.com - www.tnt-audio.com
[ Home | Staff & Contacts | HiFi Playground | Listening tests | DIY & Tweakings | Music & Books ]