[ Home | Staff & Contacts | HiFi Playground | Listening tests | DIY & Tweakings | Music & Books ]
An interview with Virtue® Audio

by Nick Whetstone (March 2009)
Questions to Seth Krinsky, owner of Virtue® Audio
[Italian version]
NW >
1) What made you want to start a hi-fi business?
SK >
2) Nick, I wish that I could tell you that I was a concert pianist and brilliant engineer who built small time-machines in my garage before starting an audio company. In fact, I'm just a creative person like so many artists in so many fields, driven by a passion for creating beautiful things and sense of justice that guides how we price and position our products.
There are a number of proximate events in the formation of Virtue® that I'm happy to share. During the so-called 'dot-com' era in the early 2000s, I was working 18-hour days and spent very little time relaxing and enjoying life. The regime was unsustainable and eventually I burned out, stopped work, and took off for Europe for four months. And around that time, I bought my first 'high-end' sound system, used on AudioGon.
We live in a very visual world and like many future customers; aural pleasure was not a big part of my life. However, I'm convinced that the new system was single-handedly responsible for lowering my blood pressure and a new sense of peace to my life. Moreover, I was entranced by the workmanship of the gear. The heavy, brushed aluminum, purposeful design, and sheer weight clearly differentiated them from the other black boxes in my AV rack.
On the balance, however, I found it difficult and expensive to satisfy my new-found love. I wondered whether it would be possible to produce new high-end equipment at used equipment prices. And that was really the core inspiration.
NW >
2) Was it as easy/difficult as you anticipated?
SK >
In fact, launching Virtue® was 20 times more expensive and took 18 months longer than anticipated, around three years gestation total.
NW >
3) I really like the feel of the Propeller Posts. How did you come up with that idea?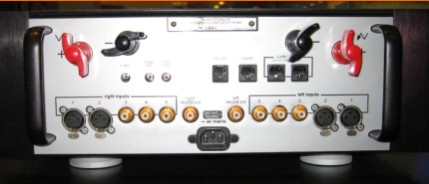 SK >
3) The Propeller Post® actually drew its inspiration from a Mark Levinson amplifier that I saw in a dealer showroom in Hong Kong.
After fumbling with so many round binding posts, wondering whether the cables were really locked-in, the Levinson design seemed so reassuring. What I didn't like about the Levinson posts is that they felt angular and uncomfortable to twist. They were closer to wing nuts than what I wanted; an extension of my own fingers.
Around a month later, I was visiting my grandfather in South Africa, and we came up with a post that was the right size and had the right tactile sense of authority when tightening. I had the Propeller Post® modeled in CAD and then found a great connector supplier to manufacture it. The underlying post was a standard issue model with a notch on the end so that cable could be soldered directly to it rather than the flimsy solder tab more commonly used. I ordered some Tellurium copper from England to make sure that the high-end version provided a virtually perfect connection.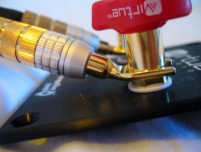 Over Thanksgiving in 2006, I anxiously unwrapped the first Propeller® Post sample and ran upstairs to get my PS Audio Statement cables. I put the big spade into the assembly and started to screw down. It only took a half turn before discovering the colossal design flaw. The propeller would not clear an angled spade connector!
Plastic tooling is very expensive and I hoped to find a solution that would not require reworking the top. It turned out that a simple brass bushing - 7mm standard and 12mm optional -- would not only give the top clearance, but also decouple rotational torque from the spade (or bare wire). The Propeller Post® was born, again.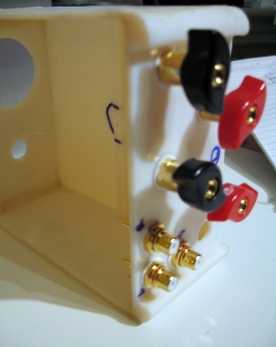 NW >
4) What was the design inspiration for the little Virtue® amplifier?
SK >
4) After two false starts, the design for the Virtue® amp you see today started with four Propeller Posts® and a blank sheet of paper. The design goal was quite simply to make something affordable yet good enough to be 'a daily driver.' It seemed to me that there just weren't many 2-channel amps under $400 which I would want to keep around for more than a few months. Either they sounded bad, looked bad, had mediocre build quality, were missing a subwoofer output, had poor bass response, or couldn't drive difficult loads. We didn't want to be weak in any of these areas and knew that if we were to have a strong brand and repeat buyers, we needed to over-build it, over-power it, and include a subwoofer jack.
NW >
5) How did you decide on such a small form-factor? Was that limiting?
SK >
5) Well, we definitely wanted 'big amp' performance and frankly, we didn't try to make a particularly small amp. However, we also knew that the power supply would probably be outside the enclosure and we did not start with the assumption that the amp would be a pizza box that would fit on a rack. Rather, we knew it would be more widely accepted if it would be no larger than necessary.
From a design standpoint, the original design profile flowed from two requirements: accommodating four propeller posts and an IcePower® module, which had shown promise in testing. Propeller Posts® are around 33mm diameter and if you layout four of them on the back, along with 2 inputs, power, and subwoofer out, you'll wind up with something like we've got.
In the original plastic mockup, you'll notice that the recessed back-panel, only slightly modified in the current design. That was another design criterion: hide those RCA jacks as much as possible.
We also anticipated sell high volumes through a warehouse, so interchanging parts would not be a problem. So we made the unit customizable. The enclosure is a two-part, two-tone, all-aluminum chassis that functions as a large heat-sink and also a Faraday cage. The outer shell is removable and exchangeable (in a few months when we will sell shells separately), with four nicely counter-sunk hex screws.
NW >
6) Why did you choose to use Tripath technology? Surely you knew that Tripath was not going to survive as a company much longer?
SK >
6) Concurrent with designing the enclosure, we were looking at a large number of amplification technologies: Tripath, Hypex, ICEpower®, Philips, Cirrus Logic, Analog Devices, Tubes, and others. Hypex was amazing but too expensive. Tubes were ideal, but in order to support even one reasonably sized tube (for aesthetics at a minimum), the final unit would have been too large, heavy, and expensive.
We liked ICEpower® and could have come to market a year faster had we chosen it. However, there was something that Tripath offered that ICEpower® could never deliver: a rabid fan-base. Many, many customers out there just love Tripath. There's just a lush warmth and detail with these amplifiers that is both unmistakable and hard not to love. Our lead engineer, Roger Sheker calls it "toe-tapping realism." Michael Mardis calls it 'that Tripath sound.'
Although no two Tripath amps are alike, they are mostly quite good. Red Wine, Chord, Sonos, Winsome Labs, 41hz, Bel Canto, Audio Research, and others - had all proven the promise of the platform. So some time in mid-2006, I did something really crazy. There was the possibility that Tripath's remaining inventory would be destroyed after bankruptcy, so I plunked down my life savings for tens of thousands of Tripath chips in limbo in Malaysia. My family has still not forgiven me.
NW >
7) How long did it take to get the V1/V2 right?
SK >
7) It took a LONG time, around two and half-years to for the little amp to sing. It turns out that using this technology is mostly a black art and is extremely sensitive to parts selection. When Roger Sheker from Audience joined the project he did a part-by-part analysis and with few exceptions improved each one of them, as well as the layout and much more. Many of the parts could not be procured by our OEMs and several important ones were completely custom-built for us (ie. inductors and capacitors). DHL was the big winner and I suspect why they are only folding up their domestic shipping business this year; we kept the international side solvent.
NW >
8) How much is Virtue® Audio a business, and how much is it a hobby?
SK >
8) Much of what you would call the high-end audio business today is a hobby. Goods are made one at a time and sold for very high price, sometimes a fair price, but a high price. The proprietor struggles along, imprisoned by a dream. And in that respect, we're no different. Nobody on our team makes a living wage from Virtue®. We all have other things going on to make ends meet and Virtue® remains a hobby, a labor of love.
However, that's where the similarities to boutique audio companies end. Virtue® differs because low-volume is not an option for us. There are plenty of companies offering fantastic, mind-blowing products, for a fortune and to put it plainly, I don't find that model interesting. The greater challenge is to bring the sensory experience of high-end audio to the masses. That's a truly 'virtuous' undertaking, isn't it?
So if you embrace high quality, low prices, and cutting-edge designs - there's just no way to do what we are doing on a lark. In that respect, this is very much a serious business.
NW >
9) Why did you decide to build your own products rather than resell somebody else's?
SK >
You torture me, Nick. It would have been so much easier to be a reseller. But frankly, if you want to elevate the customer experience, build quality, design, and price, you must own the brand. Our strategy comes at a high short-term cost, but we think that in the long run, it's the best approach. There's another point to make here, and I don't want to make it too strongly because diversity in any market place is wonderful. Part of my own dissatisfaction with buying high-end audio is that the buying experience is confusing. Buying an amplifier at a large reseller is as nerve-wracking as picking a salted snack at the grocery store. There are so many choices; unnecessary choices. So even if I were a reseller, I would choose to resell just one model, the Virtue® amp. Why would I want to stock 10 other products that aren't nearly as good sounding, over-sized or under-powered, and often more expensive?
NW >
10) Have you been satisfied with the response to your first product, the V1 amplifier?
SK >
10) The market response has been astonishing. Since you wrote about us last year, we've been featured in many online publications and we haven't yet met a reviewer who thought the product was mediocre (I hope that's not interpreted as an invitation ;-). More importantly, our customer testimonials are unbelievable. I would urge you to check our site frequently to hear how this little bundle of joy is spreading its sunshine every day.
Let me add something else here, about which we cannot claim responsibility for good fortune. Only in the internet era could a company with no pedigree at all, an unknown company, have such a good shot at success with such a small marketing budget. The amazing acceptance we have seen proves the basic principle of Seth Godin's little book, Purple Cow.
Marketing today is less about full-press advertising than it is about buzz and building great products is the new-new. Lore has it that Toyota spend almost a decade perfecting the Lexus LS400 before releasing it in 1990. I'm sure that people thought Toyota was crazy to take so long perfecting their vehicle. Why not launch something mediocre and advertise the heck out of it? Many people who love me advised me to do the same. Each technical problem we encountered forced rework that put us further in the red. And I'll admit that the first units off the line had some issues; we even postponed Sensation entirely. But we didn't compromise the product to have anything left over for advertising. That's the new start-up paradigm. We used every nickel to build something worth talking about and I'm just so happy when I hear that people are talking.
NW >
11) Where is Virtue® Audio going from here? What other products will you be producing?
SK >
We have some incredibly talented engineers and they are full of great ideas. Our vision is to ultimately produce a complete and affordable home audio system, and one day we'll get there. For now we're just focusing on what we do really well and that is amplifiers. Frankly, we would much rather complement than compete with the thousands of boutique companies making speakers that love our amps.
You already know that there is a follow-on to the Virtue® ONE/TWO called the Sensation. Sensation is a 'souped-up' version of the small amplifiers and it will deliver an additional punch, three inputs, and a remote control. And for those who just love the Sensation 'look' we're going to offer a matching CD-player as well.
In addition, we've started to do some really nice, white cables. There's also a new team-member who has been charged with building custom cables for special customers. The cables look great and we're excited to offer them because it's another niche where high value is hard to find.
NW >
12) How concerned are you about how the current world economical climate will affect your business?
SK >
These are tough times and nobody is immune from consumer spending cutbacks. In turbulent times, there will be winners and losers. I think that when the music stops playing there will be fewer chairs in the room and we hope to be sitting in one of them.
We think that resource-constrained buyers will be more critical of value, the bang they are getting for every buck. Also, buyers are becoming more sophisticated. They're frequently willing to buy from reputable companies who offer them a good deal, without first listening in a 'bricks-and-mortar' shop. Those changes in buying patterns play to our strengths: high value, excellent sound quality, and impeccable business practices.
NW >
13) In retrospect would you have started Virtue® Audio if you had known all that it involved?
SK >
12) As I tell my friends and family, you can replace the money but not time. Starting a company like Virtue® is a once-in-a-lifetime opportunity for a single person like me. Like many start-ups, Virtue® has required an un-wavering, some would say delusional optimism. In the face of financial and production challenges, there is a limit to what one can endure. However, our story is not uncommon in this industry, which would some would mistake as science. 'High-end' audio is much closer to art and as artists; we drive ourselves to extremes in order to bring beauty into the world.
At T.H.E. SHOW a few months ago in Las Vegas, an engineer from a really high-end tube manufacturer sat in our room for around 2 hours, mesmerized by the Virtue® TWO. I asked him how he liked it and he said "fantastic... " And then he said: "this is the most honest product here." Comments like that make it all worthwhile.
NW >
Many thanks Seth for taking so much time to give us such a fascinating insight into the manufacturer's side of the hi-fi business.
---
Questions to Roger Sheker, designer of the Virtue® Audio V1/V2 amplifiers.
NW >
1) What made you agree to get involved with a new and unknown company?
RS >
1) At the time, I had some extra time and as I had achieved good results upgrading an original T-Amp. It was clear that Seth had the foundation for a very promising platform and I was curious as to the sonic merits of the 2 chip set. In addition, I was drawn to the prospect of giving 'music to the masses.' In the past 10 years working with Audience has been a privilege and an honor, but what I do for them will always be out of the reach of the average consumer.
NW >
2) Do you get more of a buzz out of designing to a tighter budget?
RS >
2) Buzz? Sure, there was some of that. I don't think we'd be doing this interview right now if we priced the little Virtue® ONE at seven or eight hundred dollars. Delivering exceptional value is the cornerstone of the Virtue® brand. This is who we are.
NW >
3) What sort of compromises are involved making something like an amplifier to a tighter budget?
RS >
3) We started with the Tripath chips as well as the opportunity to use Audience capacitors and hookup wire. Aside from these, we needed to stay away from most of the other recognized upgrade parts. Some of the parts the high end Tripath amp manufactures use would be nice but are just too expensive. Despite these challenges, the results have been way beyond any reasonable expectations.
NW >
4) What was your main aim in designing the V1 and V2 amplifiers?
RS >
4) Overall value! This was not a cost no-object project but we wanted the amp to sound like it was!
NW >
5) What aspects do you have to be most careful with when designing digital amps.
RS >
5) There are a lot of factors involved in the design and layout of all ANALOG SWITCHING AMPS. Tripath uses some tricky digital feedback stuff but it still is an analog class D amp. There are many trouble areas including parts selection, layout, and never ending EMI/RFI issues
NW >
6) How much say did you have in the aesthetics of the V1/V2, and did the chosen design have any limiting affect on the electronics?
RS >
6) I selected the color and brightness of the power on LED. The aesthetic aspects were all complete before I became involved.
Some of the layout requirements make manufacturing more difficult but weren't much of a factor in the sonic aspects.
Probably one of the most difficult design aspects was getting the heat safely out of the chips. Seth came up with the heat pipe idea and found it to be not only the best solution but surprisingly it proved to fit within the budget.
NW >
7) Is the V1/V2 as far as Tripath amps can go or do you envisage improvements in the future?
RS >
7) The sonic qualities of the little amps will be a tough act to follow. The kinds of things we're going to do to top the Virtue® amps are closely held secrets. I will state the obvious in that customers who use this amp in desktop systems would like a universal USB input from their computers. We're certainly planning that in the next generation.
NW >
8) In retrospect, is there anything that you would change about the V1/V2?
RS >
8) Of course. Our greatest challenge right now is actually producing these amps. Future changes would make them easier to build but of course, there would be other changes as well relating to EMI/RFI, sonics and higher power handling.
NW >
9) You don't only design amplifiers, so what is your favorite item of hi-fi to work on?
RS >
9) This is subject to change but right now I am most excited with my many new speaker projects for Audience. Our new A3 driver came out far better than I had any right to expect.
NW >
10) Does working so closely with hi-fi adversely affect your enjoyment of listening to music?
RS >
10) For me real enjoyment is at a real live acoustic music event. It is very hard for me to not be listening to problems when I am listening to a system. Lately the problems have been more in the recordings with things like the types of microphones used, how it was mixed and how it was generally corrupted with echo and compression etc. This is the disadvantage of having a high resolution system but given good recordings it can be magic.
NW >
Thanks Roger, it's good to try and understand the thought processes involved in designing hi-fi equipment. I'm sure all those who have bought the Virtue® ONE or TWO will find your answers particularly interesting.
---
See here for the TNT review of the Virtue® ONE/TWO amplifiers.
© Copyright 2009 Nick Whetstone - www.tnt-audio.com
[ Home | Staff & Contacts | HiFi Playground | Listening tests | DIY & Tweakings | Music & Books ]