[ Home | Staff & Contacts | HiFi Playground | Listening tests | DIY & Tweakings | Music & Books ]
Official Show Website Capital Audiofest - USA
Event dates November 3-5, 2017 in Rockville, Maryland, a suburb of Washington, DC
Report: November, 2017
Reporter: David Hoehl - TNT USA

It's role reversal month at TNT--last week, modern equipment maven Andy Norman gave us a stimulating tour of the Japanese Kanazawa Phonograph Museum, with a (to me, at least, mouth-watering) wealth of mechanical players on display. Now I, the vintage guy, offer my impressions of a show held in the DC suburbs to showcase the latest in audiophile hardware.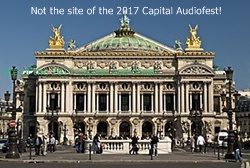 Just after finishing high school in the late 1970s, I joined a group of my former classmates in a school-sponsored two-week European bus tour ending in Paris. The morning after our arrival in the City of Lights, I, even then an opera and classical devotee, set out on foot in search of the Paris Opera (see photo, right) in hopes of getting a ticket. My debut as a boulevardier turned out to be a bit of an adventure: I knew not a word of French, had at best a vague notion of our hotel's location and a sketchy paper map for guidance (remember, GPS wasn't available yet), and at one point only narrowly avoided being swept up in a steet protest that came boiling around a corner just as I approached from the other direction. Still, I did eventually stumble my way to the Opera, only to be told no tickets were available except box seats for the equivalent of $150 each, far out of reach for a kid on tour with a handful of francs in his pocket. At the time, I took that at face value, but today, older and wiser, or at least more cynical, I can't help but suspect the Opera's ticket clerk just didn't want some unwashed teen from the American provinces spoiling his theater's air of sophistication.[1]
If I were a CD, I'd have exactly the same feeling about this year's Capital Audiofest, which took place at the Hilton hotel in Rockville, Maryland from November 3 through 5. (Admit it: you were wondering where I was going in that last paragraph, weren't you?) Among the gradual changes I've noticed in attending this large and growing, well-run annual event for some years now, perhaps the most pronounced has been the CD's progressive exclusion from the exhibits. Once the very embodiment of the cutting edge, the CD seems now to have completed its transition into a pariah whose presence in a "high end" display would be as embarrassing as, oh, serving Boone's Farm watermelon wine[2] at a five-star restaurant. Well, OK, maybe the CD hasn't sunk quite as low as Boone's Farm watermelon--maybe more like the "strawberry hill" flavor.
Fortunately, I'm not a CD, just a resident of DC (or, at least, its suburbs), and so I received not some cock-and-bull story about a house sold out, down to the last affordable seat, for a mundane evening performance, but the same warm welcome I've come to expect from local organizer Gary Gill and his staff of friendly assistants, many, like me, members of the newly organized DC Hi Fi Group. I visited for three hours or so on Saturday the 4th, and as usual everyone strove to make the antiques-fixated writer for that odd little Italian Webzine feel right at home. Admittedly, I didn't visit all the exhibits this year; the show has grown large enough to make doing so impractical, at least with the restricted time I usually have available. Still, I saw enough to get some general impressions and notes about some specific exhibits that I hope may be of interest to the TNT readership.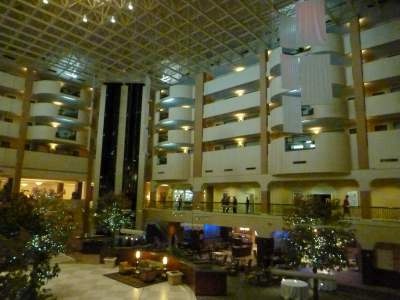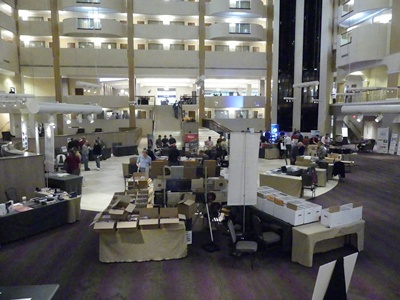 Left: Hotel atrium, 2015 show






Right: Hotel atrium, 2017 show







Returning to the CD, or absence of same, I don't remember seeing a single one in any of the exhibits I did visit. Unless I'm forgetting something, the only CDs I saw were some used discs in a series of cut-rate "$3 each" bins at one end of a table in the vendors' room, moving not at all. The "vendors' room," by the by, was a good illustration of how the show has grown. In previous years, the hotel's vast atrium was, well, the hotel's vast atrium. This year, by contrast, it was pretty well filled with the vendors, most selling LPs but some selling equipment (new and used alike) or various accessories.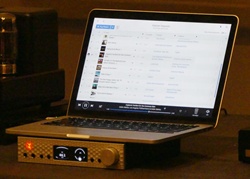 Turnbables, by contrast, were pretty close to universal. Before you rush to proclaim "The CD is dead, long live vinyl!" however, most of them seemed to be present only for display or out of a sense of obligation. The actual music sources, in most (but, as we shall see, not all!) cases, were digital streams or files called up from laptop computers or the like; for example, see the photo to the right, taken in the Bob Carver room. That's a big change; in prior years, although some such digital sourcing was in evidence, the LP seemed to be heir apparent as the universal replacement for CDs in demonstrations. This year, I had the impression non-physical digital really came into its own as the convenient format of choice for traveling displays.
I've noted a couple of developments suggesting the show's growth. First, the character of the displays has become more sophisticated. In earlier days, most were pretty utilitarian affairs, shoehorned into little hotel rooms without much attention paid to their "curb appeal," as the realtors call it, beyond making sure the arrangement was tidy and no spaghetti cabling was on view. This year, a surprising number of the displays, in large rooms and small, were darkened with lighting carefuly arranged to showcase the equipment in dramatic fashion. Fortunately, in the interim I have bought a new camera; I don't think my old pocket-sized point-and-shoot would have fared well in these more more demanding circumstances. Unfortunately, the guy behind the lens hasn't undergone a similar upgrade!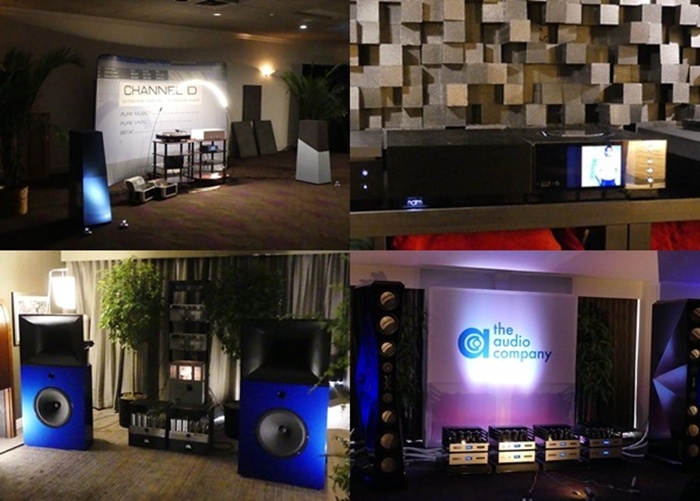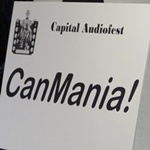 A second area of growth is the show's coverage of headphones, which has gone from incidental to being a veritable show within a show. "CanMania," as that segment is known, while still easily the show's quietest area, was hopping with enthusiasts, and I could easily have spent as much time there as I did in the rest of the exhibits put together. In a break with the old view of headphones as a road to good sound for those who can't afford speakers, at some of the displays I also could easily have spent as much money on one set of "cans" as on an entire well-above-average stereo system! Oddly enough, it was at CanMania, during my brief walk through to survey the space, that I spotted a display referring to Thomas Edison and ended up in a conversation about Leon Scott's Phonautograph, whose originally record-only artificts, dating to the 1860s, in recent years through some computer wizardry have begun to yield up sounds predating Edison's invention of the first record-and-play-back system.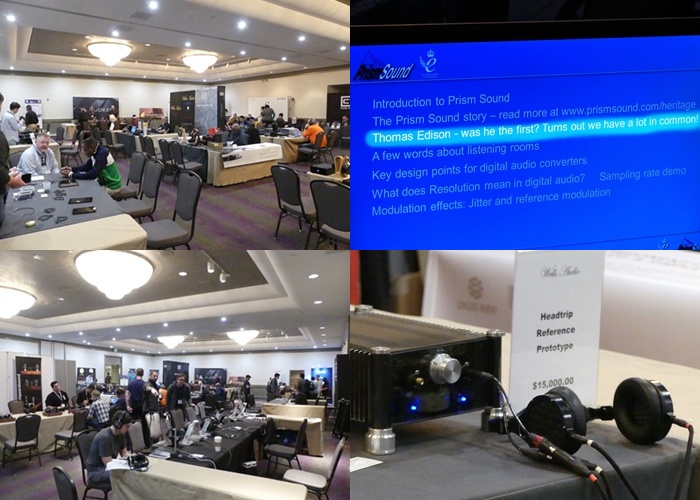 Which brings me to the subject of equipment suitable for my main passion, pre-LP records. Pickings were pretty slim, but one exhibitor was right in the territory: Technics, a newcomer to the Audiofest this year, was showcasing its newly reissued SL-1200 turntables. I never got to speak to the representative, who was deep in conversation with another attendee, but I did hear his response to the question, "Why do these tables need such wide pitch adjustment?" Said he, "It's something 78 collectors find valuable." I also heard him explaining that the tonearm, redesigned to satisfy audiophile standards, provides for interchangeable headshells in part for the same reason. Technics "gets it"!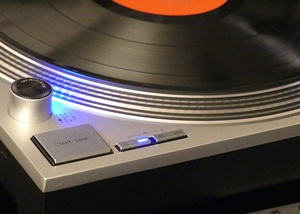 Technics was a standout in a couple of other ways. First, unlike most of the exhibitors, Technics was actually playing music on one of its turntables, not drawing on a digital source (not, mind, that I necessarily have anything against digital sourcing personally; I'm simply noting the difference). Second, the music on audition was an Albinoni oboe concerto, quite beautifully recorded by a group called The New York Symphonic Ensemble under one Mamoru Takahara. Although still by far the exception rather than the rule, in this way Technics joined a handful of other exhibitors. Can it be that the stranglehold of smooth jazz is beginning to loosen just a bit?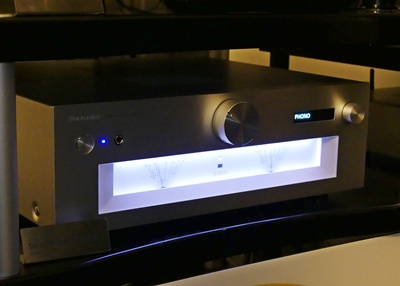 Be that as it may, two variants of the SL-1200 were on display, the SL-1200G and the SL-1200GR. From what I overheard the representative telling that other attendee, the G is essentially a GR on steroids, intended for more demanding environments like commercial use. For example, the G weighs about half again as much as the GR because of its more robust skeleton. Both turntables are direct drive units with interchangeable headshells; a knob-controlled fine pitch adjustment; and a second, wider slider-controlled pitch adjustment of +/- 8% that can be doubled to +/- 16% by means of an onboard control. List price for the GR is $1,700; for the G it is $3,400. Complementing the two turntables were a Technics statement amplifier and speakers. The amplifier was the SU-G700 integrated, a beefy-looking unit with dual front analogue meters developing 70 watts per channel into 8 ohms. The speakers were the four-ohm SB-G90 model, with frequency response hitting its -10 dB points at around 30 Hz and 85 KHz. The sound was lush and full, and the equipment's look was stunning, quite a departure from the "black plague" aesthetic that dominated audio in general and Japanese gear in particular starting back in the 1980s.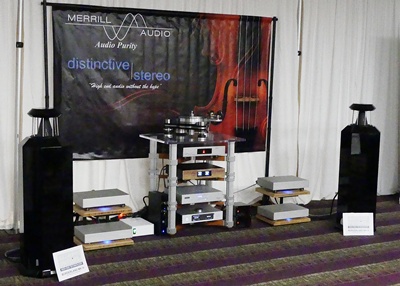 One display was the scene of some intergallactic, time-traveling drama: two fearsome Daleks invaded the Merrill Audio display just before I entered. Fortunately, Doctor Who arrived just in time to save the day after a furious battle. He then proceeded to outfit the Tardis with a new audiophile sound system, capable of high frequencies only K-9 could hear, before zooming off on another mission to save the galaxy.
Ahem.
Actually, those peculiar towers were German Physiks loudspeakers, sporting what was described as an omnidirectional bending wave DDD driver, flat from around 200 Hz to 24 kHz, that the company describes as having been inspired by the Walsh drivers in the Ohm F. Claimed advantages include superior dynamic response and imaging throughout a listening room, not limited to a "sweet spot." Depending on the model, the bottom end can go down as low as 15 Hz. The Borderland Mk. IV model on display has a claimed low frequency limit of 28 Hz and impedence of 3.7 ohms. The manufacturer recommends the minimum amplifier develop a minimum of 160 watts at 4 ohms. Not, then, a good match for a flea-powered T-amp! In the Merrill room, amplification was courtesy of Merrill Audio Veritas monoblocks, which easily met that minimum, being rated at 700 watts into 4 ohms and 1,200 into 2 ohms. Feeding the system was an Aurender N10 music server with 4 terabytes storage. Prices: for the amps, $12,000 per pair; for the server, $8,000; for the speakers, $36,500 per pair in the high gloss black finish. Hmmm...maybe headphones remain the inexpensive route to good sound after all!
Technics was not the sole old, old name that was new to the show: another was Bob Carver. In keeping with the firm's reputation for doing things in a big way, the Carver display was in a large conference room, possibly the largest in the show, not one of the smaller converted hotel bedrooms. Here, as noted above, the music source was a computer; when I entered the room it was playing--what else?--smooth jazz, but then the representative switched over to that longstanding system demonstrator chestnut, Aaron Copland's Fanfare for the Common Man.
This display was tailor made for our tube-loving readers. On parade were the company's Raven 350 tube amplifiers driving the Amazing Line Source speakers, also useable as flagpoles when not playing music. Kidding aside, the system delivered the goods when called upon for those big drum beats and trumpet calls in Copland's showpiece.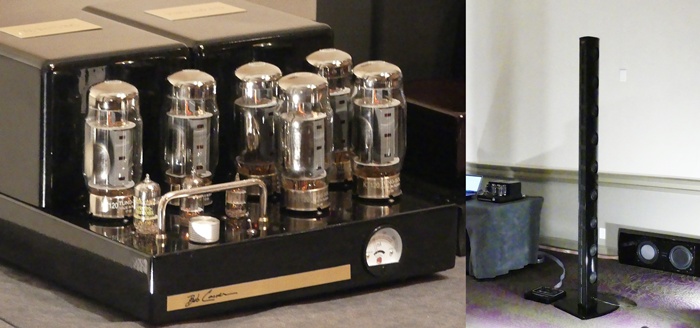 Both the GamuT room and the adjacent Dr. Vinyl room were displaying turntables by the Slovenian company Pear Audio, a name new to me. GamuT won the day's Nostalgia Award from me by demonstrating with Arthur Fiedler's classic Living Stereo LP of the Offenbach-Rosenthal Gaite Parisienne ballet music, successor to Fiedler's earlier mono account that was one of my favorite records as a little boy. Pear offers four models, and two were on parade here; GamuT was spinning the top-end Kid Thomas, Dr. Vinyl the one-step-down Kid Punch. Both samples sported the company's own Cornet arms.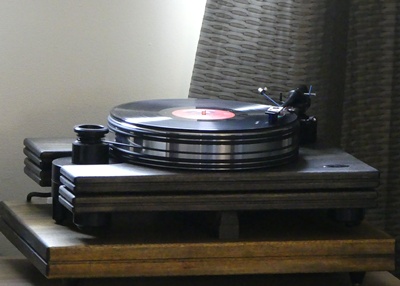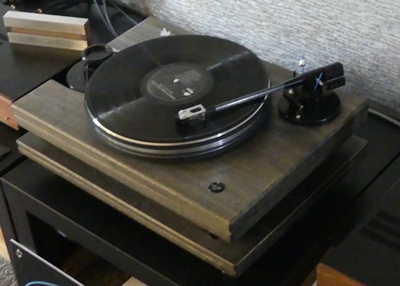 Left: GamuT






Right: Dr. Vinyl






Amplification in the GamuT room was through the D3i dual mono preamp and D200i power amp connected to RS3i speakers. In lieu of conventional grilles, the GamuT speakers sported an array of little bungee cords stretched between metal bars running up either side of their faces. The effect was visually striking, and I imagine they come as close as possible to avoiding any grille colorations without actually having open drivers, although somehow I have my doubts about how effectively this arrangement would protect the cones from prying little fingers or paws. No question, however, about how these Danish speakers sounded: they made Arthur Fiedler and his band really shine. The pair on display sported a lovely, glowing natural finish, much nicer than it looks in my picture, and the company also offers finishes in several other colors. They may look like bookshelf speakers or monitors, but the stands are an integral part, and their rear-facing ports would preclude placement on shelves anyhow. According to GamuT, the speakers are rated at 4 ohms and, despite their compact size, have frequency response exending down to 34 Hz. Sensitivity, however, is only 87.5 dB, so expect to mate them with a beefy amp. The D200i certainly sufficed, being rated at 400 watts into 4 ohms.
Next year's show has already been announced for November 2 through 4, 2018, in the same location (the Hilton at Twinbrook Drive in Rockville, Maryland). As each year the show grows bigger and better, I'd certainly recommend anyone in range of the general DC area plan to stop in and take a look.
Enjoyed while writing this article: CDs! Played back on an ancient Sony player through Grado headphones far more modest than the most lowly at Canmania at that. All included in a recent group of Testament reissues I snared from the Berkshire Record Outlet discount house: Mischa Elman in Bruch's second and Beethoven's violin concerti and Vitali's Chaconne, all from mid-1950s Decca masters, and the Brahms third symphony in one of the celebrated performances by Arturo Toscanini leading the Philharmonia Orchestra.
[1] - Perhaps the ticket clerk at the Paris Opera actually did me a favor, whatever the reason. To be sure, had I bought that ticket, I would have attended a performance at a fabled house I am unlikely to visit again, but as a performance it probably would have been something fairly routine by the standards of the place, not significantly better than others I have attended since. Instead, I ended up attending with the tour group the Follies Bergere, something unique to Paris. Moreover, my outing was by no means wasted: on my somewhat uncertain walk back to the hotel, I stumbled across a little specialty shop selling--78s! The prices were sky-high, but I did buy my first ever center-start Pathe record, a couple of selections from Planquette's The Chimes of Normandy sung by Albert Vaguet, one of eleven 78s I bought in scattered spots along the tour route and cradled on my lap the entire 13-hour flight home. My parents never let me live down that when I disembarked from the plane after that trip, I came walking down the gangway carrying all those records!
[2] - For our readers not versed in US oenology, suffice it to say Boone's Farm is, and long has been, the stereotypical cheap, candy-sweet illicit adolescent buzz.

Copyright 2017 David Hoehl - drh@tnt-audio.com - www.tnt-audio.com
[ Home | Staff & Contacts | HiFi Playground | Listening tests | DIY & Tweakings | Music & Books ]