[ TNT | Who we are | Listening tests | HiFi Shows | HiFi topics | Tweakings | Inter.Views ]
Bari Hi-End 98 - Bari - Italy
[Italian version]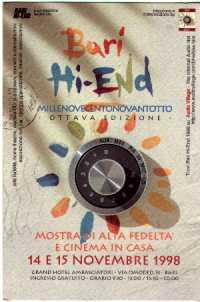 So you thought there was just one HiFi Show in Italy....wrong!!! Introducing you the 8th edition of the Bari Hi-End Show, taking place on the 14th and 15th of November in Bari, a beautiful town in the deep and sunny South of Italy.
The Bari Hi-end Show will be located as usual at the Grand Hotel Ambasciatori in Bari and it will host both Hi-End and Home Theater Companies.
The previous editions have been very crowded even if the Show has slipped towards other audio fields different from the one that really matters to us: the pure HiFi. There were even car audio and pro/PA demonstrations, making the listening experience a real challenge. It seems that this year the organizers have divided the rooms in a far more rational and logical way so that we hope to be able to listen to all the Hi-End systems in pure relax. Some real Music event are sheduled too.
As usual TNT-Audio will be there, just to listen and then report to you, dear readers, what this Bari Hi-End Show is all about. TNT-Audio will be represented by me, Mimmo Cacciapaglia, if you meet me just say hello there!
© Copyright 1998 Mimmo Cacciapaglia
[ TNT | Who we are | Listening tests | HiFi Shows | HiFi topics | Tweakings | Inter.Views ]