[ TNT | Who we are | Listening tests | HiFi Shows | HiFi topics | Tweakings | Inter.Views ]
Reportage: Bari Hi-End 98 - Bari - Italy
[Italian version]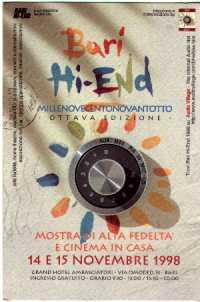 I had a meeting with Fabio Valenza, the promoter of the show, scheduled for Saturday morning at opening time. The place was the Grand Hotel Ambasciatori.
There's no need to complain about the Sheraton Hotel of the older editions: a small touch of austerity, in the current situation of the hi-end marketplace should not be considered a serious fault. After all we're all here for the juice, not for the appearance.
While I was driving on the highway to Bari, I was trying to figure out what this 8th edition was going to be mentionable for when I was caught by a subtle suspect that suddenly turned into a firm conviction, so strong to bet with myself a CD: after all the TV, newspapers, tabloids and magazines overexposure I was sure I was going to find it: that Titanic movie on some HT megascreen.
On Saturday morning visitors weren't too many, but they were curious about everything and enough qualified as they *inspected* the places of the exibition.
So I started to go strolling around the rooms.
Just in front of the reception desk the beautiful manufacts of one of the best Italian tube-oriented Companies, Graaf.
I jumped in, anxious to listen to something good but ... nothing: everything was ready to play, hot glowing tubes everywhere but no trace of a cable, a speaker or a cd player. Just amps and preamps. What a letdown! Shocked by such a waste of Kilowatts/h I went out.
I'm still trying to find a good reason for it and I will be so glad if someone will make me know the reason of that dumb layout.
The Italaudio exposition (Yamaha, Energy, MIT cables) was into a fine Home Theater room and there I savoured the taste of winning a bet: Leo Di Caprio was there in the magnificence of Laserdisc and Celine Dion was singing. I went out in a hurry to buy myself a CD, the stake of the bet.
The Chario Loudspeakers exposition was in a very central room at the second floor and it has became a kind of reference through the various editions here in Bari. It's always big, frugal, smart, and very often the best sounding room of the Show.
On demo there were the Academy II Millennium, a big mini monitor or, better, an half mini tower very well matched to an Accuphase cd player and a Classe' integrated amp.
It was not a chance that Giulio Cesare Ricci (Fone' Recordings) used this room in the afternoon for a guided listening-session of his beautifully recorded Fonè records. I think this was the highest moment of the whole Show. Maybe this one and the live concert of Roberto Ottaviano, at night. During this listening session of the Fonè records, concentration was at high levels and everybody's ears were pinned to Music, not to the equipment playing. Everybody was enjoying the Music not the media to reproduce it!
Ultrasound displayed the innovative creations of the italian audio-engineer Roberto Creazzo: multipolar speakers and no-crossover speakers (Rebus, Stratos, Alias) that sounded through current-drive amplifiers Paradox and Paradosso. The system had a very personal and convincing sound. On a table a fine coaxial speaker unit, specially intended for DIYers dealing with S.E. triodes.
On the second floor I visited Linn Italia, High Fidelity-Sonus Faber and Marantz with its ubiquitous dazzling copper chassis and perfectly polished shining bodies. All-audio rooms were very few, and in this few there was NO trace of analogue sources. The level of the quality of the sound was fair, the one you can hear with a well interfaced entry-level set. There were also better examples: Nightingale preamps & amps with Pearl speakers, Bow Technologies and Diapason Carish bookshelves, Audio Physics Step SLE.
I didn't pay so much attention, when I saw these at Roma Audio Show but here in Bari they really caught my ears. they were coupled with a modified Teac two chassis digital source and a Classè integrated amplifier, helped by the gorgeous full range of audio complements by A.R.T. (Millennium 6000 interconnects, power and mains cables, Graphite Q-Dampers, antimagnetic shields, tables, clamps, etc.).
By the way, while I was drifting from room to room, I started thinking there was something wrong.
Let's state this clear: I didn't come here to give awards nor to make nominations of nonsense best-buy's, best sounding, best looking etc. Someone else will do it better in some few weeks.
I just wanted to smell the air hanging around tubes and speakers, engineers and marketing men, visitors and passers-by. And the impression was that a lot of companies look down on the South Italian regions as a second class marketplace. Sales here are low because there are few hi-end shops and there are few hi-end shops because there are few hi-end customers.
Hi-Fi Shows must have the responsability to create skilled audiophiles and the effort of the companies attending these audio shows must have this aim.
Absentees are always wrong, but who was there was...guilty. Shabby display of beautiful equipments that didn't sound are not good for anybody. In strictly commercial terms it is a wrong investment. I didn't have any expectation for any World Premiere but I feel uneasy facing at this lack of respect towards hi-fi enthusiasts and the organizing management.
At the end I want to tell one thing to Fabio Valenza, the man behind the Bari Show: carry on this way if you can. When seen from the point of view of the visitors, the show has been very well organized. See you next year.
I slipped away before the end of the show and I noticed that my CDs were still into my bag. I took with me two vinyls, too.
I musta been crazy!
© Copyright 1998 Mimmo Cacciapaglia
How to print this article
[ TNT | Who we are | Listening tests | HiFi Shows | HiFi topics | Tweakings | Inter.Views ]