[ Home | Staff & Contacts | DIY & Tweaks | Listening tests | HiFi Playground | Music & Books ]
[Italian version]
Festival Report by Hartmut Quaschik - TNT Germany
Published: December, 2004
Costs: 200 EUR each person in double room incl. meals, 30 EUR single room supplement
How long: 2th to 5th, December 2004
Participants: app. 80, not counting "significant others"
Location: Langenargen in Germany, near Lindau
Website with lots of information and tons of more pictures European Triode Festival 2004
Everybody bring your own kit
I already reported on the ETF 2003 festival , and you will note that I am reusing one or two phrases of that article here.
This was now the fifth European Triode Festival, the first three took place in Denmark, near Arhus, in 2000 to 2002. Those festivals are organized around the so called "Joelist" (mailing list of Sound Practice tube/valve DIY magazine), and are heavily influenced by the spirit of using triodes in DIY hi-end amplifiers. All the folks bring their own DIY amplifiers, CD players, turntables, high efficiency loudspeakers with them and in a club like atmosphere talk about the latest tweaks that bring them to heaven. Again the ETF.04 was not a conventional public show with daytime visitors (as this would have disturbed the informal atmosphere) -- the participants had to stay all three days of the festival (which was organized by Wolfgang Braun and Christian Rintelen again).
This was now the second time it took place in Langenargen, and it proved to be even better than in the year before.
Lectures and Shootouts
All small sized pictures below are thumbnails. Just click to see enlarged pictures.
Steve Bench (USA) talked about his LR no C-phono stage, a tubed phono stage without any capacitors neither in the path nor in the RIAA equalization. This phono stage has been used in various setups later and proved to be quite good.
Pete Millet (USA) talked about tailoring the distortion spectrum in push pull power amps, and showed methods intended to minimize distortion or linearize the decay.
The ETF.04's guest of honor, Lynn Olson (USA) talked about current paths in tube power amps, be it single ended or parallel, and showed which components actually contribute to the amp's overall distortion.
Jean Hiraga (France) presented very first hifi recordings leading back to the fourties and the fifties. He told a lot about his audio agenda the past, and how he brought the triode bazillus from Japan to France many years ago.
Manfred Huber (Germany) elaborated on the various methods of providing bias voltage to a triode. In the following shootout the audience rated LOW-R bias best (that is using a low value resistor in the cathode and having additional current from an auxiliary supply - typically the dc heater supply - flowing to it, such that the desired bias would settle), then surprisingly Miss Piggy got a second price (capacitor bypassed cathode resistor), all the other methods (battery in cathode, battery in grid, LED bias, fixed voltage for grid and cathode to ground, non-bypassed cathode resistor) proved to have more or less uncomfortable sounding shortcomings.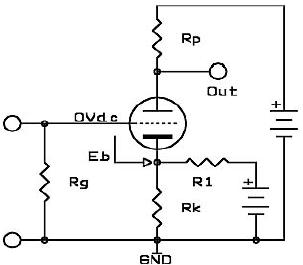 There haven been eight lectures, but I did not attend all.
Interesting hardware
At this festival, a lot of fascinating loudspeakers have been presented.
They even managed to transport a whole super big crazy loudspeaker concept from Munich, which is 220km away, to Langenargen. The original system is owned by Thomas Mayer (Germany), and the setup at the ETF consists of 2 subwoofer Altec 416, 2 mid-woofers Altec 515, a midrange horn TAD4001 plus TAD horn and a Fostex tweeter, and this all each side. Thomas provided all the Altec woofers, Christian Rintelen brought the horns and drivers, and Bernd Uecker (Germany) did all the woodworking with a hand held circular saw. All the drivers are mounted on a 2m high panel and are mounted on extra walls custom made of fibre wood for the festival. To have access to behind, a door is made in each wall. This system took these guys three days before the festival to cut the wood and to install and was still in constant fine tuning during the festival. Nevertheless, it sounded impressive from the first moment that it was powered on.
Ralph Gibbemeyer (Germany) presented his high efficiency fullrange ribbon system. He uses hundreds of neodynium magnets getting a maximum of efficency, and his ribbon is held in a steel frame. These ribbons in fact can be driven by 3 watts single ended power amps. For low frequencies, a JBL 18" woofer is mounted at the bottom of the ribbon panel, in a dipole configuration. Ralph uses an active crossover from Mark Levinson, and for the festival Bodo Kalthoff (Germany) did the bass equalization with a laptop-controlled digital crossover. Analog source was provided either by Bernhard Kistner with his DIY turntable, modified Rabco tonearm and Supex 1000 cartridge or by a grey grease-bearing Garrard 301 with Shindo tonearm and cartridge that I brought to the festival. Ralph and Bodo were occupied fine tuning the crossover for very long, and it was not long before the end of the festival that they got it right. Also it took them two frustrating days to discover that the hum on phono was coming from the metal rack not being earthed.
A trio of three French guys, Marc Henry, Jean-Michel Le Cleac'h and Dominique Mafrand ( website with horn construction formulas, website with lots of pictures doing the horns, website showing their ETF 2004 preparations ) had constructed a two way horn system with TAD 2001 into a horn designed by Jean-Michel and constructed by Marc. Bass was two 12 inch Cabasse woofers in so-called Isobarik configuration. They had a completely digital crossover. While this speaker sounded astonishing clear in the horn region, bass suffered from boxy colorations.
Franz Gysi (Switzerland) presented his small back-loaded horns with Fostex drivers and his version of tube input Gainclone power amp. His system sounded very natural and comfortable.
Johannes LeBong (Germany) showed his Saba green cone loudspeaker in a special resonant enclosure. This system was extremely relaxed and detailed when listening to Nina Simone at small volumes, but did not like electronic pop like Portishead at higher levels.
Daniel Ciesinger (Germany) presented his small Cornu speakers in various versions, using 4 inch Fostex or 3 inch Cantare drivers. I never thought that such good bass could come from miniature woofers. His flat wall mount horn speakers are very special and took him years to refine. Of all horn speakers, these should have the best Wife Acceptance Factor by quite a margin.
Andreas Guhde (Germany) demonstrated a two way speaker with open baffle mid-treble and closed box woofer, which sounded natural and musical, too.
Flea market
On the huge flea market I noticed these two remarkable items: a Verdier turntable clone with Schroeder tonearm clone (asking price 2000 EUR), and a huge 834 power amp.

Some of the German Schroeder aficionados (Heiko Wingender and myself) inspected the tonearm's design and found it technically wrong to a point, that it would never work, regardless how much effort is taken to make it complete. The Verdier clone looked not bad, though.
Musical events
On Friday evening a singer was invited for performance and being taped. Dorit Chrysler, a strawberry lips blonde lady in red, with blue stockings, sang and performed on her Theremin, an electronic synthesizer with volume and pitch being controlled by the hands distance to horizontal and vertical antennas. Now, this was a real highlight in dim light.

After the performance, all her CDs had been sold out to the ETF members ...

Thomas Schick taped some of the songs on Revox tape.

On Saturday evening, a live music band, with a good horn section, played rythm and rock for disco.
The future
Next European Triode festival will be held on Dec 1st to 4th, 2005, same place. The hotel in Langenargen said they will store the wood for the big loudspeaker system until the next festival, so that big system will be reinstalled then. Thomas Mayer promised to bring more powerful amps for this big speakers. Ralph Gibbemeyer plans to bring a corner horn system with coaxial drivers. Christian Rintelen announced a phono amp shootout. This is the last chance for the Germans to bring their really big toys, because Guido Tent (Netherlands), has promised to organise the ETF 2006, which will be held in Netherlands, then.

© Copyright 2004 Hartmut Quaschik - www.tnt-audio.com

[ Home | Staff & Contacts | DIY & Tweaks | Listening tests | HiFi Playground | Music & Books ]