[ TNT | Who we are | Listening tests | HiFi Shows | HiFi topics | Tweakings | Inter.Views ]
The London HiFi-Show 1998 - Standout Report
Phew. Those days last Weekend where quite a bit of a Grind.
Especially for you, our readers, I have traveled through endless Hallways and countless Rooms in the Penta and Excelsior Hotel, searching for the "Absolute Sound".
I can hear you asking.
Did I find it? So what was the best sound of the show? Anything new and Exciting on the show?
Okay, first things first.
The Best Sound of the Show?
It was truly amazing. Dynamic, lifelike. The Drummer sounded like he was hooked up to 6000V AC. Boy did he drive the Song along. The Cymbals sounded so real. Just the right kind of Bite and effortless long decay. And the Bass-Guitar was rippling the Floor (and probably the tarmac outside).

The Rock guitar could slice through a Tree over 50ft with the Sound and Boy the Speed. One could hear each individual note played in one of the thickest Rock-Mixes I have heard in a long time. And the Singers Vocals. Hypnotic. Dark. Brooding. Or Angry, full of life and feeling.

Surely HiFi at it's best?
Well, no. I've been leading you on here. My unequivocal "Best Sound of the Show" goes to the "Queens Head" Pub near Turnpike Lane. The Band playing was called "Shady Deal" and they were seriously getting DOWN! It just shows what no HiFi can do. Reality.

Another "Best Sound of the Show" goes to Antonio Forcione playing Live in the Lounge of the Penta. He sure one is of the best guitar-player I have ever heard. He looses a mark or two for not playing a "da capo" and anyway, where was Sabina as promised?

Last but not least, Sunday Evening saw another Band in the "Queens-Head", this time "The Stealers" who I thought where sure earning their keep.

Nothing beats the Real thing. However the best HiFi sometimes makes you suspend your disbelieve and you are drawn into the Music just as it happens with Music played live.
Before I get to honorable mentions of those Rooms at the actual show that sounded quite a bit like the real thing, I would like to have a little rant.
What was this?
Last Years show was outstanding. Many of the more exotic UK Companies were present and the Sound in most rooms was anywhere between good and exceptional. Many new and exciting products where introduced.

So what was this? This year saw many of the Companies I had looked forward seeing and hearing absent. Okay, given that much of the UK's HiFi Industry is relying heavily on Export and much used to go into the Far East, this might explain some of it.
But I could not fail to note that a despairingly large Number of the Exhibitors that had turned up got such a bad sound that it was clearly showing that they could not be bothered about it. Now the small Hotel-Rooms are always a challenge.

However quite a few Companies showed that nevertheless absolutely excellent sound could be obtained. Many of these will be mentioned below. As for the others, nice Products - shame about the sound....

In addition it seems that this will have been the last Show at the Penta. The new owner of the Penta Hotel (the Renaissance Chain) does not wish to continue the Show-Contract.
So next Years Show will be held in a Hotel in Hammersmith. Closer to the City and easier to reach, but if it will be a better Show than this Years, we will see.
New Products and Outstanding Sounds
As said, the number of truly new Products was small this Year. Maybe one of the most important new releases was the Sonus Faber Amati Homage Speaker. It could be seen as a floorstanding full range version of the Guarneri Homage and then a bit.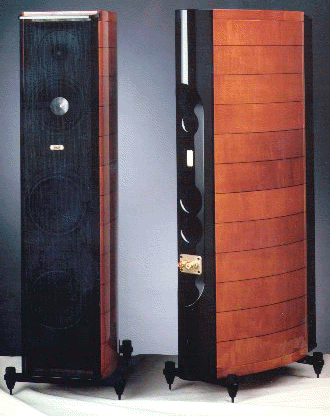 Featuring a similar construction as the Guarneri Homage, the Amati Homage adds up to a height of 1.2m. It has a pair of paper/carbon 8" Woofers allied to a 6.5" paper/carbon Midrange and a 1.1" Soft-Dome tweeter. They all looked to as if they are being sourced from Scan-Speak and seem to be at the Top of the Range Scan Speak makes (in my opinion some of the best HiFi-Drivers of all - but at a price).
Some more technicalities, the Frequency Response is given as 24Hz -30kHz and the sensitivity is 92 db/1W/1m with a 4 Ohm Impedance. But how does it sound? Driven by ARC Electronics I'd say not miles away from my favorite Wilson Audio Watt/Puppies, but with the sweetness and musicality the Wilsons are often found to lack, being present here in spades. I want a Pair and BAD. The only minor hitch is the Price. A cool 11,400 UK Pound (USD 18,800). It seems it will be a while until I get these Babies then.
ThanX to all of you in the Absolute Sounds Suite in helping me to get the (exclusive as far as I know) Photo of the Amati Homage.

Some other important Product Launches included the Wilson Benesh "Bishop" (Anglican, Protestant or Catholic?), a huge tall Speaker with 8 (!) 6.5" Bass Units in a Isobaric loading combined with another one of these and the Scan-Speak Revelator tweeter. Unfortunately I did not really get to hear them well, so have a listen for yourself.
Audio-Physics introduced the Libra Speaker, intended to retail at about UK Pound 5,000. It uses two side-mounted 8" Drivers located in the opposite sides of the Cabinet, combined with custom-made 4" Midrange and 1" Softdome Tweeter from Seas.
Seen in the Naim-Suite was the prototype of their new Speaker, a VERY handsome Speaker (a first for NAIM I believe - Okay - the Intro and Credo where a step into the right direction). It also sounded good to my Ears (another first for NAIM). Some die-hard NAIM-Enthusiasts where not so happy about the way these Speakers sounded, which might explain me liking the sound.
Using the same Midrange and Tweeter as their top-of-the Range DBL however, the Speaker is in the tall, deep and narrow format more common today. Two of the Woofers first seen in the Credo are mounted near the bottom rear of the Cabinet on opposite sides. The whole Speaker uses several separate Enclosures within one absolutely beautiful looking skin.
Also on show was the new B&W 800 Nautilus Series. Given all the media-hype whipped about this, I expected to be blown away by the sound. Well, not quite. The Big 801 Nautilus sounded okay. I mean they are sure good Speakers, but they failed to involve. And that was by no means the fault of the Chord Amplification used.
If you ask me, the new JM-Lab's Mezzo Utopia is a lot better a Speaker. This one was driven by a new Electrocompaniet Poweramp that made Krell's biggest look small. It sounded better too.
A real standout in sound was also present in the Inner Sound room where the Hybrid ESL named EROS was being played. With a DCS Elgar DAC and Michell Amplification they sounded very good and (unlike many ESL's and Hybrids) could play genuinely loud. Their woofers are being driven by their own Amplifier/X-Over and the US Price was said to be around $ 4,000 a Pair, a serious Bargain in Sound.
In the Castle Suite the attention grabbers where two Prototype Speakers dubbed "Project Theta". They where looking extremely handsome in light real wood Veneers and with small round integrated grilles covering the Drivers. The large floorstanding Model uses a Horn/Transmissionline Loading similar to the current Howard and Harlech Designs and the new models are said to offer higher sensitivity than the current Castle Range.
EPOS showed a floorstanding Version of their successful ES-12 Speaker. The new Speaker named the ES-15 saves you buying Stands, gives more really nice real wood veneer and more bass.
One of the best small Speakers of the Show was the new Diapason Standmounter (Karis). Apparently just being tested by our Editor Lucio; a Pair made nice Music connected to a Pair of monoblocked Graaf GM-20 Amplifiers. No Bass to speak of naturally, but a low price and Italian Design help to sweeten the pill. I hear a Subwoofer will be coming eventually.
For me some real BASS is necessary (hence I avoid small Speakers as they always sound anemic) so here is the opposite, the positively largest Speaker of the Show.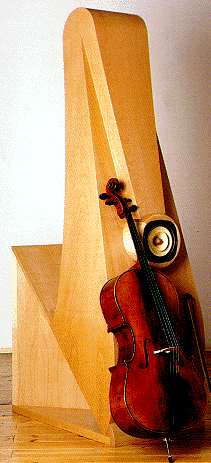 To me the most sensational sounding Speaker of the Show was produced by the massive Carfrae Horns. Using a 3.34 meter horn following the tractix curve with only one bend the resulting Speaker stands 2.21m Tall about 95cm deep. Driven by a Border-Patrol 300B SE Amp the sound was as un-Lowther like as I ever heard. This Lowther (DX3) based Speaker had a Bass and Treble-extension like pretty much any given Speaker that happens to be 3-way.
Only the Carfrae Horn sports a Sensitivity Excess of 100db/1W/1m, no Cross-over and a degree of coherence and dynamics unrivaled by all but the best more conventional Speakers.
Speaking of which, Living Voice was showing a Prototype for their new Speaker. Fitting between their "Auditorium" Speaker and their "Air Scout" 3-Way horn-loaded unit, the so far nameless Speaker will have a Sensitivity of about 98db/1W/1m. While large, the Speaker is designed to be placed in the Corner so that its considerable Bulk is not as big a problem as it might seem. A Pro-Sound 12" Bass-Driver with a 6.5" Midrange and a yet to be finalised Horn-Tweeter are used to offer a simple Load, high Sensitivity and true Full-Range at an almost affordable projected Retail-Price of UK Pound 4,000 (tentative).
So anyone with an SE-Triode Amp - here you can have your Cake and Eat it. I asked to be put on the List to review a Pair when they become available.
One SE Amp must be mentioned here as it was playing in some of the Best Sounding Rooms, the Border Patrol 300B Amplifier. With a huge external powersupply and interstage transformer coupling this must be some of the best 7 Watt per channel in the world.

As we have touched on SE-Amp, when I visited the Alema/Audion/Edison Suite I expected to hear their "Golden Dream" Amplifier and maybe the Edison 60 Amp. However driving the new Cadence ANINA (Sanskrit "The small one") hybrid Electrostatic Speakers were a pair of suspicious looking low Profile black-boxes. Could it be? They sure sounded a lot like any Audion Amplifier sounds.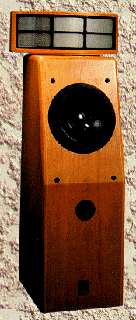 After keeping everyone in suspense and grinning like a Cheshire Cat Dave Chessel told everybody that they had listened to a TRANSISTOR AMP. Has Dave gone mad? Maybe, but his Transistor-Amp's sound a lot more like SE-Valve Amp's than some peoples SE-Valve-Amp's.
All the bloom in the Midrange and the delicate Imaging was present. Sure, they did not quite sound exactly like his best SE-Valve Amp's, the last smidgen of air and the final bit of joussance was absent, but still. So far I always thought Jeff Rowland made the best Solid State Equipment. Maybe it's time to reconsider.
The Monoblocks we heard were said to cost UK Pound 2,500 if and when available, a fully remote controlled Stereo integrated Amp will be available for about UK Pound 1,700. Dave was (understandably) somewhat coy about the inner workings of his Amp. Over a Beer at the Hotel Bar after the show I got him to tell me that it uses an Output Transformer and rather higher than usual Voltages. Anyway give these AMP's (AMP - Advanced Magnetic Power will be the name of this new solid state line) a listen as soon as they get into full production.
By the Way the ANINA ESL Hybrids from Cadence will cost UK Pound 2,350 and are truly outstanding for the Money.
In the Cadence Room a new interesting Turntable was on Show, called Avid. Info is little as yet, but I want one.
Another new Amplifier came from Bel-Canto. An SE - 845 based integrated it features full remote Control, about 35 Watt Output and sounded rather good in combination with Cabasse Speakers, the Skiff 301 to be exact.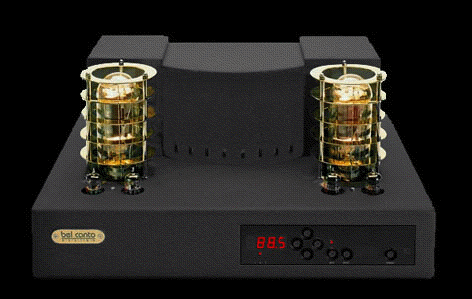 Other interesting Amplifiers included several interesting Amplifiers from Lavardin featuring some "mumbo jumbo" technology about the removal of "Memory Distortion". Floobydust until someone shows something scientific about it, but they sure sounded nice.

Driven by Helios CD-Players I liked the sound specially when connected to the Pininfarina designed Aliante One Speakers in authentic Ferrari Red.

Which brings me neatly to the biggest Disappointment of the Show! The Tag-McLaren Suite in the Excelsior. The best Design in sight was the (PC-Game simulated) Red Ferrari of Michael Schumacher shown on the Big Videowall.
Let's hope Michael shows a clean pair of rear tyres to the McLaren's for the next few Races.

Whoever expected something exciting was shown a slightly repackaged set of Audiolab Electronics (which are quite good) combined with a substantial Price-hike now known as the F3 Series. All other Bits where potentially interesting looking design-studies on static Display. No-one can tell how it will sound.

If you like to pay big bucks for something with a fancy name on it and a slightly better Design than Audiolab, the new Identity will suit you.

Me? Can I have the boring and cheap old Audiolab back please? It is sad to see that such a distinctive Company with audio quality as their main goal has been turned into this. Marketing now rules. Some Audiolab Enthusiasts perceived the demo'ing with and the salespitch about using only Wilson Audio Speakers as the final Insult. Given the original positioning of Audiolab (now Tag-McLaren Audio) as Budget High-End, this is understandable.

This pretty much mops up the Electronics and Speakers for me. There where other Launches, like the UK launch of the Wilson Audio MAXX (coupled with Krell electronics they sounded rather worse than necessary), Quad showed their new ESL's playing and sounding quite good. But most was Home-theater or various bit's and pieces that left me cold.

The full Linn System with their 12,000 UK Pound CD-12 Sondek CD-Player and active Keltik Speakers sounded okay, delivering good dynamics and Bass, but then - for the Money I expect them to throw in someone to change the CD's for me. And I still think the real Sondek sounded better than their CD-Player - and I am no LP-12 Sondek fan.

Analogue. Now there I was in for a few serious treats. The best of those not to get the "Best Sound of the Show" was clearly "Absolute Analogue". They where playing the brand-new Clearaudio "Ueber-Reference" Turntable (also the Rockport Capella and Sirius) Turntable that had been rumored about for quite a while.

Using three Motors it looked to me somewhat like a Cross between a Clearaudio and a Transrotor Table. Whatever, listening to this Table through FM-Acoustics Electronics and the JM-Lab "Grande Utopia" Speakers I thought, this is as good as it gets. And indeed. Non of the Sound I heard in any of the Rooms in show came close.

My attention however was taken by a new "small" Clearaudio Turntable. Priced at 1,500 UK Pound this Table is almost in the reach of mere mortals. It comes with linear tracking Tonarm that is somewhat a trickle-down from the big Sowther Arm. Looking classic Clearaudio in perspex this Turntable could be the one a lot of People have been waiting for.

The Budget Turntable Champions from the Checkz Republic, Pro-Ject are going upmarket. On Show where several suspended Turntables build in Principle similar to the Oracle Delphi (I own a Delphi) but a lot cheaper. The Big news was however their new Tonearm. Sourceing the Bearings from the same Factory as SME the new Arm is priced at 400 UK Pound and will be available with Linn-Style Mounting. This Arm will be available bundled with several Project Tables, so look out for a good Deal here.

Kuzma have a new Turntable too. Looking breathtaking this huge THING was playing in the Audiofreaks Room through Conrad Johnson Electronics and Avalon Speakers. More Interesting for me and you my Readers is the new Kuzma Unipivot Tonearm. This too is aimed at the 400 UK Pound (650 US Dollar) Pricepoint and was seen as prototype mounted on a KUZMA Stabi S Turntable.

Heard through Audiostatics Full Range ESL's it sounded airy and open but very nice. I'll take one if they can make it in Chrome Finish to match my Oracle Table.

Quite a few rooms used the Nottingham Analogue Spacedeck, most often with the 'Foot' 12" Unipivot Tonearm. Together with NA's own Moving Magnet Cartridges (including a Boron Tube Cantilever one) they sounded spectacular.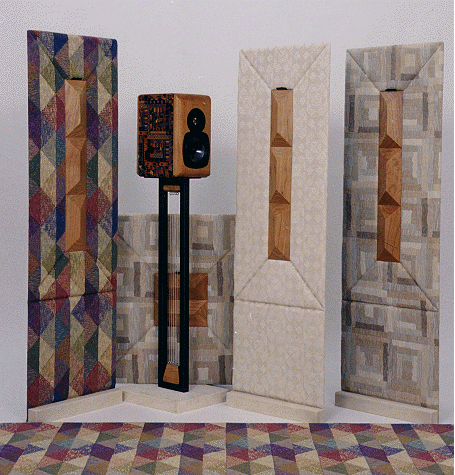 In closing this brief Report I would like to nominate the most outstanding new Product of the Show.
To me this must be the Audiocarpet Floor and Wall Panels. I have long had enough of ugly looking expensive Room-Treatment. And here are Italian designed Wall-Panels that I would simply fit for the looks and lo behold they make the room they are in sounding a lot better too.
The Price you ask? Well, how does about 72 UK Pound for a 65 cm X 65cm Panels sound? And 115 UK Pound for a 134cm X 41 cm?
What did you say? Indeed, hand me few. In that color-scheme shown on the left side if you please. So if you want to treat your Living Room acoustically but your Partner says "NO WAY" overtime you pull the ASC Tubetraps brochure out, try a few of these. Who knows, If you can lie convincingly you can claim that these are for the looks only....
What remains for me is to thank the Show-Organiser for a few interesting Days. And to thank all Exhibitors for indulging my curiosity as well as quite a few of you guy's for helping me to get the material for this Report. I hope to see you all again next year in Hammersmith and I'll remind you guy's soon about all the Reviews we agreed upon (grin like a Cheshire Cat from me this time)....
Thorsten Loesch
© Copyright 1998 TNT-Audio & Thorsten Loesch
[ TNT | Who we are | Listening tests | HiFi Shows | HiFi topics | Tweakings | Inter.Views ]